These are the Saturday pool play games to keep an eye on.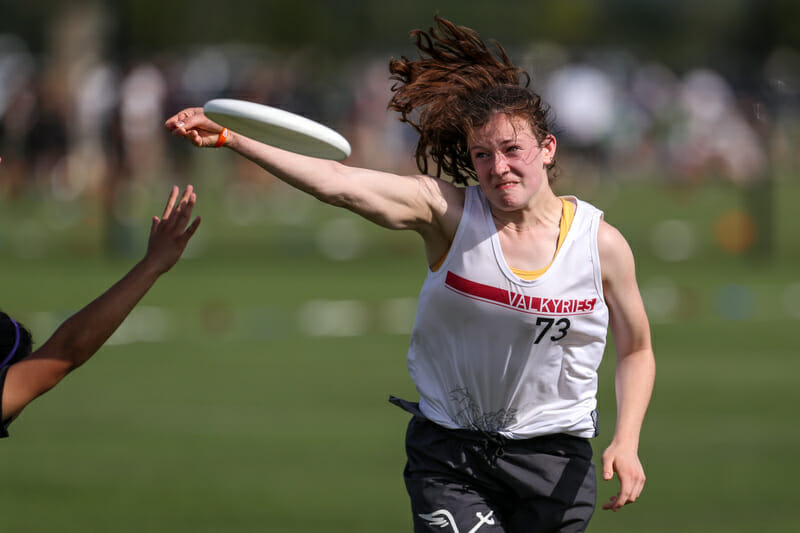 Ultiworld's 2019 coverage of D-I Women's Division is presented in by VC Ultimate, the official gear provider of the Premier Ultimate League.
Pool A: Pittsburgh vs. Oregon (8:00 AM)
Pittsburgh Danger and Oregon Fugue will meet with the end of their seasons on the line. As both teams are 0-2 moving in to the second day of bracket play, both teams will require at least a win in this pool play round to advance.
This is a matchup between two teams in a messy pool that are also powerhouse programs looking to just make the bracket. A year ago, Pittsburgh Danger was playing in a semifinal. It has been difficult to write off either team's streaky success this season as a fluke, given the historic nature of the programs. While Oregon lost out of the bracket last year in a similarly twisted pool, Fugue can write their own success on Saturday. They will need to find a higher gear to open the game, however, as Fugue struggled to match pace in competition today. They cannot afford to start slow and give up multiple breaks to open the game. Its likely that Fugue's defensive poaching will be helpful against Pittsburgh's attempts to lengthen the field with away cutting.
Pittsburgh will be looking to convert more easily on defensive points, as the Danger defensive line generated turn after turn with a low percentage of conversions, magnified by Friday's wind. Danger handlers Hannah Blizzard and Katie Schrieber had multiple looks downfield, but often overshoots their targets.
The winner of this match up will still have a rough road to the bracket, but at least this team will have secured a single victory at the 2019 College Championships.
-Alix Robbins
Pool B: Ohio State vs. Northeastern (10:00 AM)
In a pool where three teams went 1-1 on the first day, there are some great options for the best game to watch on day two. Initially, the tempting pick is the 2PM matchup between UCSB and Northeastern, where the no. 2 and no. 3 seed square off and Northeastern would need to secure a win in order to hold seed.
Northeastern started off the tournament on the wrong foot, losing badly to Minnesota, 13-5. They rebounded well to beat Washington and finish 1-1 on the day. They open up against Ohio State, and if they lose that game, they'd need to take down Santa Barbara to make the bracket. However, because UCSB beat Minnesota 15-8 and Minnesota beat Northeastern 13-5, Northeastern's point differential is at -8, and they'd need to beat UCSB by at least 8 points in order to come through a 3 way tie.
That means that Northeastern might be more likely to get into the bracket by beating Ohio State straight up rather than having to beat Northeastern by at least eight points. The Valkyries will wake up on Saturday morning looking to catch Ohio State on their heels.
Ohio State, having gone 2-0, could clinch the pool with a win against either Northeastern or Minnesota. With a chance that UCSB wins all their games on Saturday, Ohio State would clearly prefer to lock up the pool by beating Northeastern rather than have to work hard against Minnesota at the end of the day. A win in the first game maximizes the chance to rest for Ohio State, setting them up to stave off the Texas heat as much as possible as they load up for a run at another title.
Both teams wake up knowing that their showdown is the game they most need to win tomorrow, which will make for compelling action on the field. On the sidelines, coaches DeAnna Ball and Jason Adams are quite familiar with each other, having coached Team USA U-20 National Team together. The coaching match up adds an additional level of intrigue where adjustments and strategic implicates take on new depth. Join us on the Ultiworld livestream to catch all the action!
-Ben Murphy
Pool C: Georgia vs. Western Washington (2:00 PM)
Look out for the final pool play matchup between pool no. 2 seed Western Washington and no. 3 seed Georgia Athena, who are on track to advance to into the bracket. But there's a deep chasm between leaving pool play as the second or the third seed for Pool C: the third place club will likely face the powerful UC Santa Barbara, while the other will likely battle Minnesota.
Georgia Athena survived two long games today, keeping the pool's fourth and fifth seeds at bay by only three total points. Star players Marie Perivier, Alex Fairley, and Josie Veal spent a lot of time on the field, playing long points laden with turns. This no. 3 seed kept their seeding, but the wins cost them a lot of energy.
Western Washington Chaos beat Tufts with relative ease in their first Friday game, winning 13-8, but the heat and wind took a visible toll on their throwing skills and execution in their UC San Diego game. Eight of Chaos' nine points in that game relied on either Maddie Gilbert or Riley Tauer, but players like Tova Breen, Eleanor Joselyn, and Hue Tien also dedicated long minutes to the game.
Look for a few creative defenses from WWU to contain Georgia's biggest throwing threats, and count on Chaos' Samiya Ismail, Tauer, and Ruby Cassidy to try to be their own offensive threats, too. Look for Georgia to set a zone on Western to slow their powerful downfield movement, and expect fast breaks when Georgia gets the chance.
With a day of windy play behind them, these teams will look cleaner in tomorrow's weather, and they'll play hungrier, too. Georgia and Western have a lot to prove as programs this year… and nobody wants to play UCSB in prequarters.
-Katie Raynolds
Pool D: Carleton vs. Wisconsin (12:00 PM)
It's tough to say which game will matter the post in Pool D, as there is still so much up in the air. The current rankings indicate that Carleton and Wisconsin are the prohibitive favorites to earn the second and third positions, but that could all change if Texas pulls off an upset against Carleton. It's not as if there is no precedent; Carleton looked downright miserable against Dartmouth.
But even if Carleton drops a game to Texas, it's their match against Wisconsin that they absolutely cannot lose. By beating Wisconsin, they all but secure their path to the bracket, and ensure that they'll live to fight another day. After a relatively disappointing Friday, building confidence on Saturday is key for this team. They still have all the talent to make it deep at this tournament, but now need to prove it to themselves.
For Wisconsin, a win over Carleton would lock them into the second seed, which would be a remarkable achievement for a team that came into the tournament ranked no. 16. It's not as if they cannot do it, either. Wisconsin posted a better score against Dartmouth than Carleton, and has been rounding into form. They also played tight with Carleton at North CEntral Regionals, and are eager for a rematch.
The story writes itself with these teams. One is composed of seniors and grad students, who are looking to push the program to new heights, the other is a team with budding rookie and sophomore talent that is still becoming the juggernaut that they promise to be in two years. Their game not only has massive implications in the pool, but also within the North Central at large. This isn't just a Nationals game, it's a rivalry.
-Graham Gerhart