They've more than put last year to bed.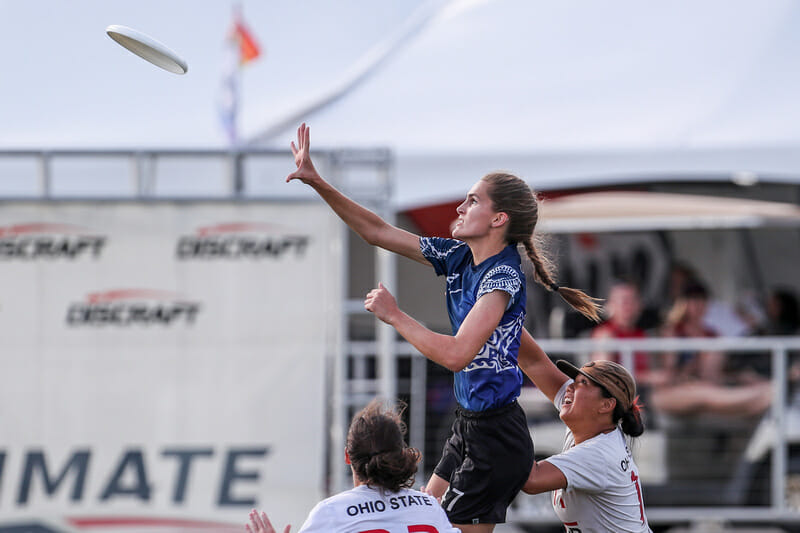 There's been a lot written about UCSD this season. By virtue of their transcendent regular season, which included completing the Southwest Triple Crown Tour, UCSD spent a lot of time in the spotlight. We knew they were a good team. We knew they were a deep team. We knew they had smothering defense. We knew they had Dena Elimelech.
What we didn't know was how they'd fare at Nationals.
Reflexively, it seems silly to rehash false flags, but there were legitimate concerns that UCSD wouldn't show up on the big stage. Their early exit at 2018 Nationals is well documented. I've written an in-depth piece on the subject myself, in fact. And while that storyline certainly lurked in the  this college season, the one thing it lacked was a satisfying ending. After day three of College Nationals, it's safe to say UCSD has provided that necessary conclusion.
Once they dispatched Western Washington in pool play, there was never a doubt UCSD was going to make the bracket. Not only that, they had clinched a bye straight to quarters. And while they avoided having to play a prequarters elimination game with flashbacks to their loss against UBC, there was still concern that UCSD wasn't playing at their peak.
Of all the teams that won their pools, UCSD allowed the most points by far. UNC, OSU, and Dartmouth all took care of business methodically, winning by an average margin of nine goals over their opponents. In contrast, UCSD's game were mostly tight.
Heading into quarters, the legitimacy of the team was still in flux. The difference in mental toughness required to play in the bracket at Nationals as compared to a regular season tournament is staggering. UCSD had already experienced that in the most heartbreaking way possible. This year, they knew things had to be different.
"We worked on our mental toughness all season," said Dena Elimelech. "That's what we prepared for with every tournament and every practice."
No matter how much practice you may get, nothing prepares you for the real thing. Facing Carleton in quarters was the toughest game the team had fought all season. Even their losses at Northwest Challenge didn't compare –they were missing Elimelech at that tournament, after all. Carleton was game and stacked to the brim with talent. Giving Syzygy an inch of room was giving them too much, and the Carleton women matched well with UCSD with both size and speed.
Once Carleton went up two breaks in the second half, it seemed UCSD's ghosts had come back to haunt them. Down 10-8, with time winding down, was a poetic enough end for UCSD that it seemed inevitable. But that's when the team responded with their best ultimate of the weekend.
Where once UCSD might have folded, or tried too hard to make a play happen, they instead remained calm and stuck to their principles. Not only did it earn them back both breaks, it put them up by one. Still, on double game point, with their season on the line, it wasn't UCSD's system that won them the game, it was having one of the best individual players in the division.
Elimelech made a jaw-dropping layout catch to send them to semis.
It was as if the team was playing with house money at that point, because they did not look at all encumbered when playing Ohio State in semis. The throttling defense and clinical offense that had defined the team all season was even more pronounced when playing one of the four best teams in the division.
OSU tried a number of different zones, person matchups, and poachy defenses to slow the Psychos. Nothing worked. With every option that Fever shut down, two more would appear for UCSD's throwers.
This was not one of those games where the score didn't reflect how close things were. Unlike their contest at Northwest Challenge, UCSD was in control against OSU for the entire 80 minutes of their semifinals game. The problems that had slowed them in 2018 were nowhere to be found. Spacing was never an issue, nor was their depth or hucking game. Everything that UCSD had done in preparation for the 2019 season led up to this moment, and they rose to the occasion.
If context is necessary, this was the most lopsided semifinals game of the past decade. Not since Oregon laid out Colorado 15-4 in 2010 has there been a team that pulled off such an authoritative semis victory. UCSD didn't just beat Ohio State, they validated their entire season and incinerated any shred of doubt that they didn't belong in the final.
Make no mistake, OSU was a worthy opponent, and the game could have played out very differently in other conditions. It just so happened that Fever played a great team who peaked at the perfect time.
Day three closed the book on UCSD's legitimacy at Nationals, and maybe started a new chapter in the history book of college ultimate. Regardless of their score in the final against Dartmouth, the legend of UCSD was made in their semifinals win.