We sing the praises of the players you might have missed in pool play.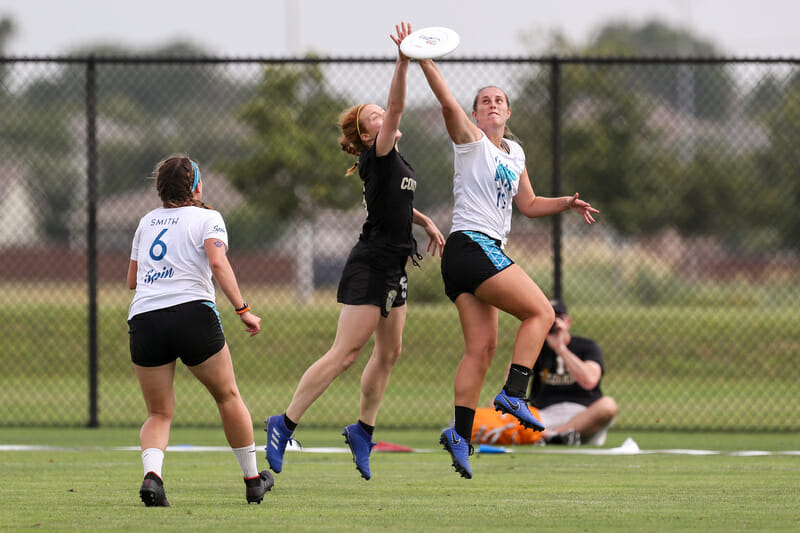 Ultiworld's 2019 coverage of D-I Women's Division is presented in by VC Ultimate, the official gear provider of the Premier Ultimate League. All opinions are those of the author. Please support the brands that make Ultiworld possible and shop at VC Ultimate!
After prequarters on Saturday, eight teams advanced into the meat of the bracket to compete in quarterfinal games. Years from now, when they're nursing aches and circling retirement, players on these eight teams can reminisce proudly about making quarters. Half the teams didn't survive the morning round, but they'll always have quarters.
Then there are the twelve other teams left in the dust, or as some call it, the placement bracket. But we haven't forgotten you, placement teams and prequarters losers. We bore witness to the long points, the windy trials, the moments when it looked like a comeback could actually happen. We want to honor you, too. For suffering through all this wind and heat, just for a free "Play Ultimate" sticker and a few Jimmy Mickle sightings.
We bore witness to your triumphs. Here's to the unsung heroes of Nationals. We salute you.
Sarah Kim (Northwestern)
Sarah Kim may be a tough sell for the term "undersung" considering her roster spots on the U24 National team and Chicago Nemesis, but Kim's skill and athleticism were highlights from every Northwestern game in pool play. It's easy to get used to slower ultimate in windy conditions until you watch Kim's footwork as she works to get open, or how she shuts down elite handlers like Marie Perivier or Samiya Ismail. Point after point — and she played a lot of points — Kim did exactly what the team needed with remarkable consistency and grace.
Rachel Wilmoth (Colorado)
Wilmoth consistently put herself in the right spots at the right times for Kali, and showed an impressive chemistry with star rookie Bailey Shigley. Wilmoth was a solid role player as a rookie last season, but really stepped up her performance in Round Rock. She led Colorado in goals by a large margin, and topped the roster in blocks as well. Wilmoth typifies the type of team performance that Colorado has grown so used to putting together at Nationals over the last few seasons, doing all the little and intangible things right to help her team win, and playing tremendous defense. She's not one of the big names of the division, but without her, Colorado doesn't have the impressive weekend that they did.
Alex Fairley (Georgia)
Alex Fairley competed with a steadying excellence for Georgia in the wind, making few mistakes while racking up the stats: Fairley lead Georgia in goals this weekend (13) in addition to six assists for Athena. This is a strong record for a backfield player, but Fairley's athleticism and competitive drive often pushed her upfield for quick breaks or to receive passes from the other Georgia handlers.
Malia Smith (UCLA)
Malia Smith came through for UCLA in the air, in the back field, and in the end zone. BLU's push for the tie that eventually shortchanged their push into the bracket was in no small part to the effort and consistency of Smith. Smith's impact on BLU's weekend showed up on the stats sheet, too, as she lead the team in goals (14).
Jessie Sun (Pittsburgh)
In the driving wind of pool play, Jessie Sun was the rock on Pittsburgh's upwind lines. On a day when even the division's better throws were thinking twice about attacking into the wind, Sun looked like she hardly noticed a breeze. Sun's throws looked sharp and confident in the madness of Pool A.
Molly Lipman (Tufts)
On a hot windy field and in big zones, junior Molly Lipman delivered for Tufts Ewo. Lipman is a classic reset handler whose superpowers shine best in the toughest conditions. While opponents and teammates alike turfed passes or sent out pop flies, Lipman delivered strong, intentional passes around and through zones to advance the disc.
Takisha Tarvin (Oregon) 
Takisha "TK" Tarvin was an industrious cutter for Oregon all weekend, working the lanes to cut and clear for Fugue's offense. Tarvin got five blocks for Oregon at Nationals, second only to Ella Hansen's whopping 15. Tarvin's speed and endurance made her an invaluable piece in Fugue's downfield during the excruciating turn-heavy points of pool play.