The best performing coaches of the 2019 season.
Ultiworld's 2019 Men's College Awards are presented in part by VC Ultimate, outfitting the world's best players since 1998. They are also presented in part by the National Ultimate Training Camp, who can help prepare you to be an All-Star. All opinions are those of the authors. Thanks for supporting the brands that make Ultiworld possible!
Ultiworld is pleased to announced our sixth annual D-I College Awards. The criteria for each award can be found here — we consider both regular season and postseason performance in our selection of awards. As the overall top performers of the year, players selected as top three in Player of the Year voting are removed from consideration for other individual awards.
Links to all of the 2019 D-I Men's Division awards will be added as awards are announced:
Player of the Year Award
Offensive Player of the Year Award
Defensive Player of the Year Award
Breakout Player of the Year Award
Rookie of the Year Award
Coach of the Year Award
All American 1st Team (will be announced later this week!)
All American 2nd Team (will be announced later this week!)
D-I Men's 2019 Coach Of The Year
Sam Lehman and Jake Smart (Brown)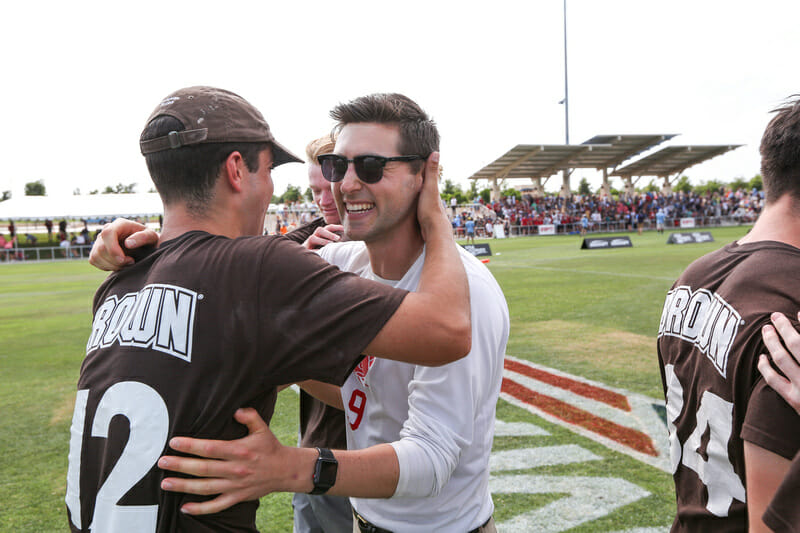 Overall team improvement? Check. Individual player development? Check. Implementation of a well-planned, well-executed scheme at Nationals? Check. National Champions? Add it to the list.
After Stanford Invite, where Brown fell 13-8 to North Carolina in the title game, coaches Sam Lehman and Jake Smart, along with the Brown captains, realized they had to double down on their studies of the Darkside systems. The adjustments they came up with in their 'Room Where It Happens'-style meetings paid off. BMo rebounded with a surprising 15-10 dismantling of the previously untouchable UNC squad on their way to a tournament victory at Easterns, and carried that momentum into Nationals.
"We did our homework… we've been working all season to be the team that can beat UNC," said Lehman in Brown's post-game press conference. "We forced their players out of their first look, and then once we were into person [defense], we made them have to do things they weren't comfortable doing."
Of course, the story of the 2019 college season wasn't just a story of two teams. Lehman and Smart recognized the consistent upwind-downwind conditions they faced in Austin, and trotted out a suffocating trap zone, led by lengthy players like Talon Johnson and Dylan Villeneuve, which flummoxed elite teams like Texas and Colorado. In their quarterfinal matchup against Ohio State, in which star Mac Hecht struggled in the first half and Brown surrendered the early lead, the Brown coaches tweaked the zone slightly, sliding the mark behind the thrower on OSU's downwind points to force riskier throws, and it worked to perfection. They also had a plan to combat the Texas heat, as the full BMo roster hustled under their tent every opportunity they got rather than spend any extraneous seconds under the beating sun.
The Brown coaching staff inherited a talented roster, to be sure, but the dedicated, intelligent work they poured into maximizing the return on that talent bore fruit in 2019. With much of the roster returning in 2020 and more talent on the way, expect Lehman and Smart to continue reaping the rewards of their efforts.
1st Runner up: Cody Mills (Cal Poly SLO)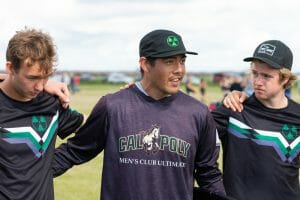 Cal Poly-SLO had one of the prettiest, most fluid offenses in the country this season. They went from missing Nationals entirely in 2018 to being the no. 4 overall seed this year, and one of the most improved teams in the country. A lot of the credit for those things has to be given to second year head coach Cody Mills.
SLO captain Caleb Merriam put into words the value that Mills brought to the team this year after the impressive semis run at Nationals had come to an end. "He brings a structure that we hadn't experienced before as a program. He's brought a set of track workouts and lifting workouts that we weren't on as a team," said Merriam. "We saw huge dividends with our fitness, with our speed, with our lack of injuries throughout the whole year. It allowed us to go through a season with six losses, which is something that was never imaginable, and taking the four seed at Nationals, which if you'd told me that our freshman year… it's mind blowing."
Mills helped refine a team with some talented players into a true program and an offensive juggernaut, and for that, he earns his first COTY runner up.
2nd Runner up: Bob Krier (Colorado)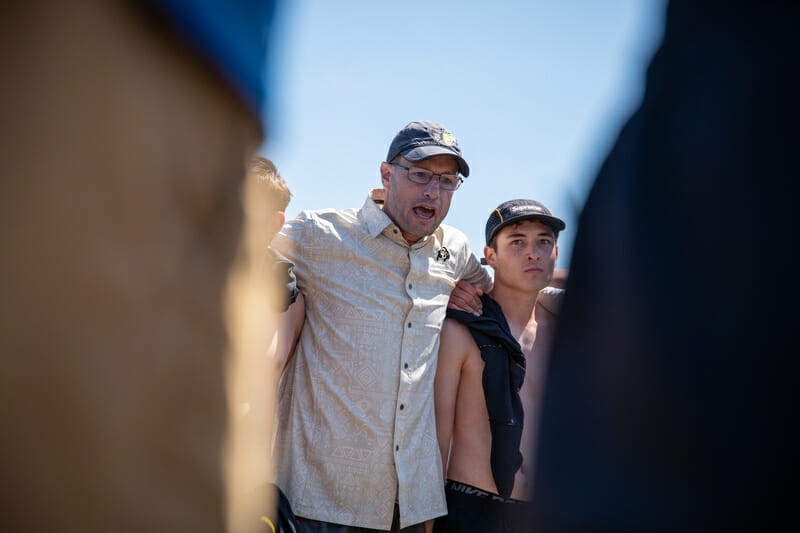 Longtime club and U.S. national team coach Bob Krier wasted no time in his first season at the helm of Colorado Mamabird. Alongside coaches Mike Lun, Owen Westbrook, and Kevin Johnson, Krier rejuvenated a program that was headed in the wrong direction for the first time in its storied history. The talent was always there, but the team needed to re-learn positivity in the face of unfamiliar adversity.
With a renewed focus on intentional practices, hard work, and supportive communication, this season's Colorado squad turned a slow start into a blistering finish, in which they won every game at Centex, Conferences, and Regionals heading into Austin. Once there, they breathed new life into their trademark vertical stack and physical defense en route to gutsy victories over Washington, Georgia, and Pittsburgh, returning to the semifinals for the first time since their title in 2014.