The top seven performers of the 2019 season.
Ultiworld's 2019 Men's College Awards are presented in part by VC Ultimate, outfitting the world's best players since 1998. They are also presented in part by the National Ultimate Training Camp, who can help prepare you to be an All-Star. All opinions are those of the authors. Thanks for supporting the brands that make Ultiworld possible!
Ultiworld is pleased to announced our third annual D-III All-America teams. These players were selected for their overall performance in the 2019 college season, looking at both the regular season and the full college Series, including Nationals. Please join us in honoring the best college players of this season
Links to all of the 2019 D-III Men's Division awards will be added as awards are announced:
Player of the Year Award
Offensive Player of the Year Award
Defensive Player of the Year Award
Breakout Player of the Year Award
Rookie of the Year Award
Coach of the Year Award
All American 1st Team
All American 2nd Team (will be announced later this week!)
D-III Men's 2019 1st Team All Americans
Alan Villanueva (Air Force)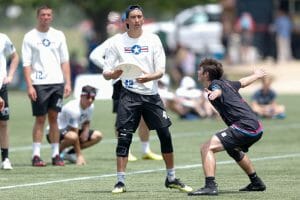 What more is there to say about Alan Villanueva at this point? The 2019 Donovan Award winner and Player of the Year capped off an illustrious college career with his best individual effort to date, leading Air Force to another second place finish at Nationals. The versatile star showed a complete game this season, flowing seamlessly between handling and cutting while impacting the game on both sides of the disc. In terms of the number of roles he's capable of playing, there won't be a more difficult player to replace next year than Villanueva.
Kai DeLorenzo (Middlebury)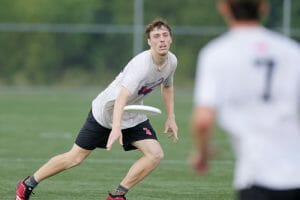 After breaking on to the scene last year as a second team All American, Kai DeLorenzo had a monster season in 2019. The best player on the best team in the country, DeLorenzo led Middlebury to an undefeated record against D-III opposition, including wins against seven of the top ten teams in our final Power Rankings. While still an incredible deep threat, DeLorenzo took a leap as a thrower this year, throwing big hucks on continuation looks. DeLorenzo will enter the 2020 season as the POTY frontrunner with expectations of another national championship.
Conor Belfield (Bowdoin)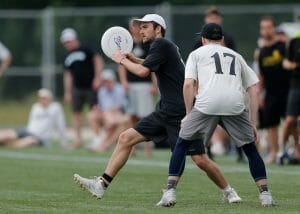 After the graduation of center handler Max Vogel in 2018, Bowdoin needed someone to step up and shoulder a bigger throwing workload. A cutter last year, Belfield answered the call and looked as if he's been handling for years. Using his cutting acumen and athleticism to get open at will in the reset space, Belfield kept the Clown offense moving laterally to create big hucking windows. When the opportunity presented itself, Belfield showed impeccable touch and shape on his hucks to hit receivers in stride. Replacing Vogel was hard, but Bowdoin is going to have an even tougher task in replacing Belfield next year.
Saul Wildavsky (Carleton GoP)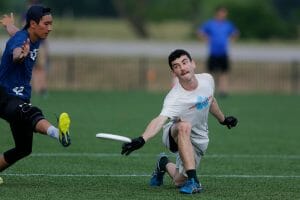 In a division where elite throwers are at a premium, you have to be truly special to dominate a game as a pure cutter. Saul Wildavsky was the best pure cutter in the division this year. GoP's offense started the same way every single point: clear a lane so that Wildavsky has space to be wide open. When he wasn't gaining huge yardage in acres of space, Wildavsky was skying and bidding past defenders in the end zone. Back-to-back trips to the semifinals of Nationals for GoP were due in large part to Wildavsky's dominance.
Brendan McCann (Michigan Tech)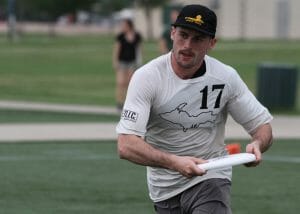 While probably one of the best players in the division for a couple of years now, Brendan McCann's team has lacked the success required to give him the stage to demonstrate his excellence on a national level. McCann led Michigan Tech to the best season in their program's history, taking DiscoTech to a prequarters appearance at Nationals. McCann's quickness and wide array of throws were the driving forces to Tech's success on the field, but his leadership and program-building off the field are just as worthy of recognition. There might not have been one single player worth more to his team this season than McCann.
Noa Chun-Moy (Air Force)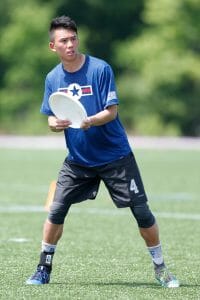 The two-time Defensive Player of the Year is now also a two-time first team All American. Noa Chun-Moy is certainly best known for his highlight-worthy blocks, but he was just as crucial for Air Force with the disc after a turn. Chun-Moy started the season on offense, but Air Force struggled to convert breaks without his presence after the turn. Chun-Moy's strong as a hucker, but his real value came from always being open as a reset for his teammates with weaker throws. Villanueva has (rightfully) been the face of Air Force's success in recent years, but the loss of Chun-Moy will be felt just as much by the program.
Graydon Cowan (Richmond)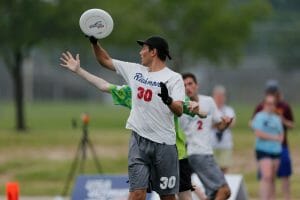 While Nationals certainly weigh heavily in our decision-making for the All American teams, the entire season is taken into account for our selections, and Graydon Cowan was the best player on Richmond this season. The senior handler is efficient and smooth with the disc, using purposeful fakes and pivots to move the mark for his variety of break throws. Richmond's offense almost always started with Cowan hitting an under on the break side, and while Cowan's box score from single games rarely leaped off the page, he always put his teammates in positions to be successful. Imagine how good we would have been if he weren't playing through major pain all season.