The top seven performers of the 2019 season.
Ultiworld's 2019 Men's College Awards are presented in part by VC Ultimate, outfitting the world's best players since 1998. They are also presented in part by the National Ultimate Training Camp, who can help prepare you to be an All-Star. All opinions are those of the authors. Thanks for supporting the brands that make Ultiworld possible!
Ultiworld is pleased to announced our sixth annual D-I All-America teams. These players were selected for their overall performance in the 2019 college season, looking at both the regular season and the full college Series, including Nationals. Please join us in honoring the best college players of this season
Links to all of the 2019 D-I Men's Division awards will be added as awards are announced:
Player of the Year Award
Offensive Player of the Year Award
Defensive Player of the Year Award
Breakout Player of the Year Award
Rookie of the Year Award
Coach of the Year Award
All American 1st Team
All American 2nd Team (will be announced later this week!)
D-I Men's 2019 1st Team All Americans
Mac Hecht (Brown)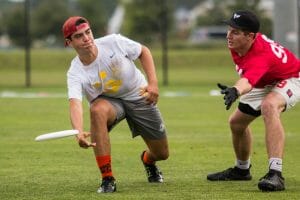 The POTY is also a first team All-American — who woulda thunk? Hecht is an obvious choice here, as the most talented thrower and one of the premier offensive threats in the division. With improved athleticism and his proven leadership, he was a chief catalyst behind Brown's national championship run. In the stiff Austin wind, Hecht was indifferent. A little thing like Mother Nature wasn't going to stop him or the Brown offense; his 36 assists are a testament to that.
As Hecht graduates, he leaves behind an incredibly talented team, one that will surely compete once again for a national title in 2020. But if a repeat is in the cards, they have some gargantuan cleats to fill on their offensive line.
Matt Gouchoe-Hanas (North Carolina)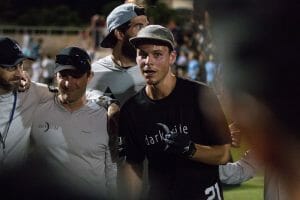 Reigning Player of the Year Gouchoe-Hanas could have coasted to another spot on the first team if he so chose, running zig-zag cuts in the short space and zipping up the line for goals like he did in 2018. But 2019 saw the Darkside captain push himself into new regions of excellence. Deep cutter extraordinaire? Check the tapes from Easterns. Take-no-prisoners D-line bogeyman? Ask the offenses who had to deal with him at Atlantic Coast Regionals. Daring power thrower? Come on, have you seen the semifinal against Cal Poly-SLO? The old dog learned a lot of new tricks. Gouchoe-Hanas this season was everything he already was and, somehow, more.
John Randolph (Brown)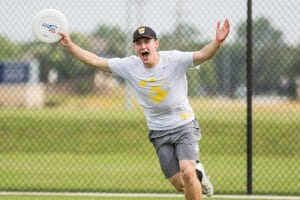 After only two seasons, it doesn't feel like there's a whole lot more we can still say about the super sophomore. He was absolutely sensational this year. Randolph led the division in goals scored at Nationals for the second straight season,1 also put up double digit assists, and had just four turnovers. What? Randolph made the impossible look easy this year, including putting up 10 goals in Brown's national semifinal against Colorado. Seriously, what?? He is an unreal talent, and as reliable as they come, and in just his sophomore season was one of the three best players in the country.
Liam Searles-Bohs (North Carolina)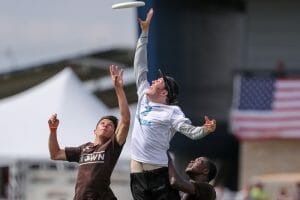 Last year's Rookie of the Year runner-up, Liam Searles-Bohs took his game to a new level this season. As a much bigger focus of the UNC offense, LSB was far and away the team's best player at Nationals, tallying a whopping 16 goals, 20 assists, and 8 blocks. Those numbers show you how much more time he spent downfield this year, which allowed him to flourish as a deep cutter and one of the game's most dangerous continuation throwers. This uptick in production doesn't come as much of a surprise: LSB was one of the most hyped high school recruits ever. He's only beginning to scratch the surface of his ability to take over at the college level.
Tannor Johnson (Massachusetts)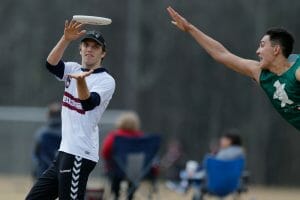 It's a tragedy that perhaps TJ's most dominant season of his college career was cut short at Regionals — were it not, he almost certainly would've been in the conversation for Player of the Year and not just OPOTY. Whether he was putting visionary shots to Eddie Scott or exhausting defenders with his patented "give-and-gone" goal-scoring move, Johnson was an absolute nightmare to cover, the definition of "we can only hope to contain him." With a fifth year to come, expect more of the same in 2020 — albeit, Johnson hopes, with a different finish to UMass' season.
Michael Ing (Pittsburgh)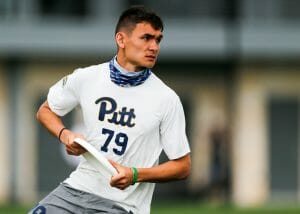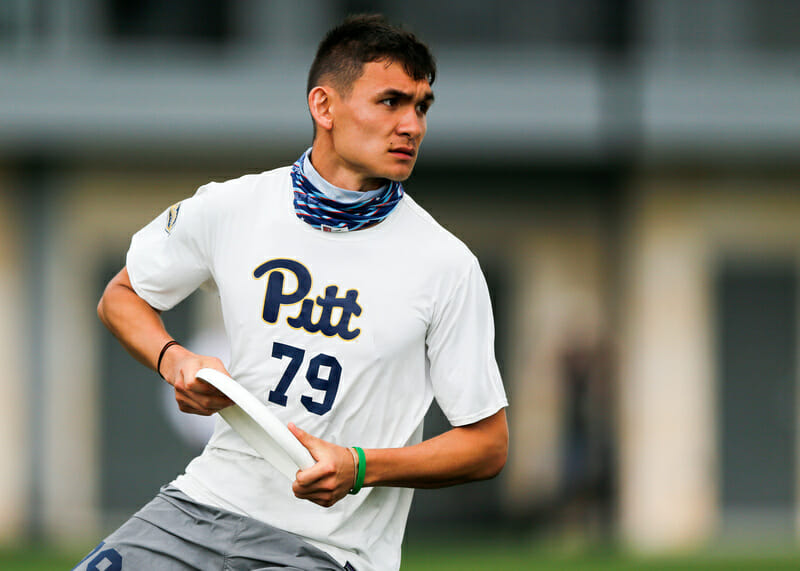 The Pittsburgh senior has been one of the best cutters in the division for multiple years now, and he padded his world-class résumé with another fantastic season in 2019. Chasing down and blocking laser hucks on defense, serving up 70-yard backhands on a platter for Pitt's other bigs, and dominating from the front of the stack in redzone sets, Ing was the most impactful player on a top team from start to finish. Even in the pressure-cooker of Nationals, every time Pitt needed a point, they dialed up a play for Ing to score. He almost always delivered, blazing away from his defender to clap catch an easy goal before nonchalantly jogging back to the sideline collecting high fives and back-slaps — it was just that easy for him.
Leandro Marx (Oregon)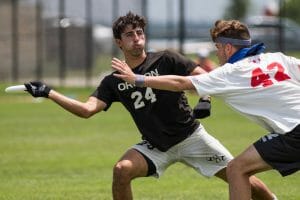 Is there a more well-rounded player in the division than Marx? No matter where he lines up on the field — offense or defense, mid or deep, shooter or reset — it seems like he is in his comfort zone. Assuming the mantle most recently worn by departed 2018 captain Adam Rees, Marx went into beast mode at Northwest Regionals as Oregon Ego's most dependable playmaker and stingiest lock-down defender before turning heads against the division's fiercest competition at Nationals. As injuries slowed the team down, he stepped up his game and delivered a team-high 17 goals, 8 assists, and 7 blocks on the biggest stage.
---
And at this point, who's betting against him doing it every year he's in school? ↩