Top tier tournaments from coast to coast.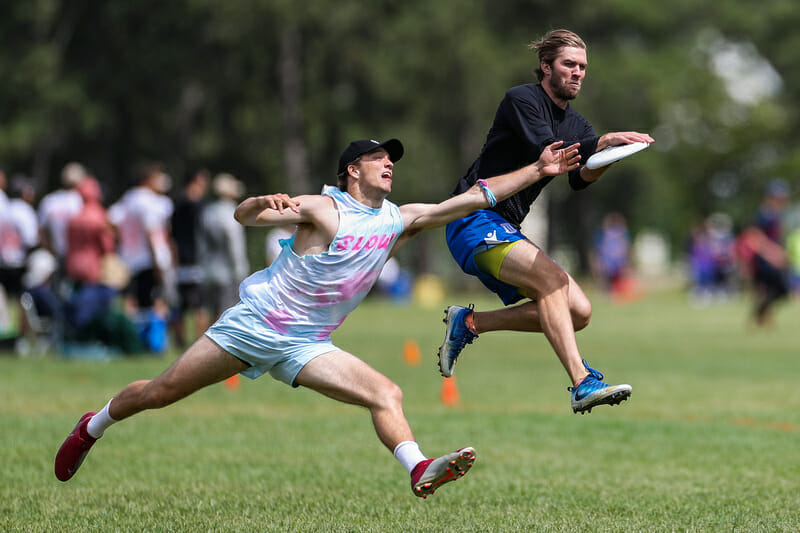 During the 2019 summer and fall season, we will publish a bite-sized weekly recap of the action across the Club Division. This will serve as a supplement to our standard tournament reporting and will offer a high-level look at the latest happenings and the biggest stories of the week. We go through the annals of score reporter so you don't have to!
Want your tournament listed here? Submit a recap of what happened right here. 
—
This past weekend saw some of the top teams in all divisions officially kick off their season and battle it out for early summer success. Most teams are still working on their chemistry, and while the mainstays in each division performed as expected, some lesser known teams made their marks as teams to watch in the coming months. Here's what went down:
Mixed Division
AMP Asserts Their Dominance Over Boston's Top Three Squads
Always an early season test for the top teams in the Northeast, the 2019 edition of Boston Invite played host to four mixed squads who appeared in the semifinals of either WUCC or the Club Championships last year, along with another Nationals qualifier and a cadre of Regionals-level teams trying to break into contention. After pool play, both Philadelphia AMP and Boston Slow White were undefeated, but Boston Wild Card and Boston Snake Country weren't far behind at 4-1 apiece, each having played close to their respective pool winners. In semis, Slow White topped Wild Card on double game point while AMP more comfortably advanced past Snake Country. The reigning national title holders dominated a lopsided final over the 2016 champs, establishing their credentials despite some key roster turnover and making clear that the road to a championship still runs through Philadelphia this season.
Quick hits:
In the first meeting of the season for the South Central's top two teams, Fort Collins shame. knocked off in-state rivals Denver Love Tractor 15-13 at Fort Collins Summer Solstice. Both teams looked miles better than the rest of the field, led by Montana MOONDOG who easily beat Omaha Woodwork for third.
With a stronger than usual field travelling to Winston-Salem for Summer Glazed Daze, locals Durham Toro captured an early tournament title over Top Select squad Florida Weird. A Columbus Cocktails team that has begun to get some preseason buzz finished a disappointing fifth despite suffering just one defeat on the weekend, a double game point loss in quarters to Charlotte Storm.
Rochester Garbage Plates completed an undefeated weekend at Capital District Classic by besting Syracuse Mashed in an all Upstate New York double game point final.
Women's Division
Big Performances Early in the Season on Both Coasts
Eugene Summer Solstice set the stage for the annual battle for West Coast supremacy. Seattle Riot ultimately prevailed over San Francisco Fury, with San Francisco Nightlock taking third after suffering multiple losses on Saturday but recovering with a win over Portland Schwa in the quarterfinals. Similarly, Seattle Underground finished third in their pool — including putting up a good fight against Riot (10-8) — but upset Vancouver Traffic in the bracket to secure the last spot in the semifinals. As has been the case the past few seasons, it appears not much separates Schwa, Underground, and Traffic at the moment, and the trio will be looking to secure as many Nationals bids for the Northwest as possible during the regular season to ease the pressure come Regionals.
On the East Coast, Boston Invite saw another slew of regional contenders compete for early season preeminence including Boston Siege, Quebec Iris, and New York BENT. Siege soared through the weekend, going 7-0, while Iris and BENT finished second and third, respectively. Perhaps the most unexpected performance in this division came from Portland Frolic, who came in seeded 8th and went 4-1 in pool play, earning a spot into the semis.
Quick hits:
At Fort Collins Summer Solstice, things shook out exactly as anticipated with the top three seeds — Denver Molly Brown, Kansas City Wicked, Chicago Dish, respectively — finishing in that order.
SCINNY 2019, in Lebanon, OH, hosted seven women's teams in a round-robin only tournament. Indy Rogue took home the win with a 6-0 finish, followed by Pittsburgh Eliza Furnace in second, and Cleveland Notorious C.L.E. in third.
Men's Division
Furious Tops Crowd in Eugene, DiG Captures Third Straight Boston Invite
The Northwest's top squads — minus Sockeye — faced off in Oregon at Eugene Summer Solstice. After both teams cruised through their Saturday slates and a semifinal, Vancouver Furious George and Portland Rhino Slam clashed in an epic 16-15 final with the Monkey coming out on top. Seattle Voodoo claimed third over surprising San Francisco Red Dawn, a U20 boys YCC team that entered the tournament seeded 12th.
Despite significant roster turnover from last year, Boston DiG completed their Boston Invite three-peat this weekend in Devens, Massachusetts. DiG easily waltzed through every game until the championship, with the closest match prior to the final being a 15-8 pool play win over Needham Deathsquad. Newcomer Amherst Sprout — comprised of UMass alums including Jeff Graham, Ben Sadok, and Brett Gramann, as well as former Ironside stars Russell Wallack and Will Neff — managed to keep the final tight but ultimately lost 15-12. Connecticut Colt secured a place on the podium with a 14-12 win over Brooklyn Blueprint.
Quick hits:
At Fort Collins Summer Solstice, Denver Johnny Bravo unceremoniously dispatched Kansas City Prairie Fire in the final 15-8. Denver's second squad, Inception, played Bravo closer than anyone else on the weekend before falling to Prairie Fire in the semis and taking third place on forfeit by master's squad Johnny Encore.
At SCINNY 2019, both Lexington Black Lung and Cincinnati Omen advanced to the title game unscathed, where the boys from Kentucky lived up to their top seed by defeating Omen 15-7.
Looking Ahead
This weekend is a slower one for the club scene with only a few sanctioned tournaments scheduled. Top teams are no doubt gearing up for the intensity the forthcoming TCT events will bring, but mid-level teams are continuing to compete locally. Texas 2 Finger will draw in men's and women's teams, while Rocky Mountain Mixed Round Robin, Rose City Rumble, and Truckee River Ultimate Cooldown will each bring together mixed teams for the weekend.