The best signal-callers and program builders in the club game this season.
Ultiworld's 2019 Mixed Club Awards are presented by Tokay Ultimate cleats. With their new Flight cleats, your feet can shine like these stars! Check out Tokay, the cleats you were looking for.
Ultiworld is pleased to announce our fourth annual Mixed Club Awards. While we consider both regular season and postseason performance, because of the nature of the Club Division, we weight success in the Series and at Nationals above all else. The club awards are selected based on input from Ultiworld reporters, contributors, and editors.
Player of the Year Award
Offensive Player of the Year Award
Defensive Player of the Year Award
Breakout Player of the Year Award
All-Club First Team
All-Club Second Team
2019 Mixed Club Coaches Of The Year
Andrew Berry and Han Chen (San Francisco Mischief)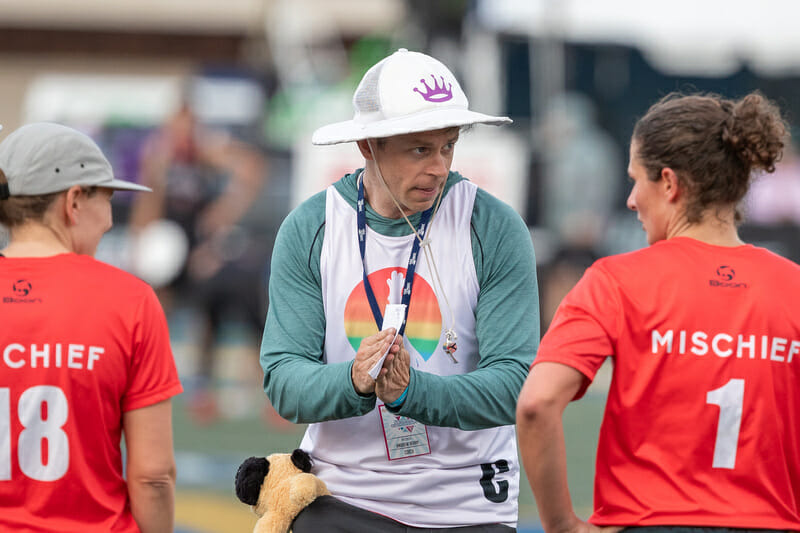 If you were San Francisco Mischief looking to get back to a championship final for the first time in 13 years, who would you add to the mix? A POTY runner-up in Lexi Zalk is a great start, and DPOTY winner Jacob Smith is a big boost too. But arguably the people who really led San Francisco Mischief to the final were first-year coaches Andrew Berry and Han Chen. Head coach Berry and assistant coach/captain Chen helped Mischief's new and old talent mesh to create a final-worthy team.
After a solid but unspectacular quarterfinals finish at the 2018 Club Championships, Mischief came into 2019 looking to improve that result by reloading their roster and bringing in a coach. They did both with Zalk and Smith joining Mia Bladin and Matthew Crawford among high-impact player pickups, and Andrew Berry, also the current California Pie Queens coach, coming on as head coach. Somewhat unexpectedly, he was joined by Mischief captain Han Chen, who had been carrying a meniscus injury and decided to get surgery to repair it before the season. Out of playing for the 2019 season, she and the Mischief leadership made the decision to move her into an assistant coach role, while simultaneously maintaining a role as team captain.
From the start, the pair worked with team leadership to create a culture of equity and unity. Prioritizing that as a focal point not only attracted top-flight mixed talent, it also helped maximize the contributions of players up and down the roster. Berry and Chen put in place systems that, particularly on offense, highlighted the strength of Mischief's women. Captain Cody Kirkland noted as much after the final, saying "[Berry and Chen] have really given us a lot of structure and organization to what we're doing on the field, [including] calling lines [and] practice planning." The planning obviously paid off as the Mischief coaches ensured their squad was ready for whatever team they faced, whether it was top seed Drag'n Thrust in the semifinal or AMP twice in one tournament at Nationals.
Coaches are still a remarkably infrequent commodity in the mixed division, which is surprising given that we've routinely seen those with dedicated coaches finish atop the heap. After what was a bit of an up-and-down season for Mischief, Berry and Chen made sure that Mischief was primed for a strong run at Nationals and all of that preparation paid off. Fostering a positive, upbeat environment, the coaches created a space where their returners and outstanding pickups could all click together, and it resulted in a long-awaited return to the championship final.
– Jenna Weiner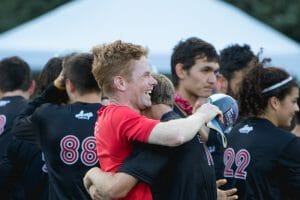 1st Runner-Up: Patrick Sherlock and Matt Zumbrum (Philadelphia AMP)
After yet another strong regular season, Philadelphia AMP had, charitably, an uneven Nationals. A disastrous Thursday saw the defending champs come close to missing the bracket altogether and staring down a daunting path with multiple semifinalists from the past couple seasons standing in their way of another title. They needed to find a way to refocus and steel themselves for the battles that lay ahead. Thankfully for them, they could rely on the steadying and inspiring presence of two-time Coach of the Year Patrick Sherlock and first-year assistant Matt Zumbrum.
The bar for success rises each year, particularly with a program as well-known as AMP. Factor in the departures of several key players from last year's squad and the need to integrate brand new pieces into the fold, and it becomes clear that Sherlock and assistant Zumbrum had their work cut out for them this year. With the team's back to the wall, they delivered.
From stifling the Fort Collins shame. deep game, and pushing the pace against a shorthanded Washington DC Space Heater, to landing on a defensive game plan to slow down a San Francisco Mischief offense which had steamrolled the competition in San Diego, Sherlock and Zumbrum made the right adjustments at the right times to maintain AMP's edge on the competition. Sherlock himself called out the crucial defensive adjustments and precision that Zumbrum brought to the fold, providing a second set of eyes and that much more detail to the plans the team put in place each game. Both Sherlock and Zumbrum have a long history with AMP, and it takes a deep connection with a team to pull it away from the brink of elimination that many times. Sure, those escapes had some luck involved (how often does Nick Lance miss that many potential goals in a row?) but to be in those situations year after year requires a level of consistency that this division is not known for. With that lens, it's hard to overstate the importance of Patrick Sherlock and Matt Zumbrum to AMP.
– Colin Clauset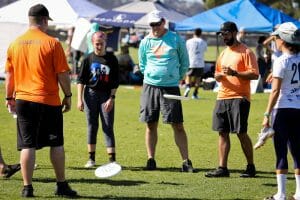 2nd Runner-Up: Adam Goff and Harrison Schwarzer (Dallas Public Enemy)
This was not meant to be Public Enemy's year. The South Central has been famously understocked with bids the past few years, with even elite club mainstays like Love Tractor and shame. coming up short of bringing home a second during the regular season. Finally that changed in 2019, as Colorado's finest both did their part and regular season results pointed toward the Rocky Mountain pair striding into Nationals together. Instead, Public Enemy played spoiler to the party.
Despite middling results, the team successfully grew during the regular season, then peaked exactly when they needed to. In fact, their season is the envy of most modern coaches. Regular season growth and improvement? Check. Successful underdog Regionals performance? Check. Staying up through Nationals and finishing in the Pro Flight? Check. From all that Public Enemy accomplished this season, it's hard to argue that Adam Goff and Harrison Schwarzer don't deserve their spot on this list.
On top of rebuilding a team identity around its younger stars, Goff and Schwarzer also had the added burden of quickly assimilating many out-of-town talents to the team throughout the regular season and into the postseason. A fair number of Public Enemy's best players do not live in Dallas, and did not have much time to practice or play with the team before being thrown into do-or-die situations. Their seamless integration into Public Enemy's system says a lot about the balancing act that Goff and Schwarzer danced through this year, as Dallas was one of the cleanest offensive teams at Nationals, and punished teams for making even the slightest errors. Their game against the Polar Bears was the perfect example of this, as Public Enemy committed only 9 turnovers all game. Goff and Schwarzer created a system that their players could thrive in, and it proved itself on the biggest stage.
– Graham Gerhart