And the Mixed Player of the Year is...
Ultiworld's 2019 Mixed Club Awards are presented by Tokay Ultimate cleats. With their new Flight cleats, your feet can shine like these stars! Check out Tokay, the cleats you were looking for.
Ultiworld is pleased to announce our fourth annual Mixed Club Player of the Year award. While we consider both regular season and postseason performance, because of the nature of the Club Division, we weight success in the Series and at Nationals above all else. The club awards are selected based on input from Ultiworld reporters, contributors, and editors.
Our Player of the Year winner and runners up are the three best performers of the 2019 Club season and the POTY podium represents our highest individual award. As such, players honored here are not eligible for our other awards.
Offensive Player of the Year Award
Defensive Player of the Year Award
Breakout Player of the Year Award
Coach(es) of the Year Award
All-Club First Team
All-Club Second Team
2019 Mixed Club Player Of The Year
Anna Thompson (Philadelphia AMP)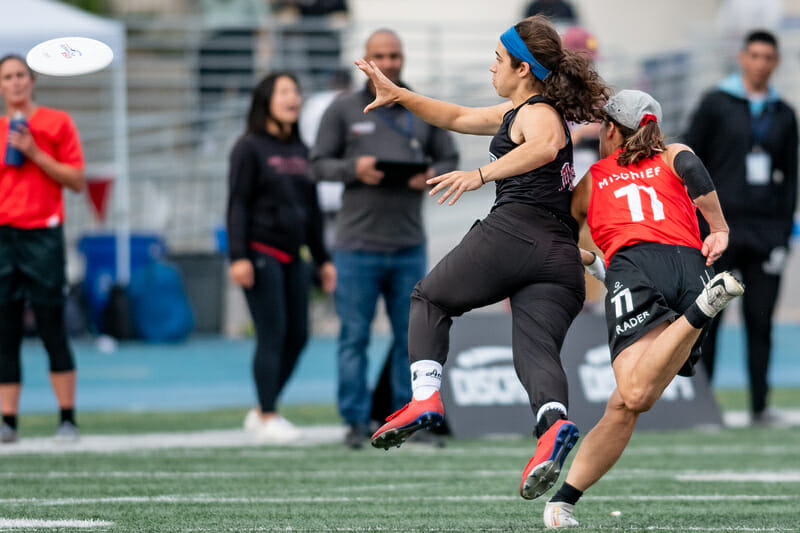 After spending the 2018 season recovering from various injuries, Anna Thompson took control of the 2019 season and reminded all of us that she is a force to be reckoned with. After her breakout season in 2017, big things were expected out the young star, and this year she truly delivered. Thompson racked up five goals and 13 assists in San Diego, and led Philadelphia AMP in scoring over the course of the season with 14 goals and 30 assists. She consistently made throws that made you stop and think about what 'vision' actually means, as she found cutters around the field with touch and accuracy that most players can only dream of. In the final versus San Francisco Mischief, Thompson put up four assists and a team-leading 174 throwing yards, only turning the disc over once despite having the green light to attack from any point on the field.
The stats only tell part of the story, though. Thompson was a mainstay on the offensive line for AMP in their semifinal against Fort Collins Shame and the final against Mischief, playing 21 total points as one of the primary handlers while also crossing over to defense for seven more, thriving in pressure situations. She had one of the iconic plays of the tournament, firing an inch-perfect flick over the top of the Shame defense to win it on double game point. She flashed her ability to come up with huge defensive blocks throughout Nationals, and this really helped drive home just how versatile a player Thompson is. Whether it be shutting down handlers, closing the gap on cutters to come up with an important block, finding gaps in the defense for a critical break, or driving for yards downfield to keep the offense moving, Thompson is a rare kind of player who excels in every role she plays. AMP has long been a team that prioritizes versatility and the ability to play a lot of roles, and Thompson is the player who exemplifies that approach.
With players getting more and more specialized at the highest levels, it's tough to find players who regularly play on both sides of the disc and are relied on for so much, let alone players who do as much for their teams at such a young age. Thompson's skill on offense and defense, and her glacial calm in the biggest moments, belies the fact that she just graduated from college. AMP threw her into the deep end when she first joined the team, and they've come to lean on her more and more over the past few years. It's a testament to AMP's philosophy on building young players that they would put her in high-pressure situations so early in her career, and to Thompson's ability to rise to the occasion and consistently play above and beyond those expectations. She took on much of the burden left behind after the departures of Nicky Spiva and Carolyn Normile, and powered AMP to a second consecutive championship. She's both the foundation of the AMP offense, and the spark that pushes it over the top. It's scary to think that she still has her best seasons ahead of her. Expect to see Anna Thompson in the running for Player of the Year for many years to come.
– Colin Clauset
1st Runner-Up
Lexi Zalk (San Francisco Mischief)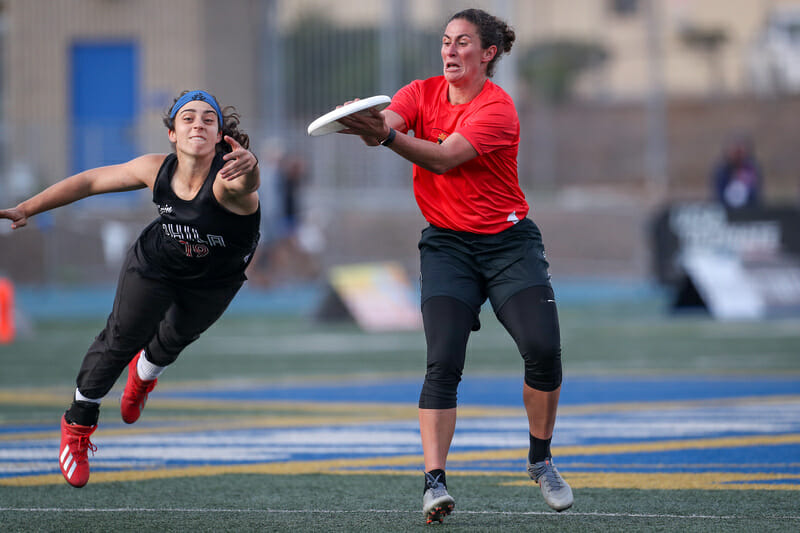 In terms of impact offseason additions, no one had a more outsized impact in 2019 than Lexi Zalk did for San Francisco Mischief. Coming from Boston Snake Country as an established elite cutter, it was clear that Zalk would add an additional dominant downfield target to Mischief's already deep and strong squad. What wasn't necessarily expected, though, was her emergence as the fulcrum of the San Francisco offense on her way to piling up the most goals in the division by seven (!) at Nationals with 21.
Zalk seemingly lived in the central cutting space for Mischief, frequently serving as the reset receiver for Mischief's handlers. Regardless of the defense, she always managed to find ways to get open for 10-15 yard gains and keep the Mischief offense humming around her. Perhaps most remarkably, though, was her preternatural ability to read the field and exploit any minor gaps the defense was exposing. She is an extraordinarily smart and savvy player, and racks up goals and key plays by simply being in the right place at the right time. It's not like she was doing this against inferior defensive opposition, either, as teams consistently lined up their strongest defenders to guard her, including Sarah Meckstroth of Drag'N Thrust in Mischief's statement semifinal win.
While Zalk's offensive contributions attracted most of the attention, she was no slacker on the defensive end. With some of the best defensive line players guarding her, Zalk had to play stout defense to ensure that when the Mischief offensive line did turn it over, they got it right back. She did that, with persistent pressure defense and the occasional big play when Mischief needed it, including two blocks in the final against AMP.
Not many players have consistently held places at the top of the mixed division and fewer have done it with three different teams as Zalk has since 2016. Mischief this year was her latest stop and Zalk once again showcased her All-Club talent as an invaluable player on offense and defense, and as one of the players of the year.
-Jenna Weiner
2nd Runner-Up
Erica Baken (Minneapolis Drag'N Thrust)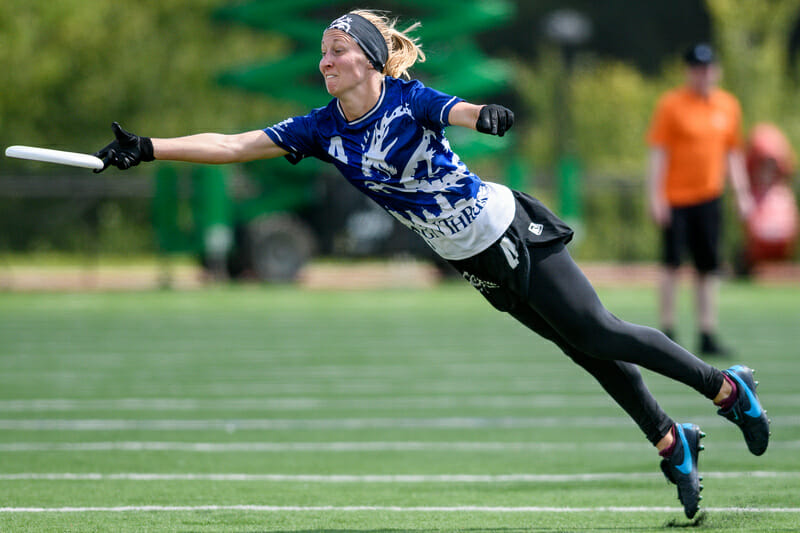 With throws crispier than her namesake, Erica Baken was the conductor of Drag'N Thrust's incredible offensive symphony this season. Her potent chemistry with running mates Leo Sovell-Fernandez and Tavis Leighton made Drag'N's backfield a nightmare to cover. But it's her defense that sets Baken apart from the rest. While she has played a wide variety of roles on Drag'N since joining the team in 2012, until this season, she was primarily a defensive handler, trusted to generate blocks and then coolly marshal a break on the turn. That experience paid dividends for Drag'N's O this year; on the rare occasion they turned the disc over, Baken effectively took her mark out of the play entirely. Few in the division can match her two-way excellence; whenever Drag'N's defense was struggling to produce a break, Baken was the first person to cross over.
"She's the most passionate person I've ever met," said second-year Drag'N Thrust player Greta Regan of her veteran teammate. "She throws herself 100% into everything she does."
That passion is evident in her every on-field action. Baken plays with her emotions on her sleeve, joyously celebrating her teammates' successes and lamenting her (exceptionally few) mistakes. She has the ability, as all great teammates do, of making her cohorts better. She does so not only with her play, but with her demeanor. If the offense was the engine that powered the 2019 Drag'N juggernaut, Baken's attitude and selflessness were the precious, precious motor oil needed to keep all those parts well-lubricated and in perfect harmony.
Until now, Baken has suffered from the very-good-to-have problem of having teammates so talented that they overshadowed her own (no less impressive) play. Players like Sarah Meckstroth, Sarah Anciaux, and Brian "Strings" Schoenrock have littered the headlines and award lists, and for good reason. They've been some of the top mixed performers of the last decade. But no teammate could could distract from Baken's brilliance in 2019 — that's just how brightly she shone.
-Charlie Enders