Our selections for the seven best performers of the year.
Ultiworld's 2019 Mixed Club Awards are presented by Tokay Ultimate cleats. With their new Flight cleats, your feet can shine like these stars! Check out Tokay, the cleats you were looking for.
Ultiworld is pleased to announce our fifth annual Mixed All-Club teams. While we consider both regular season and postseason performance, because of the nature of the Club Division, we weight success in the Series and at Nationals above all else. The All-Club teams are selected based on input from Ultiworld reporters, contributors, and editors.
Player of the Year Award
Offensive Player of the Year Award
Defensive Player of the Year Award
Breakout Player of the Year Award
Coach of the Year Award
All-Club Second Team
2019 Mixed All-Club 1st Team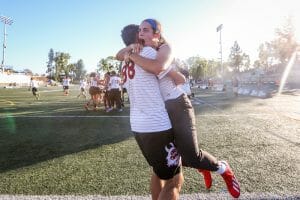 Anna Thompson (Philadelphia AMP)
What a cap to the season for Anna Thompson. A centerpiece of the Philadelphia AMP offense, she threw the game-winners in both the semifinal and the championship to seal the repeat for AMP. She rose to the challenge in the biggest moments, showing an incredible ability to make the throw that breaks the game open. No part of the field is covered when Thompson has the disc, and she displayed pinpoint hucks and sharp over-the-top throws all season long.
In San Diego, she showed a willingness to attack defenses at every opportunity, and never gave in to the pressure with AMP repeatedly pushed to the brink of elimination. She can attack teams as a handler, drive for yards as a cutter, and gives AMP one of the most reliable distributors and reset players in the division. She's the ideal player for a team that prizes flexibility and would be the cornerstone of any team she plays for.
– Colin Clauset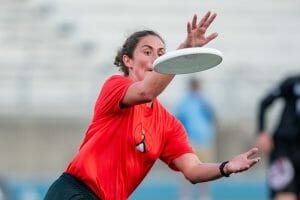 Lexi Zalk (San Francisco Mischief)
Arguably the most important offseason pickup in the division, Lexi Zalk made the difference time and again for Mischief this season. She was dominant in and around the end zone, scoring the most goals in the division at Nationals by a wide margin, and putting in strong defensive performances along the way, establishing Zalk as the best of the division's cutters.
The key that really allowed her goals tally to stack up was Zalk's extraordinary ability to find and get into any open space, making her an ever-reliable option for Mischief's handlers. Even against some of the best defenders in the division, Zalk was nigh unstoppable. With her exceptional goal-scoring prowess, Zalk became the fulcrum of San Francisco's offense in her first year on the team and helped bring Mischief back to a championship final.
– Jenna Weiner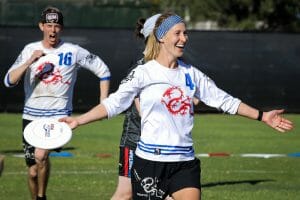 Erica Baken (Minneapolis Drag'n Thrust)
For all the star power on Minneapolis Drag'n Thrust, Erica Baken was the engine that kept everything moving this season. Moving onto the Drag'n Thrust O-line for the first time this year, she was a tireless reset handler who always found the right ways to lift the team up when it got stuck. Her time on the D-line ensured that she would always be a threat to get the disc back on a turn. And just in case teams forgot how good she is, a few huge hucks from Baken meant that no one repeated the mistake.
She has one of the quickest releases on her throws in the game, and that speed helps break open defenses for Drag'n Thrust. Attacking before a defense can set themselves continuously tilts the game in favor of the Minneapolis offense, and with the margins getting tighter and tighter at the top of the division, Baken is a key factor in keeping Drag'n Thrust among the elite.
– Colin Clauset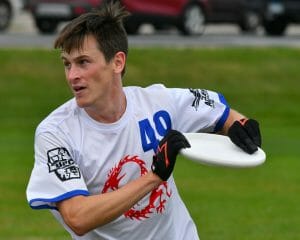 Caleb Denecour (Minneapolis Drag'n Thrust)
Every elite team needs go-to players on offense and Caleb Denecour was that and more for Drag'n Thrust this year. With game-breaking speed and pinpoint throws, Denecour powered Drag'n's offense on their way to the #1 seed going into San Diego. No one was more effective overall on offense than Denecour, who also had some key blocks at Nationals.
Often serving as Drag'n's initiating cutter, Denecour could turn on the jets to open otherwise nonexistent windows under or deep, and few were better at using their quickness for exceptionally clean, smart help defense. It was Denecour that saved Minneapolis' season in the prequarters, coming up with a poach block on double game point to complete Drag'n's comeback against Slow White. Denecour led the Drag'n statistical leaderboards as the centerpiece of their offense, and set a high bar for the rest of the division with a combination of timely blocks and outstanding all-around offense.
– Jenna Weiner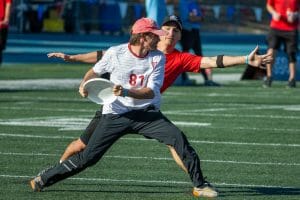 Sean Mott (Philadelphia AMP)
Where would AMP be without Sean Mott? Philadelphia's leading goal scorer and assist thrower at Nationals, Mott's big arm and big skies made him an integral and irrepressible piece of AMP's devastating offensive game plan. Mott also made play after play on the defensive end, particularly in the deep space, with hops and box-out skills that belie his 5'9" frame.
In big moments Mott was heavily involved, contributing goals and assists for crucial holds against both BFG and shame. in the bracket. His willingness to shoot deep gave AMP stylistic flexibility that they historically have not had, which allowed them to adjust in run-and-gun games like the semifinal. Mott has only been on AMP for two seasons now, but what seasons they have been. This year in particular showed why Mott is so vital to AMP's success.
– Jenna Weiner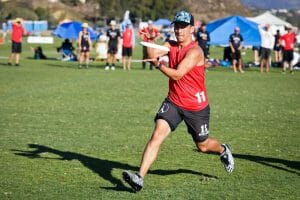 Cody Kirkland (San Francisco Mischief)
It only takes one glance at Mischief's offense to see just how much Kirkland changes the game for his team. His always-on, always-ready style of offense was the driving force behind the deep run that San Francisco made this year. Sharp reflexes and sharper throws always kept him one step ahead of the opposition, as he turned the tide of games quickly when given the chance. But even more importantly, Kirkland didn't need the disc in his hands to be effective for his team. He frequently drew the attention of multiple defenders with his cuts, giving the rest of Mischief's offense a chance to get open while their marks were distracted.
Thanks to Mischief's equal-opportunity offense, Kirkland didn't stick to any traditional offensive role, and was given free reign to open space in the backfield by shooting off deep. The field heat map for areas where he schooled defenders would be blanketed in red thanks to his ability to read a disc in flight and position himself correctly, keeping his mark at bay. He's the type of player that seasoned defenders match up against reluctantly, which is exactly why Mischief has come to rely on him so strongly.
– Graham Gerhart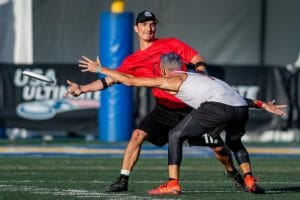 Nick Lance (Fort Collins shame.)
Nick Lance spent most of the season absent from the Fort Collins roster after an injury at Pro Elite Challenge. When he returned to the field at Nationals, it was clear he filled a sorely missed role on shame. The whole team looked more organized with Lance back involved, as spaces opened up that hadn't been there before. It says a lot that in just one weekend, Lance worked his way onto the top seven in the division.
But his impact was that big. At nationals, Lance rocked the stats sheet. A throwing visionary, he had an outrageous 15 assists during the weekend. But he also worked as a tireless reset and bail-out option for his team, changing the odds in the wild team's favor. A calming presence on offense and an unstoppable, relentless actor on defense — with five recorded blocks for the weekend — he brought what shame. needed to reach semifinals.
– Karoline Hart