A vast field of top teams makes this one of the most compelling SBI's yet.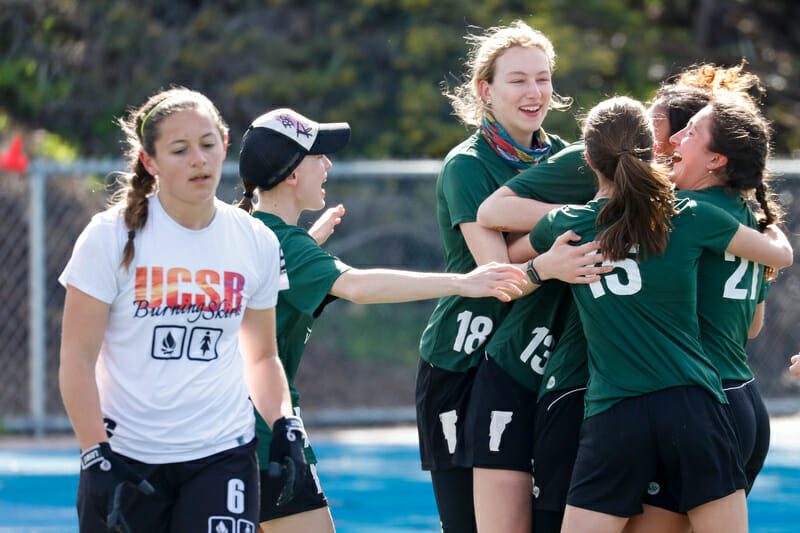 Ultiworld's 2020 college coverage is presented by Spin Ultimate; all opinions are those of the author(s). Find out how Spin can get you, and your team, looking your best this season.
As one of the first major tournaments in the college women's division and the first leg of the Southwest Triple Crown Tour1, the Santa Barbara Invite has always been an opportunity for a handful of the best teams from California and beyond to stake a claim as the 'Best in the West.' This tournament is a litmus test of college teams and their potential, but so often it's the known favorites that come out on top. The good news this year is that no one is quite sure who the true favorites are, which has upped the ante of the weekend a hundredfold.
Despite being the first tournament of the year for most of the teams competing this weekend, there's a lot at risk here. Of the 17 teams coming to Santa Barbara, nine are currently in the top 20 of the Ultiworld Power Rankings. It's all but a given that they'll have to be taking their games seriously with so much on the line. Beyond those nine, there are still many hopeful teams sitting just outside the bubble. With a strong weekend, a team can catapult themselves into bid contention, much like Wisconsin did last year. The storylines to watch for from Friday onwards are as murky as ever, but here are our thoughts on what to watch for in the women's division.
Tournament Profile
Date: January 24-26
Location: Santa Barbara, CA
Weather: mid to high 60s, mostly sunny
Top 25 Teams: 11
Filming Schedule
These games will be available online next week for Ultiworld Full and Plus subscribers (and teams with a Team Pack!)
Friday
6:00 PM: BYU v. UC Santa Barbara
Saturday
8:00 AM: Northeastern v. Stanford
11:30 AM: UC San Diego v. Washington
5:00 PM: Prequarterfinal
Sunday
8:00 AM: Quarterfinal
11:30 AM: Final
Stories To Watch
Can UCSD Pick Up Where They Left Off?
#8 UC San Diego is coming off the best season in program history, and that includes their 2002 Nationals-winning season. They swept the competition at all legs of the SW TCT last spring and only lost games that did not feature Dena Elimelech. In case it needs repeating, Elimelech did not lose a single game during the entire 2019 college season. But, in 2020, UCSD is going to have to learn how to play without her. Not only that, they'll have to play without a graduating class that all but won them Nationals eight months ago. With their 2019 graduating class, the team lost 66% of their goal-scoring production, 60% of their assist producing players, and 74% of their block earners. That's tough to recover from no matter how you spin it.
That's not to say UCSD is out of the fight entirely, though. The Hanna twins have shown that they are more than ready to take the reins of the team, and Alex Diaz is still a revelation as a fly-by cutter. Their senior class is also ready to show their value. Sara Zhang, Samantha Wool, and Catherine Treviño have big shoes to fill, but are comfortable within UCSD's system and know how to run the offense. Of course, when you're talking about UCSD's system, you can't ignore the reigning Coaches of the Year. Carlo Mosca, Alisha Stoun, Sheliemae Reyes, Kelli Iwamoto, and Avery Jones are all helping guide the team in some capacity. The enlarged coaching staff harkens back to UNC Darkside's abundance of coaches from last season, where they too relied on a plethora of alumni to work with the team at tournaments.
For UCSD to succeed, they'll need their role players from 2019 to turn into stars. That's all it comes down to in the end. Thanks to their uncrackable offensive schemes, they already have the blueprint to play winning ultimate. All it takes now is for them to have players who can punch in a goal when it matters. Against younger teams like Washington, Cal, and UVic, that could be more than enough. Their true test will come in bracket play against other experienced opponents like UCLA and Northeastern.
Northeastern's Talent Demands Attention
Apparently word has got out that Santa Barbara is the place to be if you want to test yourself against the West Coast's best early in the season, and that's exactly what the #13 Northeastern Valkyries are gearing up to do. They'll arrive as the no. 4 seed at the tournament, but may very well be the favorites thanks to their strong returning class. Ari Nelson and Clara Stewart provide arguably the most formidable backcourt in play this weekend, if they are ever on the same line together. Even if they are split between O- and D-lines, there's plenty of help around Northeastern's two stars to roll this team straight through to Sunday's bracket play. Brianna Considine, Lamia Farah, and Ellen Harsha contribute to a stellar slate of seniors that have already played big roles on the biggest stage. Beyond that, Northeastern also has brought on Clara Bils, a U20 do-it-all star that can take any role on the field.
Northeastern is one of the many teams here that made Nationals in 2019, but, unlike the others, they're potentially miles ahead of where they were back then. That's not to say that they won't be challenged in pool play. UCLA is every bit as competitive as Northeastern, and their freshmen class is among the best at this tournament. Stanford also isn't about to roll over and let the Valkyries march to bracket play. Without much time to prepare this year, this tournament may be a little too early to see Northeastern at full strength. Still, they have a stacked deck of a roster and could glide to the final in Santa Barbara. It's not even a stretch to say that they could win it all if they play their cards right.
Just How Much of a Show Can Vermont Pull Off?
The excitement around #16 Vermont this season is very palpable. They were first on our list of preseason darlings late last year and nothing has changed since then. For those hoping to see their stock rise in college ultimate, Ruckus is a pretty safe investment. The team is coming off of two impressive regular season performances and is hungry to finally get through the door to Nationals. Santa Barbara is the perfect place for them to show just how serious they are.
Before looking long term, they'll have to show that their new pieces are acclimatized with the team and ready to produce right away. Kennedy McCarthy was a killer in high school and club this summer, but has to show she has the same instincts in college. She's joined by D-III star Sarah Von Doepp and a host of returning talent. Needless to say, Vermont has all the tools to keep every game interesting. But exciting ultimate doesn't always make for winning ultimate. If Ruckus is really going to make a name for themselves at this tournament, they need to land a haymaker or two. They'll have their chance against Northwestern and UCSB, two of last year's Nationals qualifiers who've lost veteran talent. Beating one or both of these teams handily will go a long way in convincing the rest of the division of their legitimacy, and success in the bracket could push that even further. Two years ago, Vermont made it all the way to the final at SBI; 2020 might be the time where they could win it all.
Don't Sleep on Utah's Ascendancy
#20 Utah will arrive at this tournament a little under the radar for most. In fact, I'm willing to wager that even avid college ultimate fans would have to take a second before remembering Utah's team name…but Spiral Jetty is here to change all of that in Santa Barbara. Utah already shone in the preseason with an impressive performance at KFall; now they'll just have to do the same when it counts. The Northwest has long been a who's who of Washington and Oregon teams politely trading positions at the top, but Utah finally has a chance to break into the bid scene.
It helps that they have one of the most formidable rising stars in the Western US. Kyra Khoroujnikova is forcing everyone in the division to remember her name, and forcing the media to learn how to pronounce it, too. She's joined by Jess Olsen, Lauren Radke, and Hannah Bruns, all of whom can take over a game when necessary.
If there's anything stopping Utah this tournament, it's their pool. The team is criminally underseeded at no. 11, which puts the pressure on for them to perform at their peak just to make bracket play. SLO and Wisconsin are similarly motivated to succeed this weekend, and each boasts its own fair share of talented players. For Utah to really take advantage of this tournament, they'll need a win or two on Sunday. This is no easy task, either. This is arguably the strongest field Santa Barbara has ever hosted, and it's an uphill climb to crack into the top eight. Still, Utah is the third seed to pick for quarters. Without a doubt, they're the underseeded team every opponent should be trying to avoid in bracket play.
Can Wisconsin Run it Back This Year?
#12 Wisconsin was the best story to come out of Santa Barbara in 2019, ending the tournament with a strong third place finish and riding that wave all the way to Nationals. From their very first game last January, it was evident that the team had figured out the perfect recipe for college brilliance. Unfortunately, they've lost a few ingredients from that recipe this year, and will now have to see if there are other substitutes that could improve the formula. They still have the foundation for success. Margaret Walker is back, bringing her arsenal of explosive throws with her. Kaitlynne Roling, Caitlin Murphy, and Vanessa Villaseñor also return, giving Wisconsin a strong core to build out from.
If there's anything stopping Wisconsin from making the bracket this tournament, it's chemistry. The weather in Madison is barely manageable around this time of year, and getting in reps has always been a problem for North Central teams. Without the bevy of seniors and graduate students that Bella Donna had last year, they can't trust their offense to be completely in sync from the first pull. Wisconsin is still the favorites to win their pool, but it's not a given.
Washington's Set to Begin Their West Coast Takeover
By making Nationals last year, #9 Washington proved that they were ahead of schedule with the development of their program. Now, by adding players like Abby Hecko (the youngest member of the 2019 USA U24 women's national team), Amy Nguyen, and Grace Young, it's safe to say the team is in their element. Their new recruits bolster the already talented UW roster that includes Alexa Yadama and Steph Phillips, and that's just scratching the surface.
Washington can't just walk their way to Nationals, though. As the age-old saying goes: "with great power comes great responsibility." To win in Santa Barbara and beyond, they'll need to show that they are at least the sum of their parts. There's no room for hero ball on a Nationals quality team, and Washington will face a lot of those this weekend. If they're to keep up, they'll need to figure out their pecking order and where each piece fits on this roster. The good news is that they have so many versatile pieces that they can essentially run a plug-and-play scheme. Hecko can slot into a lot of different roles, as can Yadama.
In truth, there's very little chance this team will do poorly this weekend. Lock them in as a quarters pick and probably a whole lot more beyond that. They may not get to face their biggest in-region competition this weekend, but they'll get to face almost everyone else from the West Coast. Assuming they live up to the hype, they stand every chance to win the tournament outright, even with the enhanced competition.
Will We See a Power Shift From the Southwest Teams This Tournament?
It's a brave new world in the Southwest and we're all the better for it. We've already mentioned how UCSD Dragon Coalition has changed in more than just name, but they aren't the only ones. While 2019 already saw Stanford's iron grip over the Southwest weaken, new challengers like UCSB may also be faltering. It's impossible to talk about this tournament without acknowledging the massive talent drain suffered by the Southwest with the graduation of 2019 senior class. For once, there is the appearance of equality, and all the teams are trying to capitalize on the free real estate at the top of the region.
While UCSD and UCSB might not go quietly into the night, the top of the totem pole is likely #10 UCLA. Not only did they manage to retain the majority of their Nationals talent, they've also accumulated an unfairly strong incoming class. Charlotte Terrasson may not be a household name in the US, but she's a rising star in the French ultimate scene, as the U24 mixed team's leading female scorer in Germany and member of the 2020 French women's national team. Alongside Terrason, BLU has picked up Cali Roll alumni Tanya Bearson and another Bay Area talent in Diana Zhang. Frankly, there's no telling what the ceiling is on this team, but they should be considered as one of the favorites to win the Santa Barbara Invite flat out, if not the Southwest region as a whole this year.
The other major Southwest contenders who are vying for a podium spot this weekend are Stanford and SLO. Both fell just shy of making Nationals this past year, and both are eager to make up for it with a strong 2020. For #19 Stanford, their strength lies in consolidating the talent they have, and building on what they've learned together as a team over the past two years. Last year, Hallie Dunham was unleashed to fire off as many shots as she liked at this tournament, and with even less proven firepower from Superfly this year, expect her green light to keep growing brighter. Still, if Stanford is hoping that this tournament is a proclamation of their return to prominence, it'll come from players without national acclaim. Stanford's been building up a roster of role players; in Santa Barbara, at least one or two of them will need their roles to be all-region level stars.
#15 Cal Poly SLO's path to victory in Santa Barbara is twofold. First, their handler core will have to show that the offseason hasn't dulled their blades, as they'll need big throws from players like Thalia Ward and Kelly Dickinson to put their opposition on their heels. Secondly, they'll need their bench to carry a stronger burden than they have in the past. SLO has not been known as a deep team, but they've been trying to change that narrative by giving their younger players ample reps, including a tournament run through the Santa Barbara qualifying tournament. If even a few of these players can play meaningful points in the bracket, it'll be a good sign of promise for SLO's season. If any of those few can blow out the competition, that could tilt them over the edge this weekend.
The enigmas of this group are Cal and UC Davis. #23 California has seen a major roster overhaul this season and likely will take some time to figure it all out this season, giving them every reason to play this tournament as a warm-up to the regular season. That's not to say that they can't play strong ultimate. Cidney Weng and Valerie Hsieh are both quality veterans who can match up with the best players at this tournament, and Cal will be happy to see the return of Jenna Krugler from injury, as she could have a major impact from the outset.
UC Davis is another team whose potential is tough to parse out, but their preseason showed plenty of promise. They played tight with both UCSD and Stanford at Sean Ryan and blew out teams like UCSC and Cal. It's tough to draw anything conclusive from the fall, but Rogue loves to play spoiler to the more prominent institutions in the Southwest. Unfortunately, their pool is perhaps the toughest at the tournament, leaving them very little margin to get out of pool play.
To round this all out, UC Santa Cruz Sol is trying to make their brand as the best team you've never seen. The Santa Cruz women sparked some chatter with an impressive fall season and cruised through Santa Barbara qualifiers to earn their spot at this tournament. Michelle Slaughter has been playing out of her mind recently, and her opponents can ignore the threat of her brilliance at their own risk. Despite all that, UCSC's chances of playing deep into the bracket this weekend are slim, but even a victory or two could look really impressive for a team that no one saw coming.
---