Some of west's best battle in SoCal.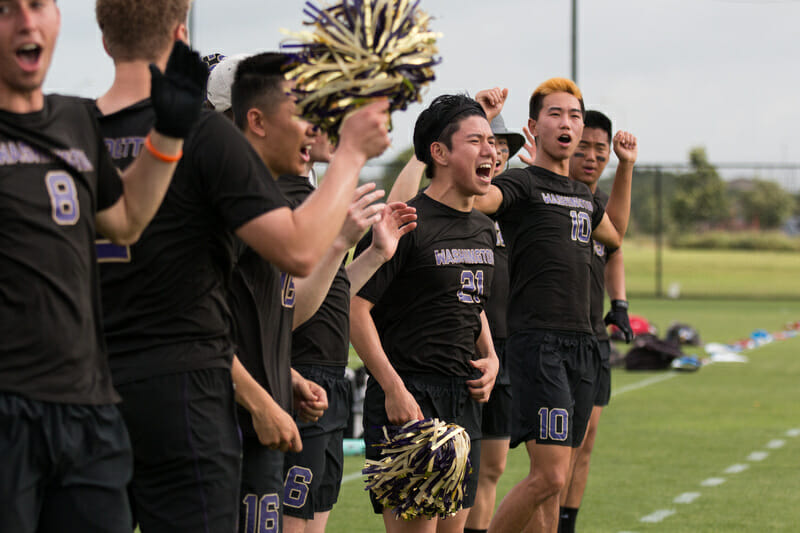 Our 2020 college coverage is presented by Spin Ultimate. Please support the brands that make Ultiworld possible and shop at Spin Ultimate!
SANTA BARBARA, Cal. — After a typically beautiful weekend in Southern California, the University of Washington Sundodgers walk away as 2020 Santa Barbara Invite champions, avenging their loss to Cal Poly SLO at the same event last season. But UW weren't the only team to fly home with positives to take away from a fun weekend, as many of the middle-tier squads got their springs off to promising starts. Here are the stories that unfolded.
Washington Looks the Part of Deep Bracket Nationals Contender
#7 Washington went undefeated on the weekend and was really only challenged in the final against SLO. Yielding just 16 goals in four games of pool play, the Sundodgers offense was well-rested heading into the bracket. Helped by an easier semifinal matchup against UCLA,1 Washington marched to the final where they never trailed in a convincing win, that wasn't as close as the 13-11 scoreline might suggest.
Fifth-year Manny Eckert described day one as "one of the easier Saturdays we've had," but was quick to point out that their tournament win came against Cal Poly SLO, who "gave [UW] the hardest, toughest, gritty, most physical battle." In the final, the Sundodgers focused on keeping the disc out of Calvin Brown's hands; Brown led the SLO offense all weekend and opens up the field with his dynamic throwing ability. Sophomore Dante Lopez-Escarez frequently took on this tough matchup and was able to force Brown to make plays downfield instead of simply winning with his throws — though the Cal Poly star still fired plenty of great ones.
Washington is boosted by their team-wide defensive intensity, even from the offensive line. The Sundodgers turned it over more than you might expect from a team brimming with offensive talent, but they frequently earned the disc back with high-pressure defense. Jake Steen made some highlight-reel worthy layout blocks.
Over the weekend, rookies Tony Venneri and Jack Brown were instant impact players on the defensive line. Brown had a few acrobatic blocks in the air and played with a spatial awareness few freshmen have. Venneri is a tenacious defender and can run every-other after a turn to help the Sundodgers punch in breaks quickly. Porter Jones also stood out as a handler defender who made resetting the disc difficult for Washington's opponents.
It's worth reiterating that the team was absolutely dominant in their other six matchups on the weekend, including against third-place finisher UCLA (a 13-5 win for UW) and a talented Colorado State team (13-7). Washington was easily the deepest team at the tournament, rolling out line after line of quality defenders.
The scary part: they can still get better on offense. Eckert played well as a field general in the backfield, but the O-line — now featuring fifth-year grad student Sam Cook — is still developing chemistry. Per usual, Lucas Chen is a major goal-scoring threat and Nate Wipfler looks like he could be a breakout star on the offense this year.
Washington will look to continue their undefeated season back in Southern California when they will face a more loaded field at Pres Day in February.
BYU Takes Care of Business
Washington is not the only team leaving Santa Barbara without a loss. #2 Brigham Young played in some close games but rarely looked out of control as they swept their Friday-Saturday slate with six wins.
Cal Poly SLO came prepared and gave BYU's offense trouble in the first half of their Friday night showcase game, but BYU was back on serve by halftime and never appeared rattled, eventually winning the game 13-10 thanks to some strong deep defense and break-free offense after giving up two early in the game.
As we've known for years, this team is absolutely stacked with talent. 2019 2nd Team All-America selection Jordan Kerr, unsurprisingly, led the team in assists, throwing 23 scores and opening up the entire field with his creative throws dealt from a lethal left hand. He is a devastating offensive superstar. Braden Eberhard, Joseph Merrill, and Jake Miller have been playing together for years, and their talent and chemistry make the BYU offense hard to stop. Luke Yorgason was his usual reliable self in the air and led the team with fifteen goals on the weekend. Taylor Barton is turning himself into a household name with yet another stellar defensive performance, often baiting then blocking deep shots and turning around to throw a huck for a goal himself.
It was disappointing that BYU did not face fellow top-ten squad Washington, but we should see how they stack up against elite national competition in challenging games later this season.
Cal Poly SLO Still the Class of the Southwest
#17 Cal Poly SLO is integrating many new parts, but they still have the pieces they need to compete with the best teams in the country. Their only losses on the weekend came to Washington in the final and BYU in a Friday night showcase game. Most importantly, they showed an ability to make in-game adjustments and they beat Cal handily, cementing their status as Southwest favorites.
"A lot of this weekend was finding out who we are as a team," said coach Cody Mills. "We haven't really played A-team level fall games…BYU was the first and we wanted to see how we stacked up against these teams."
The early returns show positive signs. "We can run with those guys," said Mills. "You can put down rosters on paper all the time but you don't really know until you're on the field."
SLO had chances to win their game against BYU, throwing away a multi-break lead with some inaccuracy on deep shots and a general lack of offensive discipline in the second half. But the spark that led them to that lead in the first place was promising.
In the final, SLO made Washington grind upfield rather than attack the deep space — Mills said he wanted to make Washington earn their scores. While the huck looks that had been falling so easily for the Sundodgers on Saturday were not readily available, Washington was still able to work up the field without too much problem. SLO did display a high level of defensive intensity — they earned turns throughout the game and had chances to narrow the gap late into the second half. Their sideline energy also matched that of Washington, who is perpetually one of the best in the country at bringing energy to the game.
It's fair to say that Washington's depth currently exceeds SLO's, and, really, that of every other team at the tournament. But the top end for SLO more than held their own. Calvin Brown and Conor Schofield — the team's two O-line returners — were excellent but had to do a lot of heavy lifting for the offense. KJ Koo and Jake Thorne were strong both defensively and offensively.
It's clear that, though the team is not as talented as it was a year ago, they remain in the top tier. Developing their depth will be key to their season-long success. Mills said the team is "trying to build an offense that works one through seven instead of only through Calvin, so when teams focus on Calvin we can use other options."
That process takes time and, while SLO dominated most of their opponents on the weekend, the losses to BYU and Washington show that there is more work to be done.
Second Place in the Southwest Up For Grabs
#23 California held their own this weekend, earning a spot in the semifinal round and holding seed on the weekend. Munis Thahir and Tommy Lin led the team, and there are plenty of players that earned club experience with Guerrilla this past summer. The depth on this team is impressive: they can use their entire roster to grind out wins. Some thought last year's trip to the College Championships may have been a fluke, but this team is already tough to beat and should only improve as the season progresses.
Still, UCLA was the Golden State squad that stole the headlines this weekend. Like SLO, Smaug only lost to BYU and Washington on the weekend, capping off an impressive tournament with a third-place finish. UCLA eked out close wins against UC San Diego and British Columbia to open pool play, but pulled away from Case Western Reserve before losing handily to BYU. Despite that loss, Smaug got a bye to the quarterfinal round thanks to BYU dropping out on Sunday. They got pasted by Washington in the semifinal but recovered to beat Cal in the third-place game and establish an early season pecking order in the Southwest.
UCLA's captains understood the general shock from their bracket run but were not surprised themselves. "We have always flown under the radar," they said, "but we've always believed that we are good and can compete in the region. We came in thinking we could make semis-plus; we were really locked in on semis and had expectations for more."
The captains cited the team's increased commitment as a reason for their success. In the past, "a few guys — the top five or seven — really committed and it dropped off after that," they said. "This year we have 12, 15, maybe 18 who are working out every day. They're trying to get better and they want to win and they're trying to get to the next level."
The team has a chip on its shoulder from the need to introduce athletes to the sport. They have not pulled in many elite high school or YCC recruits but have still managed to cobble together an explosive roster. Austin Hwang stood out for his big layouts, and David Dumas, just a sophomore, is a deep defender who can play big in the air in a way that few others at the tournament could. On offense, Riley Kirkman-Davis, their star rookie recruit who helped Berkeley to a High School National Invite championship last summer, has earned comparisons to Calvin Brown. He's already in a major offensive role and has a maturity rarely found in players his age.
UCLA will look to build on their strong start to the season at Pres Day next month. They are still clearly a step behind the country's top programs but do not count them out of competing for a Nationals spot.
Quick Hits
Utah shocked Stanford in a prequarters upset on Sunday morning. Austin Hasbrook and Nathan Huff lead a competitive but young team. They lost some close games on Saturday, but winning a bracket game as an underdog is nothing to take lightly. While this team might not be competitive in a stacked Northwest region this year, they have the tools to build and may be a regional threat in the not-too-distant future.
Colorado State only lost to UW and Cal on the weekend and hung tight with both. CSU actually took half on Washington in their last pool play game before collapsing in the second half and giving up a 7-0 run to end it in the face of tremendous defensive pressure from the Sundodgers. Mo Scott looks like the real deal as a thrower, Sam Goldstein was a consistent offensive threat wherever he lined up, and Will McDonald stood out for his strong defense. Hibida takes care of business against lower-ranked teams but will need another gear to earn a bid or threaten Texas and Colorado in the South Central.
Stanford moved some players around after a rebuilding year in 2019. Kevin Tien, who might be their best offensive weapon, played almost exclusively defensive points. He was a solid defender and became a big threat after a turn. Stanford coach Josh Kapilivsky has his eye on player development, saying it is hard to learn and grow as a player by playing the same position for three years. While it did not translate to immediate wins for his team, Tien is working himself into being a more well-rounded player. Sam Masling impressed in an increased role on the offense, Charlie Shors — a rookie — fit in as a downfield presence on the offense, and JD Pruett got good experience matching up against tough players. Not everyone was getting used to a new role. Like the past two seasons, Nick Hirning centered the offense and presented a challenge for defenders with his quick decision making. He will be in the running for a spot on the All-Region team. Not earning a win on Sunday isn't a great look for a team trying to get back to Nationals, but this team passes the eye test better than they did last year and could build to be a regional threat come April.
There are plenty of signs that British Columbia could develop into a threat in the Northwest. They were up midway through the second half against BYU, and they played tight in a loss to Cal Poly SLO. Losses to UCLA and Colorado State hurt their case somewhat, but many of their problems came down to offensive execution, rather than major structural issues. There's a lot of U24 talent on the team, including Ty Barbieri and Cole Keffer, and their defense was stout. If they can tune up the O-line, they will be a challenger.
#19 Victoria was by far the most disappointing performer at the tournament. Despite entering as the no. 5 seed, the Vikes only won games against bottom dwellers UConn and Southern California. Sean Bennett and Dawson Pasin could use some help rounding out the offense and the D-line struggled to generate turnovers. Evan Reynolds could emerge as another downfield threat — he played well this weekend. Whether it is Reynolds or another player, Victoria will need some spark to start playing their way back into the Nationals conversation. It certainly didn't look good in their first time out this spring.
All-Tournament Team
Manny Eckert (Washington)
Jordan Kerr (BYU)
Jack Brown (Washington)
Conor Schofield (Cal Poly SLO)
KJ Koo (Cal Poly SLO)
Tommy Lin (Cal)
Taylor Barton (BYU)
Additional reporting from Graham Gerhart and Charlie Eisenhood.
---