An Easterns preview?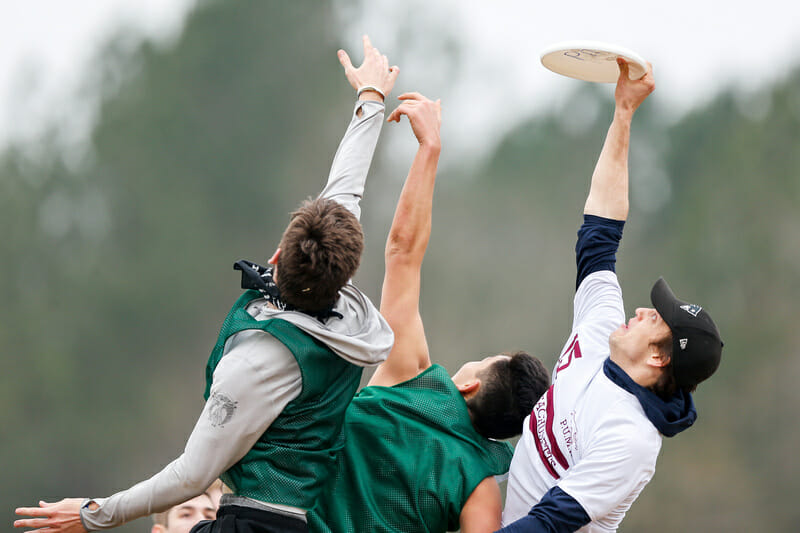 Our 2020 college coverage is presented by Spin Ultimate. Please support the brands that make Ultiworld possible and shop at Spin Ultimate!
With the opening leg of the college season now only a blip in the rearview mirror, we turn our eyes as usual to the hallowed frisbee grounds of…Knoxville, Tennessee?
Tennessee Men's Ultimate made waves last fall when they announced they would be hosting an elite tournament and offered free bids to any 2019 Nationals teams. The result is an even stronger lineup of men's teams than across the country at the more venerable Stanford Invite. Virtually every top team from east of the Mississippi will be in attendance, so that the tournament has the feel of an Easterns preview, or a kind of Queen City/Warm-Up redux. However you slice it, it's going to be a good one.
Tournament Profile
Date: March 7-8
Location: Knoxville, TN
Weather: Clear, Saturday highs in the low-50s, Sunday highs in the low-60s, negligible wind
Top 25 teams: 12
Filming Schedule
These games will be available online next week for Ultiworld Full and Plus subscribers and for teams with a Team Pack!
Saturday
10:45 AM: #5 Carleton v. #12 NC State
12:30 PM: #6 Brown v. #14 Texas
3:00 PM: Prequarter
Sunday
8:30 AM: Quarterfinal
10:30 AM: Semifinal
12:30 PM: Final
Nine Burning Questions
1. How does UNC stack up with the other top teams in the division?
Let's get one thing straight before we start to dive into this question: #2 North Carolina Darkside is a really good team. They're undefeated on the season, more than half of their victories are already classified as blowouts1. Only one other team, Ohio State, has even played them to within three points. To say Darkside once again has the look of an elite team is an understatement.
And yet some bozos have gone on the record saying they think that this season UNC will take a step back from their established position as perennial National Championship contenders. Part of the fuel for that speculation is that while wins over Ohio State, Georgia, and NC State are nice, they haven't faced any of the current top-10 teams yet. That changes this weekend. Both the top-end and the depth of the SMI field will pose a challenge.
UNC features some of the best players in the country in Elijah Long, Liam Searles-Bohs, and Anders Juengst. But the roster is also notably heavy on rookies. It's a great cohort. Kevin Pignone and Matthew McKnight have risen to the top of the class early, but Mukil Gurupran, Ben Dameron, and Jack McCleary are clear-cut contributors, too. Darkside have done a great job working them into games and letting them shine — this weekend will be the first glimpse of whether they are ready to push UNC to great heights in 2020, or if they need a little more time in the oven.
2. Are Carleton's stars enough?
This is really a two-parter. Is the line of Dillon Lanier, Stan Birdsong, Joe White, Ethan Bloodworth, Luke Webb, Andrew Roy, and Harry Wolff-Landau the best in the country? Yeah, maybe, especially because White is probably the least guardable player in the division. #5 Carleton CUT showed a willingness at Florida Warm-Up last month to stack the O-line regularly and feature those players in heavy rotation on defense, with the result that they notched multi-point victories over contenders Brown, UMass, and Pittsburgh.
But the memory of their shortfall at last year's North Central Regionals still nags at any reasonable assessment of them. What kind of team is Carleton when they don't have all of their key pieces or when they face a team — like #1 BYU or #4 Michigan, both of whom topped CUT in close games at Warm-Up — with considerably more depth? A run to the SMI final would prove (mostly to themselves) that Carleton have the right combination of pieces to keep winning late in the spring; a disappointing weekend, though, would throw the whole notion of CUT as an elite team in doubt.
3. What is Brown's true ceiling?
Defending national champions #6 Brown Brownian Motion head into Knoxville as something of an enigma. On one hand, they scored the single marquee win of the early season last month in handing #1 BYU their sole loss to date. They've also split two games with Pittsburgh, and a close loss to #4 Michigan doesn't look bad at all right now. On the other? One- and two-point margins of victory over Northeastern, Auburn, and LSU are not elite-level results. Some of the evidence suggests we could be looking at back-to-back champs on Memorial Day weekend. And some of it suggests a team that would be lucky to reach quarters.
Notably, however, Brown played all of Warm-Up without their clear best player, John Randolph. While Ken Noh, Solomon Rueschemeyer-Bailey, and Jacques Nissen performed admirably without him, any guess at a team's ceiling is worthless without taking into consideration one of the most dynamic stars in the country. Randolph sat out for US National team tryouts the following weekend, and his status for SMI remains in question. Until he cleats up, the true level of this year's B-Mo squad will remain an open question.
4. How does the Pittsburgh offense bounce back?
There was a lot to take away from Carleton's 15-10 trouncing of #7 Pittsburgh En Sabah Nur at Warm-Up2 in February. You can (and probably should) use it as a watermark for how good CUT can be at their best. But don't lose sight of the fact that it gave a glimpse of Pitt at their worst. As well as CUT played, Pittsburgh's offense gave them the game. Handlers Will Hoffenkamp and Leo Warren both had off-games, and some of their big cutters like Will Helenski and Dillon Garrett were less involved than they had been at other points in the weekend. Sketchy resets, stagnant cutters, tunnel vision, and poorly conceived deep throws — it was a coach's nightmare.
That might be their M.O. as a unit: dangerous, but too capable of lapses to make a sustained run throughout an entire tournament. Or it could just be a blip. The good news for Pittsburgh is that a bad game in February does not matter, and it might even have been a teachable moment for the team. Between ironing out some of the miscommunications or settling on a standard O-line — can they win while keeping Michael Ing on defense? — SMI could be a return to form. If they can face down their next test against a tough defense — and they'll face plenty of them this weekend — with more aplomb, it will cement their (for now) tentative status among the 2020 title contenders.
5. What will Wilmington and UMass do in the bracket?
Sixteen-team tournaments like SMI, from a formatting perspective, are great. This weekend, every team will make the championship bracket, no matter how well or poorly they fare in pool play. That makes some sense, given the relatively loose seeding this weekend: pools are designed more to maximize matchup variety rather than strictly seeding to strength level. Giving all competitors involved the chance to flip the switch for a Sunday run is a benefit in and of itself. The format will be particularly welcome, however, for #15 Massachusetts Zoodisc and #17 UNC Wilmington Seamen, both of whom were cut from February brackets under bizarre circumstances and were justifiably salty about it.
Wilmington were the victims of emergency weather scheduling at Queen City Tune-Up. At the last minute, the tournament both expanded to five pools (from four) and reduced the winner's bracket to four teams (from eight). That meant that one of the pool winners would be an automatic also-ran: on pool play point difference, and probably by order of the salt gods, it was UNCW.
UMass, meanwhile, were squeezed out of the top-tier bracket at Florida Warm-Up by a razor-thin margin that had more to do with playing a soft schedule than their actual performance. Perhaps too rankled to play well, neither team performed in the undercard. UMass lost by three in the ninth-place semifinals to a Minnesota team they had already beaten on the weekend, and Wilmington managed, somehow, to lose to unranked Notre Dame.
Both teams now get their chance to do some damage. For Wilmington, it means getting to prove that their fantastic run to the final of CCC last fall was more a harbinger of the spring than a mirage. UMass, on the other hand, aims to escape the recent past rather than repeat it. They return virtually every contributor from last season's team — including all-around superstar 5th-year Tannor Johnson — in a bid to recover from the disappointment of having been knocked out at New England Regionals.
6. Which second-tier teams have the best chance to make the final?
The top seeds at SMI will not have a free pass to semis, as a handful of talented lower-seeded teams come into the tournament with enough talent and ambition to knock them down a peg or two.
At Queen City, #11 Georgia Jojah looked like the best iteration of the team since 2016, riding the stellar play of Hayden Austin-Knabb, Mason Cary, and one of the best rookie classes in the country to the final. The offense cuts and clears extremely well, and they're deep enough to run two distinct D-lines. Their win over NC State last month spoke volumes about the team's potential this season. They then stumbled against UNC, but they're too good to keep falling apart against top teams — probably.
#12 NC State Alpha and #13 Ohio State Leadbelly, meanwhile, have both played Darkside close in the early season. Leadbelly are paced by blazing offensive whiz Sion Agami. Between his uncanny ability to move the disc quickly and the rest of the offense's propensity to put themselves into unmarked spaces early in the stall count, any opposing defense will have a lot of trouble getting off their heels.
Alpha haven't won the big games yet, but they are poised for a breakout. Now that they are healthy, they might be the deepest team at the tournament. Cutter Austin Von Alten's return from injury should take a lot of the pressure off of Trevor Lynch (who has shown a slight tendency to do a little too much when games get tight) and the rest of the offense. Meanwhile, David Jones and Suhas Madiraju are giving a huge boost to a D-line, especially after the turn.
Asterisks abound, meanwhile, for #14 Texas TUFF so far. They made it to the final of Florida Warm-Up, which is no small feat. On the other hand, they played a very soft schedule on their way there, and then Michigan handled them without too much trouble. On the other other hand, ace 5th-year cutter Vinay Valsaraj sat out most of Sunday, joining the similarly impactful Chambers brothers on the injured reserve list. TUFF has a lot of athleticism and disc skills on the roster. If they actually have it all out on the field at SMI, they have the pieces to reach a second tournament final, and you won't be able to question the schedule this time.
7. Who are the stars to watch?
One of the delights of midseason ultimate is getting the chance to see how various Player of the Year candidates are stacking up against one another. There won't be any shortage of them this weekend.
UMass's Tannor Johnson, Carleton's Joe White, UNC's Liam Searles-Bohs and Elijah Long, Pittsburgh's Michael Ing, and Brown's John Randolph3 are all already contenders to take home Ultiworld's top honor this season in the men's division.
Just a little behind them, for now, is a second group of stars, any one of whom could vault into the PoTY conversation with a big weekend. #16 Minnesota Grey Duck's Cole Jurek heads the list. He's been a great two-way player for a couple of years now, but if his performance at Warm-Up is any indication, Beef is kicking it up a notch for the 2020 campaign. Not only is he the team's most powerful cutter and best matchup defender, but he's getting involved around the disc more. So far, he looks fantastic.
NC State senior Austin Von Alten plays a similar role to Jurek: just take away the deep throws and add a couple of inches to the vertical jump. As defenders, they're just about even. If Alpha manage to play into the semis on Sunday, it will be in large part due to his sheer relentlessness.
Another pair of cutters to keep an eye on are Texas's Vinay Valsaraj and #20 Northeastern's Ben Field. Valsaraj is as pure an offensive cutter as you'll see. The guy just eats up the lane, taking any inch a defender gives him and turning it into a completion, and he almost never makes a mistake with the disc. Field, meanwhile, a junior, is more of a defense-first player still learning the ropes of how to be an offensive force. You get the feeling that everything is going to click for him sooner than later in that regard, though, which is bad news for the Huskies' opponents.
On the handling side of things, Ohio State's Sion Agami and Zach Braun have both been masterly so far in their pursuit of breakneck excellence — Braun's more conservative play balances out Agami very well, and the two are more of a true duo than just great players who just happen to be on the same line. Purdue's Joe Byerly can scoober his way out of any corner you back him into (and has a pretty great repertoire of right-side-up throws to boot). And keep an eye on sophomore Andrew Li, who has sparkled this season on UNC's D-line. The kid can shoot.
Finally, there are a few other excellent hybrids in the White/Searles-Bohs/Johnson mold. Seniors Trevor Lynch (NC State) and Connor Russell (UNC Wilmington) are essentially righty/lefty versions of the same devastating Atlantic Coast player: they look to huck, and they love to chase down the huck. Go ahead and lump Pittsburgh junior Will Hoffenkamp in with them, too — he sits in the handler set a little more, but he's the same kind of player with the same kind of big ambitions on the field.
8. Who has the most to play for?
As always, underpinning the general excitement of competition throughout pool play and the placement brackets is seeing the way the postseason bid picture is shaping up. According to the frisbee-rankings.com model, the Northwest (not represented at SMI) is the only region in the country so far that seems to have three bids sewn up. That means there are a lot of bubble spots available — and a lot of bubble spots vulnerable.
The #21 Wisconsin Hodags and Northeastern Huskies are among the teams with a chance to make or break their seasons this weekend. So far, both have looked a little more like high-level stepping stones than Nationals qualifiers. Both need to bounce back from lackluster performances at Warm-Up (where they went 5-4) or else risk not earning their regions' respective third bids. Those bids proved extremely valuable last season — they don't want to have to count on going through Carleton or UMass in a game-to-go again.
UT Dallas Woof, also 5-4 at Warm-Up, have a longer row to hoe, rankings-wise, than Wisconsin or Northeastern. But they also play kind of a wild, huck-happy offense that could be just the thing to score a couple of big upsets and tilt some points in their favor between now and Easterns. We'll just have to see what Victor Mao, Jason Hustad, and company can do.
UNC Wilmington could also play their way into bid-earning range over their next two tournaments. A third bid for the Atlantic Coast would mean that the road to Nationals goes through them, which, even in the ultra-competitive region, is an easier pill to swallow than having to knock off one of the bid earners. South Carolina and William & Mary, both of whom are probably out of the bid-earning picture after coming up short at Easterns Qualifier last weekend, will be cheering them on from home.
The team who stands to gain the most at SMI, however, is Purdue. Like UNCW, Purdue was deprived of a chance to play their way into the top bracket by all of the rescheduling at Queen City. Nevertheless, led by Robert Miller, Joe Byerly, Eli Mock, and Matthew VanDokkenburg, they played pretty well against UNC in pool play. With only four games in the algorithm so far, a big weekend for them could mean huge strides and — dare I say it? — the potential for the ever-elusive second bid in the Great Lakes (although Michigan is actually sitting at #18 despite winning Warm Up thanks to close games against Cornell and FSU).
9. Best pool play matchups?
Plenty to choose from here, so I'll pick a top-three.
NC State Alpha v. Carleton CUT: There's a lot to love about this matchup. The team with the highest top-end against the team with the most roster depth. Both teams have a chip on their shoulders after disappointing ends to the 2019 season.4 And because Alpha come into the tournament underseeded, they have the potential, if they win, to throw some real chaos into the bracket.
Pittsburgh v. UMass: These two teams played a fantastic game in the first round of last year's Classic City Classic — essentially, that tournament's 'final.' Both teams have a good handle on isolation offenses, and both play suffocating zones on a lot of their defensive points. But we all know the real reason that this will be a classic is because it's another stop on the Michael Ing v. Tannor Johnson roadshow. The two 5th-years have treated us to some astounding moments over the past few seasons. Here's hoping they match up on each other for the whole game.
Brown v. Texas: These two teams missed each other at Warm-Up, but they won't get that luxury this weekend. The game will be a sort of early litmus test for each team: Can Texas play their way into the top tier? Will Brown manage to build and maintain a multi-break lead? The extra spice is the difference in play style. Brown's systematic offensive sets plod along quite nicely, but Texas have enough length on their defense to make Brown's small-window throws that much tougher. On the other side of the disc, I can't wait to see the deep game battle with Valsaraj and Matthew Armour going up against Azeez Adeyemi and Dylan Villeneuve.
---