The big four remain strong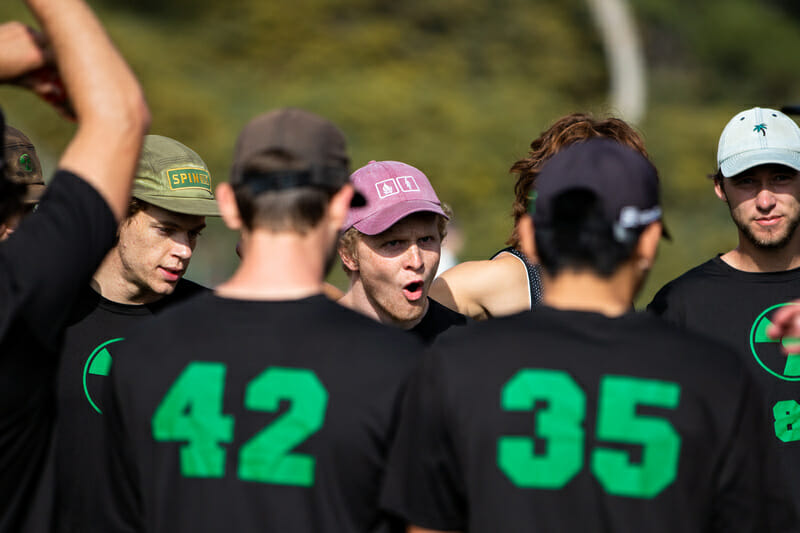 Ultiworld's reporting on the 2020 Stanford Invite is presented by Spin Ultimate; all opinions are those of the author. Please support the brands that make Ultiworld possible and shop at Spin Ultimate!
STEVINSON, Cal. — The Stanford Invite started off a bit shaky as dark clouds, blustery winds, and a chill permeated the fields. As the day wore on and the sun shone from behind the clouds, the star studded teams stole the show and swept the field. Washington, Colorado, Oregon, and SLO all went undefeated and continue to look just a step ahead of the rest. Colorado State, UCSB, Tufts, and Cal will round out the bracket, while the rest will fight in consolation.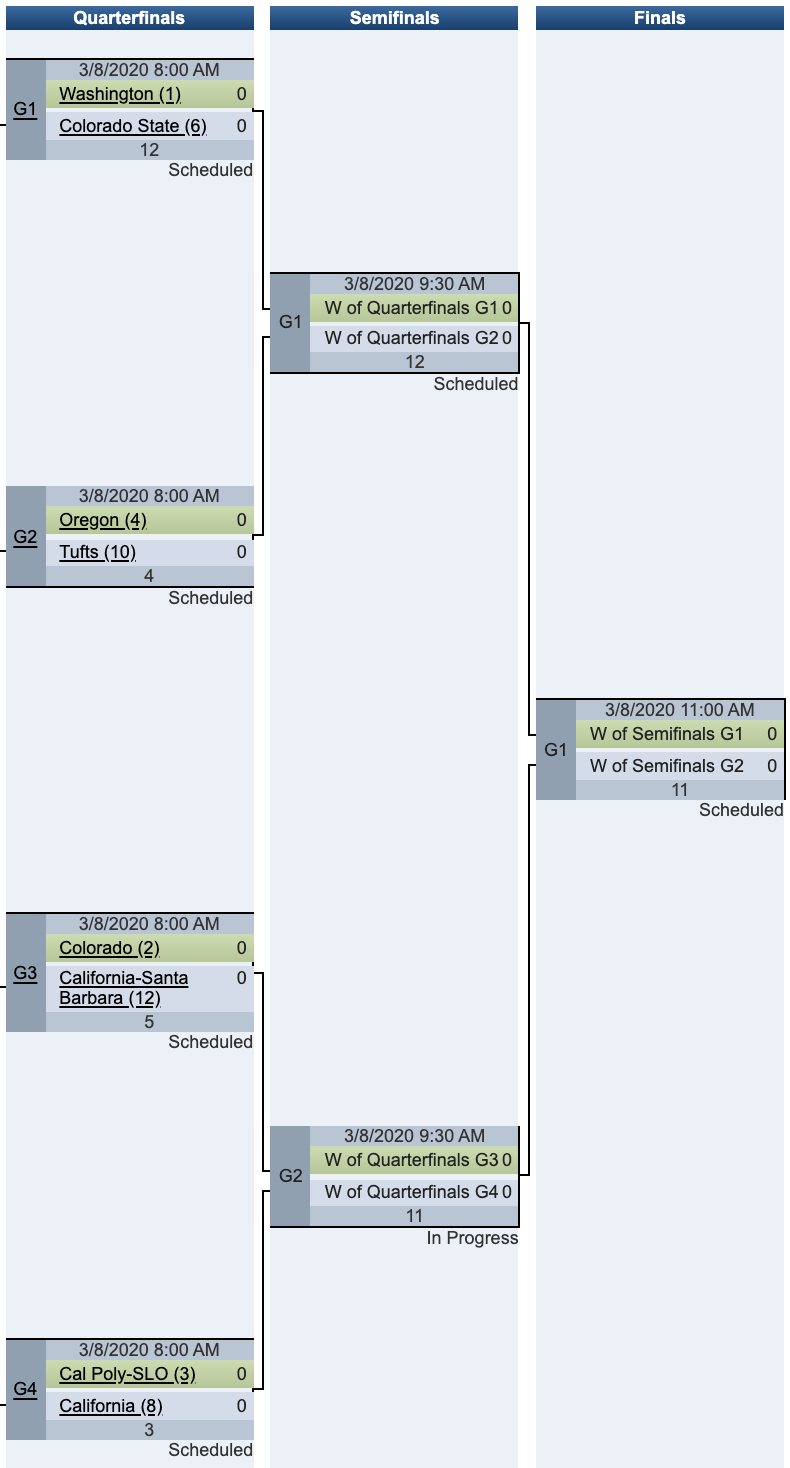 Washington's Versatility
We've said it before, but this iteration of the Washington Sundodgers can win in a variety of ways, and after day one they are still certainly the tournament's favorite. In their first game of pool play against Oregon State, they made a few uncharacteristic turns in the wind but quickly steadied the ship and honed in on their bone-crushing efficiency and tight matchup defense. After the slow start, there were only two miscues from their offense. Manny Eckert had a lot of touches and only hucked it once, a completion. Lucas Chen was involved on four scores and did not have any turns. This team was looking off quality deep looks to throw it around two or three more times for an even better and shorter killshot. When they are patient, their execution is simply better than that of the field.
If there is a blemish in the Sundodger armor, it might be their D-line's offensive conversion rate. At Presidents' Day, they rode Tony Venneri and Derek Mourad's big play potential and relied on hucks, hammers, and fastbreak opportunities. In the Oregon State game, this occasionally led to overthrows, hero throws, or rushed miscues.
Again, this team doesn't turn it over much, but when it does, it is usually from the D-line. Of course, part of the reason they are turning it is because they are generating so many blocks. They continue to have the perhaps the tightest matchup defense in the country and it will continue to frustrate any team that plays them. Good luck to Colorado State tomorrow.
The Other Favorites
Like Washington, Cal Poly SLO's offense was similarly dominant and flexible in how it attacked opposing defenses. With Calvin Brown and Emmett Holton holding the reins, they have both the throws and discipline to play a short or long game. During their first game of pool play against Whitman, Connor Schofield and Morgan Sommer were eating up unders like they were at a buffet. Because of the threat of a Brown huck, teams sometimes elect to back SLO's cutters. In Whitman's case, it led to easy yards and an under, under, dump, break, break kind of point. Couple that with a team that runs flood plays and quick clears, and you have a tough offense to stop.
SLO's defense continues to improve and again seems like it has added wrinkles to a growing reservoir of creative looks. At Prez Day, we saw the seeds of what could become a dominant zone. During the Whitman game, they threw junk looks, flat marks, and a force middle on a few instances. Coach Cody Mills can certainly create varied looks for this defense, and it could be one of the factors that sets this team apart from the rest of the tier. Look for their creativity on the D-line tomorrow, and we'll see if they can ride it to a semis or finals appearance.
Colorado won all of their games today, though theirs were much closer than those of the other top seeds. It's hard to pin down exactly what their offensive strategy is or what it is that makes their defense so efficient. This team plays with a joyful intensity and chill vibe that is quintessential Boulder. They're smiling and having fun but also super intense on the field. They've got a supportive bunch of parents and fans, but will also call you out on an ill-advised travel call. The lightness of this team might cause worry for some, but their experience and confidence can be an asset, too.
In their second round of pool play against Tufts, they looked exceptionally polished on offense. After the first point, their offense wasn't broken the rest of the game, and they were ending points in a matter of seconds. And here's where it gets scary: they've got like seven players that can be the guy that can end a point. Quinn Finer, Alex Atkins, Danny Landesman, Cole Besser, Conor Tabor, Daniel Brunker, Mathieu Agee — they're all capable of making a point-ending throw or going every-other if needed. One of the coolest points today featured Landesman and Besser in a dominator set, smiling the whole way down the field. This team is good and knows they're good; the big question is: can they maintain that poise while trailing to an equal or better opponent?
Oregon continues to impress and, for the most part, played cleanly today. All of their players have a smoothness to their throws; everything looks effortless. Their ceiling is still very high as they have a top-top heavy roster. Will Lohre, Xander Cuizon-Tice, and David Barram make up the glue for the offense but I'd say Ted Sither is making a case as the best handler out West. It's a fun debate between him, SLO's Brown, and Washington's Eckert. They're all dominant and crafty, but Sither might just be the best combo between slinger and creator.
Though Ego won today, they certainly struggled against UBC. The Thunderbirds played a huck dominant, big-play tempo game (more on this later) that seemed to rush Ego's offense. They had some drops and miscues in the first half reminiscent of their finals game against Washington at Prez Day. When they are hucking it every point and looking for the big play, Oregon is a beatable team, and they nearly lost against UBC. But on the backs of Duncan Fitzgerald and Colby Chuck, their D-line gave them life and they were able to create a couple of late game breaks. Barram also played well at the end, finishing the game with a full field bomb to Lohre.
The Surprise Contenders
Colorado State struggled in pool play but earned a spot in the bracket after a solid come from behind win against UCLA in the pre-quarters. They stole momentum from Smaug just before half after two fast breaks to get their break train rolling. Out of half, Jonathan Steiner breezed through a zone off a pair of upside down zingers. After another break, it was suddenly 9-6 and Smaug looked deflated. On the heroics of star freshman Riley Kirkman-Davis, UCLA mounted a small comeback, but it was too little, too late.
Mo Scott plays with a swagger on O and Sam Goldstein had one of the dirtiest layout blocks of the day. This team has definitely got some ballers, but they've got a tough task ahead on Sunday against the Sundodgers.
UCSB was another pleasant surprise today. They went 1-2 in pool play but beat a solid Oregon State team in the prequarters. Duncan Brin plays with a lot of moxie and is capable of making big plays, but this team is going to need their middle roster guys to step up if they are going to have a shot on Sunday. They play an intense style of defense and will be bidding and contesting every throw, but they might not have the skill or experience to compete with a Mamabird or SLOCORE. That said, they are confident and will be playing like they deserve to be there in the bracket tomorrow.
Tufts, the lone east coast team at this tournament, did just enough today to earn a quarters spot and is my pick of this group to notch an upset on Sunday. They've got big talent on the O-line and have a tight rotation of smart players who play with a lot of chemistry. In their game against Colorado, they matched Mamabird's offensive efficiency with nine consecutive holds and seemed almost unstoppable. Caleb Seamon was their primary cog and can matchup with anyone in the division. Toshihiro Nagase and Anthony Goss were also primary looks and seemed unfazed by Colorado's pressure. Their depth is a question, especially with captain Nikhil Bhatia-Lin out with an injury, but you could argue the same with their quarters opponent Oregon. Sign me up for this one.
Cal UGMO beat UBC 11-9 in their pre-quarters and will play SLO in quarters. Munis Thahir, a captain, might be their best player as a dominant cutter. But their roster is balanced, and they play a team game that relies on all seven to contribute. Also noteworthy were this team's celebrations: the Aaron Rodgers all-state belt but on the chest, mario kart banana peel (hidden under a cone!), and sideline boat rowing made for some of the best post-scoring moments of the day. Against a loaded SLO team, Ugmo just might need some extra intangibles to get the win.
Quick Hits
UBC captains Vincent Bulloch and Jonah Lee-Ash provided the best quote of the day when they said that their goal for the weekend was to "play some boring ultimate." Presumably they meant this in an offensive, clinical, and practiced type of way. This materialized into the absolute opposite, though, as they played, without question, the most exciting ultimate of the day. During their near upset against Oregon, Ty Barbieri came down with two absolute insane skies in the end zone. Jordan Zhao plucked a stall nine forty yard outside in blade from his defender. This team played anything BUT boring ultimate and was a pleasure to watch.
Whether Zues, Lululemons, or joggers, form fitting pants are definitely in, and teams are sporting a variety of individualized styles. Whitman Sweets might have been my favorite as they had multi-toned colors with sporty accents for a clean and zesty look. Oregon and Washington also had nice team-specific flair and they looked great in the cold conditions of today. As far as jerseys go, Colorado State's Hibida stood out. The green and gold with simple mountains and a clean bold font looked sharp and unique.
Corona Fives: Instead of a traditional high five line to end the game, many teams today opted for an alternative form of gratitude. Many elected for a simple cheer, others bumped elbows — my personal favorite was a unified bow. Though the essence of the coronavirus was felt in mild ways, it was fun to see forms of camaraderie still shared throughout the community.