Ultiworld's 2020 College Awards are presented by Spin Ultimate; all opinions are those of the author(s). Find out how Spin can get you, and your team, looking your best this season.
Each spring, Ultiworld presents our annual D-I College Awards. While the 2020 college season certainly didn't play out as we all hoped and was not allowed to reach its natural conclusion, we still want to celebrate and honor the tremendous performances we saw already this spring.
Our selections are based on sanctioned play as if the season ended today. Given the uncertainty that the coronavirus crisis hangs over the rest of 2020, we may or may not see any postseason events that traditionally have heavily influenced our award selections. With what season has taken place, we have reviewed the tape, talked to players, coaches, and onlookers, and discussed with our reporting team. While the amount of data is limited — and we recognize that not every player and team got equal opportunity to perform — we felt we had enough to offer our opinions on the players who had the greatest effect on this season as it was.
The next of our awards to present is the Rookie of the Year, recognizing the top contributing first-year players in the college division. As the talent produced by the youth scene continues to push the bar higher and higher, the impressive rookies keep piling up. Even in just a couple of tournaments, these new names made their mark with standout play.
Player of the Year Award
Defensive Player of the Year Award
Offensive Player of the Year Award
Breakout Player of the Year Award
Coach of the Year Award
All-American First Team
All-American Second Team
---
D-I Men's 2020 Rookie Of The Year
Riley Kirkman-Davis (UCLA)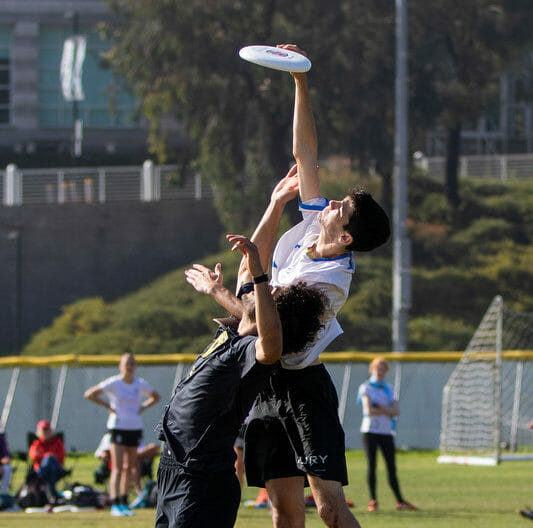 Though an under the radar recruit, not on a top 10 team, and not a huge name (yet), Riley Kirkman-Davis is the 2020 Rookie of the Year winner and won it the old fashioned way: by putting together the most dominant season of any first-year player in the country.
Lanky but broad-shouldered, playful, and humble, Kirkman-Davis might have a modest look to him on the field, but underestimate him at your own peril. In just his second sanctioned tournament as a college player, he went toe-to-toe with Colorado's Quinn Finer at Presidents Day Invite and matched the POTY shortlister's playmaking with equally wow-inducing bids and throws. While Kirkman-Davis is frequently matched up with the opposing team's hungriest handler defender, he generally pays them no mind and can withstand an aggressive or physical mark. He's got booming hucks, zippy breaks, and exceptional decision making of a player well beyond his years.
Kirkman-Davis was a monster all spring. In part because of a few injuries to key teammates, the freshman was tasked with playing the center handler position for most of the season. But no sweat. While most teams chide the 'hero throw' or a high-volume offense from a single player, Kirkman-Davis showed how one player can impact a game without sinking the offense in inefficiency. When KD was wheeling-and-dealing or going every-other, his team flew. When the disc was out of his hands or when another player attempted a difficult throw, Smaug turned it over. Kirkman-Davis was the UCLA offense this year, and along with fellow freshman Luca Spycher, forms a strong core for a team looking to break into the Nationals conversation in years to come.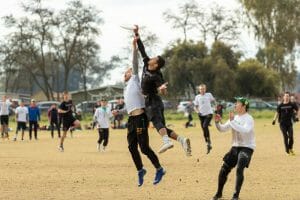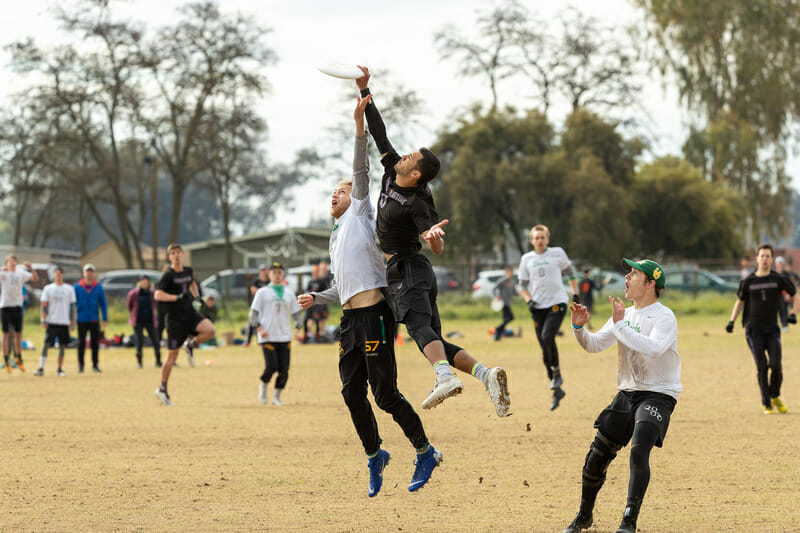 First Runner-up: Jack Brown (Washington)
In a year stacked with high-profile rookies, Jack Brown stood out from the pack. An anchor to the Washington defense, Brown shut down his matchup and owned the skies, corralling loose hucks.
Thanks to his considerable experience in the AUDL with the Seattle Cascades, Brown simply played with a swagger and confidence in his first year of college ball. His heads-up style and general field awareness allowed his teammates to hunt blocks aggressively, knowing he could cover any slip-ups in the deep space. And he got his fair share of poach blocks himself. While he ultimately didn't make the podium, but Brown was firmly in the conversation for Defensive Player of the Year in addition to this award.
Not to be constrained to one side of the disc, after a turn, Brown proved his worth as a cutter. A typical Washington fast break had him springing free for open deep shots or opening up space for his teammates when he didn't get open himself. On offense, too, his awareness stood out and separated him as an impact player, well beyond the expectations of a typical rookie. A true two-way player, Brown has Player of the Year potential if he continues to improve in the years to come.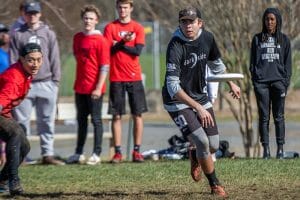 Second Runner-up: Matthew McKnight (North Carolina)
On a team full of noteworthy rookies, Matthew McKnight was a stand out on Darkside. With good athleticism and great range with his throws, McKnight fit in well with UNC's offensive unit. He wasn't susceptible to the kind of rookie mistakes that can plague college freshmen and brought a high level of reliability that fit within Darkside's vaunted offensive system. He was a strong link in UNC's offensive progression, never afraid to take a back seat with his throws and instead focus on churning up yardage and being selective with his deep shots.
In UNC's toughest games against NC State, OSU, and Pittsburgh, McKnight's versatility and cool head shined. He never seemed to play outside of himself, distributing the disc to All-Americans Anders Juengst, Elijah Long, and Liam Searles-Bohs while punishing downfield defenders with his size and speed, complementing the cutting of Searles-Bohs and Tommy Williams. McKnight has a tremendously high trajectory as a multi-faceted offensive player in the mold of LSB and, with more reps in big games, he will continue to own his position on Darkside's starting O-line.