The top seven overall performers from the college season that was.
Ultiworld's 2020 College Awards are presented by Spin Ultimate; all opinions are those of the author(s). Find out how Spin can get you, and your team, looking your best this season.
Each spring, Ultiworld presents our annual D-I College Awards. While the 2020 college season certainly didn't play out as we all hoped and was not allowed to reach its natural conclusion, we still want to celebrate and honor the tremendous performances we saw already this spring.
Our selections are based on sanctioned play as if the season ended today. Given the uncertainty that the coronavirus crisis hangs over the rest of 2020, we may or may not see any postseason events that traditionally have heavily influenced our award selections. With what season has taken place, we have reviewed the tape, talked to players, coaches, and onlookers, and discussed with our reporting team. While the amount of data is limited — and we recognize that not every player and team got equal opportunity to perform — we felt we had enough to offer our opinions on the players who had the greatest effect on this season as it was.
Ultiworld is pleased to announce our seventh annual D-I All-American Teams. These players were selected for their overall performance in the 2020 college season. Please join us in honoring the best college players of this season.
Player of the Year Award
Defensive Player of the Year Award
Offensive Player of the Year Award
Rookie of the Year Award
Breakout Player of the Year Award
Coach of the Year Award
All-American Second Team
---
D-I Men's 2020 First Team All Americans
Jordan Kerr (Brigham Young)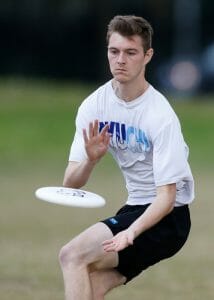 What more is there to say? This year's Player of the Year was simply the most dominant offensive threat this season and an obvious pick for the All American First Team. Between his patented breakmark flick, his penchant for getting open as an isolation cutter, and his advanced field vision, there was little opposing teams could do to stop Kerr from scoring. His calm decision making and quick pace made him a threat wherever he lined up. The attention he took from defenses opened up the field and allowed CHI to score ruthlessly.
A quiet leader, Kerr was the centerpiece for arguably the nation's top team. Brigham Young's historic 2020 season simply doesn't happen without Kerr leading the way on and off the field.
Michael Ing (Pittsburgh)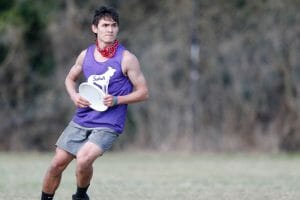 For the first couple years of his career, there was a sense that Pitt was keeping Ing in the garage instead of letting him turn the speedometer up to 120 out on the highway. Deployed on the D-line or in a utility role on the offense, Ing was showcasing all of the component parts to be a takeover player but not getting the kind of spotlight that usually accompanies such talent.
But as the years passed it became clear that Ing was a different kind of franchise player. Instead of being a guy who goes every other with the disc or whose big throws were the focal point of an offense, Ing became a one-man rising tide, lifting all boats on his team and doing whatever was needed of him. He started this season playing defense for Pitt at Warm Up, then shifted to the offense at Smoky Mountain Invite when the need was there. The team was always better when he was on the field, no matter what role he was playing, because he could play any role better than anyone else.
Tannor Johnson (Massachusetts)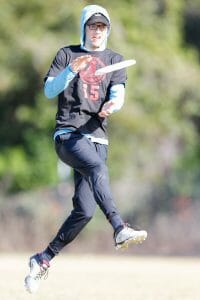 Rookie of the Year, Offensive Player of the Year (making the podium three times), and now a three-time first-team All-American — the first ever to be so recognized, along with Ing — Tannor Johnson will leave college ultimate as one of the most decorated individuals in the history of the sport.
It's bitterly disappointing that we won't get a chance to watch his final act play out to some manner of catharsis, with this season having been perhaps his best chance since 2017 to add some Nationals silverware to his trophy case. But in the slice of a season we did get, Johnson affirmed his legacy as one of the best offensive players in the history of the college game. The extendo-arm skies, the slick hucks, the stampeding deep cuts that transform the full shape of a field — it's unlikely we'll see all that in one package anytime soon.
Cole Jurek (Minnesota)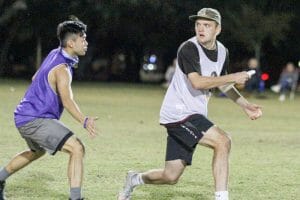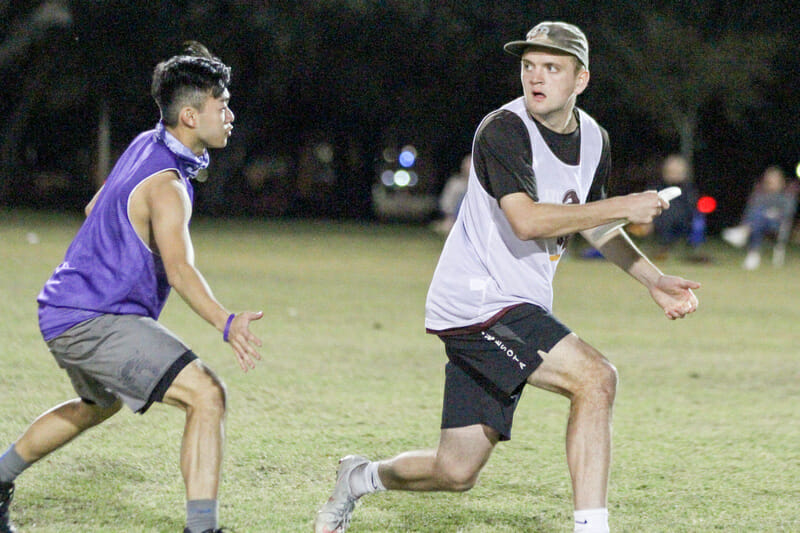 To a great extent, Cole Jurek was the same player in 2020 that we've come to know for Minnesota Grey Duck — and their club season big sibs, Sub Zero — the past couple of years: big frame, big backhands, big layouts, big skies, all combined with an unparalleled nose for the disc. To an even greater extent, though, he was more.
In years past, Jurek was an explosive playmaker; this year, he was a consummate playmaker, if that makes sense. 'Beef' may have been more deeply involved in his team's fortunes than any other player in the division. He started Grey Duck's offense, took over Grey Duck's red zone, stole the disc back from Grey Duck's opponents, and finished Grey Duck's points. He took control of games seemingly before they started. It was a truly complete performance from one of the country's few truly complete athletes.
Anders Juengst (North Carolina)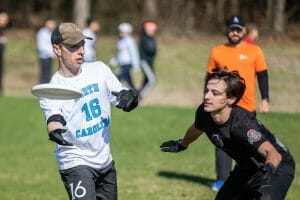 On a team overflowing with talent, Anders Juengst elevated his game during this sadly shortened season to take home Ultiworld's Offensive Player of the Year award and become Darkside's only First Team All-American.
Before the suspension, Juengst and Elijah Long had UNC's offense operating at a truly fearsome level, and a major part of that success stemmed from the fact that Juengst was simply open. Always. Everywhere on the field. He cycled back and forth from the handler space to the cutting lanes as needed, providing easy resets or downfield options for UNC's powerful throwers. He was especially devastating in endzone sets, flummoxing defenders with his speed and hitting his deadly inside forehand with remarkable consistency.
Juengst has always been a bright spot for the Darkside program, but for the first few months of 2020, he was nothing short of spectacular. One can only hope that we have not seen the last of what was shaping up to be an outstanding college career.
Quinn Finer (Colorado)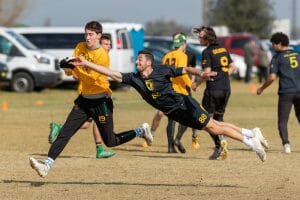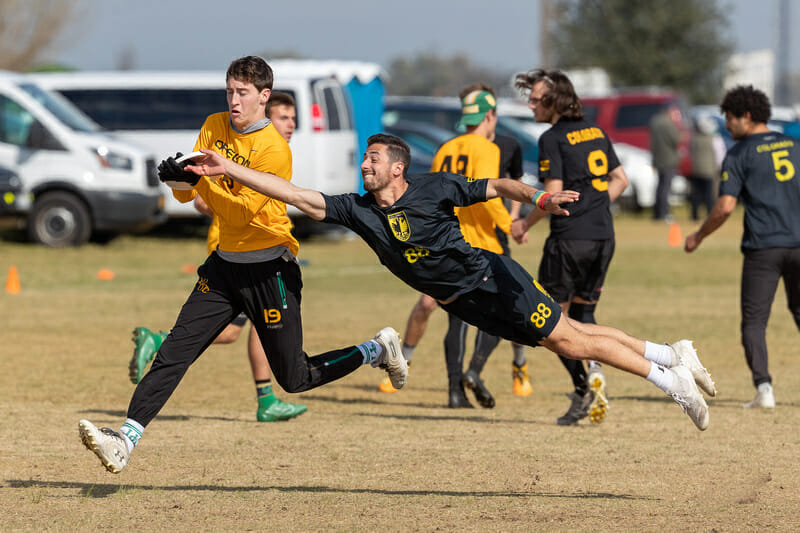 One of the indelible images for me of the lost college season was emblematic of Colorado Mamabird star Quinn Finer's hard-headedness: at Stanford Invite, a couple of seconds after his mark settles into a textbook backhand force, he throws a screaming forehand huck for the score. So much for the textbook. He plays offense like he's brushing up on skills he learned from The Secret.
Or, on second thought, is the more memorable portrait of him as a defender? Finer, three yards away from his matchup, sizing up a throw with a predatory fixation, exploding into two hard steps before lashing out bodily at the pass like a human whip. How is it, exactly, that he went from point A to point B in a flash like that? Is that normal?
With Finer, you can never quite decide whether to marvel at the athleticism or the willpower — he just about paces the division in both categories.
Taylor Barton (Brigham Young)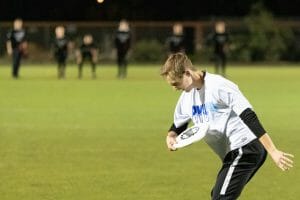 It's not every season the Defensive Player of the Year also finds themselves on the All-American First Team. In fact, in the seven-year history of our college awards, Jeff Babbitt is the only D-I Men's player to hold that honor. At least until now.
Taylor Barton was the complete package for Brigham Young this spring. His pulls set up the BYU defense to generate turnovers. His pace-pushing throws helped CHI punch in breaks. He ripped hucks out of the air, suffocated handlers he marked, and played with a heads-up style that created opportunities for blocks. TBar, as his teammates call him, embodies the fast break mentality the BYU defense used to score breaks in bunches and slowly demoralize their opposition.
On a team brimming with talent, Barton stood out; when BYU needed a crucial hold they often brought him over to play an offensive point. His skills transcended position and helped him become an irreplaceable piece as part of BYU's best season ever.