Ultiworld's 2020 College Awards are presented by Spin Ultimate; all opinions are those of the author(s). Find out how Spin can get you, and your team, looking your best this season.
Each spring, Ultiworld presents our annual D-I College Awards. While the 2020 college season certainly didn't play out as we all hoped and was not allowed to reach its natural conclusion, we still want to celebrate and honor the tremendous performances we saw already this spring.
Our selections are based on sanctioned play as if the season ended today. Given the uncertainty that the coronavirus crisis hangs over the rest of 2020, we may or may not see any postseason events that traditionally have heavily influenced our award selections. With what season has taken place, we have reviewed the tape, talked to players, coaches, and onlookers, and discussed with our reporting team. While the amount of data is limited — and we recognize that not every player and team got equal opportunity to perform — we felt we had enough to offer our opinions on the players who had the greatest effect on this season as it was.
Our final D-I award podium is for the Coach of the Year, which has grown more into "Coaching Staff of the Year" as so many teams have added more and more sideline-savvy consultants to their roster. Coaches can impact the game in so many ways — tactics, motivation, communication, personnel management, program development, skill-building, etc. — and it can be hard to divine what exactly each has contributed to their team. But good coaching is something that we feel that 'we know it when we see it.'
Player of the Year Award
Defensive Player of the Year Award
Offensive Player of the Year Award
Rookie of the Year Award
Breakout Player of the Year Award
All-American First Team
All-American Second Team
---
D-I Men's 2020 Coach Of The Year
Cody Mills (Cal Poly SLO)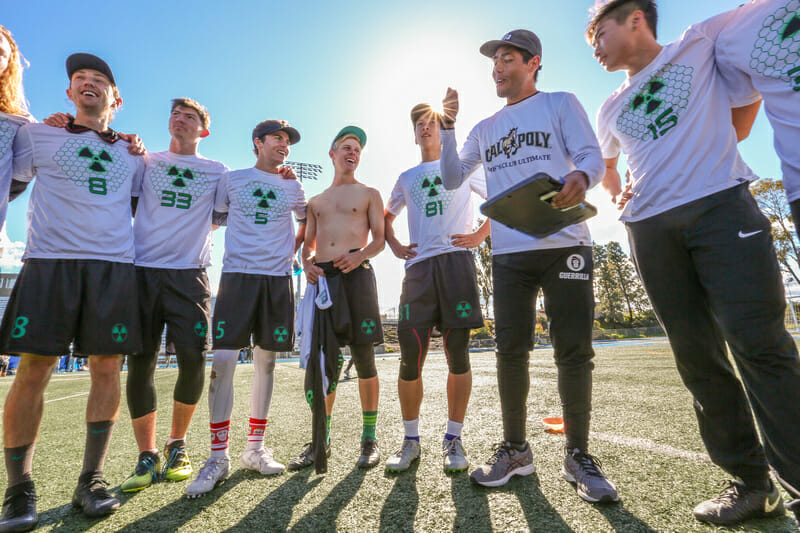 After a runner-up COTY performance in 2019 that saw his senior-heavy team lose to UNC in the semifinal of the College Championships, Cody Mills pulled together what was left of the depleted squad and led them back to the top. Despite the heavy toll of their graduated class, Cal Poly SLO is currently ranked third in the division according to USAU's algorithm and had a realistic shot to make it back to the showcase games at the College Championships.
Mills put his team in a position to be successful by highlighting each of their best qualities. For the past three seasons, he brought structure to a program that had previously managed to survive without it, but never reached the peaks of the past few seasons. Decisions like elevating KJ Koo to be the leader of the defense and involving Justin Ting more on offense helped SLO find success this season.
Mills' commitment to his team extends beyond the field. He commutes to SLO's campus from the Bay Area hours away and, when he cannot make it, chances are he is watching film. There are few if any coaches who are more prepared with specific, tailored game plans. A player-friendly coach, Mills built trust with his team throughout the year. He trusts his players to execute overall and game-specific team strategies and to play their best despite the goofy sideline antics and attire choices that have come to define central California's preeminent program.
Cal Poly also added former captain and current Revolver player Caleb Merriam to the coaching staff this season as an assistant coach. Merriam runs practices when Mills cannot make it and provides crucial individualized player feedback. He also brings an additional perspective to strategy planning and has been key to maintaining a strong team culture even in the wake of ten graduating players.
The true mark of a school producing a program rather than just a team is the ability to weather the waves of graduating players inherent to college sports and continue to compete at a high level. Mills is building a program in San Luis Obispo, and this year it truly showed.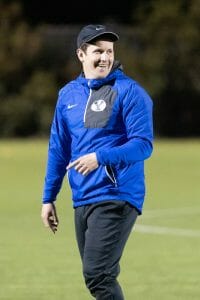 First Runner-up: Bryce Merrill (Brigham Young)
Bryce Merrill and his (extensive) BYU coaching staff led the CHI team to a historic season, rising to #1 in the Ultiworld Power Rankings for the first time in program history.
For any top 50 college team, the goal, stated or not, is to make and/or win Nationals. It's the dream that drives players on the field and in the gym. But, as has been well documented, neither is currently an option for BYU. Combine that with the fact that most players on CHI are returning to ultimate after two-year missions and it's even more remarkable that Merrill is able to get the roster to buy into the "victory within" mantra — with little else to play for other than their love of the game and rankings. They fly around the country to seek out top competition in creative ways with impressive dedication, even as the community remains apathetic to their situation.
Their buy-in has created an on-field powerhouse. CHI has never lacked for talent and athleticism, with a thriving Utah youth scene feeding in players like Jordan Kerr and Taylor Barton, but it's coaching that turns that talent into disciplined offensive and help-heavy defense. CHI's defensive acumen, in particular, is a product of a system installed and nurtured by the coaching staff.
Merrill's BYU program has produced more than just an elite team but also a surrounding community. Their history-making 2020 has raised the bar for their competitive success, but their story may just be getting started.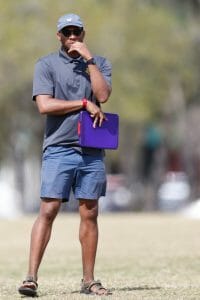 Second Runner-up: Parker Howard and James Highsmith (Michigan)
Howard and Highsmith have put Michigan on a major upward trajectory with both their in-game coaching acumen and the rich base of talent they have cultivated in Ann Arbor.
Eli Weaver, Theo Shapinsky, Jared Schwallie, Cian Johnson — none were household names before this season, but under Howard and Highsmith's tutelage, they became part of a deep core of Magnum players that gave Michigan the horses to stay neck-and-neck with major legacy programs. In recent years, Michigan have had to scrap their way into being more than the sum of their parts to challenge title contenders, but in 2020 the roster that Howard and Highsmith put together never looked like they were at a talent deficit.
Player development is only part of the equation, however, and the Michigan coaches were able to get that talent to execute in big moments when they reeled off successive wins over Brown, Carleton, and Texas to win Warm Up. Wins like that make the rest of the country take notice, and with these two at the helm, Michigan has the rest of the division on notice for seasons to come.