Ultiworld's 2020 College Awards are presented by Spin Ultimate; all opinions are those of the author(s). Find out how Spin can get you, and your team, looking your best this season.
Each spring, Ultiworld presents our annual D-I College Awards. While the 2020 college season certainly didn't play out as we all hoped and was not allowed to reach its natural conclusion, we still want to celebrate and honor the tremendous performances we saw already this spring.
Our selections are based on sanctioned play as if the season ended today. Given the uncertainty that the coronavirus crisis hangs over the rest of 2020, we may or may not see any postseason events that traditionally have heavily influenced our award selections. With what season has taken place, we have reviewed the tape, talked to players, coaches, and onlookers, and discussed with our reporting team. While the amount of data is limited — and we recognize that not every player and team got equal opportunity to perform — we felt we had enough to offer our opinions on the players who had the greatest effect on this season as it was.
The next of our awards is the Offensive Player of the Year, highlighting the elite offensive threats the division has to offer. This winner, as well as each of their runners-up, was a consistent and overwhelming offensive presence that dominated the season.
Player of the Year Award
Defensive Player of the Year Award
Rookie of the Year Award
Breakout Player of the Year Award
Coach of the Year Award
All-American First Team
All-American Second Team
---
D-I Men's 2020 Offensive Player Of The Year
Anders Juengst (North Carolina)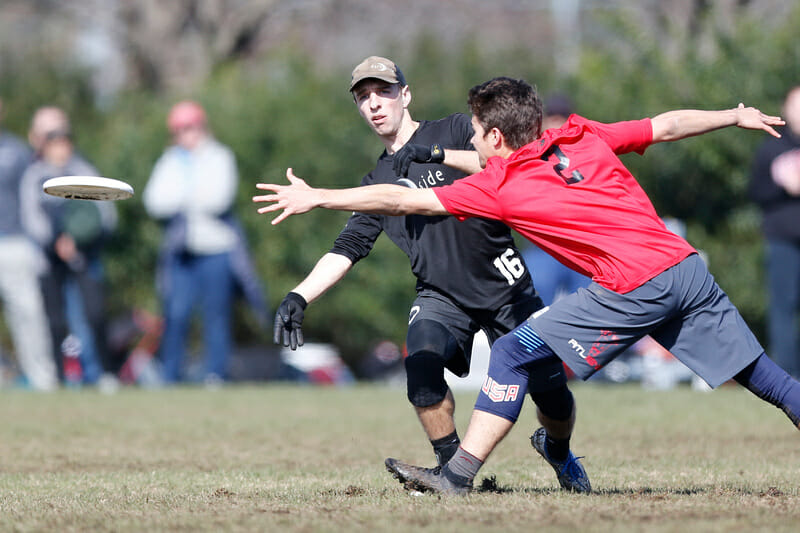 Before this spring became the Season That Wasn't for every college player, it was the Season That Wasn't for North Carolina senior (and fastest man in ultimate) Alex Davis, who suffered a knee injury in the winter. Glinting somewhere in the narrow gap between those leaden clouds, however, was the play of Anders Juengst.
Where were you when you realized Anders Juengst was the best cutter in the division? Better known until recently as Darkside's undersized, dink-and-doink redzone guy, Juengst bent the bars of his reputation and busted out in 2020. It's impossible to say at this point whether he would have had quite the same impact if Davis had been able to scorch turf as planned. But the fact is that Davis cleared, and so Juengst motored into the open space. Flashing enough long-toss panache to keep his one-on-one defenders honest and changing directions like flipping a switch, he owned the lane. I mean he owned it. Somewhere in a public archive, there's a deed for the lane with Juengst's signature on the bottom line.
Add in a spectacular reel of finishes when he had to track down throws that were a little off-target and the fact that he was still the same pesky dink-and-doink guy when Darkside breached the red zone, and you have the clear-cut1 Offensive Player of the Year.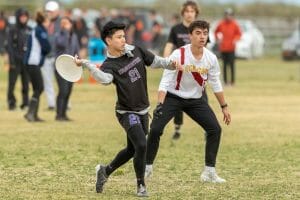 First Runner-up: Lucas Chen (Washington)
As teams across the country are getting smarter and faster, and with the continued success of small-ball, possessive-style offense, there might not be a player that embodies this movement more than Lucas Chen. He has everything you would want for a modern player: blazing speed, quick feet, pinpoint throws, and an elite level of discipline that is rare in the college division.
What Chen may lack in height, he more than makes up for with a deadly sense of how to attack an endzone set. He pairs an arsenal of jukes and short throws with a high IQ sense of timing to frustrate opposing defenders. Watching him around the goal line is like watching the Energizer bunny unleashed on dudes with weights on their ankles. He is that much faster than anybody else.
Chen was the cog for the Washington offense that kept them humming and was one of the prime reasons for their early-season success. Nationals would have truly been his coming out party to show the rest of the nation his offensive skill set.
Second Runner-up: Tannor Johnson (Massachusetts)
We all know what Tannor Johnson can do on the offensive end, as this marks his third straight season on the podium for Offensive Player of the Year — four if you count his 2017 OPOTY win in the club division. The 2018 winner of this award was billed as a complete five-tool player coming into his freshman season, and he has shown over the past five seasons that he has every tool in the belt needed to eat up yards and put the rock in the endzone. He hasn't so much added tools to his game over the past couple seasons as he has refined them, learning exactly when to use each one for maximum impact.
He uses handler movement as a slingshot to launch him downfield for one of his trademark "give and gones." He can beat you with booming hucks and quiet touch throws around the goalline. Perhaps no other player in the men's division over the past half-decade has had the full range of offensive talents that Johnson possesses, and he's become such a reliable threat over the years because of how he's learned to put them to use.
---
See what I did there? ↩