Our top player from the 2020 D-I men's season.
Ultiworld's 2020 College Awards are presented by Spin Ultimate; all opinions are those of the author(s). Find out how Spin can get you, and your team, looking your best this season.
Each spring, Ultiworld presents our annual D-I College Awards. While the 2020 college season certainly didn't play out as we all hoped and was not allowed to reach its natural conclusion, we still want to celebrate and honor the tremendous performances we saw already this spring.
Our selections are based on sanctioned play as if the season ended today. Given the uncertainty that the coronavirus crisis hangs over the rest of 2020, we may or may not see any postseason events that traditionally have heavily influenced our award selections. With what season has taken place, we have reviewed the tape, talked to players, coaches, and onlookers, and discussed with our reporting team. While the amount of data is limited — and we recognize that not every player and team got equal opportunity to perform — we felt we had enough to offer our opinions on the players who had the greatest effect on this season.
We begin our awards presentation with Player of the Year, our most prestigious award. In past years, we have awarded a winner and some number of runners-up that we have then considered ineligible for other individual awards. We have always felt that the spots on our POTY podium are our highest honors, but it has become clear that our audience consistently viewed winning another award to be more valuable than finishing top three in the Player of the Year. We hear you, and we're trying this out, instead — one Player of the Year winner, with all other players remaining eligible to win other honors. Given that this award shares the same criteria as our All-American honors, the POTY podium will still be reflected as the top members of our AA First Team.
Defensive Player of the Year Award
Offensive Player of the Year Award
Rookie of the Year Award
Breakout Player of the Year Award
Coach of the Year Award
All-American First Team
All-American Second Team
---
D-I Men's 2020 Player Of The Year
Jordan Kerr (Brigham Young)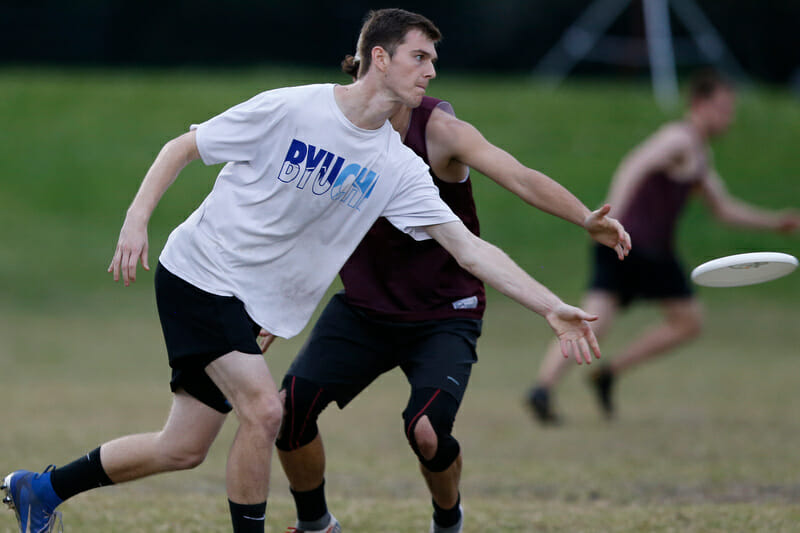 Many teams shape their identity around the singular talents of one player, but nobody does it as successfully as BYU. Jordan Kerr's case for Player of the Year is simple: he is the central figure for the most high-flying offense this division has seen. Kerr's breakmark hucks and pinpoint flicks open up the field like no other thrower in the division; when Kerr has the disc, there isn't a space he can't get a throw to.
A true hybrid, Kerr starts most points downfield as an isolation cutter before firing his kill shot to the end zone. If you've seen a BYU game this season, you know his trademark left-handed flick up the break sideline. Defenses know it is coming and still struggle to stop it. While most viewers rightfully marvel at his throws, they're far from his only weapon. Kerr's athleticism and speed allow him to continually get open against elite individual defenders. His precise timing as a continuation cutter puts him in position to get easy passes and throw quick-strike assists.
Kerr doesn't run so much as he glides on the field. He makes gaining separation from his defender look easy. Kerr is adept at seeking open space and timing his cut to get to the disc at the perfect moment to release a continuation throw. Don't think about throwing a zone to stop him though. Kerr can give-and-go his way into open space, or just rip a blade there first. When Kerr is on the field, BYU plays with confidence and precision not typically seen in college.
While he is known for his offensive prowess, Kerr is no slouch on the other side of the field. One of the first players BYU will cross over when they need a break, Kerr is adept at seeing active space on the field and maneuvering himself to a position where he can keep track of his mark and make plays on the disc. After a turn, no team counters as well as BYU, and Kerr is often at the heart of the race to the end zone.
Consistency is a hallmark of Kerr's game. He can pound the same moves over and over without the defense being able to stop it, but still exciting with eye-popping creativity with the disc. Mistakes are few and far between for Kerr, who might not make the play you expect him to, but displays shrewd ultimate IQ. No matter the score or the opposition, Kerr plays with a youthful joy and happiness that is infectious to his teammates.
BYU spent the bulk of the season at the top of Ultiworld's Power Rankings, and it isn't just a coincidence that the only loss CHI suffered all season happened without Kerr on the field. At Florida Warm Up, BYU swept their first seven games –comprised of arguably the toughest slate any college team has ever faced at a single tournament. Against that gauntlet and some tough competition at Santa Barbara Invite, Kerr led the team with 41 assists on the season despite missing their final game.
Brigham Young's historic 2020 season simply doesn't happen without Kerr leading the way on and off the field. At the end of the season, no player was more important to a team performing so well. After a season that will be remembered for much more than any one player, Kerr's spring will not be forgotten.