Ultiworld's 2020 College Awards are presented by Spin Ultimate; all opinions are those of the author(s). Find out how Spin can get you, and your team, looking your best this season.
Each spring, Ultiworld presents our annual D-I College Awards. While the 2020 college season certainly didn't play out as we all hoped and was not allowed to reach its natural conclusion, we still want to celebrate and honor the tremendous performances we saw already this spring.
Our selections are based on sanctioned play as if the season ended today. Given the uncertainty that the coronavirus crisis hangs over the rest of 2020, we may or may not see any postseason events that traditionally have heavily influenced our award selections. With what season has taken place, we have reviewed the tape, talked to players, coaches, and onlookers, and discussed with our reporting team. While the amount of data is limited — and we recognize that not every player and team got equal opportunity to perform — we felt we had enough to offer our opinions on the players who had the greatest effect on this season as it was.
The Breakout Player of the Year recognizes rising juniors or seniors who made themselves known in a new light this season. While our nebulous definition of "breakout" reflects an evolving set of criteria, rather than celebrating the improvement of those from whom big things were already expected, we aim to use this award to celebrate the emergence of those who previously have not been on the national radar. Whether it be through growth in ability, role, or both, the Breakout Player of the Year and runners up honors those who rose to the occasion with improved and high-impact performance on a new level this spring — putting them squarely in the spotlight moving forward..
Player of the Year Award
Defensive Player of the Year Award
Offensive Player of the Year Award
Rookie of the Year Award
Coach of the Year Award
All-American First Team
All-American Second Team
---
D-I Men's 2020 Breakout Player Of The Year
Ethan Ylizarde (UNC Wilmington)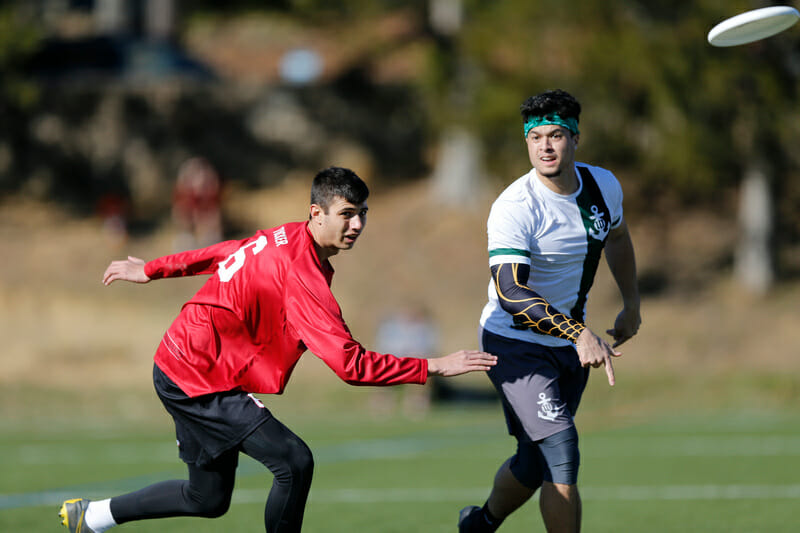 For anyone outside the Tar Heel state, raise your hand if you knew the name Ethan Ylizarde before last fall. Anyone? The uniqueness of his surname alone would have undoubtedly been a source of fascination among the Ultiworld staff, yet it appears nowhere on our site prior to late November when the UNCW sophomore was picked for the All-Tournament team at Classic City Classic. Since that initial bow, Ylizarde has been written of in glowing terms in the recaps for each of the Seamen's three tournaments this spring.
In a roller coaster of a season for UNC Wilmington, Ethan Ylizarde proved to be one of the most reliable two-way players when the Seamen couldn't get their offense to work. Playing with Brickhouse during the club season allowed Ylizarde to hone his footwork and acquire an even stronger foundation of skill and vision after a rookie season on UNCW's D-line. At Classic City Classic last fall, Ylizarde had a banner tournament, helming UNCW's D-line offense with his powerful forehands and hammers. He was relentless in the final against Brown, playing both ways for the Seamen and taking some of the throwing load off of Wilmington's star, Connor Russell. He was very savvy in the reset space, with a nose for getting open and using keen footwork to outmaneuver the defenders matched up against him.
Ylizarde's trademark pulls and forehands were matched with an incredibly swift jab step to free space downfield. Once in power position, Ylizarde would open up his impressive throws. At Kickoff, with Wilmington struggling to get their offense working against NC State, Ylizarde played both ways, giving the UNCW backfield a better chance of hitting back at Alpha. Ylizarde's playstyle was consistent throughout his body of work this year and, while he still has a turnover or two to clean up, he's well on the way to become Wilmington's most versatile deep thrower.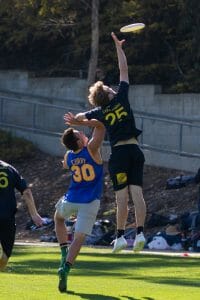 First Runner-up: Conor Tabor (Colorado)
Conor Tabor is one of those handlers who you just want on your line. No matter the context, or players around him, Tabor is a player who can move the ball, be a cog, and of course, make the big throw to end a point.
His throwing really is his calling card and it was a prime reason for Colorado's early-season success. He was often an unheralded facilitator for the O-line and you even might not notice him if you're not watching closely. There was a point in the Stanford Invite semis where he only touched the disc twice. The two that he threw? A zone-breaking hammer and a scoober for a score. He would go on to add three assists in the tournament final against Oregon and was on his way to earning an even bigger role with his team.
It's a shame we don't get to see what his ceiling would've looked like with this iteration of Mamabird. Fortunately, he will be back next year and should continue to improve with the rest of this team's young core.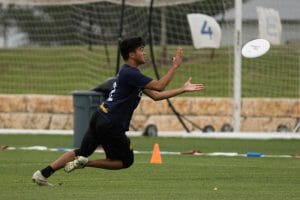 Second Runner-up: Munis Thahir (California)
Edging out a trio of emerging Michigan stars who split votes amongst our balloters, Cal's Munis Thahir claims the final spot on our BPOTY podium.
The UGMO speedster became one of the West Coast's most entertaining cutters this season. Light-footed and timely, Thahir was able to use his combination of physical and mental tools to blink between defenders. Against one-on-ones, he kept his matchup off-balance with his nimble movements, while darting into gaps in zones and carving them up with sharp cuts.
While Thahir wasn't churning up yards downfield, he was effective at attacking the break-side and short lanes with quick-hit passes that complemented his cutting skillset. Playing at pace allowed him to bust open defenses and generate a lot of offensive velocity. Some may have thought Cal was a bit of a fluke with last year's Nationals appearance, but thanks to the emergence of Thahir, they put together another strong regular season that left little doubt about their threat to return to the Big Show.