Honoring some of the top performers from the college season that was.
Ultiworld's 2020 College Awards are presented by Spin Ultimate; all opinions are those of the author(s). Find out how Spin can get you, and your team, looking your best this season.
Each spring, Ultiworld presents our annual D-I College Awards. While the 2020 college season certainly didn't play out as we all hoped and was not allowed to reach its natural conclusion, we still want to celebrate and honor the tremendous performances we saw already this spring.
Our selections are based on sanctioned play as if the season ended today. Given the uncertainty that the coronavirus crisis hangs over the rest of 2020, we may or may not see any postseason events that traditionally have heavily influenced our award selections. With what season has taken place, we have reviewed the tape, talked to players, coaches, and onlookers, and discussed with our reporting team. While the amount of data is limited — and we recognize that not every player and team got equal opportunity to perform — we felt we had enough to offer our opinions on the players who had the greatest effect on this season as it was.
Ultiworld is pleased to announce our seventh annual D-I All-American Teams. These players were selected for their overall performance in the 2020 college season. Please join us in honoring the best college players of this season.
Player of the Year Award
Defensive Player of the Year Award
Offensive Player of the Year Award
Rookie of the Year Award
Breakout Player of the Year Award
Coach of the Year Award
All-American First Team
---
D-I Men's 2020 Second Team All Americans
Lucas Chen (Washington)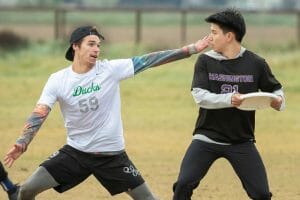 After mowing down the competition and walking away as champs at both Santa Barbara Invite and Presidents Day Invite, Washington looked the part of a true national title contender this spring. While many of the plaudits deservedly went to their deep and suffocating D-line, the Sundodgers best player was the engine of their offense. Lucas Chen was an offensive buzzsaw this season and made just about every defender he faced on the West Coast look impotent, earning Offensive Player of the Year runner-up honors.
An absolute nightmare to guard in isolation or anywhere near the end zone, Chen showed how intelligence and speed could overcome a smaller stature. His elite throwing and decision making were crucial for Washington's early-season success and if this was truly their year to make a run at a title, Chen would've been the prime reason for getting there.
KJ Koo (Cal Poly SLO)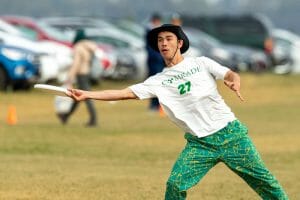 Koo burst onto the scene as a freshman in 2019, most notably making some big plays under the lights during Cal Poly SLO's national semifinal game against UNC. This year, with a handful of bona fide stars from that 2019 team having departed, Koo was asked to take on a more important role as the anchor of SLOCORE's defensive line.
The sophomore calmly and confidently delivered. Maybe it was the extra year of experience, maybe it was the bucket hat, but Koo was a major reason for Cal Poly's slightly surprising success in their three 2020 tournaments. He took on the majority of pulling duties and stood out as a defender with elite field vision, generating blocks and turns with his intelligent poaches. However, he was perhaps even more impressive after the turn. Many of Cal Poly's D-line points seemed to follow this formula: gain possession of the disc, get the disc to Koo, watch the magic happen. A creative and powerful thrower, Koo did enough to reach the awards podium in only his second college season, and is in position for many more accolades in the years to come.
Joe White (Carleton)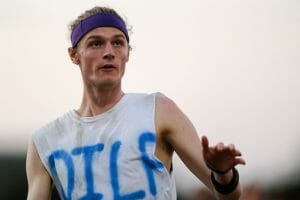 Carleton's results with and without Joe White on the field speak for themselves. With him leading the way, CUT reached the Florida Warm Up semifinal in February. A month later, despite fielding a lineup of youth national team players, high-profile recruits, and an all-time great class of seniors, CUT suffered disappointing losses without him at Smoky Mountain Invite and fell in the prequarter round.
When he is on the field, White commands a defense's attention. Blessed with exceptional physical gifts along with a well-developed set of disc skills, he makes dominating on the offensive side of the disc look downright casual. He can win with his legs or his throws and uses his length to create mismatches. If you haven't seen it yet, check out the Ultiworld Film Room feature on his offensive gravity. Nobody shifts a defense's attention quite like White. No slouch on defense, White has the size and speed to counter any threat.
Despite only playing in one tournament this season, White made his effectiveness abundantly clear and earned a spot on the All American Second Team.
Elijah Long (North Carolina)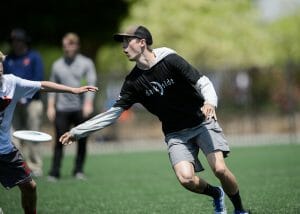 More than any other player, Elijah Long kept the North Carolina machine rolling in 2020, both point-to-point and season-to-season. He seamlessly transitioned into an initiating handler role following Matt Gouchoe-Hanas's departure and was just as seamless in his management of the Darkside offense. Everything Anders Juengst and Liam Searles-Bohs did downfield was facilitated by Long's heady handler play creating easy angles of attack. He put his years of D-line experience to good use whenever UNC's more aggressive elements gave possession away, securing some crucial blocks to get the disc back for Darkside and keeping the machine humming along.
A highlight reel of Long's best plays this season would be less flashy than most of his peers on the All-America list, but that's the point. Zipping pinpoint throws from unlikely angles with his rangy lank then calmly collecting a dump to do it again, Long was the master of his domain in 2020.
Liam Searles-Bohs (North Carolina)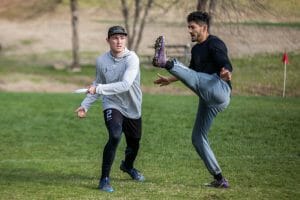 It was clear to anyone paying attention to UNC Darkside in January and February that Liam Searles-Bohs was only easing into the season. The 2019 Offensive Player of the Year somehow was not a featured part of the offense anymore. He made a requisite handful of exemplary plays, but by and large he relegated himself to the stack and the sidelines, where he could sleepwalk his way through whole halves of ultimate.
But, to borrow from an old Chuck Norris meme, Searles-Bohs does not sleep: he waits. By the time Darkside were closing out a resounding tournament win at Smoky Mountain Invite, the reigning OPOTY had re-emerged as a premier — in some moments, the premier — player in the country. He executed three plays (two sterling hucks past tight coverage and an unbelievable catch) in that tournament's final that perhaps no one else in the country could have. There is no doubt that the truncated season diminished the full force of the junior's impact on the field; but for a brief, bright moment, Searles-Bohs proved why he remains one of the division's giants.
Alex Atkins (Colorado)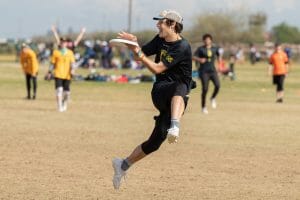 On a loaded team that champions a disciplined style of play, it's hard to stand out. Yet when you watch Colorado, it's hard to not notice Alex Atkins. He's tall and quick, sure, but Atkins took his play to a new level this season by being a versatile playmaker that comes up a big in the clutch.
In the final at the Stanford Invite he came up with crucial break goals and momentum-stopping blocks. A goofy player off the field but an absolute tiger while playing, Atkins became the kind of player that you rely on when things turn sour. Entering 2020 off a breakout performance last May in Texas, Atkins was far more than just Robin to 1st-teamer Quinn Finer's Batman and should have an even bigger role for Mamabird next year.
Joe Merrill (Brigham Young)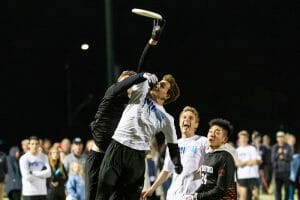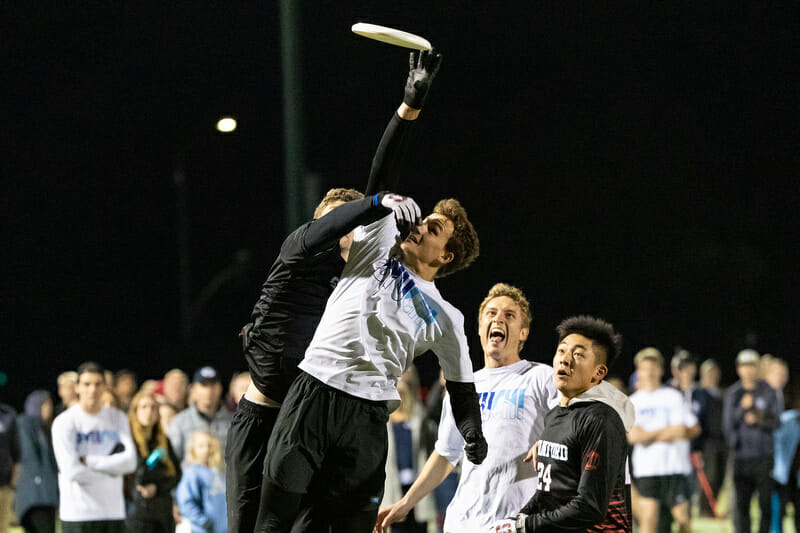 Watch BYU CHI senior Joe Merrill with the disc in his hands and you'll quickly see… a lot of early stall backhands to re-center the attack and some low-difficulty strike passes. He mostly approaches throwing like a game of hot potato. Take the easy option, move the disc quickly. It's everything he does without the disc, however, that makes him one of the top players in the country.
A fixture on the O-line and a regular crossover feature on defense, Merrill is one of those rare cutters who never stop cutting. His constant motion was the element that kept the tremendous CHI offense from ever really bogging down in 2020. Although he unstintingly played that 'engine' role to perfection, he was so much more than a roleplayer. Between hustle bids to save tipped passes, singularly visionary strikes to unorthodox spaces to give his throwers a look at the goal, or any number of outrageous deep blocks, Merrill's downfield play was an outstanding concoction of the workmanlike and the sublime.