Some ultimate is returning, though.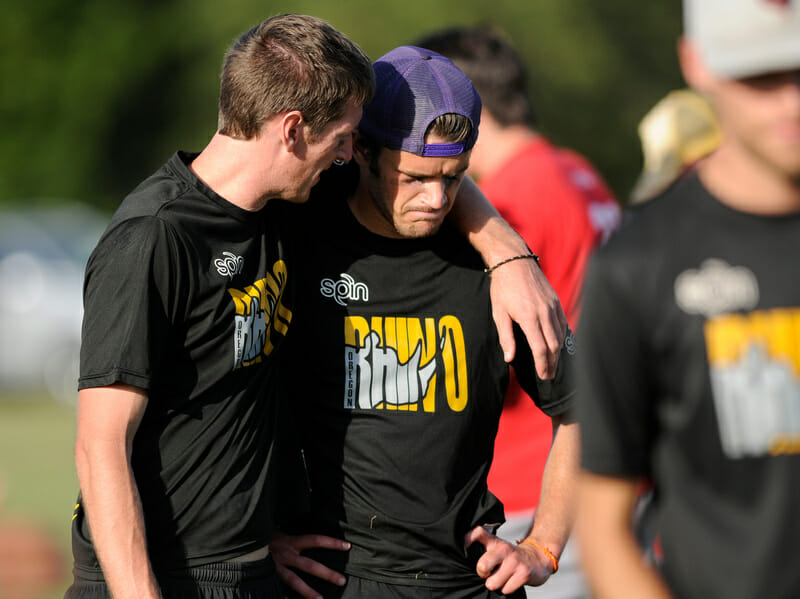 Welcome to Opening Pull, your weekly wrap-up of the previous week in ultimate. We've gathered the news you need to know and highlights you need to see, and we'll let you know what's coming up in the next week.
Live ultimate is on pause for the time being, without a clear end to the shutdown in sight, as the global community combats the spread of COVID-19. For more details, including a timeline, see The Latest on the Coronavirus Impact on Ultimate.
USAU Will Not Hold 2020 Club Postseason
After canceling the club regular season, USA Ultimate has now canceled the 2020 Club Series as well. After consulting with leadership, health advisors, and members via a recent survey, the national governing body felt that there were enough negative factors to cancel the postseason. This is the first time since the creation of the the club division in 1979 that there will be no national champion crowned.
For those still hoping for ultimate in 2020, there are some potential options. USAU is communicating with local organizations on how they can support opportunities for local play. In addition, there is still some consideration for a potential USAU event in San Diego in late October during the dates scheduled for Club Nationals.
AUDL Fully Cancels Season, Days After Announcing Potential Return
The American Ultimate Disc League will not have a 2020 season, reversing course from a proposed "bubble plan" that would have seen the league hold a scaled down 2020 tournament. After receiving feedback from inside the league, the AUDL executive council voted against the plan and a return by a 6-1 vote. The league cited uncertainty about their ability to effectively execute the return plan safely.
Canada, Australia, and Dallas Cancel Playing Opportunities
Elsewhere, a number of other scheduled ultimate events have been canceled.
Allen League, part of the Dallas Ultimate Association, was scheduled to return to play on Thursday. But amidst a surge of coronavirus cases in Texas, play was canceled, and DUA is holding an emergency meeting.
Ultimate Canada canceled the Canadian University Ultimate Championships, which was scheduled for October 16-19. Previously, UC had already suspended all events through August 31st. There is some provincial flexibility from local government regarding safety restrictions, and we may see some local events pop up.
The Australian Flying Disc Association canceled their single gender Australian Ultimate Championships. However, it does seem like there may be a return to play locally for Australian ultimate, and the AFDA is hoping to still host their mixed division championships in October.
Wildwood Beach Tournament Canceled
Due to uncertainty about New Jersey's guidance for large outdoor events, Wildwood, the world's largest beach ultimate tournament, is canceling its 2020 edition. The tournament had previously been pushing forward to host a scaled-down 2020 event, despite widespread criticism.
Swiss Ultimate Returns to Play
Swiss club team Freespeed played host to Swiss Ultimate Summer Kick-Off, one of the first organized ultimate events since the coronavirus pandemic began. The event split men's and women's over the weekend, with open on Saturday and women's on Sunday, to limit potential exposure. Switzerland responded to the virus with a shutdown that ran from mid-March to progressive openings starting in late April, which has mostly curbed the rate of new cases. In early June, an article in Forbes called Switzerland "the safest country in the world right now for COVID-19."
USAU Cutting Pay and Furloughing Staff
Facing a challenging financial forecast after the sharp decline in memberships caused by the coronavirus pandemic, USA Ultimate made the difficult decision to begin pay cuts and staff furloughs. Scaled pay cuts and rolling furloughs are designed to cut costs for USA Ultimate, but keep them in a position to respond to the emergence of a safer environment conducive to competition. CEO Tom Crawford said in a statement that he is "hoping our community will be empathetic towards the staff and patient with us."
Virtual Ultimate Summer Camp
California Ultimate & Pittsburgh Ultimate are hosting Uplift Ultimate, a virtual youth ultimate summer camp through July and early August. There are five sessions, each five days long, of Zoom camp sessions, where players can get to know one another and their fantastic list of coaches. U10, U15, and U20 sessions divide up the participants by age, and all experience levels are welcome. Camp attendees will be given assignments and activities, designed to be completed either alone or with another individual such as a parent or family member. 28 additional local disc organizations are working with the host organizations to help market the nationwide summer camp.
Uplift Youth Ultimate Camp is open for registration! This summer just got a lot more fun!https://t.co/MTdmxzdDik#uplift #virtual #ultimate #camp #youth #stayhome  #staysafe #stayfit #pulltogether #uplift2020 pic.twitter.com/xTFDlSlOH5

— Pittsburgh Ultimate (@pghultimate) June 24, 2020