As a great Canadian once sang, it's all coming back to us now.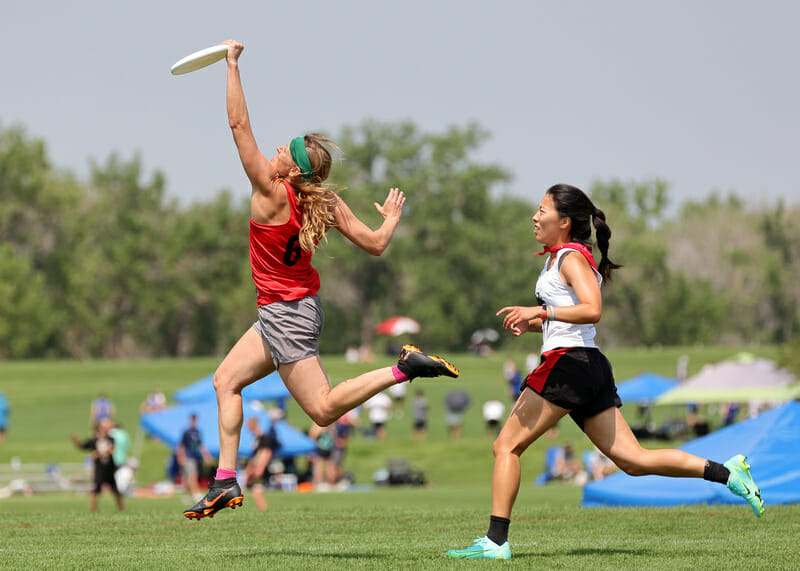 Welcome to Opening Pull! Ultiworld's Monday wrap-up of the previous week in ultimate has returned, now available both in this space and as an email newsletter. As always, we've gathered the news you need to know and highlights you need to see. Check back weekly or subscribe now to receive Opening Pull in your inbox along with a rundown of the previous week's content on Ultiworld.
Pro-Elite Challenge Kicks Off Club Season In Men's And Mixed Divisions
Seattle Sockeye and Fort Collins shame. are your 2021 Pro-Elite Challenge champions, each winning $750 (that's one-tenth of a Richmond Cup first-place finish) for their work in Colorado this weekend. The tournament offered a first look at what a few of the biggest programs in each division are cooking with this year, as well as some surprise cameos from all-stars best known for work on other teams (Kami Groom on Kansas City United?). As different as the TCT event may have looked from previous years, however, the event marked a joyful return to play and an emotional occasion for many: as Isabel Cruz wrote in her recap for the site, "seeing 18 fields filled with sailing discs, multicolored jerseys, and elite players from all over the country vying to make athletic plays was at once familiar, exciting, and surreal." [Full Story: Pro-Elite Challenge 2021: Excitement, Upsets Everywhere On Day 1 In Denver]
If many of us are still knocking off the rust, it didn't stop the game's top athletes from getting off some head-turning plays — or highlight maestro Nathan Kolakovic from capturing them for USA Ultimate's social channels and beyond. ESPN's site picked up this reel of a soaring greatest from Sockeye's Trent Dillon, exposing a mass web audience to one of the sport's more exciting throws as well as a classic ultimate early-season uniform of stencil-painted white cotton tees:
👀Is this the Greatest play from day one of the #USAUltimate Pro-Elite Challenge? Ask @SeattleSockeye's @touchdowndillon.

📽️ @NKolakovic pic.twitter.com/mhLUTSSX3H

— USA Ultimate (@USAUltimate) July 11, 2021
Hear more from Dillon on Sockeye's approach to the year on his recent guest spot on Deep Look, or revisit Kolakovic's extended interview on Ultiworld's subscribers-only podcast Sideline Talk.
Ultimate Canada Plans 2021 Club Championship Series For Fall
Ultimate Canada has announced that it intends to hold the Canadian Ultimate Championships in late September or early October this year, several months later than their usual August spot on the North American ultimate calendar. While the adjustment creates some overlap between the Canadian series and USA Ultimate's (in which several top Canadian teams also typically participate), UC Executive Director Danny Saunders has told Ultiworld that UC will try to avoid any scheduling conflicts between the neighboring nations' series. [Full Story: Canadian Ultimate Championships to Be Held in Late September or Early October]
Boston Globe Covers Boston Glory
Boston's leading daily newspaper gave the AUDL's newest franchise some ink this week, with staff writer and photographer Stan Grossfeld contributing both a writeup and a few action shots from the Glory's home match against the Atlanta Hustle. While the piece hits some notes familiar from other general-audiences explications of the sport, a post in Ultiworld's staff-and-subscriber Discord by eagle-eyed social media coordinator Tanner Jurek highlighted what may have been a regionally-specific aural confusion in an earlier version of this story (the line appears to have been corrected on the web):

Roster Release Highlight: Raleigh Phoenix
The Triangle's premier women's team will experience some roster turnover this year, but adds a few exciting pickups known for club, college, and youth play in the region and beyond. Their roster announcement comes backed with an interactive throwback soundtrack:
🔥🔥🔥 pic.twitter.com/3D38cXp4Tl

— Phoenix Ultimate (@PhxUltimate) July 9, 2021
---
Coming Up

Ultiworld is streaming a special edition of the Richmond Cup final between Durham Toro and Washington DC Sweet Cat this Thursday, July 15th at 8PM on our YouTube channel. You're not going to want to miss it. 
Now that both divisions have had their first major tournament, catch up with Ultiworld's full-length club preview articles for the mixed and men's 2021 seasons, including major storylines, players to watch, and a region-by-region breakdown. Stay tuned for the women's preview coming this week ahead of Boston Invite, when we'll first see major women's program take the field this year!
The season is on and rosters are dropping. Watch Ultiworld's 2021 Club Rosters tag for this year's crop in men's, mixed, and women's, with additions, departures, and returning players highlighted for your convenience.