The season cap-off...or the first major tournament of the year? Maybe both.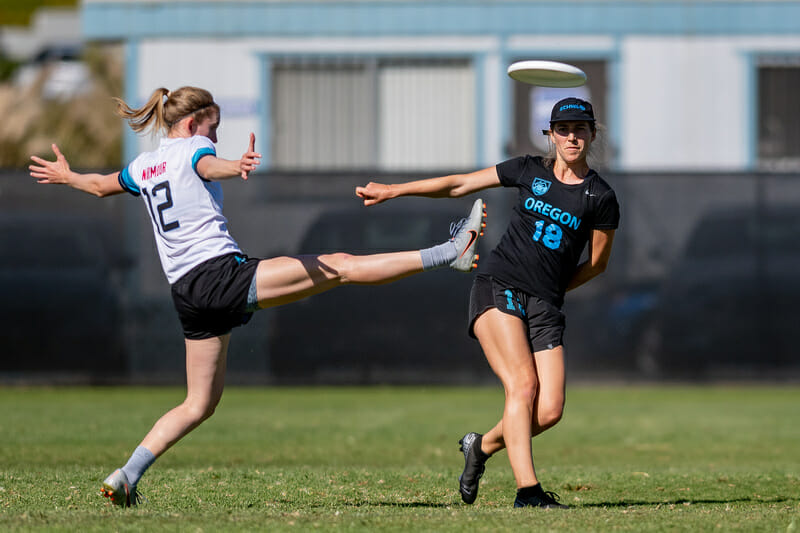 In what is normally the final tuneup before the Series, this year's Pro Championships almost feels like we're still at the start of the season. Numerous teams are taking the field for the first time this season, including stalwart programs like Denver Molly Brown and San Francisco Revolver.
The field is easily the best we've seen at a club tournament this year, with multiple top five teams competing in each of the three divisions. USA Ultimate even moved their typical ESPN coverage from the US Open to the Pro Championships this year after the mixed and women's divisions didn't take place in Minneapolis.
For some teams, this will feel like a typical Pro Champs, with one last chance to get high-level reps in before the fall. For others, it's a chance to see what they have. With a jam-packed live coverage schedule, you can tune in for all of it!
Tournament Profile
Date: September 4-6, 2021
Location: Boulder, CO
Weather: Sunny and beautiful, highs in the 80s
2019 Nationals Teams: 5 in women's, 4 in mixed, 9 in men's
How to Watch & Filming Schedule
If you're looking to watch games from the 2021 Pro Championships, stay tuned to Ultiworld.com/live and our video-on-demand package next week. Full and Plus subscribers (and Team Pack holders) will get access to all game footage from the tournament, while select games will be live streamed on YouTube for everyone to watch for free!
All six semifinals will be broadcast live via Ultiworld and ESPN3; the three finals on Monday will be available on ESPN3. Two of the finals will also air on television on ESPN2 (tape delayed) later in September.
Here is the streaming schedule (all times Mountain):
Saturday, September 4th
9:00 AM: Seattle Mixtape v. Arizona Lawless (Ultiworld)
11:00 AM: San Francisco Revolver v. Washington DC Truck Stop (Ultiworld)
1:00 PM: Boston Brute Squad v. Raleigh Phoenix (Ultiworld)
Sunday, September 5th
8:30 AM: Denver Molly Brown v. Portland Schwa (Ultiworld)
10:30 AM: Men's Semifinal (ESPN3)
11:00 AM: Men's Semifinal (Ultiworld)
12:30 PM: Mixed Semifinal (ESPN3)
1:00 PM: Mixed Semifinal (Ultiworld)
3:00 PM: Women's Semifinal (ESPN3)
5:00 PM: Women's Semifinal (ESPN3)
Monday, September 6th
9:30 AM: Men's Final (ESPN3)
12:00 PM: Women's Final (ESPN3)
2:30 PM: Mixed Final (ESPN3)
And below is the filming schedule (games will be available for Ultiworld Full and Plus subscribers):
Saturday, September 4th
Denver Molly Brown v. Boston Brute Squad
Chicago Machine v. Portland Rhino Slam
Fort Collins Shame v. Dallas Public Enemy
Men's Prequarters
Sunday, September 5th
Nemesis v. Phoenix
Monday, September 6th
Women's 3rd Place Game
Mixed 3rd Place Game
Women's Division Storylines
After the Women's Division was canceled at both the Pro-Elite Challenge and the US Open, the Pro Championships will serve as the first (and only) look at 2019 national semifinalist teams on the Triple Crown Tour.
#2 Boston Brute Squad is in action for the first time since a quick tune-up at the Boston Invite in July. The defending national champs are going to be a force once again this fall, as they add some key pieces including former Rival star Sophie Knowles, Revolution's Laura Ospina, and Amy Zhou. Should Brute still be the #1 team in the country? They can do a lot to prove it this weekend.
At their home unsanctioned tournament, #3 Portland Schwa beat everyone except #1 San Francisco Fury. That's a good start for the surprise semifinalist from 2019. They have a highly anticipated rematch with #5 Denver Molly Brown, who is taking the field for the first time. Molly's addition of Valeria Cardenas to the roster should make their game a must-watch.
#4 Raleigh Phoenix is also making their season debut. They'll be missing a number of key starters due to injury, including Anne Worth, who's out for the year with an ACL tear. Still, Phoenix looks poised to be knocking on the door of a semifinals appearance at Nationals this year. The Raleigh Radiance, comprised of mostly Phoenix players, beat out two very good PUL teams in the New York Gridlock and Washington DC Shadow to win the East Regional in August.
#12 Chicago Nemesis went 3-2 at the Elite-Select Challenge two weeks ago, though none of their wins were against Nationals contenders. They lost a close battle with regional rival, ahem, Rival, and then lost soundly to Bent. They're focused on development this season, so don't expect crazy upsets from this group.
The bottom-seeded #10 Washington DC Grit had a great season opener at ESC, with wins over Parcha and Bent and a split with Rival. The only elite women's team in DC this year with Scandal skipping the season, Grit is clearly pushing for making Nationals for the first time this year with multiple travel tournaments on the ledger.
Mixed Division Storylines
#2 Seattle Mixtape announced themselves as a clear title candidate in 2021 with a dominant performance at SMUT, where they went undefeated with wins over Lochsa and BFG. Their matchup with #3 Fort Collins Shame should be a blast, and it seems probably that the two teams will meet again in the tournament final. Former Riot player Qxhna Titcomb and former Sockeye player Billy Katz are big pickups for a team that was already deep with talent. Shame, too, is adding to its strong 2019 team, with Lo Guerin and veteran Bart Watson joining up with the team, and returner Kiera Lindgreen taking big steps to being a high impact player.
#4 Seattle BFG has its usual mix of long-time elite club players and young up-and-comers and looks to again be in the conversation for a championship after winning the 2018 World Club title. Charlie Mercer is a great pickup from Riot. Their only blemish at SMUT, their first tournament of the season, was a 15-12 loss to Mixtape.
What should we make of #8 Arizona Lawless? The state has consolidated its top talent into a single mixed team and has put up some strong results this year, including an undefeated run at SFI West1 which included a win over San Francisco Mischief. Pro Champs will provide quite the test for the brand new team that hopes to make a splash at Southwest Regionals.
South Central stalwarts #13 Dallas Public Enemy and Boulder Love Tractor round out the field. It's somewhat shocking to see Love Tractor unranked, but the team went 3-3 at the Pro-Elite Challenge with no impressive wins. Perhaps it's better that way, though: they've had enormous regular season success in recent years but have failed to make Nationals. Public Enemy, who went undefeated in their limited games at SFI West, famously stole Love Tractor's bid at 2019 SC Regionals.
Men's Division
#1 Seattle Sockeye remains the clear and obvious team to beat. Despite an opening day that included a pair of losses while running open lines, Sockeye has been undefeated since, not allowing a team to finish within three points of them. 2019 College Player of the Year Mac Hecht has had an immediate impact on the Sockeye offensive line alongside Simon Montague in the backfield. And Sockeye's defense remains extremely stout. Can they keep it rolling as we head towards the postseason?
2019 Nationals runner-up #2 Chicago Machine got a shot at Sockeye in the US Open final in their first meeting since the 2019 championship game but came up short. Machine's switching zone was masterfully maneuvered by Seattle, who seemed content to take their time to find throwing lanes even in the face of excellent defense from Chicago. Much of the team just came off an emotional win in the AUDL, coming back to beat Minnesota to claim a spot at Championship Weekend. Will lessons from that game get applied to Machine's defensive approach this weekend?
We will get our first look at #6 San Francisco Revolver and #16 Pittsburgh Temper this weekend. Revolver has seen huge turnover and gotten much younger this year, as they replenish the pipeline with talent out of Cal Poly SLO and other area colleges. Michael Ing is the headline pickup after his title run with Philadelphia AMP in the mixed division. Temper is looking to get back to Nationals in 2021 following a long struggle to reach the tournament out of the Mid-Atlantic. CJ Colicchio has been a big playmaker competing for the Thunderbirds in the AUDL; can he help lead a young roster to success this year?
It's been a weird year for #7 New York PoNY, who came into the season lauded as a title contender but have so far failed to deliver on their promise. A 3-3 showing at the US Open seemed to reveal cracks in their O-line. With a couple of their players out (at least on Saturday) because of the New York Empire AUDL playoff game, can PoNY start to find a rhythm?
One of the teams that got a win over PoNY in Minneapolis was #10 Portland Rhino Slam, who looked fantastic on Saturday before going 0-3 on Sunday. There's tons of promise from Raphy Hayes and co., especially with seasoned head coach Mike Payne coming aboard this year.
---
they did not play a final because of the cancellation ↩