An overwhelming favorite, then a series of question marks.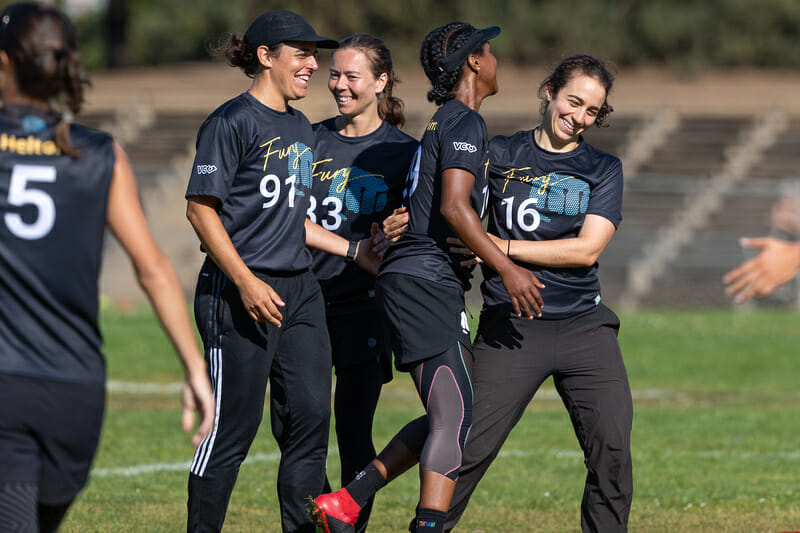 Ultiworld's 2021 coverage of the club women's postseason is presented by Spin Ultimate; all opinions are those of the author(s). Find out how Spin can get you, and your team, looking your best this season.
Pool B Preview — Pool C Preview — Pool D Preview — Competition Schedule
Historically, Pool A has tended not to yield any Nationals-altering upsets, and this year's super-powered #1 San Francisco Fury are unlikely to let anyone change that trend. Competition will likely be tighter among the other three teams — especially with the breaking news that #10 New York BENT will not be joined by international club superstar Yina Cartagena in San Diego. That's music to the ears of #9 Columbus Rival and #17 Minneapolis Pop, two perennial Nationals attendees hoping to rise through a close three-way best-of-the-rest race for spots in the bracket. But Cartagena wasn't the only key 2021 addition to a BENT team that has historically struggled to escape the Northeast, and any matchup where neither team is Fury could be anybody's game.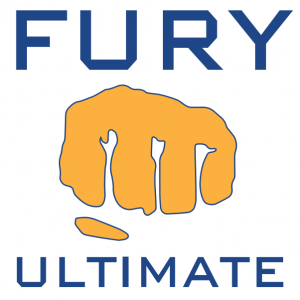 San Francisco Fury
Seeding: Overall No. 1, A1
Power Ranking: #1
Overall 2021 Record: 7-0
Against the Nationals Field: 2-0
Against the Pool: 0-0
San Francisco Fury have once again earned the top seed at Nationals on the strength of a short-but-dominant season that saw them cruise undefeated to the Southwest regional crown. In typical Fury fashion, they reloaded their roster while other teams rebuilt, retaining almost all of their 2019 players while adding 2019 Mixed Club Player of the Year Anna Thompson and 2019 D-I College Player of the Year Dena Elimelech. No way around it: this team is loaded with generation-defining women's club talent and — if it's even possible — appear to be getting stronger with each tournament, none of which bodes well for the rest of the Nationals field.
To start their 2021 season, Fury traveled to Eugene with a small crew of 14 for the unsanctioned Eugene reOpen, where even with a condensed roster they were able to beat Nationals qualifiers #6 Seattle Riot and #7 Portland Schwa. Soon after, they took a comfortable first place at Sectionals, with their closest game a finish 15-2 against #16 Oakland LOL, avoiding #15 San Francisco Nightlock until their last tournament before Nationals.
Fury hardly needed any more advantages going into Regionals, but a last-minute relocation brought the tournament to Golden Gate Park in hometown San Francisco, and they gave up a total of nine points across four games where they blanked every opponent except Nightlock. The second matchup with Nightlock saw Fury's defense give up their one and only break all weekend — only to run rampant in the second half, taking the final 15-5 with a 7-1 run to sew up the Regional title.
After that game, captain Sarah "Surge" Griffith spoke to the mentality that she brings into the games, which surely resonates throughout this potent Fury squad. "I just love defense, I just love to compete," she said. "I just love that feeling of the best versus the best — let's duke it out, grind it out for an hour and a half, and let's see what happens." That instict will serve Fury well in what will be the most competitive tournament they've faced this year, and could very well carry them back to their title-winning ways.
Likely Ceiling: National Champions
Likely Floor: Semifinals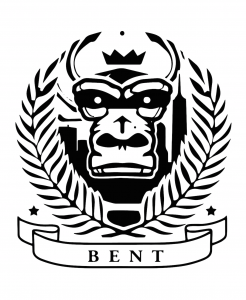 New York BENT
Seeding: Overall No. 8, A2
Power Ranking: #10
Overall 2021 Record: 15-4
Against the Nationals Field: 6-2
Against the Pool: 0-0
New York BENT are back at Nationals for the first time since 2015, claiming the Northeast region's second bid with two wins over #13 Boston Siege and bouncing back after an upset loss to #22 Albany Rebel Rebel at Sectionals. From the outset, BENT were well-positioned to take one of the Northeast's bids, beating Siege at Boston Invite in the first elite women's competition of the season and with Canadian contenders Toronto 6ixers and Quebec Iris looking unlikely to participate in this year's USAU Series. With only four losses in the season — two of them to #3 Boston Brute Squad — BENT could still take a real step forward as a dark horse at Nationals, with a potential crossover game with the favorite-less Pool D in prequarters.
BENT came into the season with an already-talented group, including Color of Ultimate and Con10enT Tour standout Lauren Woods and offensive rock Amanda Dobbyn, with longtime New York leader Brittany Kaplan moving into a coaching role to anchor the continuity of the program. Kaplan and Akina Younge, who rejoins the New York squad for the first time since 2017, are the only two connections to the 2015 Nationals team.
New York bolstered their 2021 roster with a number of notable pickups — although Yina Cartagena, the flashiest name among them, will not be attending Nationals due to a prior commitment in Colombia. With Cartagena out, New York will look towards some of their other new teammates, including rising star and U24 National Team player Samiya Ismail, who will bring her signature footblock skills and handling prowess to the BENT backfield. "Samiya has been a huge add for us this year in the handler space," Kaplan said. "She has had high-pressure experience at college Nationals, club Nationals, and U24 Worlds, and has brought immense strategic knowledge to our team."
Even with the new additions taking some time to settle in, BENT looked strong at Elite-Select Challenge, losing only to #12 Washington DC Grit while winning close games against Nationals competitors #21 Florida Tabby Rosa, #8 Chicago Nemesis, and #11 Pittsburgh Parcha. A few weeks later, they entered Metro NY Sectionals with a short roster and took an unexpected 10-9 loss to Albany Rebel Rebel.
At Regionals, however, BENT shut down their upstate challengers in a 13-4 revenge win in the bracket to advance to a final against Brute Squad. Brute demolished BENT 15-4, but it only took one more game for BENT to claim a spot at Nationals with a 10-6 win over Siege. With Cartagena, BENT's ceiling looked as high as any team outside the top three; as it is, they could well make a run to the semifinals just as fellow Northeast team 6ixers did in 2019, but it will certainly be more of an uphill climb without their star addition.
Likely Ceiling: Semifinals
Likely Floor: Prequarters


Columbus Rival
Seeding: Overall No. 12, A3
Power Ranking: #9
Overall 2021 Record: 13-3
Against the Nationals Field: 2-2
Against the Pool: 0-0
Columbus Rival had a solid season that saw them take first at Elite-Select Challenge with wins over fellow future Nationals teams Chicago Nemesis and Florida Tabby Rosa, as well as securing the second bids from the Great Lakes with little drama. The only real stumbling blocks in Rival's season came in their Regionals rematches with Nemesis, as Columbus could not find a way to beat Chicago in Cincinnati despite easily winning the game-to-go over Indy Rogue 13-4. Losing much of the star power from their 2019 season — some of it in the middle of their 2021 season — Rival will likely face difficulties making it deep into the bracket, but should still have the experience and chemistry to hold their ground against top-tier competition.
Before this season, Sophie Knowles had consistently been one of Rival's best players, and losing her to an ACL tear in 2019 at SFI East may have doomed their chances at a Nationals bid that year. This year, they lost Knowles to Boston Brute Squad instead, where Knowles only adds to the reigning champions' already loaded roster. Paige Soper (a founding member of mixed Regionals team Seattle Sorta), Zoe Hecht (a practice player with Raleigh Phoenix), and Sharon Yee (over the state line with Pittsburgh Parcha) are also absent this year — as are captains Libby Lehman and Iris Javersak, who joined new mixed team Cleveland Crocs midway through the summer. Rival's cupboard isn't bare, though, with veteran handler Tracey Lo and Texas product Laura Gerenscer particular standouts on a team looking to assert that they are still a threat even without the players that defined their best games in prior seasons.
As the third team in Pool A, Rival will aim to at least maintain their place and perhaps pull an upset against BENT (or, if they feel ambitious, Fury), then hope for a favorable cross-over in the bracket. They may very well end up facing Nemesis for the fourth time this season in prequarters, and a win there would put them into the final eight. It's there, though, that the loss of so many key players may spell the end of their run.
Likely Ceiling: Quarterfinals
Likely Floor: Done on day one

Minneapolis Pop
Seeding: Overall No. 13, A4
Power Ranking: #17
Overall 2021 Record: 10-0
Against the Nationals Field: 0-0
Against the Pool: 0-0
Minneapolis Pop, winners of the North Central region's lone bid, played as short a season as you can by only participating in the Series, going undefeated in ten postseason games. With only one women's team at any of those tournaments clearing a path to San Diego, though, Pop has no connectivity with the rest of the Nationals field. That lands them in the lower middle of the seeding this year, no. 13 overall. That lack of exposure could be a liability, but might also prove to be an asset if they're able to surprise a team or two in San Diego with a freshened roster that includes both young and experienced talent.
As with many teams this season, this Pop looks very different from the team that took the single North Central bid in 2019. While they lose solid contributors like Sadie Redding and Jane Koch, they've gained talent old and young from former key Minneapolis Drag'n Thrust player Alicia Carr to Minnesota U17 player Simone Pierotti. Pop's returning players — including Rebecca Enders, Sarah Helm, and Makella Daley — are no slouches either, as evidenced by the team's four-season streak of Nationals appearances.
Between the likely-still-gelling roster and the absence of any prior experience with this year's field, it's hard to say exactly where Pop will end up finishing. With no clear superstar players and no recent history of going deep into the bracket, it seems unlikely that Minneapolis will spring any huge upsets. But there's no more proof they couldn't break out of this pool than proof they could, and their status as a relative unknown going into the tournament may give them just enough of a true dark horse's edge to see them further than before.
Likely Ceiling: Prequarters
Likely Floor: Done on day one