There's only room for one Seattle team in the mixed final!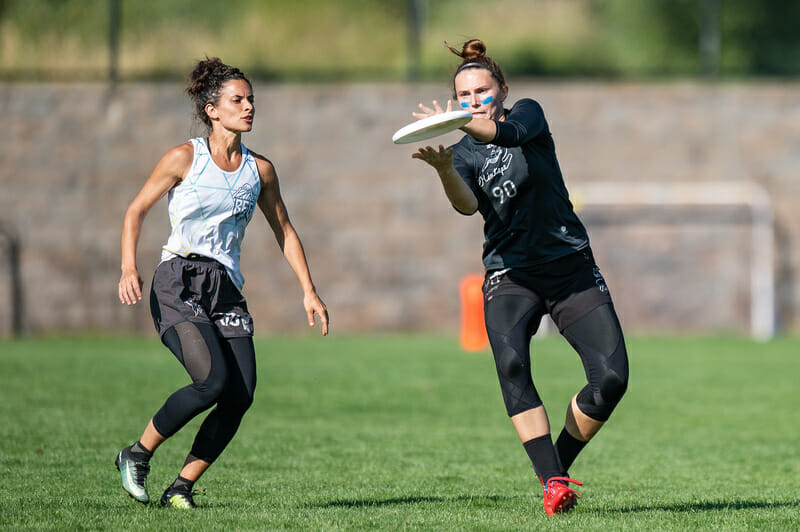 Ultiworld's 2021 coverage of the club mixed postseason is presented by Universe Point cleats; all opinions are those of the author(s). Check out Universe Point if you are looking for a comfortable, ultimate-specific cleat with a patented stud pattern that can give you an edge every time you're on the field.
Despite the chaos of the mixed division, #1 Seattle BFG and #2 Seattle Mixtape went undefeated, teeing up a highly anticipated hometown rivalry showdown. Unlike in the other Mixed semifinal, these teams have years of experience at the Nationals stage and a ton of history together.
Saturday's game will be their sixth matchup of the season. Mixtape has the statistical edge having won the three regular season matchups, but BFG has the momentum on their side having won against Mixtape at Sectionals and Regionals. With a shot at the national title on the line, Saturday's game will be the faceoff with the highest stakes yet and tensions may run high.
---
WATCH LIVE: Ultiworld, 10:00 AM PDT (full broadcast schedule)
---
Seattle Mixtape
Record: 25-3
Record vs BFG: 3-2
Statistical Leaders: Manny Eckert (4G 7A 2D), Qxhna Titcomb (5G, 3A, 1D), Zach Sabin (7G, 2A, 2D), Kelly Johnson (1G, 6A, 1D)
Path to Semis: 3-0 in Pool C (defeated Space Heater, Sprocket, Polar Bears) → bye to quarters → 15-10 over Drag'n Thrust in quarters
Seattle BFG
Record: 23-4
Record vs Mixtape: 2-3
Statistical Leaders: Mario O'Brien (1G, 9A, 1D), Tommy Li (4G, 4A, 2D), Cheryl Hsu (4A, 2G), Alexa Kirkland (3A, 2G, 1D)
Path to Semis: 3-0 in Pool B (defeated Lawless, Love Tractor, Shine) → Bye → 15-9 over AMP in quarters
The Seattle rivalry may seem played out, but we're likely to see new faces from each of these talented and strategic squads. Each team will have to cook up new tactics and try to bottle the essence of what clicked in their previous wins in hopes of gaining an advantage and keeping their dreams of winning it all alive.
How Mixtape Got Here
Normally holding seed at nationals is par for the course, but Seattle Mixtape was one of the only top-seeded mixed teams to keep their tournament consistently strong so far and fend off streaky opponents looking for the upset. Mixtape won their matchup against Boston Sprocket handily even though the young Massachusetts squad was able to go on some short runs, generate turns, and even punch a few breaks. Washington D.C. Space Heater was a similar story with an identical 15-10 score. Even though D.C. went on some runs and stayed toe-to-toe, Mixtape never lost grasp of the momentum. Mixtape faced a low dose of adversity against San Francisco Polar Bears who gave them their tightest game, but even though the game felt like a nail biter, Mixtape never truly had to come back from any real deficit or downswing.
Mixtape looked equal parts gritty and well-rehearsed. Mixtape threw a wide variety of defensive looks, switching forces between sidelines and the middle, fielding junk and more traditional zone sets. They were able to identify their opponent's weaknesses and quickly correct any of their own. Mixtape displayed discipline and calculation that are not usually associated with their non-traditional reputation.
Thursday was about trusting their systems and plans to execute, but the wind on Friday put a wrench in their ability to execute against Minneapolis Drag'n Thrust. When Drag'n capitalized on a Mixtape misthrow to break the first point of the game, things looked like they could get interesting. After all, Minneapolis was fresh off of their universe point upset over Fort Collins shame., one of only two teams to beat Mixtape this season. But Mixtape quashed that pipe dream quickly. They fought to regain the break and went on to score five of the next eight points to take half, out-executing their opponents in the wind. Mixtape remained dominant despite Minneapolis' best efforts to kickstart a comeback to clinch a decisive 15-10 win and advance to the semis.
Strikingly, most of Mixtape's statistical leaders are new additions to their team, including players who just made the switch to mixed but are well-known in their previous divisions. Former Seattle Riot players Kelly Johnson and Qxhna Titcomb, and Seattle Cascades player Manny Eckert were each key playmakers and shooters. Long-time Mixtape players Brad Houser and Khalif El-Salaam also played central roles in Mixtape's dominant performance thus far. New, young players on the Seattle squad also made exciting plays that helped keep energy up through long games. Tori Gray's excellent defense, including a run through block catch, contributed to their overall strong performance.
How BFG Got Here
Seattle BFG's performance leading up to semifinals can be summed up simply: BFG may not be completely unbreakable, but they have thus far been unstoppable in the postseason. Just looking at the scores, it would appear that they have plowed through most of their opponents to arrive at semis–their closest margin in a game was 4 in their 13-9 win over Denver Love Tractor and the widest was 8 in their 15-7 victory over Nashville 'Shine. But BFG did face real adversity on the field. They surmounted a big deficit against Love Tractor, who was up 7-3, by digging deep within their energy stores to score 10 of the next 12 points and win the game 13-9.
BFG started their quarterfinal game against AMP off hot, seemingly trying to get as wide a buffer as they could to prevent any comeback attempts by the defending champions. They knew all too well that Philadelphia was capable of turning the game on its head if given the chance. BFG's D-line offense really stole the show, valuing most of the opportunities they had to break and hanging in with high energy during points where they were not able to convert quickly. Their O-line also deserves credit for deftly forging paths through AMP's defensive sets and fending off almost all break attempts. BFG's big 15-9 win is further evidence that this year's team does live up to the hype and is capable of securing a first-ever National title if they play as well as they have thus far in the postseason.
Statistical leaders Mario O'Brien, Tommy Li, Alexa Kirkland, and Cheryl Hsu will certainly be key playmakers to watch and will likely have some of the toughest Mixtape matchups to contend with. Tommy Lin, Sarah Benditt, Anna Maria Pape, and Conor Belfield have each been making big plays and scores and could make a real difference in the Mixtape game if they play up to the top of their capabilities. It wouldn't be surprising to see tight lines again from BFG in tomorrow's high-pressure match, but the depth of their roster extends beyond the upper tier and will be a huge asset if they find themselves behind at any point and need to shake things up with talented fresh legs.
What to Expect in the Semifinal
There is no doubt that Mixtape has been thinking about their game plan to take down BFG in their next matchup since pool announcements came out.1 Having experimented with a wide range of strategies, particularly on defense, Mixtape will have to use the data they collected throughout the weekend to figure out exactly which defensive looks will rattle consistent and efficient BFG. They will need to pull ahead and squash any chance of a comeback, since their rivals have proven to be capable of doing so in the past. Mixtape will also need to perform at a peak mental level to prevent the yips and tension that often come up in games against closely-matched rivals.
"We're in a best of five with them this season," remarked Bert Cherry, who is not playing this weekend due to an injury but leading and supporting from the sideline. "We're excited to see how this last one shakes out."
BFG will no doubt be looking to come out hot again to establish momentum early, just like they did in quarters. They will not come out on top tomorrow resting on their laurels. Similarly to Mixtape, BFG has likely been strategizing meticulously about what went well across the season that they need to continue and what they should change and improve to ensure they are not too predictable.
"Mixtape doesn't get enough credit for how smart of a team they are. They're athletes but they're a smart, strategic team," explained O'Brien when describing his expectations for their game tomorrow. "I'm not expecting the same defensive look any more than a couple points in a row just to mess with the pace." BFG's vertical stack-centered offense has worked well for them this weekend. Given that they are expecting the unexpected, however, they will have to thread the needle between trusting the efficacy of their systems and pulling some new tricks out of their sleeve if they want to cross the penultimate hurdle on the road to the championship title.
---
More likely since their loss at Regionals. ↩