With supremely talented teams throughout, this may be the division's Pool of Death.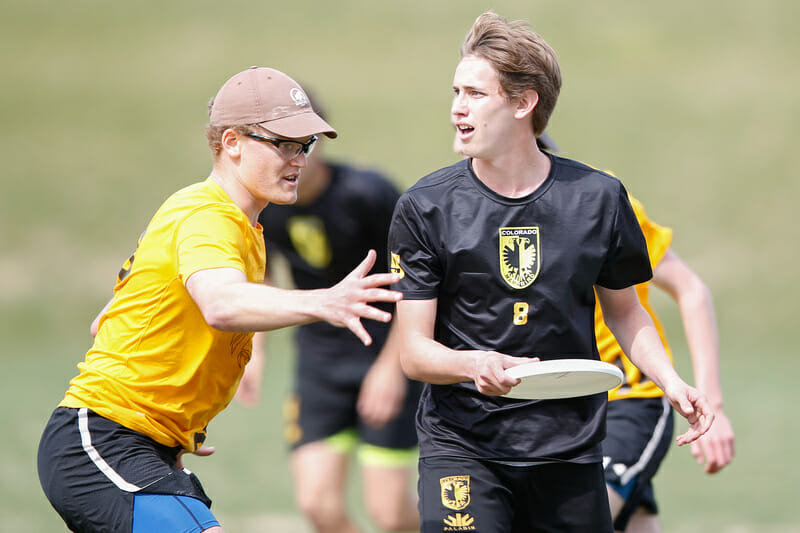 Our coverage of the 2022 College Series is presented by Spin Ultimate. Please support the brands that make Ultiworld possible and shop at Spin Ultimate!
The 2022 D-I College Championships return to Milwaukee, though they are partially back to a traditional Nationals. While the Fall championships felt wholly unique, this turn has some oddities — namely, the lack of a rankings-based regular season — but in many other ways is business as usual. Once teams hit the field, expect a lot of what you've come to know and love about Nationals: drama, surprises, and the memorable moments that make legends. From John Stubbs to Dena Elimelech, the legacy of college stars is built around what happens over these four days.
We will be there to bring you all of the action, with cameras pointed at more games than ever and a reporting team that will take you inside the huddle. In these previews, we'll offer a snapshot of each team and the competition they'll face when play begins on Friday, May 26. Watch ultiworld.com/live then for updates in all four college divisions!
Pool A  |  Pool B  |  Pool C  |  Pool D
Seeding: B1, no.2 overall
Power Ranking: #3
Path to Nationals: Def. Texas 15-7 in South Central final
Roster & Schedule
For the third consecutive season, Colorado Mamabird enter Nationals with genuine championship aspirations. That was the case in 2019, when star Alex Tatum's final year ended with a loss to eventual champion Brown in the semifinal round. It was the case in 2021, when star Quinn Finer's final year ended with a loss to eventual champion North Carolina in quarters. In Alex Atkins, the team may have an even brighter star than either of them: will his final year end with a win and the team's first title since the Jimmy Mickle years? That is to say, will Colorado be this year's eventual champion?
Let's start with a note about Atkins, who has been nothing short of incredible in 2022. He has spent the spring throwing whatever he wants with brutal accuracy, winning every battle in the reset space, making those unfortunate enough to go up with him on jump balls look completely silly, and, as if that weren't enough, making some of the biggest defensive plays you'll see this year. He takes the initiative in every game and stays there, on his front foot, always attacking. It's a show of force and determination that heralds a Mamabird victory virtually every time they take the field, and Atkins isn't showing any signs of letting up.
It must be noted that Mamabird are pinning their hopes on far more than just their most prominent player. The D-line will thrive with or without Atkins (who does cross over from offense from time to time): Saeed Semrin, Walt Johnson, and Levi Tapper will earn plenty of takeaways. Conor Tabor, meanwhile, has found his groove as a devastating post-turn quarterback. And the offensive side of the disc gives Atkins plenty of skilled accomplices, chief among them Nathan Buccholz, Danny Landesman, and Calvin Stoughton.
So if there are no questions about Mamabird's talent, what could possibly stand in their way? Seven or eight equally ambitious programs. The game they'll be looking toward for answers was their last of the regular season, a kooky universe point loss to fellow title contenders Brown. They could shrug it off as a unique event, or they could examine what factors contributed to the few lapses that made the difference. Was it a lack of conditioning that kept them from being able to focus? Was it a sense of giving up before the end of the game? Was it failing to account for an aspect of Brown's strategy? This reporter doesn't know, but you have to hope Mamabird have turned over every stone on the way to some answers that could help them flip that result in what seems like an almost inevitable rematch with the top seed at some point.
Simply put, Mamabird are at the top level of the pyramid. But they aren't there alone, and it will be fascinating to see whether and how they find the edge to stand by themselves at the very apex when all is said and done.
Seeding: B2, no.7 overall
Power Ranking: #8
Path to Nationals: Lost to North Carolina 15-12 in the Atlantic Coast final
Roster & Schedule

NC State Alpha have been a program on the rise for the last four years, and 2022 could be the year it finally culminates in a deep bracket run.
"I think we can threaten every team [at Nationals]," said coach Michael Lee. "We had the ball against Pitt on universe, we received on universe against Brown, we were up three on Darkside at Regionals," he continued. Those are facts the team can hang their hats on – except for the competing fact that Alpha went on to lose all three games. And that's just about where things stand with NC State. They have proven without question that they're one of the most talented teams in the country, but they're still looking for the win that really cements their place among the best.
Alpha have all the necessary ingredients for that heretofore elusive major victory. Let's start with the depth of talent. Everyone in the division knows what 2021 1st Team All-American Trevor Lynch can do, and anyone who's ever so much as glimpsed the team's Twitter account knows how highly they regard fellow O-line hybrid Dylan Hawkins. That pair's prominence masks a suite of high-end players like Suhas Madiraju, Cooper Williams, and Sean Wiles. If you play NC State, you're going to have your hands full.
As impressive as the coalescing talent has been over the past few seasons, a strong team culture has grown around to match it. Lee – who would know, having played no small role in building that culture during his playing days – puts a lot of the credit on Lynch. "Everything you all [at Ultiworld] say about him as a player truly does not exemplify what he means to the program as a leader," he said. Look for Lynch to set the tone for the tournament and the example when the going gets tough.
And Alpha know that the going will definitely get tough. They are not going to hit their goal of making quarterfinals or better without grinding through a few difficult games. But that's where they may have a secret weapon they've been building all season: namely, a stunning number of contests against the rest of the field. They have played full games against 12 of the other teams at Nationals (several of them twice), including every team in the top nine seeds1. That is the kind of scouting you can't replicate with just video.
Seeding: B3, no.11 overall
Power Ranking: #15
Path to Nationals: Def. Carleton 9-8 in the North Central final
Roster & Schedule
The fact of the matter is Minnesota Grey Duck are the only team to beat Brown in 2022. The fact of the matter is Minnesota Grey Duck have had an up-and-down kind of season. Both of these things are true, and they both affect how we should view this team heading into Nationals.
At their earnest best, Grey Duck boast an offense that plays keep-away as well as (or, frankly, better) than any team in the division. Kenji Her, Sebastian Brauer, and Ian McCoskey keep the ball moving, allowing the devastating playmaking pair of Paul Krenik and Cole Jurek to pick their spots to attack. At this point, though, Jurek is far beyond a playmaker: he's a wily reset cutter, an intelligent and crafty thrower, and, in general, the engine that drives everything Grey Duck are able to accomplish on offense. Nobody in 2022 has shown they can stop Jurek, and everyone playing Minnesota has to gameplan around his inevitable brilliance.
The D-line have been playing behind the 8-ball for most of the spring, racked with injuries. Those dark clouds seemed to have lifted somewhat, as Minnesota are nearing full strength and "definitely healthy enough to define our own narrative and not let our injuries define the narrative," according to coach Kevin Bruns. Even at half strength, AJ Larson, Drew Barnard, and Joey Pickens have led them to late breaks more often than not – exemplified by their quarterfinal victory at Smoky Mountain Invite against Massachusetts and their wild comeback in the North Central final against Carleton. Bruns reserved special praise for Pickens, the on-field communications leader of the D-line, for his ability to dig deep for clutch situations. "I hope that everybody gets to see some 'Joey-mode' this weekend," he said.
On the other hand, Grey Duck have skated on some thin ice this season, and even fallen in when they shouldn't have. They were not competitive at all in the third-place game against Vermont at Missouri Loves Company, and they only squeaked by sometimes against teams – Colorado State, Illinois, UCLA – who were not on the level of what they'll face in a tough-as-nails Pool B. It's fair to ask which version of Grey Duck will show up in Milwaukee, or even if we'll get a little bit of both.
Bruns has been encouraged by what he has seen over the last few weeks from the team, though. "Our practices since [Regionals] have been more intense, and every day we are practicing with something to prove," he said. It might very well be the case that Grey Duck have emerged from their earlier volatility into a solid contender. One more thing might help put them over the top, too. "If it rains though, watch out," said Bruns. "Ducks love water."
Seeding: B4, no.14 overall
Power Ranking: #11
Path to Nationals: Def. Oregon State 13-7 in Northwest second-place final
Roster & Schedule
What a strange season it has been for the Sundodgers. They fill out the roster with a collection of hyper-talented super-seniors and grad transfers in addition to the usual Seattle youth pipeline, blast through the regular season undefeated at two tournaments (and looking rather untouchable in the process), eke out a string of universe point victories with a bare-minimum of healthy players at Conferences, and then barely survive a Regionals scare that saw them claw their way back to Nationals through a tricky Northwest backdoor bracket.
But though they've tumbled down to a much lower seed than would have seemed likely just a few weeks ago, they are in the field of 20 and they have some loose ends to tie up. "I don't think it comes as a surprise to say we were disappointed with the quarterfinal exit in the fall," said captain Jack Brown, citing a lack of intensity in December as something Washington are eager to put behind them. He has a very specific ideal in mind for how that should look: "Make sure that the team at the end of the day kills the one at the beginning…and take the game to our opponents." Translation? All gas, no brakes.
If the Sundodgers can make that plan a reality, and if they are approaching full health as a team again – they only had 10 healthy players for Conferences, and 15 for Regionals – they are well-positioned to wreck the chalk as the fourth seed in Pool B. Washington are well-stocked at every position. They have explosive playmakers like Brown, canny handlers like Manny Eckert, downfield specialists like Stan Birdsong, defensive bulldogs like Tony Venneri, speedsters like Lucas Chen… their cup overfloweth.
On paper, Washington shouldn't have any trouble with WashU, and they match up well with both Minnesota and NC State. A pool victory isn't even out of the question for them: the Sundodgers haven't played Mambird this season, but both rosters have a lot of holdover from very close games in the past couple of seasons. But whether they cruise into quarters with a bye or fight their way in, Washington will be bad news for whichever contenders are unlucky enough to get stuck in their path toward redemption.
Seeding: B5, no.18 overall
Power Ranking: Unranked
Path to Nationals:  Def. Colorado State 13-10 in South Central third-place final
Roster & Schedule
Welcome to the show, WashU! Contra have made the first Nationals appearance in program history on the strength of a controversial bid allocation system this year and an uncontroversial – in fact, an extremely solid – game-to-go win over Colorado State at South Central Regionals. They recognize what that means for the team, and they don't want to waste the opportunity. "We want to make a name for WashU ultimate on the national stage and show young ultimate players how much fun the highest level of competitive college ultimate can be. We have never had this level of national exposure and want to capitalize on our chance to advertise to future players!" said captain Ethan Kadet.
It's nice to see some long-term thinking from a team who, to be honest, probably aren't going to be competing for a title this weekend. But Contra aren't just kicking the can down the road here. "Teams in Pool B should be scared of us because our O-line has been clicking since sectionals and we have the defensive depth and athleticism to wear down top-tier teams," said captain Michael Lo. While that might not be true against Colorado, who walloped Washu to the tune of 13-7 in South Central pool play, there's plenty to like about this team. NC State, Minnesota, and Washington cannot sleep on them.
Ben Reimler's easy chemistry with everyone on the offense is the best example of what Contra bring to bear on opponents. He's fast and shifty against the defense, but never in a way that throws his teammates for a loop. They follow his cues in the red zone. To get there, they let cutters Drake Hill and Noah Stovitz, chew up yards and win battles in the air. It's direct, and it works.
All of that talent and chemistry might not matter against a Grey Duck or Sundodger squad who have played their way into the bracket and know how to stay focused game in and game out, but WashU are more than good enough to beat an opponent who shows the slightest hint of slipping. And even if none of them do – they have other competitions they can win. As Reimler explained, "We want other teams to be jealous of how much fun we're having."
---
not counting themselves…or, well, I guess they've been scrimmaging each other all year at practices… ↩