Pool B is ripe for a shake-up with teams that have show flashes off, but not consistent, strong play.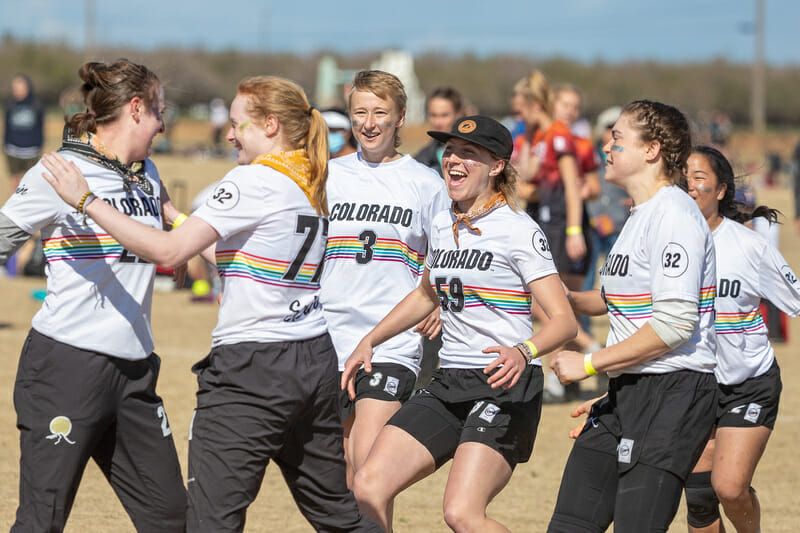 Our coverage of the 2022 College Series is presented by Spin Ultimate. Please support the brands that make Ultiworld possible and shop at Spin Ultimate!
The 2022 D-I College Championships return to Milwaukee, though they are partially back to a traditional Nationals. While the Fall championships felt wholly unique, this turn has some oddities — namely, the lack of a rankings-based regular season — but in many other ways is business as usual. Once teams hit the field, expect a lot of what you've come to know and love about Nationals: drama, surprises, and the memorable moments that make legends. From John Stubbs to Dena Elimelech, the legacy of college stars is built around what happens over these four days.
We will be there to bring you all of the action, with cameras pointed at more games than ever and a reporting team that will take you inside the huddle. In these previews, we'll offer a snapshot of each team and the competition they'll face when play begins on Friday, May 26. Watch ultiworld.com/live then for updates in all four college divisions!
Pool A  |  Pool B  |  Pool C  |  Pool D
Seeding: B1, no.2 overall
Power Ranking: #2
Path to Nationals: Def. Texas 15-3 in the South Central final
Roster & Schedule
While we've known for a while now that this Colorado Quandary team has had the talent to keep up with the best in the division, the results haven't always been there. Since a semifinal appearance in 2017 and a trip to final in 2018, Colorado has yet to reach quarters. A disappointing prequarter loss in 2021 to UC San Diego was followed by solid, but lackluster, showings at Presidents' Day Invite and Stanford Invite to start this spring, and we were left wondering whether Quandary could actually put it all together halfway through the season. Then came Northwest Challenge, where Colorado rolled past all but reigning champions UNC, which launched them into a comprehensive run through the Series, including a 15-3 pasting of historical rivals Texas in the regional final, and to a no.2 seed at Nationals. Although it's certainly been a very promising back half of the season for Quandary, it still remains to be seen whether they will make good come Nationals.
When talking about the talented players on the Colorado roster, we have to start with their Olympian, the one and only Stacy Gaskill, who came in at number seven in Ultiworld's top 25 player rankings earlier this season. Pretty much any time that Gaskill has played for Quandary this season, they've been successful, including that run at Northwest Challenge. Gaskill can match up and slow down even the most talented of offensive opponents, and her ability to open up the field deep gives the Colorado offense a potency they miss when she's unavailable. If she is playing this weekend expect great things from Colorado, but with reports that she's had a sling on her arm ahead of the weekend, Quandary may have to turn to the rest of their bank of outstanding players to elevate the overall second seeds toward their ceiling.
Among those great players are Rachel Wilmoth, Kristen Reed, and Clil Philips, who together bring a combination of veteran savvy, defense nous, and pure athleticism that have helped buoy Colorado when Gaskill, and the injured Bailey Shigley too, have been out. They'll need to step up in Milwaukee, especially if Gaskill is indeed unavailable, in order for Colorado to emerge at the top of a difficult Pool B. Yes, by the back half of their season, Quandary should be able to best all comers, but a close 9-7 win over Tufts at Stanford Invite and a 1-1 record on the season against UC Davis don't impart immense amounts of confidence that this Colorado team will roll through the pool as their seed might imply. That being said, even if Gaskill is out for the weekend, Quandary has the talent, experience, and coaching to perform up to their scintillating best and make a run to the semifinals, if not the championship final.
Seeding: B2, no. 7 overall
Power Ranking: #8
Path to Nationals: Def. Brown 13-4 in the New England semis, def. Vermont 8-4
Roster & Schedule
A theme begins to emerge in Pool B as we turn our attention to Tufts Ewo: a team that we thought was one of the best in the country has a more uneven than expected season but ends it on a high note heading into Nationals. The last time this Tufts team played a regular season tournament before 2022, they were contending with Carleton for the Stanford Invite title in 2020 with an emerging roster that by all accounts could carry them at least to the national semifinals. Come this 2022 season though, and a strong Queen City Tune-Up performance was followed by an underwhelming showing at Stanford Invite, before Ewo were toppled by upstarts Florida State at Centex. However, Tufts did right the ship in the series, going undefeated on their way to the New England regional title, including an 8-4 final win over Vermont, and they'll hope to bring that momentum to Nationals in the tricky Pool B.
Tufts have already faced off against two of the teams joining them in Pool B this season, taking a 13-6 win over Pittsburgh in the last round of games at QCTU way back in February, while losing 9-7 to Colorado in the final round at Stanford Invite. While it's tough to draw any firm conclusions from months-old results at this point, Ewo have shown that they can compete with the best from start to finish this season, from their only loss at Queen City Tune-Up an 11-8 loss to UNC to that regional final win over Vermont. The only real question, then, for Tufts in a pool in which the third and fourth seeds are 2021 quarterfinalists, is whether they can avoid a slip that could see them just miss out on the bracket.
Doing their best to ensure that doesn't happen will be 2019 Rookie of the Year Hazel Ostrowski, Tufts' 2022 Callahan nominee Julia Lober, and a fantastic supporting cast hungry to prove themselves once again at Nationals after missing out in 2021. Ostrowski is the engine of this Ewo team; most of the team's best offensive points run through her and she's likely to put up a sizable stat line once again in Milwaukee. Lober runs the Tufts backfield with touchy throws and an uncanny ability to generate just enough space on a reset, while Olivia Goss, Leija Helling, and company fill out the proficient Ewo roster.
They'll be tested by the deep Pool B, but the capacity is absolutely there for Tufts to finally make that run to the semifinals, if not further, now that they're back once again at Nationals.
Seeding: B3, no. 11 overall
Power Ranking: #12
Path to Nationals: Lost to UC Santa Barbara 13-12 in the Southwest semis, lost to Stanford 13-3 in second place semi, defeated UCLA 13-7 in final game-to-go
Roster & Schedule
The upstarts are back at it again, UC Davis Rogue making it back-to-back Nationals after reaching the quarterfinals in 2021 as the no.14 seed, and they're in a similar position once again in the tough Pool B.
Rogue return the vast majority of the team that broke through in 2021 and although their spring season was a bit more uneven than anticipated, Davis have shown flashes of brilliance that, if they can harness that underdog mentality once again in Milwaukee, could take them right back to the quarterfinals. With a 1-1 record in the regular season against Colorado and without any of their Southwest nemeses in their way, at least in pool play, it'd be foolish to put much of a bet against Rogue finding their way through for the second straight season.
If there's one hallmark of this UC Davis team, it's their grit and willingness to battle it out against any and all comers, which is led by their stable of battle-tested veterans. Rogue's 2022 Callahan nominee Jules Madigan is the name that pops to the top of most lists, including at number eleven in Ultiworld's Top 25 players ranking after landing as a First Team All-American in 2021. Madigan is the workhorse of the Davis offense, usually working out of the cutting space but also able to put up deep shots of her own if needed. On the defensive end, 2021 DPOTY Runner-up Rani Shah has become well-known for her now signature foot blocks, which she's good for at least once a game if not more. Add to those two spark plug Margot Donahue, layout extraordinaire Allyn Suzuki, and all-around contributor Jenna Rickey, and you have quite the recipe for success, even if they're not the favorites.
"We love being the underdog," stated Shah after Davis sealed their Nationals place with a 13-7 game-to-go win over UCLA. "We've done it before, and we know what we're capable of, and we know what Rogue can accomplish, and that's all that matters. We have the confidence of our coaches, and our parents, and our teammates, and I think we're going to do great no matter what ends up happening because of our energy."
With their lone true statement win of the season coming back at Presidents' Day Invite against Colorado, Davis' placement as the third seed in Pool B feels appropriate, but that's not to say they couldn't make a push back to the quarterfinals. Since they only played in California this season, Rogue's biggest roadblocks have been the other three Nationals qualifying teams within their region in UCSB, Stanford, and UCSD, but none of those teams are in Pool B. Given their known ceiling then as at least a quarterfinal team, if Davis is able to once again find that underdog magic from 2021 they'll pose a real threat to their Pool B opposition.
Seeding: B4, no. 14 overall
Power Ranking: #17
Path to Nationals: Def. Ohio 12-6 in Ohio Valley final
Roster & Schedule
It continues to be variations on a theme in Pool B, with Pittsburgh Danger following the trend of Colorado, Tufts, and even Davis in having an up-and-down early season only to find considerable success in the Series. In Danger's case, they under-performed at both Queen City Tune-Up and Commonwealth Cup to open the season which led to some uncertainty about what level Pittsburgh could actually reach this season. True, they had some key players out with injuries, including their defensive leader in Jessie Sun, but still, blowout losses to Appalachian State, Vermont, and pool-mates Tufts wasn't the way Danger wanted to start 2022. Come the back half of the season though, and Pittsburgh's only loss came in the Centex final to Florida State 11-10 as they largely cruised through the Ohio Valley region on the way to securing the region's lone bid. With momentum now back on their side and as a returning quarterfinal team from 2021, Pittsburgh is set to be one of the scariest pool fourth seeds in recent memory, albeit in a pool full of challenging competition.
The names of Danger's leading players ought to be well-known by now, but here they are, once again. The aforementioned Jessie Sun, Pittsburgh's 2021 Callahan nominee, is back for one final ride as one of the top defensive players in the country, while Annelise Peters holds the remarkable dual mantle of being both a lawyer-in-training and perhaps the best thrower in the division. Joining them are the Kosowsky sisters, Sophia and Miranda, who's Danger's 2022 Callahan nominee, who both provide reliable hubs for the Pittsburgh offense to flow through. Along with Celeste Picone, Jessie Chan, Beth Manturuk, Lily Nong, and others, Danger have more than enough experience and ability to play well above their seed.
That's of course easier said than done, and Pittsburgh's rough opening to the season makes that clear, along with their perhaps closer than expected wins against Northeastern and Texas at Centex, Carnegie Mellon and UPenn at Pennsylvania Conferences, as well as Ohio State at Ohio Valley Regionals. At the same time, this is a team that brings back most of their quarterfinal-making roster from 2021 and should not be taken lightly, so their chances of punching well above their weight as the fourth seed in the pool seem as good as any.
Seeding: B5, no. 18 overall
Power Ranking: Unranked
Path to Nationals: Def. Michigan 10-7 in the Great Lakes final
Roster & Schedule
Welcome back to Nationals Purdue! It's been seventeen years since the Xpress program has made it to the final stage, and this season it took beating all comers in the Great Lakes region to make it. That run included a gutsy 10-7 win in the regional final against a Michigan team that has largely been the dominant force in the region for the past decade, but Purdue has finally made it back to Nationals after nearly two decades away and after being the first team out in 2021. They've taken their lumps to get here, sure, and their pool is about as stacked as they come, but Purdue will take that and will certainly relish the underdog label after breaking through in the Great Lakes region after all these years.
Xpress' track to Nationals has ramped up throughout the season, from a long weekend out at Commonwealth Cup in February to a Midwest Throwdown title in March and then an unblemished record in the Series that included knocking off basically all of the perennial regional contenders. Notre Dame and Michigan? Both dealt with, and twice, at both Conferences and Regionals. Northwestern, the 2019 bid-earners? Dispatched in the first games of the weekend at Regionals out in Fort Wayne. Outside of Chicago, who Purdue never played this season, that pretty much summed up the competition, along with upset-seeking Grand Valley State, who Xpress held off 9-8 in Conferences. With that sort of record, few would dispute that Purdue more than earned their place in (relatively) nearby Milwaukee. Now the only question is what they do when they get there.
When Xpress make their Nationals return this weekend, they'll be led by a cohort of senior leadership, including captains Brynne Hunt and Lauren Kitten who, alongside Emma Lien, are much of the glue that keeps the Purdue offense together from point to point. Those three are joined by two more key players in Hannah Rapp and Riley Dickson, who provide consistent outlets downfield and in the end zone with their athleticism and heads-up playmaking. Rapp ran track at Purdue before joining Xpress while Dickson is Purdue's lone representative on a PUL roster, playing with Columbus Pride this season, and both will be critical to Xpress' success at Nationals. Although the Purdue crew will have quite the hurdles to overcome in Pool B, they've made it this far, so why not have one more run at it while they're there?