Recognizing the top performer of the 2022 season.
Ultiworld's 2022 College Awards are presented by the National Ultimate Training Camp; all opinions are those of the author(s). NUTC helps young players become better athletes and community members.
Each year, Ultiworld presents our annual College Awards. Our staff evaluates the individual performances of players from throughout the season, talking to folks around college ultimate, watching film, and look at statistics, voting upon the awards to decide those to be honored. The regular season and the college Series are both considered, with extra emphasis for performances in the competitive and high-stakes environment at Nationals.
We begin our awards presentation with Player of the Year, our most prestigious award. Our Player of the Year winner is the best performer of the 2022 college season, and the highest vote-getter for All-American honors. The winner is not eligible for consideration in any of our other individual awards. The runner-ups up will be identified as the second and third vote-getters when the All-American Teams are revealed.
---
D-I Men's 2022 Player Of The Year
Liam Searles-Bohs (North Carolina)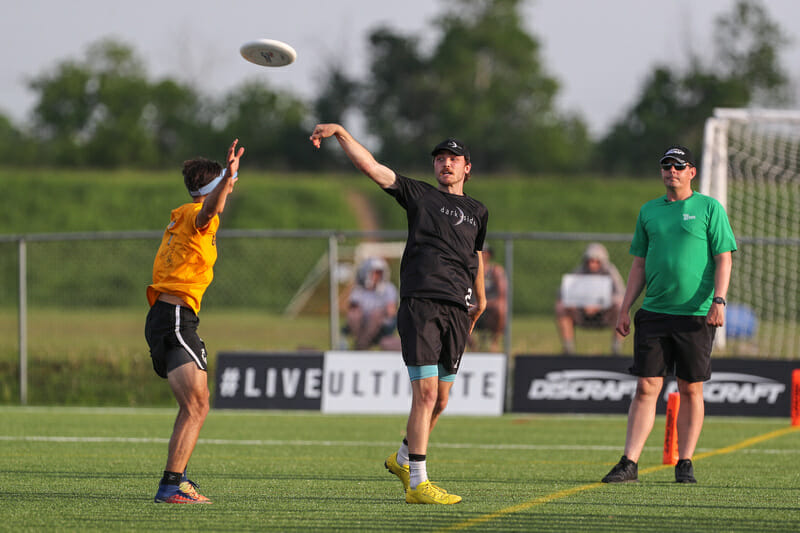 Out of ultimate's many peculiar charms, perhaps the most beguiling is how the rules and shape of the game encourage versatility. You can time a side-step into an away-side under with balletic precision, or you can pick a spot on the field and win the simple footrace to it. You can angle a reset past the mark's fingers with a touch as light as la bise, or you can pour so much of yourself into a backhand that it still floats, stable on its own self-generated cushion of air, seventy-five yards from the release. You can mirror a cutter's moves with such relentless exactness that it seems as though they have disappeared, or you can measure a line that makes the same cutter appear unguarded – until you pounce in a kind of spring-loaded fury.
The great ones seem at home in any kind of role, in every sort of situation – they simply and beautifully do whatever the moment calls for. Seldom has a player so thoroughly embodied ultimate's intrinsic multifariousness as Liam Searles-Bohs. Read the list of plays above with Searles-Bohs in mind: it's almost too easy to visualize him as the protagonist in every one of those tableaus.
The emotional core of Darkside in 2022, Searles-Bohs was powerful, technical, determined, and visionary. More than that – or, perhaps because of it – he was also profoundly poised: no one in the division looked more at home between the lines than him. We have long marveled at the fullness of the Searles-Bohs skillset, but the refinement of those skills this season left us agog. There was a kind of coolness in his most explosive bids, a serenity about him at the moment of launch for a close-quartered sky. He even added a novelty act: playing left-handed.
And in the national final, Searles-Bohs reached a five-year crescendo. Hounded at every step by an increasingly desperate Brown side and reckoning the nuances of tricky wind on every throw, he – characteristically – found the right groove. The upshot was five assists and two goals on the back of a game-high 387 yards of offense. The staggering statistics hardly do justice to his performance. Forced away from some of their other typical looks, Darkside had to funnel more and more of the offensive load through their brightest star, who reliably converted that trust into goals.
The fact that he did not falter under such enormous pressure on the biggest stage, however, is what separates Searle-Bohs from the short list of eminently worthy peers who, until the late stages of the College Championships, were in contention for this award. Where they showed cracks, Searles-Bohs demonstrated iron resolve. Where they found disruption, Searles-Bohs settled into a groove. Where they fell a touch short, Searles-Bohs pressed through to the end with all-encompassing brilliance.
So ends one of the most accomplished college careers in the sport's history. Three national championships, four-for-four in finals appearances, a raft of individual accolades and highlight reel moments – Searles-Bohs led Darkside through every conceivable test while wearing his indelible leadership like a tattoo. For his endless store of ability, for his boundless team spirit, for unmatched grit, for a portfolio overflowing with jaw dropping plays, and, even more than that, for the way his character and strength remained unchanged through the crucible of a grueling Nationals run, Liam Searles-Bohs is the 2022 Player of the Year.