We tuned the definition to fit the circumstances, but these rookies were simply outstanding.
Ultiworld's 2022 College Awards are presented by the National Ultimate Training Camp; all opinions are those of the author(s). NUTC helps young players become better athletes and community members.
Each year, Ultiworld presents our annual College Awards. Our staff evaluates the individual performances of players from throughout the season, talking to folks around college ultimate, watching film, and look at statistics, voting upon the awards to decide those to be honored. The regular season and the college Series are both considered, with extra emphasis for performances in the competitive and high-stakes environment at Nationals.
The Rookie of the Year award recognizes players who impressed in their first college ultimate seasons. Typically reserved for freshmen (or the occasional first-year ultimate player who joined the sport later in their college career), we have temporarily expanded the eligibility for this award due to the lack of an intercollegiate competitive season during the 2020-2021 academic year. Consequently, this year's "rookie" class includes players who joined their teams before the fall 2021 semester, but haven't been seen in college competition before, as well as players in their first-ever year of college ultimate. This definition includes players whose teams were unable to complete in the 2021 fall Series. As in any year, whether they come to the college game from years of youth experience, a background in other sports, or none of the above, these players made debuts to remember in high-level college play.
---
D-I Men's 2022 Rookie Of The Year
Orion Cable (Massachusetts)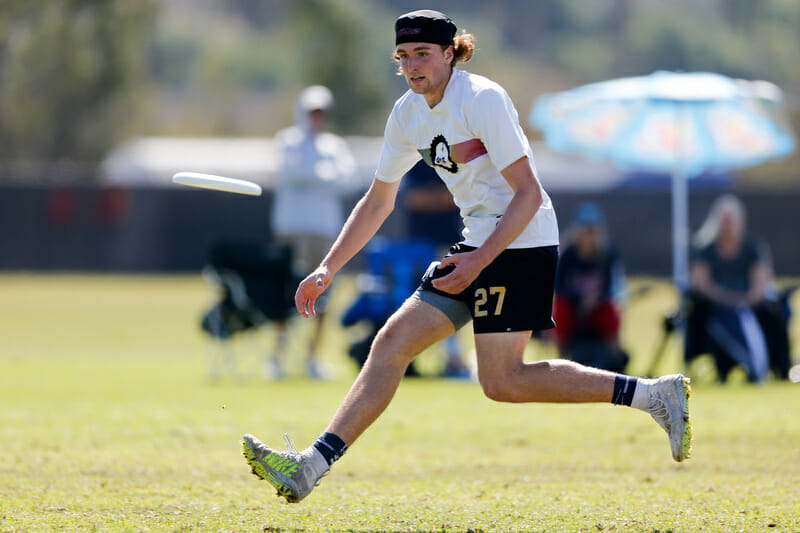 The men's division has not seen a first-year player with as much promise as Orion Cable since 2018, when Liam Searles-Bohs and John Randolph matriculated. The two of them just won the Player of the Year and Callahan award, respectively, and have accounted for every National Championship during that time. So, what is in store for Cable?
While it remains to be seen how far Massachusetts Zoodisc can go during his time with the program, Cable has already soared into college's topmost echelon of performers. To write that he met our stratospheric expectations of him would be a gross understatement: Cable exceeded anything we thought possible. He is perhaps the most athletic and polished rookie in history: the only comparison is Jack Verzuh in the women's division at Dartmouth several years ago. One point sees him out-reading and out-bidding, say, the aforementioned Searles-Bohs to make an unbelievable play on an underthrown huck. The next finds him calmly throwing swing passes around the endzone in a 25 mph wind with long-pivot low-release passes that look for all the world like textbook models come to life. There are 10-year elite club veterans who could not hope to play as well as Cable as a freshman in college.
We have written the old cliche that "the sky is the limit" about players on this podium in the past – for Orion Cable, it's the floor.
First Runner-Up
Josh Singleton (North Carolina)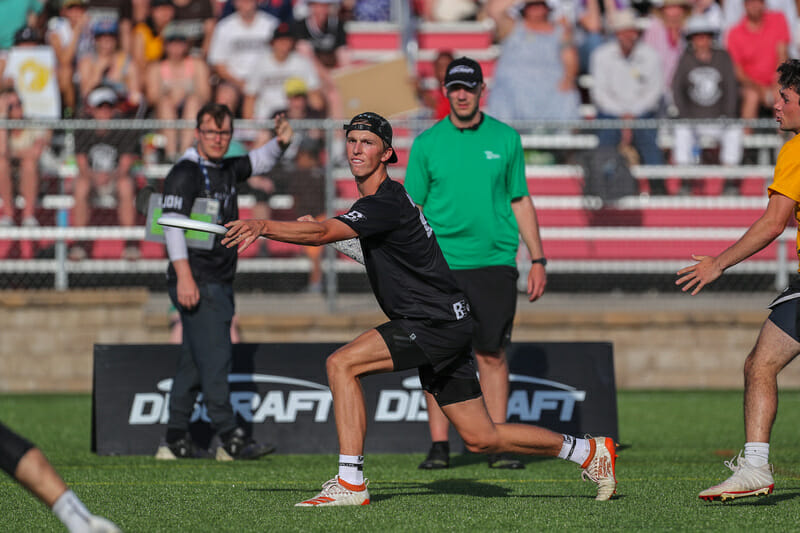 You need a couple of things to break your way to end up on this podium two seasons in a row. The first is an unprecedented public health scenario that causes two National Championships to be held during your freshman year. The second? You have to be really, really, really good.
Darkside phenom Josh Singleton's tear through the 2021 and 2022 postseason checks both boxes. His power game made for countless two- and three-throw holds for UNC: just let Singleton come under to either side of the field and watch him fade a dime back-shoulder huck. Brown were so impressed with his ability to pinpoint long backhands that they designed their entire defensive scheme in the National final around not giving him the chance to do just that. Far from just a threat to boost it, Singleton ran up 15 goals at Nationals as a receiver. He was a huge part of Darkside's last two championship runs, and it looks like he'll keep them in the hunt for even more titles in the future.
Second Runner-Up
Dexter Clyburn (California)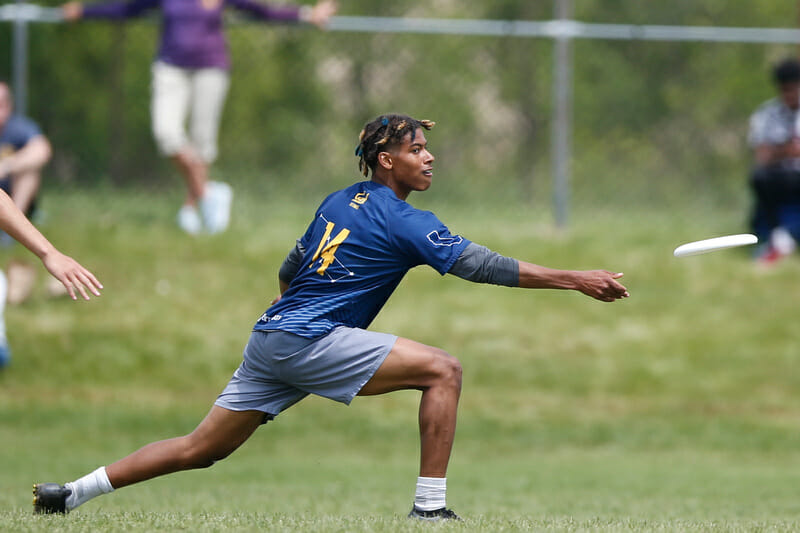 Starting early in the season, Cal leadership was quick to point out that their team was more than the Andrew and Evan show. While their other standout players — Gavin May, Max Williams, and the like — played on offense, Dexter Clyburn found a home for himself as the fulcrum for one of the most stout D-lines in the country. Playing primarily as a deep in the Cal zone, Clyburn frequently deterred throws from even going up, but always had a play to make if they did. On the counterattack, he often carried a dominator to work the disc patiently up the field, though like any good handler, he was always ready to rip a huck when needed. On a veteran heavy team, Clyburn was an exciting young contributor who should soon blossom into a star of his own.