The most successful offensive players of the 2022 season.
Ultiworld's 2022 College Awards are presented by the National Ultimate Training Camp; all opinions are those of the author(s). NUTC helps young players become better athletes and community members.
Each year, Ultiworld presents our annual College Awards. Our staff evaluates the individual performances of players from throughout the season, talking to folks around college ultimate, watching film, and look at statistics, voting upon the awards to decide those to be honored. The regular season and the college Series are both considered, with extra emphasis for performances in the competitive and high-stakes environment at Nationals.
Our awards continue with the Offensive Player of the Year, recognizing the individual, and two runners-up, who we felt had the most impactful and productive seasons helping their teams score. They set up goals, finished off points, and produced yardage at consistently high levels against the top defenders.
---
D-I Men's 2022 Offense Player Of The Year
Jacques Nissen (Brown)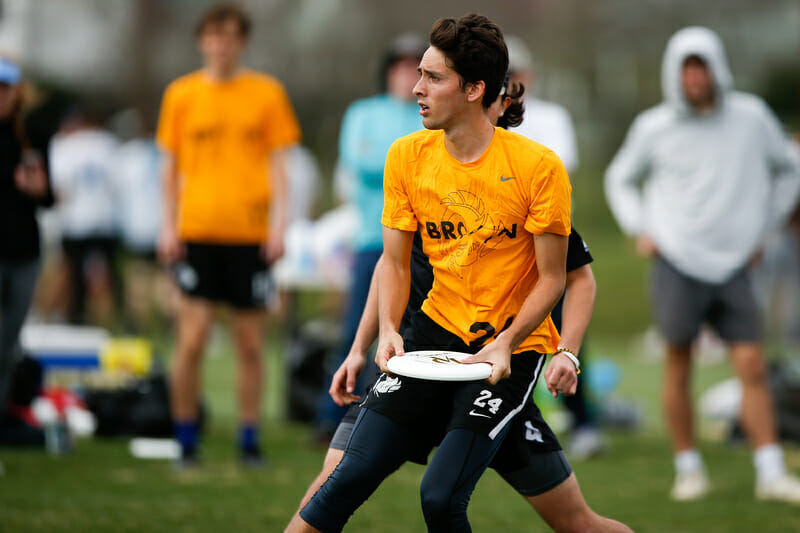 When Jacques Nissen first came to Brown and buzz started trickling out that he was "the heir to Mac Hecht," it seemed a little speculative. But now? It's becoming a real conversation. As the team's best thrower and centerpiece of Brown's offense, Nissen has already accomplished a lot by his junior year, appearing in a national final and garnering First Team All-American and OPOTY honors.
Brown's offense was wildly successful all season, but would have been much more one-note without the dynamism of Nissen's throws. As the system's famous dominator cuts chewed up handler defenders, Nissen was an integral part of the handler flow while also keeping an eye downfield for a lapse of focus from a downfield defender, caught up in the mesmeric blur of Brown's work around the disc. A foot out of line from one of those defenders and Nissen would pounce, with an arching hammer or scything flick blade for a huge gain. Those throws were essential to Brown's offensive balance, preventing teams from jamming too many defenders into the box to stop the dominator. All he had to do was hit one or two of those backbreakers, and Brown's handlers would have the space they needed to do their thing all game long.
Nissen did his thing all season long, leading Brown to a Florida Warm Up title without an injured John Randolph in February, and from there not losing a single game until the national championship in May. The loss in the final to UNC will sting, but Nissen's accomplishments all season demonstrate that his legacy at Brown will be secure with or without a championship.
First Runner-Up
Alex Atkins (Colorado)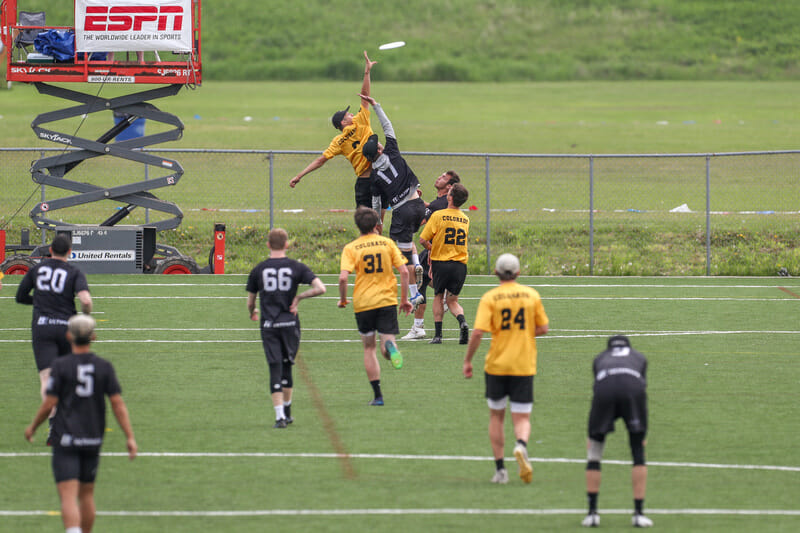 Not to take any shine away from either of the other players on this podium – their impact was obvious, and they deserve their places – but no one was more likely to astonish you on offense in 2022 than Alex Atkins. Whether it was putting up a 10-assist, 1-goal line against Brown in the final of the infamously windy Smoky Mountain Invite or skying a pair of UNC defenders by a clear foot at Nationals, Atkins was guaranteed to do something dramatic. My own personal favorite feat? In a gusty quarterfinal against a Minnesota zone, he managed to hit what amounted to a no-look deep shot – not once, but twice!1 Spectacular stuff all around.
Second Runner-Up
Andrew Roy (California)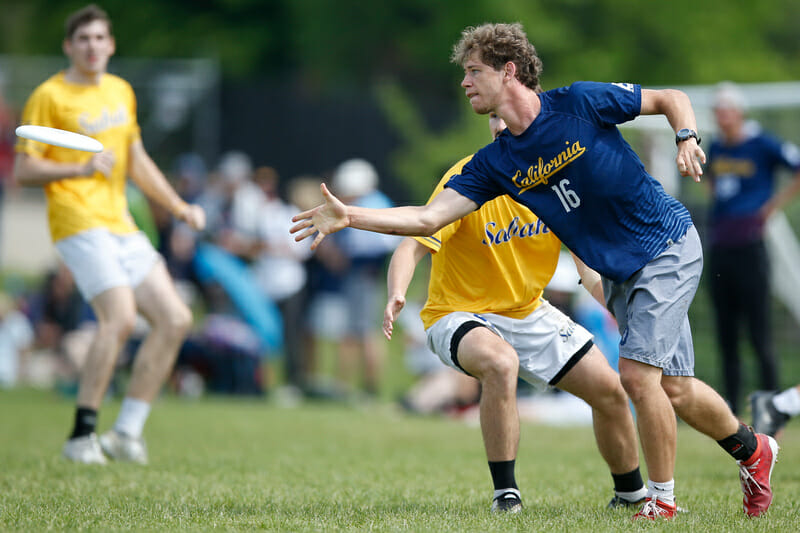 If the criteria for the award was "player most synonymous with offense," Andrew Roy would have won in a landslide. We don't have stats across a whole season, but can there be any doubt that Roy led the division in touches? Cal's chief motor and facilitator from the first offensive point of their season to the moment they were eliminated in quarters at Nationals, Roy had all the angles to find his way out of a hard sideline mark or skip upfield for an unconventional reset. Everyone in the world knew what he intended to do, and he not only managed to get the job done, but looked positively graceful doing it. Add in the best quick-trigger hammer we've seen since the Jon Nethercutt days, and you have one hell of an offensive player. Stepping into his third college team for a one-season grad cameo, Roy elevated Ursa Major to national prominence with his leadership and has left the program with a better understanding of what it takes to remain there.
---
Atkins stared at one corner of the end zone as he began his throwing motion to move the deep cover and only turned his head toward his intended target at the exact moment of release. ↩