Where do things stand as we reach the end of the regular season?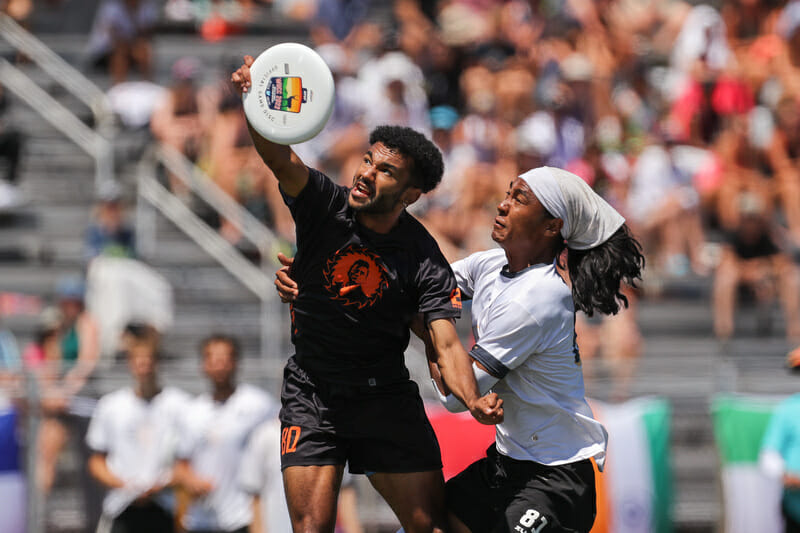 It's been a somewhat odd club season so far. The glut of international events this year and a continued push by semi-pro leagues into the summer months have both compressed and thus far overshadowed USA Ultimate's premier adult competition. But the lack of attention hasn't done anything to lower the stakes or dull the intrigue. With club ultimate still ramping back up from a couple years of disjointed and scaled back competition due to the pandemic, teams across the country are plotting their own course toward a national championship. Top-flight teams were near peak form for July's World Ultimate Club Championships in Cincinnati, and a number of high-profile player moves have dramatically changed the complexion of a division that can at times feel a little stagnant year over year.
As we head into the regular season's final weekend, let's check in on some of the major storylines of the summer and highlight a few players who are leaving their imprint on 2022.
Major Storylines
Are PoNY and Ring in a class of their own or will double-peak pressure expand the list of contenders?
It has been 10 months since #1 New York PoNY and #2 Raleigh Ring of Fire both won Nationals semifinals by a whopping 15-8 score line and then played one of the tightest finals in recent memory. Ring came out with the championship, but PoNY cemented their status at the top of the division right next to them. Has anything changed since then? Both teams seem to have improved on the roster front – considerably so, in PoNY's case – with predictable consequences: a meet-up in the WUCC final in July. PoNY took home the gold medal the second time around. Are we destined for a rubber match in October? Or is there a little more wiggle room in the forecast?
That depends on how the forecasters feel about the mythical Double Peak. It is hard to ramp up to the top of the sport twice in four months. The last American men's team to manage it was Revolver in 2010.1 The fact that PoNY and Ring were head and shoulders above the field at WUCC can be attributed to an enormous amount of work, and there isn't any guarantee that they'll be able to summon the same drive again given such a short turnaround. The margins are going to be infinitesimal at Nationals: a flat quarterfinal could send either of these teams packing early.
That's only a possibility, of course, and it probably isn't smart money to bet on a drop-off. The real question will be how deep the potential Championship field goes on the US side. Even setting aside some recent finalists – the ups and downs of Chicago Machine, Seattle Sockeye, and San Francisco Revolver get their own special section below – there's reason to believe that a number of clubs could usurp one or both of PoNY's and Ring's place on the title cards.
That list starts with #4 Portland Rhino Slam!, who are still trending upward, tracing a path that mirrors the otherworldly play of star Raphy Hayes. Whether Hayes is the best player in the division right now is a legitimate question – but one that might not even matter for a deep, hungry Rhino side. They have proven that they can get blocks and score goals at the highest level. The top 75% of last year's semifinalist roster is essentially unchanged, and they've poached one of the best all-around players in the country from PoNY: Jack Hatchett. Seven points – which was their deficit against Ring – is a lot to make up, but they certainly have the chops to do it.
Or will the challenge come from Washington DC? #5 Truck Stop barely missed semis in 2021 (a universe point loss to Rhino Slam ended their campaign). In fact, they have quietly been one of the most consistent teams in the division, making it to at least quarters in each of the last seven seasons. They rolled out a markedly crisp offense en route to a US Open win – it's hard to say whether their returners (Rowan McDonnell, Tyler Monroe, Christian Boxley) or rookies (Cole Jurek, Andrew Roy) were more impressive. With Troy Holland and Moussa Dia taking charge of getting the disc on defense, this could be a major breakthrough year for them.
Another serious contender is #6 Denver Johnny Bravo, the team Truck Stop beat in the final of the US Open. It was kind of like a funky biological experiment last season when a chunk of the roster detached to form Boulder Lotus and both teams made Nationals; phase two of the experiment comes this season in the form of a reabsorption of many of those same players. Is this the ultimate team version of blood doping? Will Lohre, Cole Wallin, and Chance Cochran have leveled up in a big way; if Quinn Finer and Alex Atkins come back from injury at full strength, Bravo might be hitting another high water mark.
Whether any of this happens is all speculative. We have seen what Ring and PoNY look like at their best. Pro Champs should give us a glimpse of how (or if) these other challengers stack up with them. The field is definitely deep, but we don't know yet if that depth can actually unseat either of the titans or if it's just a mad scrum for third place.
The Yesteryear Club
Gremlins in your Machine? Jammed Revolver? Sockeye swimming upstream? While the 2021 men's division finalists, PoNY and Ring of Fire, seem likely to continue their run of excellence, what is up with other top teams of recent years? And can they work their way back to the championship game?
#8 San Francisco Revolver made the 2018 final – where they were picked apart by a fine-tuned PoNY defensive approach – at the tail end of one of the strongest decades in the sport's history. Since then, they have been in retrograde motion, slipping to a quarterfinal exit in 2019 and a pre-quarters exit in 2021. Both of those years saw them re-load in the talent department, but they couldn't quite capture the old magic. They're making another attempt at it this season. It's too early for now to say whether they will once again rank among the division's best – missing almost a full line of key players at US Open leaves them somewhat shrouded in mystery, though a clean sweep at the recent Bay Area Invite is a good sign even if it wasn't against the toughest of opposition.
#3 Seattle Sockeye also had their proverbial moment in the sun with a 2019 performance that was by turns sparkling and gritty. They then proceeded to put together a 2021 regular season for the ages: an undefeated romp that prompted some observers to ask if they deserved a spot in the Pantheon of historically great teams. That proposal was shot down in a hail of injuries and errors at Nationals, where they were run off the field by PoNY in a lopsided semifinal. They mostly return the same pieces for the 2022 campaign, banking on better health to carry them back to a shot at another title. That looks like a decent idea on its face – let Dylan Freechild and Trent Dillon and Matt Rehder and Matty Russell et al. have another shot – but it comes up against the reality of their inglorious exit from WUCC in quarters. Even giving credit to PoNY and Mooncatchers, that makes two consecutive major tournaments in which Sockeye have been given the boot at least a round sooner than expected. They will need to cure what ails them come October.
And finally we come to the most beguiling of the three: #9 Chicago Machine. If Revolver are the former heavyweights sliding with some dignity toward history and Sockeye are the 'it' team who just can't seem to catch a fair wind lately, Machine are the bafflingly mercurial savants. Sometimes they look like the most exciting, most capable team in the world. And sometimes they look like they can't string together three passes. The duality can be like a whole team of Nick Kyrgioses. The 2019 team that pushed Sockeye in the final lost to Huntsville Freaks earlier in the season. The 2021 team that figured to challenge for a second straight trip to the final blundered through a terrible Day 1 at Nationals last year, giving themselves a suboptimal position in the bracket. This year, a restocked roster looked like the best team at the US Open by a Midwest mile… for all of a day. Then they finished 7th. You have to think that with additions like Walt Jansen and Jordan Kerr alongside Johnny Bansfield, Von Alanguilan, Nate Goff, and Joe White, Machine can get regular again.
Or could it be another season of inconsistencies from these various erstwhile contenders?
Can any mid-tier teams make a leap into the elite?
Every year there are a handful of teams with the potential to make the big, program-validating breakthrough to Nationals. Usually those teams flounder a bit in their first couple of Natties appearances and either build up competencies at the elite level, or fall back into the Regionals morass. What you just about never see is a team show up, knock down the door, and start making quarters-level teams sweat the first time they enter the spotlight. But could we see a different story this year?
There are several teams with either brief or nonexistent Nationals pedigrees sitting pretty in the USAU and/or Ultiworld rankings heading into September. #15 Virginia Vault is the headliner, having beaten Truck Stop and Temper already this year and a near spotless record against non-bid earning opposition. #20 Montreal Mephisto bared their teeth in finishing 10th at WUCCs and at very least should be a tough out at Northeast Regionals. #17 Utah Pando, the rebrand of 2021 first time qualifier Killjoys, have a decent shot at getting out of the Northwest dogfight and have the kind of athleticism and big-play potential to topple a contender. #24 Madison Mad Men are the current algorithm leaders in the North Central and could find themselves at the big dance for the first time. #23 Tennessee Tanasi beat #14 Toronto GOAT. #22 Amherst Sprout beat #19 Pittsburgh Temper. The list of teams that could play a role in the National picture is surprisingly deep.
Now, not all of these baby turtles are going to make it to the ocean. That's the brutal, if balletic, way of the world. And even the ones that do make it will probably just get eaten by a tuna or an enterprising pelican or whatever once they get there. But the chances have never been higher that one of those baby turtles is actually a death-defying baby iguana, too young and dumb to know when they should be dead. The old guard is starting to teeter. Revolver aren't Revolver any more, Sub Zero look deep in a rebuilding project, Machine are all over the place these days, and DiG hasn't made quarters since 2017. Most years, you would look at the crop of bubble teams and clap a couple on the back for just making it to Nationals. This year, the ceiling looks higher.
Strength Bid Wars
The idea that sports is a meritocracy has never really borne out. Those looking to find a world of appropriately distributed honors within the four lines of the field are going to be disappointed and or driven to the brink of madness trying to maintain that illusion (admittedly a madness that, when exhibited by coaches at the highest levels, can be deeply entertaining). To take satisfaction from the whole endeavor you have to make peace with the knowledge that sports merely allow you to practice grappling with the fundamental unfairness of existence rather than hide from it.
At least that's what the teams in the Northeast and South Central are preparing to tell themselves this year.
We never resolve bid allocation with every team feeling completely satisfied, but this year in particular the conditions seems ripe for some real wackiness in the numbers. Take the combination of lingering pandemic tournament scheduling weirdness + a double Worlds year (World Games and WUCC) + the reemergence of Canadian teams onto the scene in varying states of identifiable quality and you've got the recipe for all manner of algorithmic oddities.
With a couple eyebrow-raising exceptions, the current bid allocation doesn't look TOO wild. The Great Lakes sitting on two bids may raise one of those aforementioned eyebrows, and the Mid-Atlantic getting three bids for the first time in modern memory gets the other one up there, but the allocation overall seems okay.
But between the lower game totals for a few fringe teams and the participation or inactivity of others on the margins, there is still some wiggle room heading into the final week. The current teams on either side of a razor's edge bid cutoff, Pittsburgh Temper and SoCal Condors will be on hand in Raleigh with a chance to control their own bid destiny. Vancouver Furious George and Cincinnati Omen are both idle, and within range of falling out, threatening bids in the Northwest and Great Lakes. The Northeast looks to be in a tough spot, with six teams in the top 30 and four inside the top 20 — and that's not even counting Mephisto, who haven't appeared in the regular season — and now reliant on second-order effects to up their current haul of just two bids.
Players Who Could Define the Season
Jeff Babbitt (New York PoNY)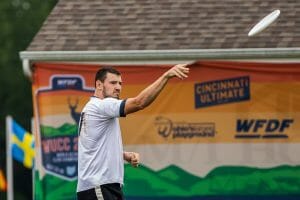 PoNY bringing Jeff Babbitt back into the fold was already the offseason's splashiest signing. Playing the career D-liner on the O-line at WUCC? A stroke of genius. Somewhere in the decline phase of Beau Kittredge's career, the entire division seemed to forget that having the world's most imposing receiver makes playing offense much easier. If defending champs Raleigh Ring of Fire didn't have an answer for him, how can any other team hope to? That may read like hyperbole, but for now it's a legitimately open question: who can stop Jeff Babbitt downfield?
We may very well get an answer at Nationals. Even if that happens, the race to find a matchup or scheme that even mitigates his impact a little bit is top of mind for every coach as we head toward San Diego. That cat-and-mouse game (cat-and-moose?) between ambitious defenses and one spectacular, Babbitt-powered offense will probably be must-see TV all the way through the last game of the year.
Orion Cable (Boston DiG)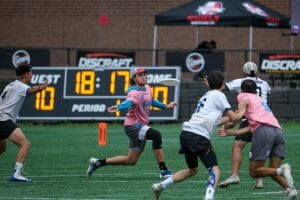 A frustrating stop and start freshman season at UMass where Cable showed off his seemingly limitless potential but also missed a lot of games for an embattled Zoodisc team that was upset at Regionals deprived Cable of a chance to make his mark at Nationals. But with the focus turned towards the club season, Cable now has the opportunity to show that he's the most vaunted player of his generation for a reason. In his second year on Boston DiG, Cable is already assuming a huge role on the team, and proving capable of making an impact at the club level that is unheard of for a rising college sophomore.
It's a big season for DiG as well as Cable, as the Boston team has been a bit stagnant over the past several seasons — good enough to make Nationals without any major concern, but stuck firmly in the "also-ran" category once they get there. With his virtually unprecedented combination of size, strength, and polish around the disc, Cable represents the chance for a new generation of players to put some air in the tires of the Boston Men's scene, returning it to it's former glory.
Adam Rees (San Francisco Revolver)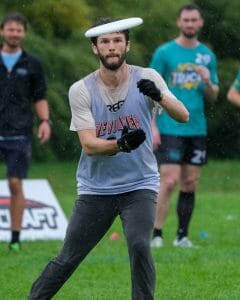 In Simon Pollock's excellent profile of Adam Rees from the Oregon star's final year of college, no less than Dylan Freechild declared Rees "NBA Ready" and "the classic young dude that [San Fransisco] Revolver would pick up and play 10 points in a semifinal game." That more or less all proved to be true, as Rees made the leap to Revolver in 2019 and became an exciting new piece for the Bay Area top dogs. There is one noticeable discrepancy however: Revolver — champions of everything in the 2010s — have yet to make a semifinal since Rees joined the team.
Rees is entering the point in the life cycle of a club player where their value morphs from the potential of what they could be, into the hard reality of what they actually are. This comes at a moment when San Francisco Revolver is facing the same sort of timeline, the grace period of getting to be a feisty rebuilding project following the talent exodus in 2018 is just about over and Revolver needs to prove now what sort of team its actually going to be in this decade. The pressure is on this year for Rees to be the kind of headlining offensive talent that pushes Revolver deep into bracket with his breakaway speed and rhythmic, yard-chewing cuts. The time has come for him to assume that mantle, and be the kind of player Revolver can build its next title run around.
Jack Hatchett (Portland Rhino Slam!)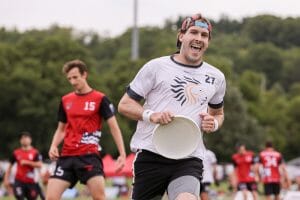 Did you watch Rhino Slam in 2021 and think, "They're just one piece away from having something really special?" Me too. And with Jack Hatchett, they might just have it. Hatchett is as great and constant a defensive playmaker as we've seen over the last decade or so (Ironside, Dig, PoNY), and he has risen to the upper echelons of the division imperceptibly and in plain sight. But as his selections as a 2021 All-Club Second-teamer and 2022 World Games alternate attest, Hatchett has hit the big time.
He played with PoNY at WUCC, so it isn't exactly clear yet where Rhino will use him. It isn't hard to imagine an immediate impact, though. He could slot in alongside David Sealand and Daniel Lee defending opponents' best cutters and then take some of the throwing burden from Owen Murphy after turnovers. Or maybe he forms a three-headed run-and-gun offensive monster with Raphy Hayes and Leandro Marx. Either way, he tips matchups toward Rhino's favor and could help propel them even deeper into Nationals than they've already managed without him over the past two seasons.
Christian Boxley (Washington DC Truck Stop)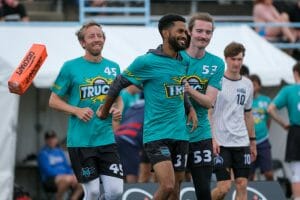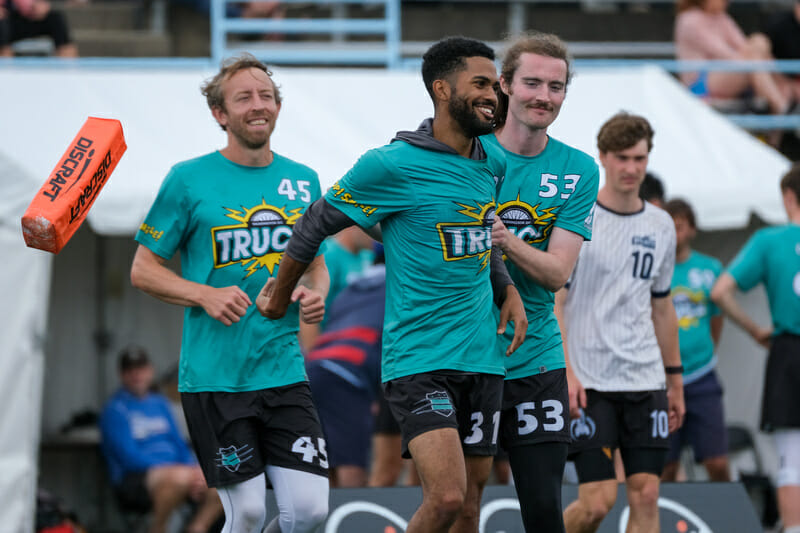 Sometimes a team will look to get better by drawing in talent from outside – see: 2022 PoNY's marquee recruits. But sometimes you can achieve your goals by drawing on talent already in your camp. That is where Truck Stop are with Christian Boxley. The one-time Georgetown star has been a consistent above-average cutter for his entire club career, leaning on good speed and a peerless sense of timing to get open for easy goals on the regular.
As good as he has been in the past, though, the 2022-model Boxley is an improvement in every way. He was faster, stronger, and more decisive at this season's US Open than we have seen before. In real terms, that means he no longer has to be so choosy about picking his spots to attack: he can just go where he wants with the confidence that if the throw goes up, he'll come down with it. Boxley won't do it alone – Tyler Monroe and Cole Jurek have also been excellent early this season – but his apparent leveling-up is the clearest indicator that Truck Stop could return to semis (or more) this year.
---
Fury in 2010 and Drag'n Thrust in 2014 are the most recent teams to earn the accomplishment in Women's and Mixed. ↩