Three teams stood above the rest, but much was learned in this season opener.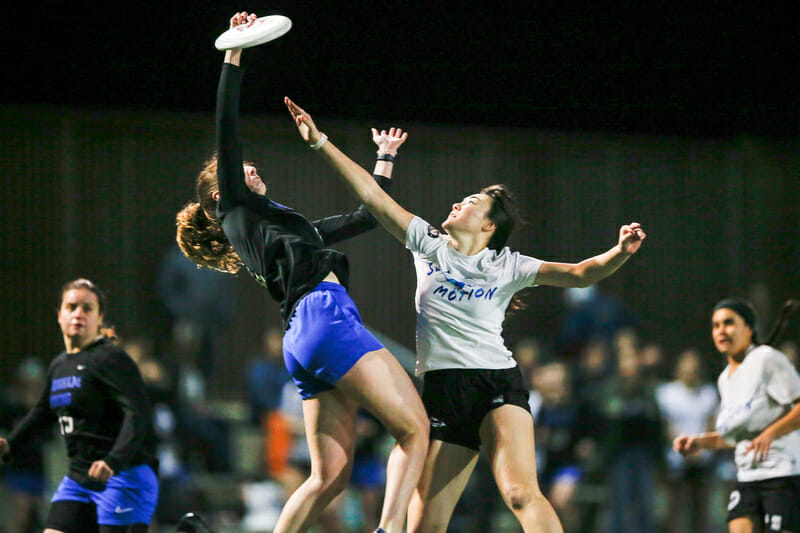 Ultiworld's coverage of the 2023 college ultimate season are presented by Spin Ultimate; all opinions are those of the author(s). Find out how Spin can get you, and your team, looking your best this season.
We've been waiting a long time for early season tournaments to feel as if they have full season implications, and thanks to the results coming out of the Santa Barbara Invite this year, that feeling is back. The tide is turning in the Southwest as some teams showed they are in decline, some are on the rise, and, in the case of some out-of-town competitors, they haven't lost a step since 2022.
With the sun setting on the tournament, hindsight is showing us that #8 Carleton was ready for success from the start, and as their path to the tournament trophy did not involve a contest against BYU, they avoided what could have been the strongest threat to their dominance. It wasn't just Carleton that stayed true to their seeding. As a whole, the tournament saw only three games not go according to seed in pool play, and only Utah, Victoria, and UC Santa Clara finished more than three spots above their seeding.
That's not to say there weren't plenty of interesting results throughout the weekend, as SBI delivered on the promise of a high-caliber tournament with elite teams in attendance. Going through the performances of the teams over the course of the weekend, there's a lot we can learn from the results going forward.
Stanford Scares Carleton, But Syzygy Synergy Wins Out
Before the tournament began we asked whether a potential national champion was in attendance at SBI. Well, thanks to the resilience and skill level that Carleton showed over the course of the weekend, it looks like we have our answer.
Syzygy wasted no time in pool play on delivering blowout wins over their opponents. If they were running open lines at any point, it didn't show. Their rookies and seniors alike looked in sync and disciplined within a highly competent system. This was the same Carleton that rolled into semis at Nationals less than a year ago, but despite how polished the team might have appeared, they were still working out the kinks. "This was the first real tournament for a lot of our rookies," said captain Emma Chin. "They haven't played at a level like this before and played really well all tournament."
Carleton kept cruising through games right up until the final. In quarters and semis, they faced off against UVic and UCSD, but neither team could pick up any traction against the Minnesotan squad. The secret to Syzygy's success was their defensive unit, specifically the one-two combo of Mia Beeman-Weber and last year's runner-up for DPOTY, Tori Gray. These two would bracket the stack of their opponent's cutters, daring them to attack a space already covered by an elite defender. Especially at this point in the season, hardly any team knew how to deal with that strategy.
#9 Stanford isn't any team, though. In the final against Superfly, Carleton saw their first real competition to their perfect tournament. The northern Californians had just come off a double game point win over UCSB in a match that featured only a single break going either way, so they were as dialed in as they could be.
Stanford also had the secret to unlocking Carleton's bracket: cuts from the front of their stack. "We were accustomed to playing against a vert stack defense with active back cutters working, but they used their front of the stack a lot, and challenged us with over the top throws," said Chin.
In the early moments of the match, this interaction played out repeatedly. Stanford wasn't giving Carleton easy routes to block off from their vert stack, causing open passes to throwers in power positions to unleash powerful gaining throws. Esther Filipek's backhand and Elena Kamas' flick in these moments were particularly effective, helping Stanford score buckets against the best defensive unit at the tournament. It also meant that Carleton's offense had to see the field a lot more than they had in any previous game, and with the pressure on, they started making mistakes that hadn't developed earlier in the weekend. Before too long, Stanford went up a break, and then quickly tacked on another for good measure.
While Stanford was playing stronger defense than many of the other teams Carleton had faced, a lot of the errors from Carleton can be attributed to mentality and energy levels being lower than expected. "We came into the first half of the game beating ourselves up for all the little mistakes," said Gray. "By changing our mindset we were able to power through and figure it out together."
To hear Stanford's captains tell it, their success early on all came down to trust and capable receivers. "We put up some deep shots that were received by some pretty great cutters in the beginning and they were reading them pretty well," said Macy Vollbrecht. "Later on when we lost our lead, a lot of that came down to misthrows."
Stanford's lead did start to crumble pretty quickly. Superfly was up 7-5 and needed a single hold to take them into half, all while looking firmly in control of the game. That hold never materialized, though. Carleton's defense, which had carried them all throughout the tournament to this point, made the smallest of adjustments, and it was enough to stop the Californians dead in their tracks.
In ultimate, one of the first concepts that gets introduced in competitive play is a force. Placing a body between a thrower and where they want to put the disc isn't exactly a novel idea, but funneling the offense to a set of throws they don't want to make or to particular space in the field where they're at a disadvantage is Defense 101. Prevalent logic in college ultimate is to force flick, at least in the early parts of the season. The thought process is simple: the forehand is a harder throw to learn and a harder throw to make for college students, which will lead to rushed passes or high stall counts. Carleton's defense started out their game against Stanford using that prevalent logic. The flick force did lead to a few turns from Stanford, but for the most part, Superfly's offense was working at a steady clip. When Carleton switched it to a backhand force, though, is where the flaws in Stanford's system started to show.
"They switched to force backhand and it got in the way of our offensive flow a little bit," said Filipek. "We weren't swinging the disc as much and got caught in the small space on the open side."
Without the regular rhythm of attack from their offense, Stanford's less experienced cutters weren't as confident with their cutting shapes, and suddenly Filipek's flick hucks were relied upon a lot more to get them out of difficult situations. It didn't help that the wind was picking up, either. With more temperamental conditions, Carleton's poise and talent with the disc proved to be the difference-maker. No matter what Stanford threw at them —spoiler alert: it was a lot of zone defense— Carleton stayed cool under pressure and made one smart pass after the next. Where once Stanford had been in control, suddenly it was all Carleton at the top.
Syzygy got three straight breaks to take half 8-7, and even with time to reset, Stanford didn't have the answers. Mia Beeman-Weber and Tori Gray found their swagger on offense after the turn, and a host of capable cutters including Hannah Babcock, Aria Kischner, and Nubia Robles Santiago did everything needed of them to help lock Stanford out of shooting distance. Even when Stanford was able to get a hold, the Carleton offense hardly blinked before Alyssa Ehrhardt, Chin, and the rest of the seven person unit tore through the Superfly zone.
The game ended 11-9, with Stanford's defense never really getting a full chance to gain enough momentum to put their team back in contention. Still, for both teams, the score is an encouraging indicator of future success. Carleton lost a lot of talent from 2022 yet is still one of the most threatening teams in the division thanks to the depth of the roster that was on full display this weekend, "All of us working together is what makes us great," said Tori Gray. "That's why we're Syzygy, heavenly bodies all together in a row. That's what makes us fantastic."
Stanford can also look back over the weekend with satisfaction. They beat a gritty #5 UCSB team on double game point, played tight with a potential title favorite, and had a chance to test out a few of the many defensive sets they will have in their pocket by the end of the regular season. "We're gonna construct some new zones after this," agreed the Stanford captains together. "More is coming. It was one of our big takeaways, us trying new things and iterating those in games, which will pay off later in the season."
Alongside Stanford's zones, they have to feel good about the contribution from their rookies. Elisa Ponte and Nicole Lambert both had meaningful roles on offense and defense, indicating more to come from the freshmen. The brightest light for them this weekend, though, was Tsz Yan "Shevaun" Yip, who had some of the best field IQ of any player at the tournament as a whole.
Both Stanford and Carleton are still building, but the early signs are there that they're going to be forces to be reckoned with at any tournament they attend.
BYU Was On a Mission
Despite not playing on Sunday, it's impossible to recap the tournament without mentioning #10 BYU CHI. They were the proverbial elephant in the room during bracket play, especially as they had handily dispatched both Stanford and UCSB, making it all the more likely they would have faced Carleton in the final if given the chance.
Santa Barbara Invite 2023: Tournament Recap (Women's) is only available to Ultiworld Subscribers
Already have a subscription? Log in
Whether you visit Ultiworld for our reporting, our podcasts, or our video coverage, you can help us continue to provide high quality content with a subscription. By becoming a subscriber, not only do you receive benefits like exclusive articles and full article RSS feeds, you also help fund all of Ultiworld's coverage in general. We appreciate your support!