The first look at some of the best the west has to offer in 2023.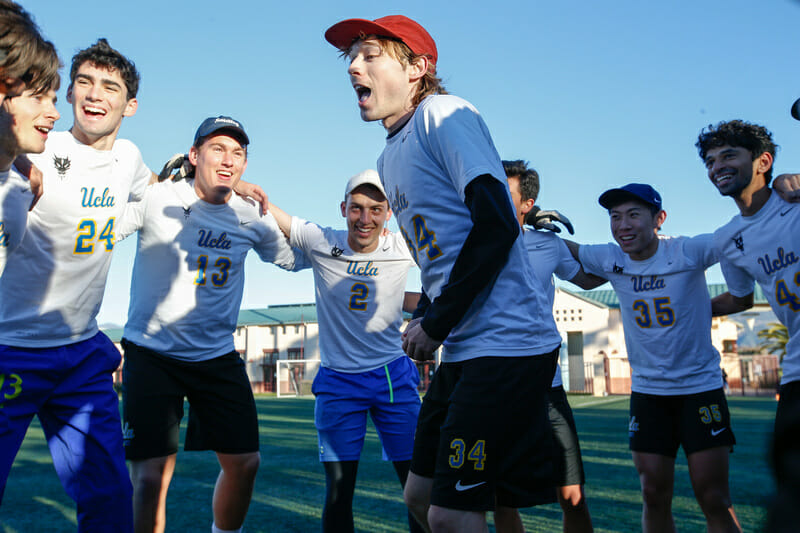 Ultiworld's coverage of the 2023 college ultimate season are presented by Spin Ultimate; all opinions are those of the author(s). Find out how Spin can get you, and your team, looking your best this season.
Santa Barbara Invite 2023 catapults us into what looks like its most competitive and wide open field of the past five years. Most of the West Coast powerhouses are attending, with several teams that have a realistic path to claim the title of early season triumph come tournament end.
It's also worth mentioning that in contrast to last season, the stakes are much higher. These games will count toward end-of-season rankings and bid qualification. While season-opening nerves and line experimentation will still be prevalent, the incentive to earn early season cross-region ranking points should provide for some highly intense and exciting games compared to years past.
Tournament Profile
Date: January 27-29
Location: Santa Barbara, CA
Weather: Highs in the 50s and 60s, potential 10-15+ mph winds
Top 25 teams: 9 D-I Women's, 7 D-I Men's
Competition Schedule
Streaming Schedule
For the first time ever, Ultiworld Full and Plus subscribers can watch live action from the Santa Barbara Invite! All games can be found on our SBI event page and will be available both live and immediately following the games on-demand.1
All times Pacific. Schedule subject to change; additional games may also be recorded. These games feature natural sound only; no commentary.
Friday, January 27th
7:00 PM: BYU vs UCSB (W) [Not streamed — available next week]
7:00 PM: BYU vs UCSB (M) [Not streamed — available next week]
8:30 PM: BYU vs SLO (M) [Not streamed — available next week]
8:30 PM: BYU vs SLO (W) [Not streamed — available next week]
Saturday, January 28
8:00 AM: UCLA v Utah (W)
9:45 AM: Grand Canyon vs. UBC (M)
11:30 PM: UC Davis vs Wisconsin (W)
1:15 PM: Victoria vs Lewis & Clark (W)
3:15 PM: Washington vs UCSD (M)
5:00 PM: Cal vs Oregon (M)
Sunday, January 29
8:00 AM: Women's Quarterfinal
9:45 AM: Men's Quarterfinal
11:30 AM: Women's Final
1:15 PM: Men's Final
Women's
The Return of the North
Before COVID-19 rewrote the entirety of the college season and schedule, the Santa Barbara Invite was a common pilgrimage of northern programs who were hoping to get meaningful reps in without having to use ice-covered discs. Even after the most significant waves of the virus passed, SBI was still a hyper-localized tournament in 2022, featuring only seven teams and a single out-of-state team in BYU.
Thankfully, 2023 has brought about a return to form for the tournament, as the likes of Northwestern, Victoria, and Wisconsin have all returned after a lengthy absence. 2023 features seven out-of-state teams including a 2022 semifinalist in Carleton College. This will set the stage for a very competitive tournament that will have a significant impact on early season rankings and should provide the starting threads that will weave into the bid picture later in the year.
Is There a National Champion in Our Midst?
For the first time in over a decade, SBI will be home to two semifinalists from the prior season: #5 UC Santa Barbara and #8 Carleton. Both fell just shy of their ultimate goal, and if they're going to get another shot at winning it all, this tournament is a great place to start. Based on talent alone, the two teams have a realistic shot at going the distance. Julia Hasbrook and Devin Quinn are the double-feature that keep Santa Barbara dangerous, and Carleton is headlined by Mia Beeman-Weber, Tori Gray, and Alyssa Ehrhardt. It's too early to say that these two are in a league of their own, but it's a safe bet to book them all the way to semis, especially with BYU skipping Sunday.
Speaking of #10 BYU, there are a few other talented teams arriving on the beaches of Isla Vista that have just enough returning talent and a little dash of something extra that could get them to the finals in Ohio. #9 Stanford is coming off a year where they reminded everyone that they were that Stanford by turning a promising core of rookies into the equivalent of fifth year vets in a single season, and enough of those players are returning to keep them dangerous — although we all know their most formidable weapon is their coaching staff. #12 UC San Diego may have moved on from most of their championship winning core, but the buzz around Abbi Shilts as a POTY candidate started very early this year, and Dragon Coalition have added a few exciting rookies to help bolster their ranks. Between those two and the rise of BYU's veteran core — which boasts the likes of Maddi Robinson, Lauren Dobson, and Kate Barry — we might just be getting our first glimpse at a title contender playing against meaningful competition in January.
How Does the Southwest Shake Out?
Chaos is a ladder, and the hierarchy in the Southwest is about as chaotic as it has ever been. Now that we're nearing the end of the COVID-induced sixth year player drama, most programs finally are having their moment of passing the torch to the next generation. For teams like UCSB and Stanford, that torch is in safe hands, but that doesn't mean there is any certainty on how the region will look when the dust settles.
UCSD, #20 UCLA, and #16 UC Davis all lost considerable talent with their graduating class, but it's hard to bet against them when the chips are down, especially considering the decorated history of UCLA and UCSD in recent years. Theoretically, Stanford and UCSB should be better than the next tier of teams, but Stanford normally uses the early parts of their season for development, and UCSB has a lot to figure out with the majority of their handler core having graduated in 2022.
Nothing is set in stone with these top five teams, especially as it appears that the #15 California Pie Queens will be more than competitive this year, too.
It would be astounding for the Southwest to earn five bids, which means the likelihood of two to three of these teams fighting for a bid is almost guaranteed. We might finally have returned to a less regionally focused SBI, but that doesn't mean the in-region competition will be any less impactful. It's not exactly a wide-open race, but for the first time in a while, it seems as if all teams are at a similar starting point.
What does UCSD's Coaching Change Mean For Their Success at SBI and Beyond?
It's no longer a secret that, at the college level, an elite coaching staff is worth more than an elite player; it's probably worth more than three elite players, if we want to be a little controversial. If we were drafting fantasy teams at the college level, we'd see at least one or two coaches get picked in the first round.
UCSD had their elite coaching staff in Carlo Mosca and Alisha Stoun. The long tenured duo proved their mettle by guiding their team to a championship after years of buildup as a program but have moved on in 2023. They've left the team in the capable hands of Avery Jones, one of the most tactful and disciplined players they've coached in the last decade, who already has spent some time as an assistant coach, but this is the first time the training wheels are off.
There's a lot of pressure on her shoulders, too. UCSD has now established themselves as a Nationals mainstay with a system as intricate as that of Stanford or Colorado. They have a target on their back that is perhaps undeserved for a team with a lot of rookies and a new coach. UCSD isnt the same team they once were, but if Jones can carry forward the institutional wisdom that earned her a title as a player, there's no reason to think that success can't translate to her coaching.
The Rogue Mantle
The 2022 iteration of UC Davis was a well-coached, deep roster with a senior class that had amazing chemistry throughout the entire season, but they also had a cheat code in Jules Madigan, who bailed them out of so many difficult situations that she may as well have been nicknamed MacGyver.
With Madigan and the other top seniors from 2022 gone, UC Davis has lost a lot of their 'clutch gene' players in 2023. The tried and true method of getting the disc to Madigan or Rani Shah in late game situations now has to change completely, and there's not a clear successor to take that role for the team. Allyn Suzuki, Margo Donahue, and Caitlyn Wagner are all good players, but clearly have their place in Rogue's system. Without players like Shah, Goodwin, and Madigan, UC Davis will have to show at SBI that they still have playmakers who can take over a game when needed.
Wisconsin Begins Bid Quest
The elephant in the room for #21 Wisconsin unfortunately has travelled with them to Santa Barbara this year. As long as Carleton continues to draw a stacked rookie class to their program year after year, no one else is earning the auto-bid for their region. This puts all the onus on Wisconsin2 to earn their region a second bid, which is no easy feat considering the competition they face.
The fall season results are promising. With the help of a strong veteran core, the Bella Donnas won fall MLC and proved that the potential for a two bid North Central is tantalizingly in reach. There has been positive growth from players like Bella Donna's returner-heavy roster, including Laura Coleman and Mia Wieben, who will have to step up in Santa Barbara if the team wants to rise above the wave of Californian colleges at this tournament. Oftentimes, northern teams take early season tournaments like SBO to warm up into their season and treat it more as practice reps. Wisconsin might not have that luxury.
Men's
New Cal Poly Era
Most teams when they lose a franchise defining player and coach in KJ Koo and Cody Mills would naturally take a step back the following season. #7 Cal Poly SLO are in luck, however: the return of Calvin Brown is upon us. Lest any have forgotten, Brown can throw unlike any other player in the college division. His combination of power, IQ, and disregard for what his mark tries to take away makes Cal Poly's abundance of weapons that much more dangerous.
Seamus Robinson could realistically lead the team in goals and blocks this year. He has crossover ability, shutting down an opposing team's top cutter and running sharp routes on a turn. Seamus is perhaps the best example of SLOCORE building zero-experience players into all-region ones. Senior captain Zach Riley will also add some juice to the offense as an explosive initiator that can stretch the field with his throws.
Last season, SLOCORE put their young players into pivotal roles on their way to a quarters run at Nationals. In theory, this season they should reap the benefits of giving rookies and second years big time playing experience. Expect Anton Orme and Alex Nelson to both take big leaps this season, both coming off high-usage club seasons with Revolver and Mixtape, respectively. Kyle Lew, Carson Crouch, James Whealan, and Keaton Orser will also be featured heavily. Another solid recruiting effort, highlighted by Lincoln product and High School National Invite All-Tournament Line selection Max Gade, should bolster the depth of an already talented core.
A strong winning culture and experience gives Cal Poly a narrow edge over the field, but the competition is not far behind.
Comeback Season for Washington
On paper, last year's Washington roster had the talent to be one of the best teams in the country. A crop of highly regarded graduate students (Sam Cook, Manny Eckert, Lucas Chen, Stan Birdsong, Justin Ting) and a bevy of four to five star Seattle pipeline guys (Tony Venneri, Jack Brown, Assaf Golan, Jasper Dean, Martin Le, and Gabe Port) should've performed better than getting routed against Cal in prequarters at Nationals.
They struggled with injuries all season long. In fact, they advanced through Conferences with only eight healthy players on their roster. It's hard to expect any team, no matter how talented, to compete in the brutally competitive D-I college division without the opportunity to consistently field 14 players at practice.
To compensate for their health issues last year, #10 Washington sport a massive 28-player roster this season. A large roster should give them a formidable sideline presence and the flexibility to take plenty of swings at hitting on rookies that showed potential during tryouts.
We know this team has the top end to get it done. Tony Venneri and Jack Brown are likely both consensus top 20 players this season.
Sundodgers have an embarrassment of riches in the handler department with Venneri, Golan, Dean, Le, and Ramstad. Downfield, though, other than Jack Brown, looks a little bit thin. Without a reliable 2nd option downfield, this cutter unit may hold Sundodgers back from reaching the mountaintop this season.
The past few seasons, UW have really struggled to consistently punish zone looks from opposing defenses. Nick Stuart and Matt Rehder joining the coaching staff will add some system solutions that can help address their zone offense and other fundamental deficiencies that plagued them last year.
Smaug Have Arrived
You know it's a good omen for a team when you look at their roster and you say to yourself, "Wow, that's a lot of good players." It feels like this is a Nationals-or-bust year for #15 UCLA.
At peak condition, Riley Kirkman-Davis has proven that he can be one of the best high-usage O-line handlers in the college division. Sharing the backfield with RKD will almost certainly be Matt Barcellos, another big handler that can grind in short spaces and air it out. With such a talented handler core, in addition to initiator Marshall Wildmann chunking yards downfield, this offense will be tough to get breaks against.
Smaug continues to improve upon their situation every year. Each season, they add two to three really great contributors, but this year, especially, they struck gold. U20 selection Loic Billaut and YCC star Luca Adams are going to cause matchups problems for the rest of the Southwest for the next four years. It wouldn't be a surprise if they develop into one of the top rookie duos in their class by the end of the year.
Oregon Aiming for Best in the Northwest
BYU without Jordan Kerr, Joe Merrill, and coach Bryce Merrill. UW coming off a weird year with a lot of turnover. Utah State loses their two highest usage guys. Canada hasn't played in two years. #16 Oregon is poised to to shoot for the #1 spot in the NW.
Oregon is not playing around this year. Everything seems to have worked out perfectly for them during recruiting season. Last year, they had all the athletes (K'eali McCarter, Chander Boyd-Fliegel, Adam McNichols, Jackson Knox) but none of the throwers to utilize them correctly. Now they have added three freshmen potential star handlers in Mica Glass, Aaron Kaplan, and Adam Wulkan to get the ball downfield to their playmakers.
It's very difficult for me to find a weakness in this iteration of Ego. Big throwers, big bodies, and versatile plug-and-play guys like Itay Chang and Gabe Nobis give this team a strong case for being the best team in the Northwest.
BYU's Golden Age Comes to a Close
For what seems like forever, #12 BYU has been a top five program in the division. Although they retain star cutter Jacob Miller, defensive playmaker Porter Oyler, and the Yorgason brothers, the losses of Jordan Kerr and Joe Merrill are devastating. However, the explosion of the Utah youth scene is promising for BYU's continued relevance. Strong systems, athletic dominance, and habitual winning will make BYU a tough win for any team in the country to earn. While they could remain the class of the tournament, it's likely this team will have some growing pains early on in the season as they adjust to the loss of their two most significant offensive pieces and coach Bryce Merrill.
Three Bid Southwest?
UC Santa Cruz is coming. Do not be surprised if UCSC ends the season earning a third bid for the Southwest. This team may take the biggest step forward out of any in the country. Elite coaching and systems, a great crop of rookies, and no irreplaceable player turnover is a recipe for a very exciting season for UCSC.
The Aidan Curry show is entertaining, but he is far from the only talented player on this roster. Liam Jay is the unsung best player for the Slugs and is a great foil to Curry. He plays uptempo and has a knack for getting open into threatening spaces. In the handler set, he's especially tricky to guard and requires a healthy buffer or you're cooked upline. Downfield threats Dylan Burns and Ethan Klein are also a great fit in this offense.
I would also expect big tournaments from rookies out of the Oakland youth scene, Toby Warren and Selim Jones. They should fit into John Ortberg's scheme perfectly and will serve crucial roles down the stretch of the season.
Quick Hits
---
Note that Friday evening's games will not be livestreamed ↩

Or Minnesota and potentially Iowa this year? ↩