The most stacked D-I men's field yet faces off this weekend in Knoxville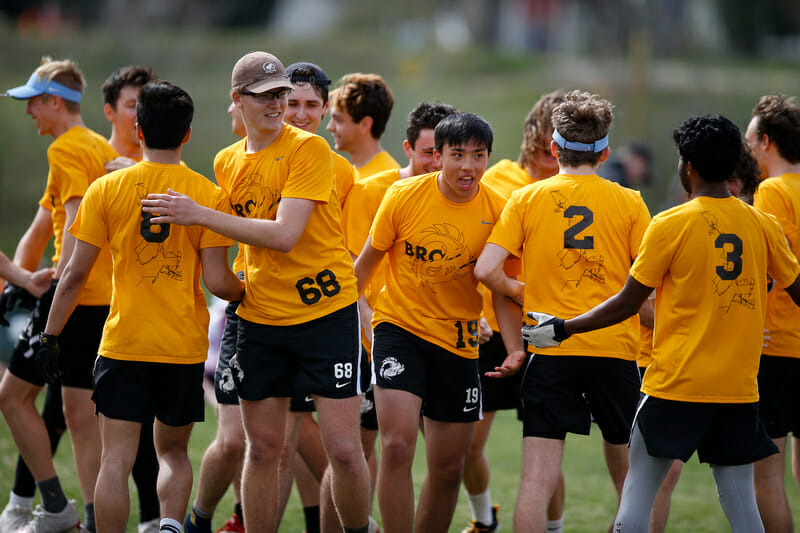 Ultiworld's coverage of the 2023 college ultimate season are presented by Spin Ultimate; all opinions are those of the author(s). Find out how Spin can get you, and your team, looking your best this season.
The time has come to separate the wheat from the chaff, and nowhere is that sorting process more pronounced than at Smoky Mountain Invite. Yes, 14 of the 16 teams in attendance are currently in the top 25. But which of them are going to be playing deep into Memorial Day weekend? SMI offers the first truly clear preview of the season. Read on for seven burning questions that the tournament should answer.
Tournament Profile
Date: March 4-5
Location: Knoxville, TN
Weather: Highs between 55-60, partly cloudy, 5 mph winds
Top 25 teams: #1 North Carolina, #3 Massachusetts, #5 Colorado, #6 Minnesota, #7 Georgia, #8 Pittsburgh, #10 Carleton, #11 Brown, #14 Texas, #15 Vermont, #16 UCLA, #20 NC State, #21 Northeastern, #25 Ohio State
Streaming Schedule
All times Eastern. Schedule subject to change. These games feature natural sound only, no commentary. Available for Full & Plus subscribers and those with 2023 College Team Packs.
All games can be found on our Smoky Mountain event page and will be available both live and immediately following the games on-demand.
Saturday, March 4
Sunday, March 5
Seven Burning Questions
How Far Ahead of the Field are UNC?
When you have had the kind of sustained success that #1 UNC Darkside have had in recent history, and when you are coming off of two resounding championship sallies through a stacked Nationals field, and when you have been positively crackling on both offense and defense through two undefeated tournaments to start the season – well, that makes you the frontrunner.
But exactly how far ahead are Darkside running? We don't know yet for the basic fact that, as good as they have looked, they haven't played a very tough schedule so far. That changes this weekend. The difficulty is ramping way up with a field that that includes the 2021 national runners-up (Georgia), all three other 2022 national semifinalists (Brown, Colorado, Pittsburgh), the 2023 finalists from Florida Warm-Up (UMass, Minnesota), and a half-dozen other top-25 squads. If they can tack on a third tournament win, they move from being *merely* the championship favorites to the indisputable odds-on favorites.
It's an open question, with the argument for it evident in every point they've played so far in 2023. Matthew McKnight, Dan Zhu, and Kevin Pignone have been tremendous for a D-line that could probably string together 10+ clean offensive holds per game if called upon to do so. If anything, though, they have been outshined by a Leatherman multi-tool offense with the most matchup-unfriendly corps of hybrids in the country. Rutledge Smith hasn't met a mark yet who can bother him, Eli Fried and Ben Dameron are a Thing 1 and Thing 2 nightmare in the end zone, and sophomore Josh Singleton is making a credible early season argument for offensive player of the year honors.
You can't just hand it to UNC in advance, though, because as inarguably formidable as they are, they aren't infallible. A quarterfinal loss to Brown in the fall at Classic City Classic is a slight eyebrow-raiser; so are a couple of the execution errors seen from stars Dameron and Dylan Hawkins. And as demonstrated in 2022 at both this tournament and Easterns1, the fierce competition facing them will take advantage of any chink that presents itself in their armor. Will they give anyone that chance?
What Is Mass' Gravity?
A rejuvenated #3 Massachusetts Zoodisc team blitzed their way through Florida Warm-Up with play as jaunty as their pastel pink tanks. After a bizarre 2022 season that included a flight scheduling mishap, a Covid-related withdrawal from Easterns, a cruel bid allocation, and a disappointing finish at New England Regionals, it's safe to say that Zoodisc were raring to redeem themselves in 2023.
Now that they have established a baseline, the question becomes whether they can sustain it. Jonah Stang-Osborne and Tobias Paperno swooped in for plenty of half-poach blocks on the D-line at Warm-Up as the whole defense encouraged opponents to take riskier shots. The tape is out on them now, though, and we could see offenses adjust and become more consistent. As good as the Zoodisc D-line has been after a turn, they won't score if they can't keep getting the disc.
The O-line might be at an inflection point. On the one hand, players like Wyatt Kellman and Luca Harwood, who both play with a kind of rocket ship intensity, could play their way into a few too many mistakes if they aren't careful. The flipside, of course, is that they have huge potential for growth around the steady Caelan McSweeney and yet-to-be-fully-tapped potential of freshman Gavin Abrahamsson. Warm-Up was brilliant, of course, but this weekend will show whether UMass have the chops for true title contention.
Are Colorado and Minnesota Championship Material?
The distinction between tiers of contention at the top are especially subtle. Cases in point: the first forays of both #5 Colorado Mamabird and #6 Minnesota Grey Duck. Setting aside Ultiworld's own pre-season punditry – whatever value it had as an entree into 2023 was rendered meaningless the moment teams started actually playing games – both Grey Duck's Warm Up and Mamabird's Pres Day were great successes. They looked great, and they only took losses to the tournament champions. That they are both great teams is an unequivocal statement. The subtlety comes in trying to suss out whether those losses in their respective opening finals indicate a championship ceiling, or something definitively lower.
Here is what we know. Colorado have one of the premier handler-cutter combinations in the country in Danny Landesman and Calvin Stoughton – and therefore one of the strongest offensive foundations of any team in the country. They also have seasoned veterans Walt Johnson and Nathan Buchholz playing very well as D-line anchors. And, perhaps most auspicious for the future of the season, they have enormous growth potential in rookies Nanda Min-Fink and Ryan Shigley, both of whom flashed stand-out potential at their sanctioned debut in San Diego. We also know that something needs to change if they want to reach their sky-high aspirations: if you can't punch in breaks against Oregon, you aren't going to punch them in against UMass, UNC, Pittsburgh, or any other prospective semifinalist. Look for D-line efficiency to be priorities a, b, and c for them at SMI.
Minnesota are in much the same boat, at least talent-wise. Paul Krenik is one of the few players in the country who can compete with Stoughton's explosiveness. He's surrounded by players who haven't spent as much time in the limelight but haven't looked any the worse for it. Anthony Jirele has been cutting with Travis Kelce-like dominance, Ian McCosky has upped his range and daring from a year ago to become one of the best pure shooters in the college game, and freshman Max Dehlin, once he gets wound up, can dance his way through any defense in the country. Together they have more than made up for the loss of gravitational force Cole Jurek.
Grey Duck show a lot of grit, though they may wish they wouldn't need to. A stony countenance helped them overcome a first-half deficit to knock Georgia out of the semis at Warm Up, but that same demeanor only kept them close in two losses to UMass. They will want to make sure they take the early breaks more often, because having to play catch-up too often is bound to end in an early exit.
How Many Strength Bids Can New England Secure?
With Cody Mills gallivanting around the world instead of updating his seminal frisbee-rankings.com site2 and USAU yet to release the first wave of official rankings, we have no idea if New England is currently staring down a musical chairs doomsday bid scenario like in 2022. But we *do* know that every team in the region wants a fair shake this spring. SMI is where those bid dreams could become reality – or blow away like so many dandelion seeds.
McGill did not quite hold up their end of the bargain last weekend at Easterns Qualifier and have almost assuredly moved from the ranks of potential bid earners to potential bid stealers. Assuming for the purposes of this exercise that Zoodisc are safe, #11 Brown Brownian Motion, #15 Vermont Chill, and #21 Northeastern Huskies bear the burden of an entire region.
The two questions nagging Brown are health and depth. If Elliott Rosenberg, Will Steinfeld, and Leo Gordon are back in action this weekend it would go a long way to allay concerns about both: adding those players alongside a sizzling Jacques Nissen is enough to challenge any team. Without them at Warm Up, though, Brown sometimes struggled even against programs with far lower expectations. The performances from Cal Nightingale, Noah Ball-Burack, and Jason Tapper were encouraging, but they might not be enough on their own to get past two very difficult pool play games against UNC and Carleton.
Vermont also hope for the return of some injured players: down Declan Kervick to start Warm up, they lost Kuochuan Ponzio and Turner Allen to start the second day. They certainly would welcome a return of any or all of them. What they really need, though, is a mental reset after a roller coaster first tournament of the season that saw bizarre decisions with the disc in a loss to Minnesota and two second-half meltdowns against Texas – but also saw them give BYU one of their toughest challenges of the year and wallop Northeastern. If they are going to have a get-right tournament, now would be the right time.
Northeastern have the toughest row to hoe out of the bunch. The trouble starts with their pool, where they'll need to win at least one against Pitt, Minnesota, or UCLA to avoid a (likely) prequarters matchup with UNC. More importantly than worrying about their opponents, though, they will need to fight hard to establish themselves after a someone flat first outing in Florida. Between Peter Boerth, Sam Freedman, Owen Cordes – and others – they appear to have enough key pieces to mount a challenge, but they haven't put it together yet in a way that can really put some fear into the opposition. If that doesn't change at some point on Saturday, New England will drop another potential bid.
Can Pittsburgh Redeem their UP Losses?
Any shortlist of the best teams in the country includes #8 Pittsburgh En Sabah Nur. They have everything: size, speed, killer instinct, a full squadron of capable huckers, solid red zone play, drive, and a defense that doesn't give anything up for free. At first glance – you know what? at tenth and fiftieth and six hundredth glance, for that matter – they look like a team who will challenge UNC or anyone else for the 2023 crown. What they also have, however, are a pair of blemishes on their record in the form of stinging universe point losses to Georgia and BYU.
En Sabah Nur are no strangers to the long game of playing out the full season en route to a title, and two lost points are not going to knock them off that track. Provided, of course, they can stem the tide before it inundates them. They'll have plenty of opportunities against bracket-level teams this weekend to prove they can turn those Ls into Ws. Whether they will largely depends on how stars like Henry Ing and Tristan Yarter perform in high pressure moments – or, if the escalating contributions from players on the come-up (Scott Heyman, Peter Kotz, Nicky Troilo, among others) help cinch comfortable victories to keep them out of those sorts of do-or-die situations entirely.
Which Coast is Stronger?
For the second year in a row, #16 UCLA Smaug will carry the Southwest flame to East Tennessee to get a look at some of the best competition the eastern half of the US has to offer. A key difference? This year's team is a meaningful degree better than the one that flew in a year ago. For starters, they have a healthy Riley Kirkman-Davis as an ever-present force of good in the backfield on offense. He's flanked by the speedy Brandon "Lotto" Van Deusen – a newcomer to the team – and veteran receivers like Marshall Wildmann and Bryan Cloutier. The D-line, so far, has been the training ground for a couple of high-profile freshman recruits in Luca Adams and Loic Billaut.
The excitement of seeing how high this iteration of Smaug can rise brings some crucial coast-to-coast pre-Nationals intel, too. If UCLA mount a serious run in Knoxville, what does that tell us about how much to expect out of the likes of Oregon, Cal Poly-SLO, or Washington later in the year? Conversely, would a bad tournament sink our estimation of the entire western scene? By the end of the weekend we should know whether the wind blows in a generally easterly or westerly direction.
Who's Going to Master the Consistency Game?
It isn't going out on a limb to say that not every team plays their best every single game. Fine, that's reality, but don't you want to at least play at close to the same range game-to-game? You do if you are #7 Georgia Jojah, #9 Carleton CUT, or #14 Texas Tuff. All of them have flashed big-time potential – like, national semifinal potential. All of them have real stars and systems. And all of them dropped the ball in some key moments at Warm Up.
Upside isn't the problem for any of them. Jojah have a deep team behind one of the brightest stars in the game in Aidan Downey. If the O-line can clean up their messier moments – Ryan Flick, Jack Krugler, and Adam Miller could be a little choosier with their shots – they could be dark horses to win the tournament.
The same goes for a streaky Tuff side. Zack Slayton and Jake Worthington have been marvelous for them this year, but the whole team can suddenly catch the turnover bug. It led to a universe point loss against Wisconsin to knock them out of the top-tier bracket at Warm Up and almost gave Vermont a chance at payback. Matt Chambers led a major comeback to salvage the 9th-place finish, but they can't bank on heroics to get them out of every jam.
Carleton are a more difficult case to peg. On one hand, they showed more game-to-game consistency than either Texas or Georgia – Declan Miller seems to have that kind of calming effect on the offense. But they are a young team, with freshmen and sophomores taking the reins on huge number of points. As good as Leo Xiao, Daniel Chen, and Cullen Baker have been, they will have to navigate inevitable ups-and-downs of youth – particularly considering that at this point there isn't a current member of CUT with any Nationals experience to speak of. They may pass the big test this weekend, or they may have work to do. Either way, it is sure to be a valuable crash course in top level ultimate for a team with all the talent to be a part of it.
---
although Easterns could just be chalked up to the Carolina Curse – Darkside have never won there ↩

Hi Cody! Hope you're having fun! ↩