Can Oregon back up their Presidents' Day Invite results?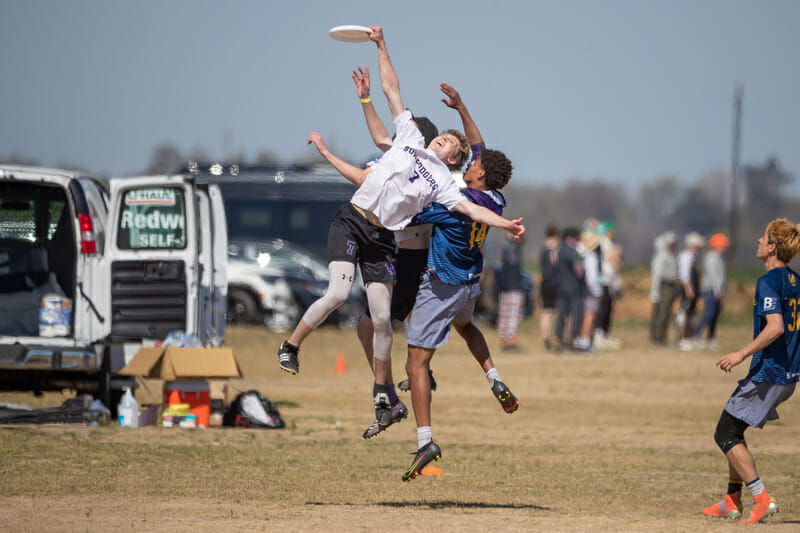 Ultiworld's coverage of the 2023 college ultimate season are presented by Spin Ultimate; all opinions are those of the author(s). Find out how Spin can get you, and your team, looking your best this season.
Has it only been twelve days since that phenomenal Presidents' Day Invite final between Oregon and Colorado? Stanford Invite has arrived in a flash and somehow we are already at the last major stop on the West Coast Triple Crown Tour.1 Although the weather may add an element of chaos, early season execution mistakes are no longer an excuse for underperforming at this point. Eight of the top 25 teams congregate in Palo Alto to determine who takes the last victory of the West Coast Triple Crown. Here's what we're excited for heading into Stanford Invite 2023.
Tournament Profile
Date: March 4-5
Location: Stanford, CA
Weather: Temperatures between 45-55, rain, 15+ mph winds
Top 25 teams: #4 Oregon, #9 Cal Poly SLO, #12 Wisconsin, #17 UC Santa Cruz, #19 British Columbia, #22 Washington, #23 California, #24 Victoria
Streaming Schedule
All times Pacific. Schedule subject to change. These games feature natural sound only, no commentary. Available for Full & Plus subscribers and those with 2023 College Team Packs.
All games can be found on our Stanford Invite event page and will be available both live and immediately following the games on-demand.
Saturday, March 4
Sunday, March 5
Storylines
Can Oregon Defend Their Top 5 Claim?
#4 Oregon Ego skyrocketed 13 spots up the Ultiworld Power Rankings after a dominant Presidents' Day Invite performance. Every team will be licking their chops at the thought of knocking Ego off their pedestal and earning some nice algorithm points in their region's favor. Ego have already proven they can dispatch the caliber of opponent in attendance at this tournament, but they've also shown – at January's Santa Barbara Invite – they can sometimes play down to their competition and lose to teams that are less talented than them. This weekend is a great chance to display their early season losses were not indicative of what the team can accomplish.
Itay Chang has performed like a player of the year candidate, and they have threats top to bottom on the roster. It's worth noting that Ego had a healthy supporting coaching staff at Presidents' Day in Dylan Freechild, Will Lohre, and Noah Coolman. Without these former Oregon legends helping on the sideline, it's possible we see a drop in quality from Ego this weekend.
Can Cal Poly Slo Make Another Semifinal Run?
With a tournament victory at Santa Barbara Invite and a 3rd place finish at Presidents' Day (lost to Oregon in the semifinal 12-9), #9 Cal Poly SLO SLOCORE have shown they are once again among the west coast elite this year. Some unfortunate injuries to key players like Seamus Robinson are limiting this squad's upside but the depth of the team can still buoy the team to good results. Stepping up big on the offense this year are sophomores Anton Orme and Alex Nelson. They are a difficult 1-2 combo to stop because they can both house you deep and throw bombs, so good luck guarding them honestly in man defense.
Kyle Lew, Calvin Brown, and Sander Fogarty have been excellent for the defense. This defensive unit has no issue generating pressure but they struggle to punch in breaks against the best teams consistently at the tournaments they have attended thus far. With a quick turn around from Presidents' Day, there's not that much improvement than can be made on fitness or system issues. However, with a bit more patience and faith there's a range of outcomes, including one where this D-line is the class of the tournament.
Can Washington Keep Rising?
Although results-wise they have not been as formidable as we anticipated in the preseason, #22 Washington Sundodgers' trajectory this season has been encouraging. They rebounded from a brutal Santa Barbara Invite with a 4th place finish at Presidents' Day and their offense is stacked to the teeth. Jack Brown, Martin Le, Jasper Dean, and Max Ramstad have been phenomenal this season and create matchup nightmares for opposing defenses. The defense is starting to make a name for itself as well despite not having as much name recognition as the O-line. We have not seen star player Tony Venneri yet, but he is at least listed on the roster going into Stanford Invite. If he makes his debut, the Sundodgers will add some much needed firepower and elite playmaking to the defense. Coaches DY Chen and Nick Stuart have done a great job with the pieces they have. If they continue to make productive adjustments to their game plan, this Washington team will be scary come Regionals.
How Legit is Wisconsin?
The presence of #12 Wisconsin Hodags in the field makes the tournament much more interesting because we have already seen most of the other teams face off against each other. The Hodags have put together good results so far this season, with wins over Texas and Michigan and close losses to Brown and Minnesota. They have a nice balanced attack on offense, but Nico Ranabhat has been a cut above the rest. A lefty hybrid that can get separation with ease, he will be the best player on the field in many games the Hodags play this tournament. Zane Stein has also been an important piece for the team as a distributor with a twitchy first step that is difficult to contain in the reset space.
With most of the elite west coast teams in attendance, it'll be a good opportunity to gauge how competitive the west is compared to the historically dominant east.2
Can UBC Put It All Together?
Are the Thunderbirds the new Oregon? Fast forward two weeks from the last week's men's division shocker, and it's possible UBC put up a performance similar to what Ego did at Presidents' Day. Despite a quarterfinals exit at Santa Barbara Invite, they put up good results but lost on universe point to UCLA and Cal Poly SLO. They also lost to in-province rival #24 Victoria Vikes in the consolation bracket, but looked like the more impressive side. They have all the talent to get it done: Filip Kragl and Devon Bringeland-Powell are a formidable backcourt duo and Justin Podnar has been a dominant cutter who can also send big shots downfield.
UBC showed, though, that they were uncomfortable working against the west coast zone gauntlet in windy conditions at SBI. With some rain and wind in our future this weekend, it's a chance for UBC to display the progress they've made in that facet of their game.
Teams in Need of a Bounceback: Santa Cruz, Cal, Oregon State, Utah State
A sizable chunk of the field will be looking to get their seasons back on track at Stanford Invite after some shaky performances at Presidents' Day. #17 UC Santa Cruz Banana Slugs, #23 Cal Ursa Major, Oregon State Beavers, and Utah State Scotsmen3 all have Nationals aspirations, but some of their results thus far may keep them achieving their goals.
Santa Cruz is tough to evaluate because they've played the best west coast teams close. A universe point win against Oregon and double game point losses to Colorado and Cal Poly show this team can hang with the best. They'll get a great test in pool play against Wisconsin to see how they stack up against a high level team on the other side of the country.
Cal are still struggling to get practice time which is really unfortunate for a squad that showed a lot of potential early on in the season. A silver lining may be that it's given them the chance to get their stars healthy. Would you rather be well-rested or well-practiced? We'll have to see what Dexter Clyburn, Gavin May, and Kushal Khangaonkar bring to the field this weekend before we can answer that question.
Oregon State pass the eye test – especially Ben Thoennes – but also lost to UCSD and Grand Canyon at Pres Day. That makes it difficult to have any expectations for them in this tournament. Every tournament needs a wild card, right? They're in a pool of death with Cal Poly and UC Berkeley but given the talent on the team, it's possible they take the group down and get the bye into quarters.
Utah State have some really great premier pieces like Jonny Hoffman, Tony Mounga, and DJ Sorenson as well as plenty of complementary guys that would be valuable for any team. They've underperformed their quality so far this season, but could potentially make a bracket run.
---
In the men's division that is – the women's division is next weekend. ↩

The last time a team west of the Rockies won Nationals was with a Bart Watson-led Stanford in 2002. ↩

Oregon State and Utah State were both in the back-half of the top 25 earlier this season before falling out in February ↩