Will Northeastern make it three in a row or can Virginia win a rematch?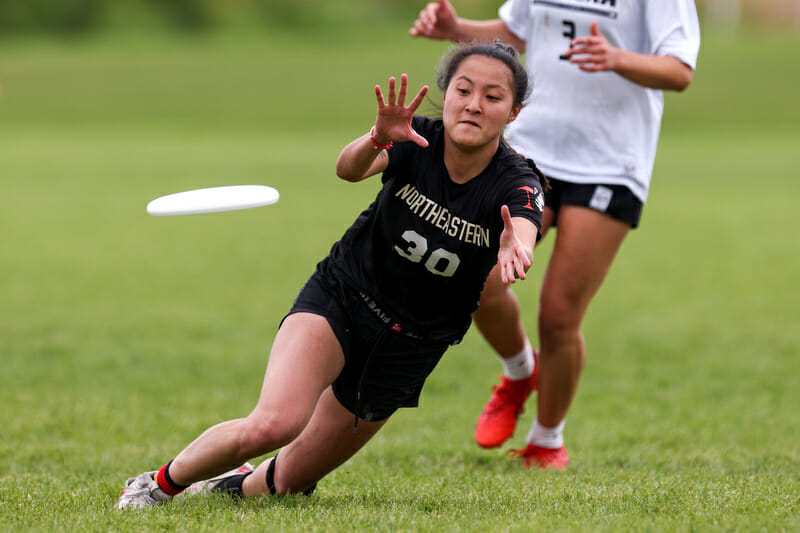 Ultiworld's coverage of the 2023 college ultimate season are presented by Spin Ultimate; all opinions are those of the author(s). Find out how Spin can get you, and your team, looking your best this season.
Deep in the heart of Texas, Centex is back with three tiers featuring teams that span the country. The tournament format is unconventional, but gives lots of opportunities for out of region games. It's truly March Madness down at Austin. Here are the storylines for each tier at Women's Centex 2023.
Tournament Profile
Date: March 18-19
Location: Austin, Texas
Weather: highs in mid-50s, 11 mph wind, cloudy with small chance of rain
Top 25 teams: #11 Northeastern, #12 Virginia, #18 Brown, #20 Pennsylvania, #22 California
Post-Produced Video
These games will be recorded and edited and uploaded following the tournament. There will not be livestreaming of this event. Schedule subject to change. These games feature natural sound only, no commentary. Available for free on our YouTube channel. 
Saturday, March 18
9:15 AM: Ohio State vs. Colorado State
10:45 AM: Brown vs. Texas
12:30 PM: Texas vs. Wisconsin
2:15 PM: Pennsylvania vs. California
Sunday, March 19
9:00 AM: Virginia vs. Brown
10:45 AM: Quarterfinal TBD
12:40 PM: Semifinal TBD
2:35 PM: Final TBD
Tier 1
Can Northeastern Go for Three?
Coming off of two tournament wins already this season, #11 Northeastern Valkyries receive the top seed for this tournament.  The Valks first went 6-0 at Florida Winter Classic at the end of January, where they dismantled Florida State in the final 12-1. More recently though, and against stiffer competition, Northeastern won Commonwealth Cup Weekend 2. They went 4-0 in pools and then played tough games against Brown, Virginia, and Yale in the bracket to take the win.
The Valkyries looked good through the whole tournament in Martinsville, buckling down in key moments, continuing to play hard defense despite long points and long games, and staying patient on offense. Clara Stewart in particular played with poise from the handler spot, and Elyse Hall played lights out on defense in the final game against Yale. Northeastern come in as the favorites this weekend and look to continue their undefeated spring season, but will likely see some familiar faces in bracket play.
Revenge Tour
Both #12 Virginia Hydra and #18 Brown Shiver will be seeking revenge on the Valkyries. Virginia in particular will have Northeastern in their crosshairs as Hydra fell twice to the Valkyries at Commonwealth, once in pools and then again in semis on universe. However, Virginia entered the Commonwealth Cup tournament shorthanded as many of their players were out with either illness or injury. While they may not be at full strength this weekend in Austin, they should have a more complete roster, which may be just what they need to push themselves over the top and take it home.
As for Brown, Shiver performed inconsistently at Commonwealth. In pool played, they managed a close game against Pitt, losing by three, blew by eventual tournament runner-up Yale 13-4, squeaked by Michigan by one, then ended the day with a loss on universe to Georgia. In the bracket on Sunday the team looked just as shaky, winning handily against Columbia before falling short to the tournament winners Northeastern 10-7 and then Pitt again in consolation. Hopefully Brown have figured out what works and what doesn't, and can replicate what brought them success in Martinsville. As a team right around the strength bid line, they need a strong weekend.
Redemption
Wisconsin, Texas, and Michigan, seeded no.4, no.5, and no.6, respectively, will have a great opportunity this weekend to prove us Ultiworld writers wrong and work their way back into the top 25 in our power rankings. Each team has previously graced our objectively correct list, but no longer. A strong showing this weekend would go a long way to moving back up in the polls. Both Bella Donna and Melee struggled on tough California trips, but this will be their second showing of the year, and that could mean very different looks for programs with strong track records for development. Michigan had a rough Commonwealth Cup, but showed some talent at Queen City Tune Up back in February, and could rebound effectively.
Ohio State is another former top 25 club in attendance. Coming off a 13th place finish at Commonwealth Cup, Ohio State look to turn the tide and find their feet. Fever are currently in a deep rebuilding phase, but have shown flashes of brilliance already this spring. Making it to the championship bracket and snagging a win in prequarters would be a huge win for Fever, and they are certainly capable of achieving it.
Tier 2
Cinderella Run
With only one spot in the top bracket available for the winners of pools C and D, teams can't afford to drop any games on Saturday if they want a shot at the tournament championship. The bracket is set up in such a way that to advance they will have to win a game against a lower positioned team from pool A or B in prequarters. If they pull it off, they'll then face a Pool A P1 or P2 team fresh off a bye – a tough ask for any team, but that's why we play the games. With March Madness in the air, a Cinderella run would be a joy to watch.
D-III Darkhorse
The back-to-back D-III champions Middlebury Pranksters will be in attendance, and led by back-to-back D-III Player of the Year Claire Babbott-Bryan hope to open their season with a bang. This team has the potential to take a game off anyone in the tournament, and despite being seeded 18th overall could very well make a run for top eight or beyond.
Bracket Buster
A quiet storyline: UT Dallas Whiplash, the no.19 seed, is also 19th in the country in Frisbee-Rankings.com's algorithmic rankings. That places them right at the line to earn a strength bid. Whiplash are 12-0 this season, playing just two close contests on their way to winning Antifreeze and Dust Bowl. This is a big step up in level of competition, but they don't need to remain undefeated to earn rankings points. But a strong weekend could be a shock to the bid system and have a team nobody has been talking about pulling a valuable bid back to the South Central.
Southeast Showcase
Both Florida and Georgia Tech aim to make a name for themselves and give the Southeastern region a chance at another bid for Nationals. Alongside Georgia, these two teams comprise the top three in the Southeast; not only will they be shooting for upsets, but establishing their footing is imperative as they get geared up for Regionals next month. Both Wreck and FUEL will want to use this tournament as an opportunity to work out any kinks in their systems and give themselves the best chance to punch their ticket to Nationals. Not making it out of Tier 2 will be a failure for either team, and yet with both in Pool D and one spot to fight over, at least one team is going home disappointed.
Tier 3
Honestly, it just makes me happy that tournaments provide the resources for B teams and smaller programs like LSU and North Texas. Valuable, meaningful playing time for these small squads and younger players is great for the sport at every level. With tier 3 bracket play completely disconnected from tiers 1 and 2, winning the tournament will feel good for any team.
Rice and Trinity will want to make a splash and gain some notoriety in the D-III rankings. A tournament win or deep run for either team will definitely raise some eyebrows, and potentially get their region an extra bid.