We found out a lot about who some of the teams really are in their final regular season event.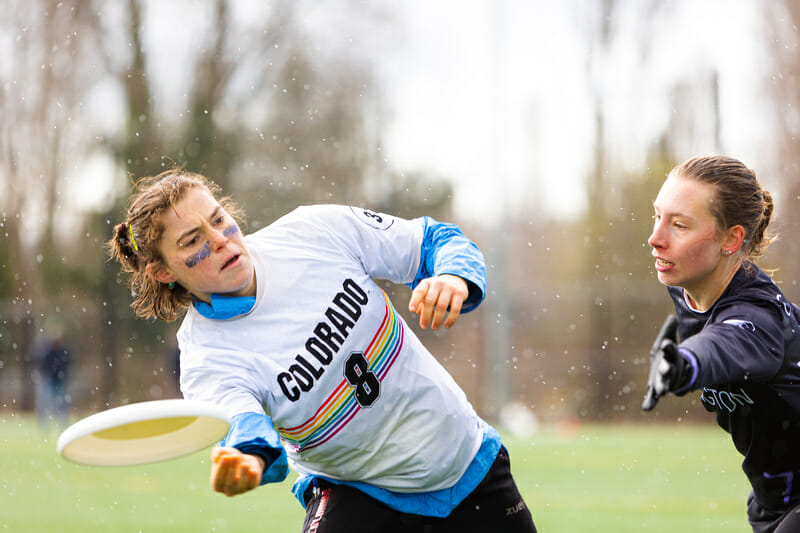 Ultiworld's coverage of the 2023 college ultimate season are presented by Spin Ultimate; all opinions are those of the author(s). Find out how Spin can get you, and your team, looking your best this season.
Three days of intense competition between many of the best D-I teams in the women's division ended with Colorado Quandary crowned the 2023 Northwest Challenge champions. They survived a gauntlet of challengers and the Northwest itself threw some inclement weather at the teams. But teams persevered in pursuit of quality reps to get ready for what is lining up to be a great postseason.
Pool Play & Bracket Results


Storylines
Colorado Add Hardware
#2 Colorado Quandary seemed dominant the entire weekend. Reaching the score cap against every team they faced, including a challenging run of Stanford (13-9), Washington (13-10), UBC (13-11), and Carleton (13-8); Quandary is out for revenge. The 13-3 demolition job from UNC, and playing on the same field where they lost to them in the 2022 edition of NWC must have left a sour taste in this team's mouth. Clil Philips rejoined the team this weekend after being unavailable for Stanford Invite, and they were still without Stacy Gaskill, who has only appeared with Quandary at Presidents' Day Invite.
Bailey Shigley has returned to the O-line, after being forced into a sideline support role while recovering from an ACL injury. "Getting the opportunity to come back to my hometown and ball out is so sick and it's way better to be on the field than on the sideline," said Shigley.
Colorado has not broken out the force-middle defensive set that bamboozled offenses last year. The Boulder rookies still seem to be acclimating to the Quandary playbook. Despite the age and experience on this team, they still retain some youthful tendencies and are heavily influenced by the energy and the momentum of the games. I don't foresee this to be a problem, though, as they only have one loss this season, and it came against the reigning champs and they weren't near their full strength. This Quandary team continues to get better. The play of Abbie Gillach, Emma Williamson, Saioa Lostra, and Faye Burdick was stellar and will only continue to improve as Colorado continues the year with a big target on their back.
Carleton Come Up Short
#5 Carleton Syzygy made a run to final of NWC, overcoming the zone gauntlet of Western Washington and an in-form Stanford team. They had managed to open their weekend with a come from behind universe win over Washington and a game with UCLA that stayed closer than it should have. Syzygy is a good team, but they didn't pummel opponents like the other top tier performers at NWC.
Syz has the ingredients for elite success. Tori Gray, Aria Kischner, Alyssa Ehrhardt, and Mia Beeman-Weber could be excellent Callahan nominees or in awards considerations. Their coaches blend formidable experience both playing and behind the wheel. The supporting cast knows their roles well and everyone can play within the system while still utilizing their super powers. But Carleton's biggest strength can be seen over an extended period of time. They are a mentally tough team, as we were able to see last weekend. The coaches' ability to continually make adjustments during games and players being able to receive and utilize the feedback makes them a team with no clear weakness. They were 0/2 in their close games at QCTU, but came away successful in both matchups at NWC. Focus seems to be lost when they reach the end of tournaments and they're leaning a bit more on their stars, with fatigue setting in and executing becoming more difficult against deeper teams . When the consequences become season ending, I'm sure Syzygy is going to be able to really bring everything together. But they can't dull between now and Nationals, as that seems to be their only real test in the future.
Bonus Content for Northwest Challenge 2023: Tournament Recap (Women's) is only available to Ultiworld Subscribers
Already have a subscription? Log in
Whether you visit Ultiworld for our reporting, our podcasts, or our video coverage, you can help us continue to provide high quality content with a subscription. By becoming a subscriber, not only do you receive benefits like bonus content and full article RSS feeds, you also help fund all of Ultiworld's coverage in general. We appreciate your support!