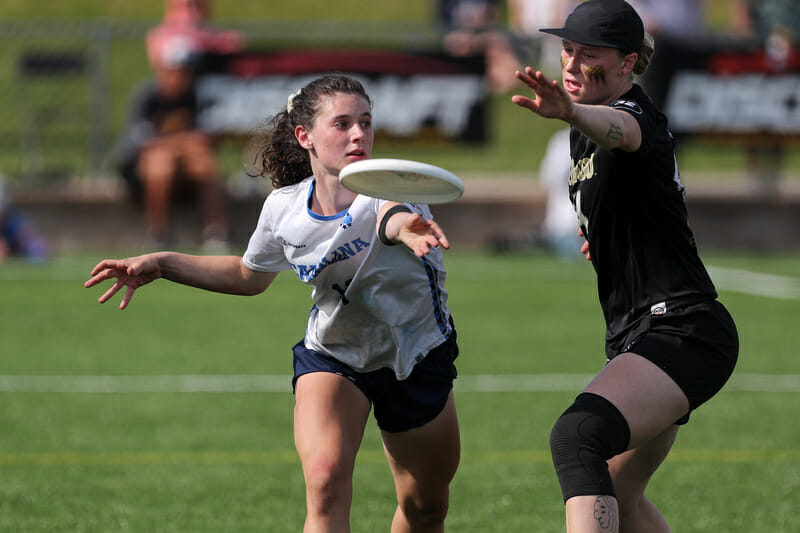 Ultiworld's coverage of the 2023 college ultimate season is presented by Spin Ultimate; all opinions are those of the author(s). Find out how Spin can get you, and your team, looking your best this season.
The D-I College Championships are almost here, and that means it's pool preview time! With the first full regular season and rankings post-COVID, 20 worthy teams arrive at the campaign's final weekend ready to crown a national champion. UNC is chasing a three-peat, Colorado wants revenge, and a bevy of other challengers is gearing up to make a push in the bracket.
We've got you covered for all the exciting action this weekend, but before the first pull goes up, let's get to know the teams who will be competing in Ohio. Then follow along on the D-I College Championships event page for updates and livestreams throughout the weekend!
Pool A
Teams: No.1 North Carolina, No.8 Washington, No.12 Colorado State, No.13 SUNY Binghamton, No.17 UCLA
Overall Strength: 💪💪💪
Star Power: ⭐⭐⭐⭐⭐
Upset Alert: 🚨🚨
First up is Pool Pleiades — I mean, Pool A. The bye to quarters feels like a foregone conclusion for the reigning national champs, but long-time-coming Callahan winner1 Abby Hecko and her Washington squad might have something to say about that. Colorado State and SUNY Binghamton, no longer first-timers to Nationals, will duke it out for that last precious prequarter berth, and UCLA will seek to keep their remarkable postseason roll going.
North Carolina Pleiades
Was there ever a doubt that #1 North Carolina Pleiades would be here? "Embarrassment of riches" is the most overused phrase on this website over the past year, but you can see why we're running out of ways to describe what Dawn Culton, Alex Barnett, Ella Juengst, Sydney Rehder, Theresa Yu, Grace Conerly, Erica Birdsong, and Kailin Lowder have done since 2020 — and have the potential to do this weekend. The one knock against UNC is that they haven't felt real pressure yet, but it might not matter: a bad day for Pleiades may still be enough to get them past feisty pool two-seed Washington. If things go to plan in the pool, they'll likely lock in semis against a team they've beat twice already this year — all before reaching Monday. This isn't March Madness, folks. Your bracket almost assuredly won't get busted if you pencil Pleiades in for the finals.
Washington Element
After back-to-back placements in the always difficult Pool D in 2021 and 2022, it somehow doesn't get any easier for #9 Washington Element in Pool A this time around. Two-time reigning champs UNC top the pool, and Element can't overlook the pool's bottom three teams who will all be gearing up for their chance at a Washington team that has its wobbles this season. Still, need we remind you that 2021 POTY Abby Hecko is back to playing at the peak of her powers, and that Sophia Palmer, Amy Nguyen, and Savanna Tucker are all back with plenty of veteran experience? Add in some of this year's newcomers in freshman Lucy Tanner and grad transfer Anna Cauchy, both of whom have stepped up into critical roles for Element this season, and you have a roster that can contend with the best in the division. While asking for Washington to deliver UNC's first loss in years might be a bit much to ask, Element will surely be eying another deep run through the bracket, and with Hecko at the helm, there's every reason to believe they can make it happen.
Colorado State Hell's Belles
Welcome back to the show, Colorado State! After making their first ever Nationals last season, the #16 Hell's Belles thought it was so nice they'd do it twice. This time around they'll arrive as the second of three bid earners out of the South Central, and will be aiming to make a first ever appearance in the bracket. While their resume isn't sparkling, since Prez Day, CSU has only lost to Northeastern (twice) and Colorado (thrice). That bodes well coming into Pool A where a real battle appears to be brewing for the final spot in prequarters, and the Hell's Belles combination of veteran experience and youthful exuberance may prove key. Nearly half of the Belles are rookies — though Willow Purvis has immediately become one of their standout players in her first year on the team— while Purvis' roommate and captain Grace Brown leads the team alongside fellow captains Taylor Abrams and Grace Goldenberg. UNC and Washington are daunting top seeds, but after their run to the final at Centex, the Hell's Belles are bound to be a tough out, regardless of where they finish by the end of the weekend.
SUNY Binghamton Big Bear
Now attending their third Nationals in as many seasons, the we're-just-happy-to-be-here factor might be wearing off for #17 SUNY Binghamton Big Bear. Gritty wins against Virginia and Yale show that Bing is capable of grinding out tough games — they'll need to if they're to make the bracket and lock in the program's best finish since before all these players were born.2 Second-year dynamo Jolie Krebs will no doubt lead the charge, and she's backed up by a reliable supporting cast including high-flyer Anna Purtell and Danielle Dattler. Though they'll have to get past a Colorado State team that's also been here before and a surging UCLA, anything (including the bracket, of course) is possible when you have a player who can do things like this.
UCLA BLU
Every so often a team comes along to remind everyone that the college season is long. With a 9-18 regular season record, #24 UCLA BLU didn't look the part of a Nationals contender all spring, but their postseason was enough to warrant another look. Their core of Tanya Bearson, Maria Tassone, Arabella Pearson, and Mya Mitchell posted some statement wins at Southwest Regionals, and the turnaround this unit has engineered is an accomplishment in and of itself. Unfortunately, UCLA is in a tough pool if they aspire to bracket play. Not only are Washington and UNC all but scheduled losses, CSU and SUNY Binghamton also have a point to prove. It would not be out of the question for UCLA to pull off an upset — they did so at Regionals — but two upsets is a tough ask for a program that hasn't had more than one meaningful win over a top-30 team. Given BLU's trajectory, it's not the most unlikely underdog story, but they'll need more than narrative destiny to stay alive through Saturday.
Pool B
Teams: No.2 Colorado, No.7 Stanford, No.11 Northeastern, No.14 Virginia, No.18 Georgia
Overall Strength: 💪💪💪💪
Star Power: ⭐⭐⭐⭐
Upset Alert: 🚨🚨🚨
Welcome to Pool B, the first stop on Colorado's impending title run — with the margin between them and pool number two Stanford sitting at +8 goals3, Quandary will look to speedrun a path to the final. Superfly, no doubt, are aiming to close that gap as they gear up for a push of their own. For the final bracket spot, Northeastern and Virginia are set for a three-match,4 while Georgia will look to engineer a shocker.
Colorado Quandary
Last year's finalists #2 Colorado Quandary return to a familiar locale at the top of Pool B, and they'll hope their path from there once again leads to the final. And why wouldn't it? Quandary have potentially two of the top-five players in the division in Clil Phillips and Stacy Gaskill; a bevy of other current and former Team USA talents in Abbie Gillach, Emma Williamson, and Bailey Shigley; and plenty of veteran experience from the likes of Mei Hecht, Emma Cortright, Saioa Lostra, and Kenny. Their coaching staff is well established, so they won't give up an edge there, either. Considering their record against their Pool B competitors stands at a clean 2-0 with two four-point wins over second seeded Stanford, Colorado seem well-positioned to earn their way to the quarterfinals — and beyond.
Stanford Superfly
Sitting second in the pool is #7 Stanford Superfly, Southwest title (back) in hand and gaze fixed on a deep bracket run. Their 30-8 record is impressive, with losses coming only to other top-eight programs — but those are the teams they'll need to beat if they have real title aspirations. Especially pressing is the need to beat Colorado, who they're 0-2 against, in order to avoid a quarters date with North Carolina. If any team can close a four-goal gap in eight weeks,5 it might be Stanford, thanks to the otherworldly advantage conferred by the 'Fly coaching staff. The players themselves are strong, too. Esther Filipek and Macy Vollbrecht are the real deal in the backfield, and though U24 selection Hannah Huddleston has missed some time with injury, if she's at full strength this weekend, expect big things.
Northeastern Valkyries
The #13 Northeastern Valkyries have had a remarkable spring. Their regular season winning streak (which predictably came undone at New England Regionals against top-five competition) has to give them confidence that they have a real shot at making it to the bracket for the second time ever,6 but they know the real work is yet to be done. As head coach Jason Adams notes, "We know that winning in January, February, and March doesn't carry any weight" in Ohio outside of seeding.
If the Valks are going to make a push, much of the offensive load will fall, as it has for much of her career, on Clara Stewart. But the impact of Adams and the coaching staff, who have shown a penchant for unorthodoxy and improvisation — box and two, anyone? — shouldn't be overlooked. The decisive pool play game, against Virginia, will be the Valks' very first game of the tournament, meaning they don't have the luxury of shaking off the travel and the nerves. If the Valks can get hot early, they've essentially ensured themselves a spot in the program history books.
Virginia Hydra
Around this time of year, much is made of peaking at the right moment. Plagued by injury and illness throughout the regular season, now is the time for #14 Virginia Hydra to put all the pieces together. They're 0-2 against Northeastern thus far, but we may not have seen this Hydra with all its heads yet. If they're at full strength, watch out; the team has some elite pieces, none more important than do-everything playmaker Kira Flores and her frequent partner in crime Aviva Kosto. Their last meeting with the Valks went to universe, which has to spark some hope that Hydra can make the bracket, a standard they've set since reaching quarterfinals in all but one (last year) of their seven Nationals appearances since 2013.
Georgia Athena
Perhaps quietly, Georgia has reached the College Championships for five straight seasons — they will not arrive as starry-eyed onlookers. They rolled at Regionals, with their headline duo of Quincy Booth and Fiona Cashin in feature roles once again. The rest of their season is littered with close calls against teams that were in contention for Nationals in their respective regions, but fell short. Operating around playmaking stars is something this program has done before and is achievable, but the question is whether they have a gameplan that can maximize their strengths (taking shots) and cover up some of their vulnerabilities (secondary resets).
Pool C
Teams: No.3 British Columbia, No.6 Carleton, No.10 UC Santa Barbara, No.15 UT Dallas, No.19 Chicago
Overall Strength: 💪💪💪💪
Star Power: ⭐⭐⭐
Upset Alert: 🚨🚨
UBC Thunderbirds
The Canadian giants are back at it again, and this time as legitimate title contenders. With Callahan finalist Madison Ong and 2022 club mixed BPOTY Mika Kurahashi leading what feels like most of Team Canada's U24 Women's team, #3 UBC are poised to make their first semifinals appearance since the last time the College Championships were held in Ohio in 2017. The Thunderbirds' record reflects their prominence this season, with only a pair of losses, one each to Colorado and Washington, though both were by relatively narrow margins.
Clean up those rare mistakes and the cream will rise to the top, and Andrea Moir, Anna Goddu, Miu Shiraiwa, Helena Tremblay, and Monica Hsu, to name a few, will demonstrate why UBC might just be the deepest team in the division. While it's true that pool two seeds Syzygy beat them in pool play at last year's College Championships, this is an improved Thunderbirds team and they'll have their sights aimed high as they seek to soar this weekend.
Carleton Syzygy
Another year, another absolutely stacked Syzygy team. They've got name-brand talent in Tori Gray, Alyssa Ehrhardt, and the preternaturally talented Mia Beeman-Weber — and that's without mentioning Aria Kischner, Emma Chin, Gigi Paulig, or Naomi Fina. Sheesh. After back-to-back semifinal appearances, is this the year Carleton's star-studded roster can propel them to the title game? The team would have reservations about that question in itself — Carleton famously doesn't participate in individual awards like the Callahan, instead cultivating what captain Emma Chin calls "a deep love for this team as an entity, even more than the love we feel for the individuals who play on it."
However you phrase it, the answer will likely lie in Syz's team defense. They've largely earned their keep this season with a stifling bracket. Obviously, the kids from Northfield would love to knock off UBC and capture the bye to quarters, but if it doesn't go their way, they have to feel good about their chances against potential quarter matchup Tufts or Vermont too — they've played both teams to tight margins this year. Either way, this is a quarters team at the bare minimum; how much farther they can go remains to be seen.
UC Santa Barbara Burning Skirts
Let's be honest: these aren't the same Burning Skirts that made back-to-back semis, but the team is not actually in dire straits. Devin Quinn and Julia Hasbrook are the two names you likely know from those runs, but UCSB's backfield includes plenty of talented throwers in Vienna Lee, Marie Levisay, and Terra Dressler, while Laura Blume leads a skilled cutting core. After years of relying on athleticism to carry them, this #11 UC Santa Barbara program sports a well-drilled, disciplined offense that's far more democratic with the disc than past iterations. They'll need it to be firing on all cylinders to get out of the pool; by the transitive property of wins, UBC and Carleton sit comfortably ahead of the Skirts, and UT Dallas and Chicago are unknowns with something to prove against a program of their pedigree. Should they make it to the bracket, though, the Skirts have big-game experience that could help them make a run.
UT Dallas Whiplash
Ten-gallon hats off to this #20 Texas-Dallas Whiplash team for hanging on and claiming their bid at Regionals7 after not being able to field a roster to attend that tournament just a year ago. All-Region captain Kimmy Wilson, back in her home state after a few seasons spent on the west coast, and the rest of this squad carry the hopes and dreams of the Lone Star State as they make the program's first Nationals appearance: "So many people from the DFW community, especially our alumni, have shared their support and excitement," explained Wilson.
It'll be a weekend of firsts: UTD rolled regional competition this year, but they haven't seen the likes of teams like UCSB, let alone UBC or Carleton, yet — save for a run-in with Colorado at Regionals that ended as you might expect. But the bracket isn't out of the question. Whiplash has a game to dispel the jitters before they meet UCSB on Friday, and when they hit the field they have no reason not to go for broke. Anything could happen if this team plays with nothing to lose and everything to gain.
Chicago Supernova
Exploding back onto the Nationals scene out of a chaotic Great Lakes is #21 Chicago Supernova. Last time they were here, they notched a pool play upset to make the bracket and were a single goal from the quarterfinal round. Now at the bottom of Pool C, Nova's odds are a little longer, but several vets from that 2021 squad now lead the charge. Claire Schmitt, a dime-dropping handler made in the image of high-workload college throwers before her, can hit spaces all over the field and has club experience that can only help when playing on this stage. Gloria Adeola, Joceyln Sun, Megan Morales, and Allie Chu also contribute in spades on both sides of the ball. This time around, that core has a tough road ahead. Nova got blowout-ruled by Carleton earlier in the year, so UCSB and Dallas will be focal points. If they can get out of the gates earlier than the Skirts in the first Friday morning game, and if they catch UTD a bit tired on the last Saturday afternoon one… that's a lot of "ifs" — but then again, Chicago beat the "ifs" to get here.
Pool D
Teams: No.4 Vermont, No.5 Tufts, No.9 Oregon, No.16 Victoria, No.20 Carnegie Mellon
Overall Strength: 💪💪💪
Star Power: ⭐⭐⭐
Upset Alert: 🚨🚨🚨🚨
This year, the 4-5-9 Pool of Death is also the pool of regional rematches. Gunning for that sweet, sweet prequarter bye — and also a semis berth — are New England heavyweights Vermont and Tufts at one and two. Below them, the Northwesterners, Oregon and UVic, will look to crack into the bracket, and this year's tournament darling, the Money Mellons, plan to steal the hearts of the fans… and maybe a game while they're at it.
Vermont Ruckus
Expectations are as high as they've ever been for #4 Vermont Ruckus, and as a three-loss title contender, they're set to continue their skyward trajectory this weekend. Household name Kennedy McCarthy is just one piece — even uber-casuals will likely know Emily Pozzy and Sarah Von Doepp by the time the weekend is over. After their unsightly second-half collapse in last year's quarter, pool play will give us an early indication of how prepared this year's Ruckus squad is for the bright lights of the bracket. "We could not be a more different team than we were last year. Last year we didn't have any serious systems and were honestly just chucking the disc around as our offense," said McCarthy.
Though they have the high seed, it won't be a light jaunt to semis: the elephant in the room is, well, the Elephant Women. Ruckus has a Friday night date with their regional foil Tufts, and though Ruckus has gotten it done against Ewo so far this year, the cliche is true; it's hard to beat a good team thrice. Or something. The stakes: earn a bye to quarters to face Carleton, who they're 1-0 against this year, or endure a prequarter and find UBC waiting for them in the next round.
Tufts Ewo
And then there's #5 Tufts Ewo. Since the mid-2010s, Ewo has been a good-to-very-good team8 that has mostly played second fiddle in New England — first to Dartmouth during the Verzuh-Trop-Werffeli-Zhu era, and now to new-kids-on-the-block Vermont. Yes, they're 0-2 to Ruckus this season, but both losses could be explained away: the first was during a thunderstorm-y, lackadaisical round robin, and the second was in the regional final. By that time, both teams' tickets to Nationals were already punched. Speculation aside, there's one thing that's certain: Hazel Ostrowski, Lia Schwartz, Olivia Goss, and Emily Kemp will be eager to snatch away the NE crown, and with it, the Carleton matchup, whom they also beat this year. Just like Vermont, quarters is their likely floor, but semis or beyond is very possible if enough goes right.
Oregon Fugue
Don't think the New Englanders will have all the fun. A retooled and re-energized #10 Oregon Fugue is back at Nationals and looking to break into the pool's top two…assuming they can get past a feisty Victoria team that's hot on their heels. It's a tall order for a team that's been hot-and-cold against elite competition this year: they've notched some nice wins including one over Washington at Regionals, but they've suffered their fair share of blowouts, including one against Vermont. Them's the breaks when you're this young as a team — it's hard to believe from how they've been playing, but this will be Trout Weybright and Syris Linkfield's first Nationals appearance. Whether this one ends in pool play or deep in the bracket, there's every reason to think it will be the first appearance of many.
Victoria Vikes
Pool D is never a fun place to find yourself, but #14 Victoria Vikes are in about as good a position as they could be. Their universe point game with Oregon at Conferences should convince them that the bracket isn't out of the question. It's an uphill battle, but so was their path through Northwest Regionals — and they got it done when it counted there. The Vikes have talent: the Devonshire siblings are phenomenal in their own right and even more lethal together, and Alicia Brolly and Jessica Carroll are both equally competent playmakers. Arabella Brudney is one of those players who just makes things happen with her hustle. What they don't have is legs, as there are only 16 players on their roster.9 Fortunately, they play Oregon in their second game on Friday, meaning they'll have had time to get comfortable but not spent; a spot in the bracket is well within their reach.
Carnegie Mellon Money Mellons
Last but by no means least, give it up for the Money Mellons! I won't waste time dissecting their underwhelming regular season.10 They won games when it counted, baby, and here they are! With Sara Liang, their Herculean grinder and Callahan nominee at the helm, they overcame long odds11 to snatch the Ohio Valley's lone bid — who's to say they can't do it again? The people love them for it: their GoFundMe racked up $10k in just two days. Expect the sidelines to be covered in melon merch. Just being here is a victory, but don't think they couldn't surprise UVic or take a game off someone in consolation.
---