Higher-seeds win comfortably despite team superstars to send chalk to semis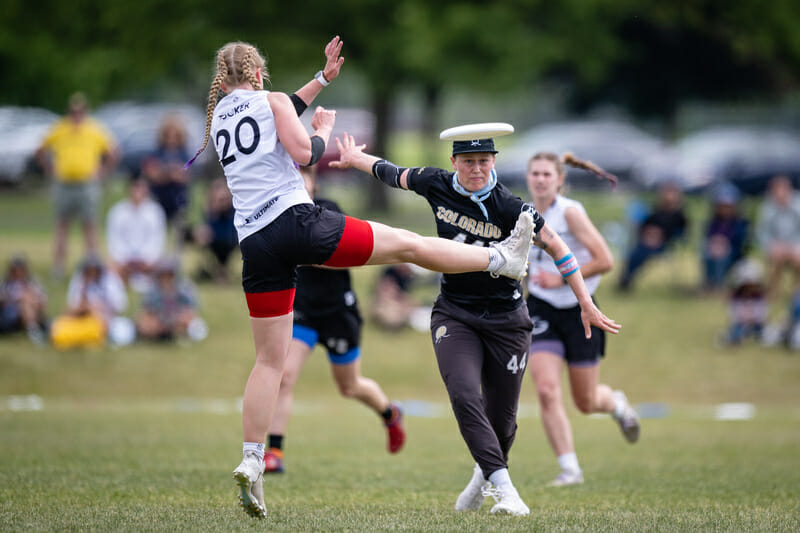 Ultiworld's coverage of the 2023 college ultimate season is presented by Spin Ultimate; all opinions are those of the author(s). Find out how Spin can get you, and your team, looking your best this season.
We're down to the final four at the 2023 D-I College Championships! Quarterfinals this morning went to seed, with UBC flexing their depth and Colorado running Washington off the field in the second half. We're here to break down the storylines from the second round of quarterfinals ahead of the second semifinal.
Follow along on the D-I College Championships event page for updates as the College Championships reach their crescendo!
It's Semi Time for Quandary! Colorado Outruns Element in Second Half
Colorado Quandary made it back-to-back semifinal trips with a 15-10 victory over Washington Element, outstripping them 8-2 to end it after going into the half on serve. After a riveting start, the tide turned for Element when Amy Ngyuen, a senior point guard for Washington, left the game with an injury and didn't return. Before that, though, it was a different story. This was a game with three distinct acts.
The first act is the setup. We learn the stakes, meet the main protagonists, and establish the rhythm of the narrative. Today, the first third of the game was a display of clinical offense and high-pressure defense with a few points that would be at home in a museum. Right out of the gate Quandary brought their patented force middle, which gave the Element throwers pause, and were incredibly aggressive downfield. The phrase "in their shorts" comes to mind. With big time rookie Lucy Tanner out with a shoulder injury sustained in yesterday's prequarter, the pool of behind-the-disc talent was considerably drained for Element. With that in mind, Quandary decided to focus most of their defensive pressure on Washington centerpiece Abby Hecko. Abbie Gillach, an incredible one-on-one defender, took the matchup to start. To her credit she was quite sticky, but even the smallest sliver of daylight turned out to be enough for Hecko to work. She was involved in all four of her team's first four scores including the game opener. On the other side of the ball, the Element defense got opportunities to break, but unforced errors or the occasional block — Mei Hecht led Quandary in that category with 2, from the O-line — gave Colorado the chances they needed.
Abby Hecko ✈️ pic.twitter.com/0lLXVskYHx

— Ultiworld (@Ultiworld) May 28, 2023
The second act is the time for rising action. The stakes get higher and so does the tension. The tone of the game shifted that way when Washington got the first break of the game at 5-4.
That play broke the seal for both teams, as perhaps Quandary's D-line offense had a bit more incentive and urgency after going down. In response, Colorado broke three times — once before half and twice after — to get back on serve and take the lead 10-9. Some of Colorado's success might be attributed to Clil Phillips replacing Gillach on Hecko.
"Hecko is known to be really good in the air and has skied me many, many times. I was focusing on staying really tight, [playing] back-shoulder D," explained Philips. She didn't necessarily get blocks, per se, but her incessant bidding and general flying around on defense meant Hecko had to catch and throw under major pressure.
The third act is the climax and its resolution. Unfortunately, in this game, the climax was not so much an apex as a nadir. At 10-9, Nguyen read Stacy Gaskill's eyes and swooped into her throwing lane for a catch poach block. A defender came from behind her to step in front of Nguyen's next look, surprising the handler as she faked into the newly-appearing defender. She immediately went to her knees in pain with a shoulder injury and left the game.1 It was a distressing moment for anyone watching, presumably her Element teammates most of all. After that moment, Washington's mistake rate rose and Colorado took advantage. They ran up three breaks in the last five points of the game.
Hecko (4G/3A) left it all on the field in her last college performance, and Clil Phillips (4G/2A/1B) did it all for Quandry, not least taking the formidable Hecko matchup. After making nine semis and two finals as a program, Quandary will face UBC tonight, the first of the two roadblocks remaining in their quest to grab the program's first ever national title.
Tenacious Thunderbirds Too Good For Excellent Ewo
For the first time since 2017, the UBC Thunderbirds advanced to the semifinal of College Nationals with a 15-11 win over Tufts Ewo in a matchup of the third and fifth overall seeds. Two 4-1 Thunderbirds runs bookended what was otherwise a very even game, and the teams exchanged nine straight holds from the end of the first half to the late stages of the second.
It might feel obvious to say, but in this game, the best players were the best players — for both teams. UBC's Mika Kurahashi threw the game's opening assist to Anna Goddu, and the 2022 club mixed BPOTY finished with an even 3G/3A stat line as Tufts found it difficult to even slow her down. Meanwhile, Lia Schwartz connected with Emily Kemp for Ewo's first goal of the game, and each finished with a half-dozen of their respective counting stats: Schwartz with six assists and Kemp with six goals.
"To be able to be a handler for a cutter like Mika is so phenomenal," said Ong. "It's so easy to throw to her – that's a blanket statement for all of our cutters – but it's special to have years to develop a connection with someone. I've watched Mika play for years and she is the best."
"It's been a joy," said Leija Helling about playing with Schwartz. "I, as we were walking over, I was saying that now I finally just get to be Lia's biggest fan, I'm so excited about it, it's truly been amazing."
With how balanced the middle portion of the game was, it was Tufts' slow start and late drop-off that doomed them against UBC, though there's an argument to be made that UBC's performances this weekend might make them favorites in the nightcap semifinal against Colorado.
---
Retraction: We initially reported this as a non-contact injury. ↩