The men's college season truly starts this weekend.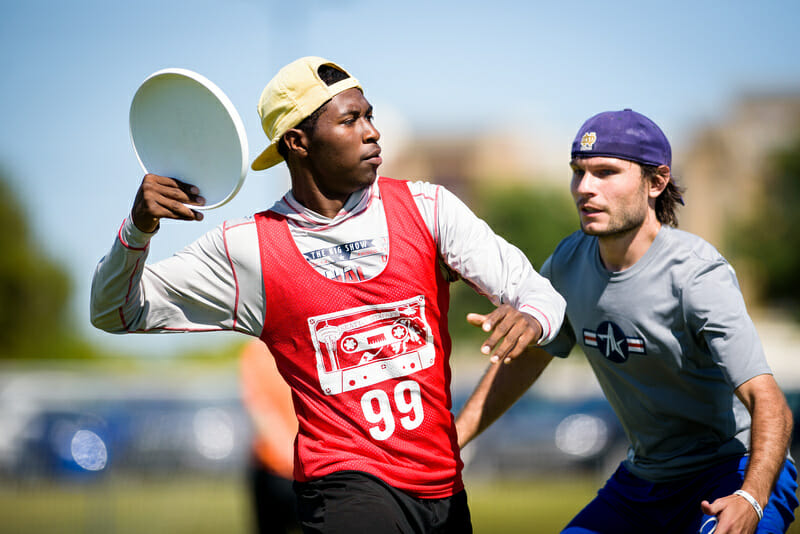 The last weekend in January brings with it the Santa Barbara Invite, the first major west coast men's tournament of the college season (and, this year, the first major men's college tournament period, thanks to winter storm Jonas out east).
Santa Barbara is the first tournament of the regular season for nearly every team in attendance. As such, results from the tournament should be examined with a measure of context. Rough results at the tournament have been typical of several Southwest teams in the past (most notably Stanford) who have gone on to improve significantly later in the season.
While a sub-par performance here doesn't take you out of contention, a winning performance has consistently indicated a successful future. Each of the past five Santa Barbara champions (UBC '11, California '12, Arizona '13, UCSD '14, and Washington '15) have gone on to finish ranked in the USAU top 20, and all but last year's Washington squad secured a trip to the College Championships.
And don't forget…these results matter. Every year, the SB Invite has significant downstream effects on the USA Ultimate rankings that determines how many bids regions receive to Nationals. Last year, Cincinnati's wins over Tulane buoyed them the entire season and into a bid for the Ohio Valley. Additionally, uneven performances from Southwest teams seem to leave the region in a one bid lurch every year.
How will the Southwest stack up this year? Which teams will surprise? It's college season: here we go.
Tournament Profile
Date: January 30-31, 2016
Location: Goleta, CA
Top 25 Teams: 3
Pool A: #6 Washington, Cal Poly-SLO, Arizona State, Williams, UCLA
The Washington Sundodgers enter their pool — and the tournament — as the favorite to win. While '15 Callahan nominee Johnny Stacey has graduated, UW returns plenty of talent from the squad that finished last season ranked #8. Sockeye cutter Dongyang Chen returns, accompanied by Seattle Mixtape star and Callahan shortlister Khalif El-Salaam, as well as key sophomore offensive handler Steven Benaloh. Washington was dominant at this tournament a year ago and is coming off of a brutal 2015 Regionals that left them at home as Western Washington and Oregon qualified for Nationals: expect their best effort to start the season.
Standing in their way are two strong squads in Arizona State and Cal Poly-SLO. ASU used a strong zone look and disciplined offense to put together a strong regular season last year, only to fall in the Southwest Regionals semifinals. They lose a wealth of talent, including their two best players in handler Nate Bridges and all-around star Danny Bellissimo (who still holds a year of eligibility but is not rostered for this tournament), but have laid the foundations for a strong program.
Bellissimo and Bridges shouldered a great deal of work for Prime last year, and it will be telling to see how ASU adapts to their absence. Look for last year's defensive stalwarts and new captains Andrew Kohl and Aaron Fleggenheimer to expand their game to try to fill the void.
SLO CORE enters the season as a team on the rise. A very young team last year, they made huge strides under coach Peter Raines and will look to steal some wins. All-Region returner Cameron Warnier and a tricky zone look will be key to their success this weekend. CORE and Prime had a great matchup in pool play last year, and we expect another great game as the year-older CORE and retooling Prime face off once again.
Rounding out the pool are Williams College, a talented DIII team out of New England, and UCLA. Williams typically plays tournaments on the west coast during their spring break, and has been decently successful at Santa Barbara in the past, generally advancing out of their pool — perhaps the trend will continue. They hope to improve on their sixth place finish at DIII Regionals this year.
UCLA, meanwhile, is dealing with the loss of defensive stopper Nils Clauson (7 Figures, U23 Mixed), star cutter Nicolas Alexander, and (possibly) the athletic Jacob Bartholomew (7 Figures). UCLA had their strongest year in a while behind the trio, but may be in rebuilding mode for 2016.
Pool B: UC Santa Barbara, Dartmouth, Kansas, UC Davis, Victoria
UCSB Black Tide begins their home tournament as one of only two 2015 Nationals-qualifying teams in the field (along with Cincinnati). Santa Barbara's trademark in 2015 was their depth, and returning a great deal of that depth should help offset the loss of Southwest POTY Hunter Corbett. Though Corbett was an outstanding player, he mostly confined his skills to the D-line, only crossing over to offense for important points.
Coach Tyler Bacon will again try to cultivate a deep team, centered around the Condors talents like Will Turner (2015 All-Region), Grant Novins, Kyle Rubin, and Nate Randsom, as well as key pieces like Brett Ploussard. After tasting the national spotlight in 2015, you can bet this year's iteration of Black Tide will enter the season hungry to return.
The rest of Pool B is a little up in the air in terms of prospects for 2016. Dartmouth had a down year in 2015 for the first time in a while, but has traditionally been a strong program. The team loses 2nd Team All-Region player Andrew Pillsbury, but David Friedman and Evan Rheingold return and should make an impact. The team is also going through a coaching change this year with Gerben Scherpbier and Daniel Rosengard taking over the reins from Brook Martin.
Kansas, like many in the South Central, are pinned under the reign of Colorado, Texas, and Texas A&M, but always seem to come up with a playmaker or two. All-Region 2nd Teamer Jason Finkelstein is back in his senior year and should be an on-field leader for a team that is looking to crack into the next tier this season.
UC Davis spent last year rebuilding in the wake of the departures of Revolver players Nathan White and Eli Kerns, but they return the dynamic Ben Souvey (All-Region 2015). They saw a fair amount of success in the fall, and coach Kevin Cissna is an outstanding developer of talent. Victoria, generally an off-the-radar squad, enters the tournament with three Furious George players in the fold between Nick Wright, Malcolm Bryson, and Trevor Knechtel.
UCSB should take the pool, but it's anyone's guess who will fill in the second and third spots.
Pool C: #19 Stanford, #24 British Columbia, Boston College, California, San Diego State
Pool C offers us perhaps the best 1-v-2 matchup of the lot between Stanford Bloodthirsty and the UBC Thunderbirds. Stanford finished a close 2nd in the Southwest last year and returns a large percentage of their team; their big loss is defensive mainstay Peter Maraccini, but they return key players in Elliott Chartock and Nolan Walsh, and have added a new weapon in freshmen Nick Hirning (Seattle Cascades). Stanford clearly believes they have a strong shot this year, flying all the way to the Classic City Classic in September to test themselves in the fall. However, bumpy results there do cast a shade of doubt on how much Bloodthirsty can capitalize on their potential.
UBC had a strong season of their own in 2015, barely missing Nationals, and find themselves in a similar situation to Stanford this year. They lose Canadian U23 players Fred Lam, a defensive anchor, and Edward Guo, but bring back big weapons in fellow U23s Brayden Gee and Peter Yu, as well as Furious George players Hugh Knapp and Nick Lin. Coach Marc Seraglia is also on the coaching staff for Furious, and is surely hoping that the chemistry developed through a summer of club development will help push UBC back to the big stage.
Fighting for the third spot in the pool are California and San Diego State, two programs who spent last year rebuilding, and relatively unknown Boston College. California has a historically good program, and is certainly never an easy out. They lose the services of Kohji Sugioka (SF Flamethrowers) to graduation, but retain Xander Max (Polar Bears) and the steady handling of Andrew Lin and Mike Gerrard.
San Diego State exited in the quarterfinals of Regionals last year, but will look to build upon the club experience their roster got playing with San Diego Streetgang. Mark Slader will do the hard work for the Federalis, making quick cuts and distributing the disc. Look for him to connect with Max Hume and Zeke Ivers downfield. If history is any indication, the Feds will look to attack the deep space aggressively and huck their way past some teams.
Boston College finished T-7 in the New England Region last year, but the fact that they are making the trip west may indicate that they believe they are in an up year. In the past, teams like Florida State have come to Santa Barbara to bring their name to the national stage. It may be a tall order for the Eagles, though, as they lose U23 player Dylan Wolffe to graduation.
Pool D: Tulane, BYU, UCSD, Cincinnati, UC Santa Cruz
Tulane Rex returns to Santa Barbara for a third year, following solid results last year and a legendary performance in 2013. They are the favorite to take the pool, and should be able to hold their seed. Though they have lost Greg Cousins to graduation — he spent most of last year's tournament slicing up teams on the turn with smooth throws and aggressive cuts — they bring back a lot of talent from the team that, unfortunately, was disqualified from Nationals last year. Look for Evan Walter, a 2010 Junior Worlds alternate, to lead the way, supplemented by David Mondschein and Ben Lamport downfield. Tulane's strong throws, disciplined offense, and poachy defense gave teams fits all last season, and they enter 2016 hungry to complete their journey to nationals.
The intriguing storylines don't end with Rex. Cincinnati got plenty of press last year for their infamous decision to skip Huck Finn to preserve their bid-earning ranking. With a trip to Nationals in the books, Cinister is out to prove it was no fluke. They'll have their work cut out for them, however, with the losses of All-Region star Kieran Kelly, and the absence of star cutter Alex Flamm (not rostered for their tournament) weighing heavily. They do return some of their roster, but the early signs are murky for Cincinnati.
The news continues in Pool D with the presence of an unfamiliar face — BYU. A team best known for not playing on Sundays, BYU will continue to observe their tradition at Santa Barbara this year, though they will play two games on Friday night to supplement their Saturday schedule. Make no mistake, though — they have a real program. Last year they toured around the west, trying to play one-off sanctioned games with teams to get better, and even traveled to Florida for Warm Up. You have to respect the dedication, and perhaps it will pay off this weekend with some wins.
UCSD and UC Santa Cruz round out the pool. UCSD certainly fell off in 2015 as they rebuilt from a talent exodus after a 2014 Nationals run. The rebuilding may pay off though, as the only major loss from 2015 is towering cutter Trevor Purdy. Powerful handler Cody Kirkland returns, and a large rookie class from 2014 is poised to come of age as major contributors. They have a lot of room to grow, and the potential to make a push in the Southwest.
UC Santa Cruz also spent 2015 rebuilding, and has similar potential in its burgeoning youth. They return All-Region players Lior Goval and Justin Boals, who hope to lead the squad to new heights. If Goval and Boals can do their best Greg Cohen/Brett Peterson impersonation, they may just succeed.