A big weekend in college ultimate set the stage for the March majors.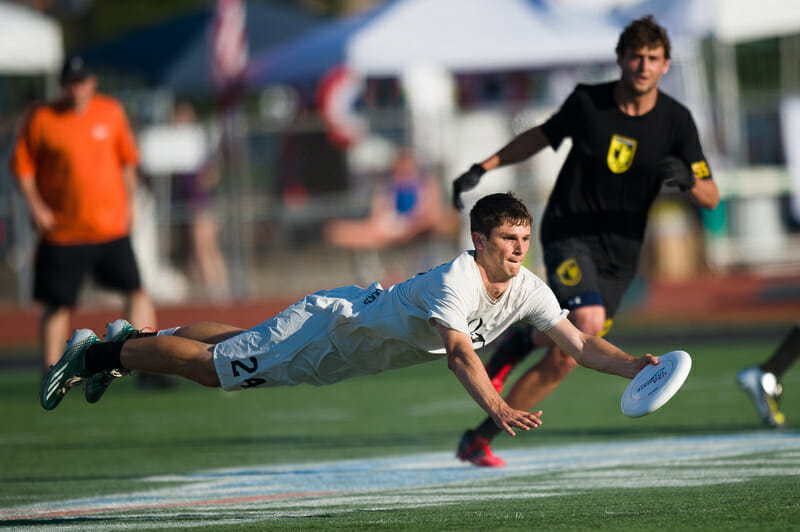 This year, we are hosting a new feature on Ultiworld: a bite-sized weekly recap of the action across the College Division. This will serve as a supplement to our standard tournament reporting and will offer a high-level look at the latest happenings and the biggest stories of the week.
Let us know how we can make this more useful by commenting below or emailing [email protected].
Men's
Minnesota Plants Contender Flag
After a lackluster fall including losses to both Wisconsin and Carleton at Missouri Loves Company, Minnesota appeared to be — after winning the 2015 North Central Regionals crown — back to being third fiddle. Grey Duck gave us a good reminder of why the fall just does not matter.
Minnesota was the most consistent team at the tournament and took down all comers; they avenged their only loss — a thumping at the hands of Florida — in an exciting finals victory at Warm Up.
Minnesota's offense looked sophisticated — an effective side stack allowed their strong cutters to operate in 1-on-1 situations that they consistently won. Their defense — all man this weekend — was potent, despite missing Tristan van de Mortele and Tony Poletto, two D-line starters.
There's no question they leave Tampa as the favorites in the North Central. And could they rise even higher? Is this a team that could contend for a semifinals berth at Nationals? Ben Jagt, their big O-line cutter, was unstoppable, showing off tremendous growth in his all-around game with strong throws to match his already-terrific cutting. Josh Kautz, Ryan Osgar, and Sam Bumsted were other standouts. Let's see what they do later this season at Easterns.
Oregon Remains Top West Coast Threat
Despite a couple double game point scares, Oregon remained undefeated in the 2016 season with a convincing win over Washington in the Presidents' Day Invite final. With Colorado hurting from injuries and lacking offensive rhythm and Washington showing no signs of snapping an icy 19 game losing streak against Oregon, Ego is at the top of the west coast heap.
Chris Strub, Adam Rees, and Connor Matthews guided the offense with aplomb over the weekend as the team's younger set led a defense with speed and tenacity. In many ways, the current team, at this point, mirrors last year's: elite offense paired with 'just enough' defense.
But don't underestimate them: the expanded roster this season will give them greater depth and the ability to be more liberal with their sprinkling of top O line players onto defense when they need breaks.
Questions may remain about Oregon's ability to match up against the truly top teams, but we'll get some answers in two weeks at the Stanford Invite.
Elsewhere…
No other tournaments to speak of.
Power Rankings
Predictably, Oregon and Minnesota shot up in the rankings. Minnesota was the week's biggest gainer by far, flying up 14 spots to #4. But, in many ways, we enter the middle part of the regular season with more questions than answers. Top teams have, so far, been isolated at individual tournaments. UNC Wilmington and UMass remain #1 and #2, but how do they compare to Oregon at #3, Minnesota at #4, or many of the other top 10 teams? No team has truly separated itself as an obvious front runner — the 2016 season feels like a wide open race.
Florida jumped to #7 on the back of a strong Warm Up performance and UBC jumped nine spots to #13 after reaching the semis of Prez Day. #15 Central Florida, #9 Pittsburgh, and #11 Carleton saw the biggest drops this week — all three struggled against the top teams down in Tampa.
Looking Ahead
This weekend: Easterns Qualifier is the biggest tournament this weekend, offering up the final spot at Easterns in March to the winner. The Stanford Open has the same prize for the Stanford Invite. There's a major event on the DIII calendar — the DIII Midwestern Invite — this weekend as well. Watch for coverage and video from that tournament.
Next weekend: Many teams in the Northeast will get their seasons started at Bring The Huckus. The Lincoln Tuneup offers a similar winter tournament to teams in the Midwest.
Women's
#6 Stanford Wins and #3 Oregon Falls at President's Day Invite
The Bay reclaimed President's Day with Stanford's undefeated run to a title. They defeated rival #4 UCLA in the final, 15-11, pushing the record between the teams to 1-1, both in championship games. Led by strong handler play and athletic downfield defense, Stanford showed off a skilled rotation that suggests that they have everything it takes to repeat last season's success.
But the game that had everyone talking was the spectacular semifinal between #3 Oregon and UCLA. Fugue's early break advantage escaped them at the end of the first half and the game's conclusion was popcorn theater. UCLA's Kristen Pojunis and Han Chen lived up to their star billing and were helped by Maria Kazantsev and Melissa Kan; Jesse Shofner staked her claim to Player of the Year with a dominant offensive performance. BLU made enough plays to outlast Oregon.
For Fugue, it marks the first time since 2010 they've gone to President's Day and left without the title. The last time they didn't make the final? 2008, a year they didn't attend. And, after an early season loss to #2 Whitman, Oregon's lost multiple regular season games for the first time since 2012.
Elsewhere…
Not much to report. Messiah defeated a field primarily composed of B-teams at one day Flickadelphia, but most tournaments of the weekend were either unsanctioned or canceled.
Power Rankings
Prez Day was filled with mixed results – in part due to the Power Pools format, in part due to early season performances – and that led to some malleable rankings. Stanford moves up to #3 with their win. The South Central struggled in San Diego, and Colorado and Texas's combined 6-9 record sent them down to #15 and #12, respectively in their season openers.
Meanwhile, the home tournament was big for the Southwest, who added two teams to the rankings: #19 USC and #21 California, returning to the Top 25. With 6 teams in the Top 25, the Southwest looks like the deepest region in the division. Tufts and Kansas move to the fringe.
Looking Ahead
This weekend: No major events this weekends, but the college season hits full swing with seven sanctioned events, including DIII Midwestern Invite, and Stanford Open, offering a coveted spot at the Stanford Invite.
Next weekend: Another busy one with eight tournaments, highlighted by Commonwealth Cup, featuring #7 Pittsburgh, #9 Michigan, #16 Virginia, and #20 UNC-Wilmington, as well as solid competitors who could fight their way into the rankings, like Delaware, Penn State, and UNC.