We break down Max Thorne as an initiator, Jesse Shofner in a cutting role, Bobby Ley's high usage rate, Han Chen's bombs, and Xavier Maxstadt's high volume shooting.
Every year a handful of truly elite throwers are green-lit by their teams to take big shots in big moments. Booming full-field hucks, precision crossfield blades, and nonchalant break throws are all to be expected in crunch time. These throwers are not only the best at what they do, but their teams deliberately create space in different ways to maximize their unique abilities.
Max Thorne
Max Thorne is a dominant downfield cutter with elite level throws. The departure of Alex Thorne, Tyler Degirolamo, and Marcus Ranii-Dropcho over the last few years left a huge throwing void to fill for En Sabah Nur.
Thorne has filled that gap with quick release break throws, nasty inside-out flick hucks, and high IQ decision-making, allowing him to take riskier shots at a high rate while keeping turnovers low.
Pittsburgh's offensive is driven by Thorne initiating, winning his matchup for a 20 yard gainer, and surveying the deep space for continuations to Pat Earles, Christian Pitts, or Trent Dillon.
Pitt coach Nick Kaczmarek uses a traditional side stack to efficiently clear space and isolate matchups, while also implementing plays to switch the field and flip defender's expectations of where the offense will attack: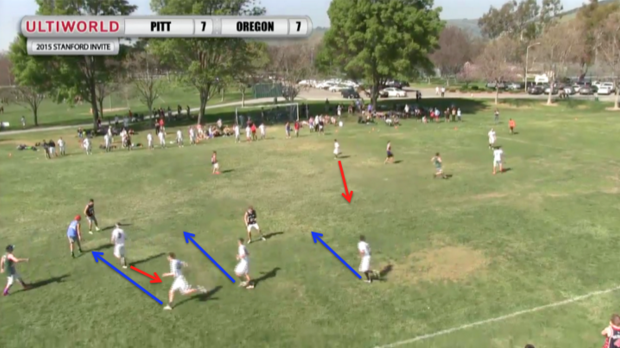 As the disc is centered, Thorne cuts horizontally across the field for a leading throw to space. The resting cutters anticipate Thorne's catch and flood to the middle to shape a new cutting lane.
Defenders assume Pitt's offense will use the wide open space they create by coming out in the side stack. Instead, they switch the field in an instant, leading to easy scores like this:
https://gfycat.com/ScrawnyPleasingFinnishspitz
Because of the trust and chemistry between Pitt's top players, Thorne consistently receives this pass to space and in motion. The defender is on an island and forced to play catch up, leaving the defender on Earles in a vulnerable position. Earles can come under for the around backhand continuation, wait a beat for the mark to over pursue and bust deep for Thorne's flat, inside-out flick, or simply lure the defender under and burn deep for the outside shoulder flick, as he does here.
Even without set plays and designed space to work in, Thorne's hucks are pinpoint:
https://gfycat.com/IdenticalSimpleIndusriverdolphin
Thorne was slotted into a downfield cutting role his freshman year on Pitt's O line without a license to throw. Ever since, he's been dialing up silky break throws and big hucks.
Jesse Shofner
Oregon Fugue plays fast, loose and fun offense. They are one of the most creative, aggressive teams in college ultimate and they have multiple handlers with greenlights. This depth at the handler position allows Jesse Shofner to extend downfield, while trusting her teammates to take care of business behind the disc.
Shofner does start certain O points as a handler, but Fugue looks its best with her initiating downfield and throwing deep continuations in cutter-to-cutter action:
https://gfycat.com/RespectfulBogusJenny
Cutting downfield also makes Shofner's throw-and-go more deadly. When she's attacking from downfield, she can catch an under and immediately switch to a handler give and go, earning power position and creating deep shot opportunities:
https://gfycat.com/MenacingHeartyBrownbear
Shofner's quickness in flow between a downfield threat and dynamic handler creates high percentage opportunities for creative space throws. Fugue experimented with side stack, a deep horizontal stack, and a 3-2 split stack at President's Day Invite earlier this spring, so don't be surprised to see Shofner isolated in downfield space for the rest of the season.
Bobby Ley
University of Florida is on the road to redemption this year after missing Nationals in 2015. Bobby Ley is the premier thrower coming out the Southeast and the only question is how the Gators will balance his throwing prowess without solely relying on him to win games.
Florida's philosophy hasn't changed much since the days of Kurt Gibson and Brodie Smith. Coach Cyle Van Auken has a core group of around ten players that he rides hard every year to get results. Florida runs tight lines, even at early season tournaments like Classic City Classic and Florida Warm Up, ensuring that their top players get plenty of reps together.
Ley simply throws people open. He maintains low turnovers while shouldering the majority of the throwing burden for Florida. He makes his teammates better with both his pinpoint accuracy and deep range:
https://gfycat.com/SolidShinyDevilfish
https://gfycat.com/LeadingUnsightlyAlabamamapturtle
Florida has one of the best throwers in the country, but they run into trouble when Ley is consistently pushed away from the disc and refuses to extend downfield. UNC Wilmington's Cale Ward single-handedly took Ley out last year in pool play at 2015 Easterns and Florida had no answers.
Ley is given leeway to dance for extended amounts of time in order to get the disc back. This can sometimes lead to miscommunications or trying too hard to get him the disc back:
https://gfycat.com/SnarlingEntireAchillestang
Florida spends so much time trying to get the disc back to Ley that they often miss wide open options elsewhere.
In 2014, Florida opened up Ley and Jason Silverman using a 3-2 split stack. After a down year last spring with Ley constantly around the disc, Coach Van Auken is starting to move Ley downfield to initiate the offense. Against Wisconsin at Warm Up, Ley often started from the back of the stack in a zipper, as well as streaking deep from the front of the stack right off the pull. Florida acknowledges their reliance on Ley and, by placing him downfield, Van Auken puts significantly more trust in his other players.
Han Chen
Han Chen has some of the biggest throws in the women's college division this year for UCLA BLU. Her height and athleticism make her a viable deep threat and she's consistently open underneath because of it. UCLA uses a traditional side stack to isolate Chen as the primary cutter, often looking to hit quick deep shots to their athletes after she receives the disc in motion.
Chen plays both ways and when the D line gets a turn, she's not afraid to boost it:
https://gfycat.com/ConventionalBelatedBrontosaurus
The Oregon deep defender slows down after the initial cut, assuming that the cutter is too far away to be viable. Instead, Chen rips a 70 yard backhand huck from a standstill. Having an elite thrower like Chen spaces the offense and keeps the defense playing honest.
No space is dead space when she has the disc:
https://gfycat.com/ShoddyVengefulArmadillo
Chen is a premiere thrower surrounded by athletes with great hands, but UCLA's performance in the wind highlights their lack of depth at the throwing position. After a combined 13-1 start at Santa Barbara Invite and President's Day, UCLA has struggled at windier tournaments like Stanford and Centex. Han Chen isn't afraid of big moments, but UCLA will need to develop more confidence in other throwers if they want to make a deep run in the Series this May.
Xavier Maxstadt
Xavier Maxstadt is a high volume shooter for UNC-Wilmington and arguably the most exciting thrower in the men's college division. The Seamen rely on Maxstadt and Jack Williams to synch up and make spectacular plays to win them games. Whether it's a sharp 50 yard blade, a 30 yard crossfield scoober or a fullfield backhand, Maxstadt has all the throws and isn't bashful about using them.
Of course, high volume sometimes means high risk or outright bad looks. This play sums up Maxstadt's impact for UNC-W:
https://gfycat.com/CloseAcceptableItalianbrownbear
This is a spectacular defensive play in a big moment (game point), followed with a heated, head-scratching decision. But the Seamen don't see it that way. UNCW thrives on plays like these; they live and die by the momentum play.
And when you've got a thrower as skilled as Maxstadt, it's hard to argue with turnovers when he makes these types of throws:
https://gfycat.com/ImaginaryIdealisticBlackcrappie
https://gfycat.com/ThatGiftedEstuarinecrocodile
No other team in the men's college division relies so heavily on one player to drive its offense. When Maxstadt and Williams are feeling it, UNCW is unstoppable. When one or both have a slow start or an off game, the Seamen's O quickly unravels. The challenge this season for coach Greg Vassar will be balancing winning by star power and winning by playing in the system.
Other Throwers To Watch
Women's Division
Mira Donaldson (UBC)
Monisha White (Stanford)
Steph "Eli" Williams (UCF)
Men's Division
Dalton Smith (Texas A&M)
Colton Clark (Oregon)
Trent Dillon (Pittsburgh)