Special edition game discs and merchandise sales will benefit Equality North Carolina Foundation.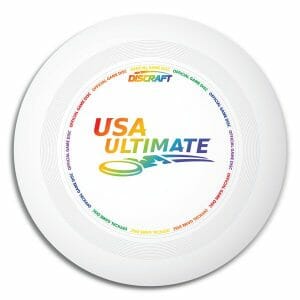 With USA Ultimate's DI and DIII College Championships set to take place in North Carolina next month, the organization announced today a series of initiatives to pledge their support for the LGBTQ+ community. This announcement comes on the heels of a statement issued last month expressing opposition to North Carolina's House Bill 2, legislation which removes certain protections for the LGBTQ+ community, including using bathrooms and locker rooms that do not match their gender at birth.
All games at both events, which will be held in Raleigh and Winston-Salem respectively, will be played with a special rainbow-colored edition Discraft Ultratar, USAU's official game disc.
In addition, Five Ultimate, the official merchandiser for both College Championship events, will be selling specially designed commemorative discs, rainbow headbands, and jerseys proclaiming "#WeAreNotThis." All of the gross sales of the discs and headbands along with $20 of each jersey purchase will be donated to the Equality North Carolina Foundation, a Raleigh-based 501(c)(3) nonprofit dedicated to securing equal rights and justice for lesbian, gay, bisexual and transgender North Carolinians.
Through these initiatives, USA Ultimate aims to "show its support for the LGBT community and emphasize its commitment to maintaining a welcoming and inclusive environment for its members, athletes and fans."
USAU CEO Tom Crawford stated, "There is more than one way to voice our organization's strong opposition to discriminatory legislation." Acknowledging the logistical hurdles to attempting to move the events out of North Carolina, Crawford suggested USAU will "use our events to find creative ways to enable and empower our community to support local efforts, like those of Equality NC, to repeal the legislation."
This announcement is part of a string of efforts by members of the ultimate community to speak out against House Bill 2. Earlier this month, the AUDL's Austin Sol fought to wear rainbow wristbands during away games in North Carolina to show support, prompting both the AUDL (and MLU) to issue public statements condemning the legislation. Just this week, Claremont Colleges, a qualifier for the DIII Championships, made clear their opposition and announced that they would be volunteering at the North Star LGBT Community Center for a day before their Championship event.