Storylines abound as each pool finishes out their day with an exciting final game.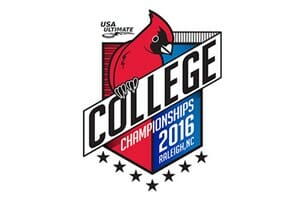 2016 D-I College Championships Logo" width="300" height="200" />
This article is presented by Spin Ultimate; all opinions are those of the author. Please support the brands that make Ultiworld possible and shop at Spin Ultimate!
Pool A
Massachusetts 15-8 Cal Poly SLO
The last round of the day pitted a Cal Poly SLO team fresh off an upset win against Texas A&M again a Massachusetts team reeling from a first-round upset against Georgia. The question coming into the game was clear: could Cal Poly SLO parlay their momentum to continue to keep a upstaged UMass team mentally down? The issue was resolved early as UMass jumped out to a 5-2 lead.
Cal Poly has developed a reputation for being an athletic team that loves to huck, and they certainly lived up to their billing today. Joel Anton launched a his fair share of hucks, and the receiving core — led by Nate Pettyjohn, among others — came down with some, but all-in-all the connection percentage dipped a bit low against UMass. Drops, blocks, and misfires came a little too frequently.
On the other side of the disc, Massachusetts was quite efficient on their D-line offense. Jeff Babbitt was particularly active cutting downfield in addition to making more plays with the disc than typically expected from him. During a run in the second half, Cal Poly threw their strong zone look to try to slow down ZooDisc, with initial success. Zoo's handlers were forced into a relatively slow progression down field, but the success quickly evaporated as Babbitt threw a beautiful back shoulder flick over the deep's head — and subsequently torched his mark to catch the second continue throw in the endzone.
Massachusetts seemed back to their old selves, and Cal Poly couldn't quite keep up. Zoo took half 8-5 and it was more of same in the second half, as UMass closed it out. The offense was cleaner, the defense was there, and Babbitt looked like a different player from the man who threw a handful of turns near the end of the Georgia game. It appears Tiina Booth's mental-toughness skills are as-advertised. Massachusetts looks to be more the contending team on a detour than the fallen-off favorite. They will attempt to lock up the two-seed in the pool tomorrow and will surely represent an unwelcome draw in prequarters.
Finally, wide margin aside, don't sleep on SLOCORE going forward. On a good day when their deep shots are connecting they could give most teams a run for their money, and they look primed to make the bracket if they notch a win over the 0-2 Washington Sundodgers in the morning (where the Cameron Wariner-Khalif El-Salaam matchup should provide some fireworks).
Pool B
Colorado 15-11 Case Western Reserve
The last game of Friday for Pool B matched up #11-seed Colorado, and #18-seed Case Western Reserve. Colorado was looking to stay undefeated on the day as they set off against the underdogs. The first half definitely surprised Colorado, who only managed a one point lead heading into half. Case Western's Tarik Akyuz was a huge part of their surge, notching three goals in the first half alone. But Pawel Janas countered with three goals of his own for Mamabird.
Another early break in the second half for Colorado set up Case Western's last chance trailing 12-10. A failed break chance leads to another Colorado hold, and they easily coasted the rest of the way to a 15-11 win.
Mamabird's Pawel Janas finished with six goals and one assist, with two assists and one goal coming in the last four points of the game. Akyuz finished with six assists as well, as his team fell short to a strong program.
Pool C
Connecticut 15-12 UNC-Wilmington
Coming off of their loss to Harvard this morning, it looked like all Connecticut Grind had to play for this weekend was a potential win in a consolation game. After their insane win over Wilmington this evening, that perception has changed.
"It's been a lot of work to get to this moment." Said UConn captain John Wodatch. "No Metro East team has won a pool play game at Nationals in six years, but we put in the work and now we can focus on tomorrow."
A five seed knocking off a one seed is already a notable story, but when that five seed is coming from a region that hasn't won a pool play game in six years? That's madness.
The game got off to a start that most would have expected, with Wilmington quickly jumping out to a 5-1 lead. UConn started the game with man defense and the Seamen sliced through it for quick scores. After finally locking in a hold, UConn elected to switch to a zone, a modified sponge that kept two deeps back, daring UNCW to throw deep. For much of the first half, Wilmington obliged, shooting deep into the teeth of Connecticut's zone. Once UConn started generating turns, their superstar John Wodatch took over.
It was a career-defining performance for Wodatch, who took the best shots Wilmington had to offer — including a tantalizing matchup with Jack Williams. The field crackled with palpable energy when those two players went head-to-head and Wodatch came out on top, pushing his team to pull off the upset in a flurry of skies, hucks, and blocks.
UConn was able to pull the game within one at half, and quickly took a 10-8 lead after a Wodatch huck and sky gave the underdogs two breaks and put Wilmington in a state of shock.
Coming off of a tough loss to Wisconsin, the Seamen may have overlooked Grind, and after going up 5-1 the intensity clearly started to wane from the Wilmington players. By the time the score was 10-8 UConn, the Wilmington players never regained their energy or composure. UConn's offense continued to make some spectacular holds, and suddenly it was game point, 14-12. Jack Williams put a deep shot to Austin McGrayne that looked like a sure goal until UConn's Charles Morgan came out of nowhere to get a full extension block in the endzone. With the sideline roaring, Morgan streaked down the field and boxed out Willie Stewart to reel in the game-winning huck and pull off an upset for the ages.
Pool D
Pittsburgh 15-13 Minnesota
Pittsburgh needed a critical hold and they didn't get it.
Trent Dillon had just made the catch of the day, a second effort snag on a stall nine deep shot from Max Thorne, but flubbed the next throw. Moments later Ben Jagt out-positioned his defender on a flick huck from Ryan Osgar for the break. 13-11, and it looked like curtains for Pitt's season.
Really, this was a game Pitt had to have. After blowing a late lead to Auburn in their first game, an 0-2 start would have left this veteran-heavy team with little confidence and needing lots of help to make the bracket. It was now or never. 13-11 marked the largest lead either team had seen all game. That made the difference seem insurmountable for En Sabah Nur.
It's no secret: Minnesota will look to shoot. When those shots failed, Grey Duck's O-line played stifling defense. At 5-5 Ben Jagt missed on a flick huck but Minnesota held after Tony Poletto handblocked a thrower in the shadow of Pitt's own goal line. This would not be Poletto's only impact play in the first half. He made a great read at to track down a huck at 3-2. A little later, he made a possession-saving layout grab at midfield. Pitt would get back on serve after a swing turn by Minnesota less than five yards from pay dirt and eventually took half 8-7.
Nothing overly fancy in terms of defensive sets. Both teams ran man defense, usually with the force side handler cover out in the lane to get the disc trapped and apply dump kill marks. Pitt would run a 1-3-3 zone late in the game but with no luck. Few turns. Short lived opportunities. Lots of holds.
Throughout the contest Trent Dillon had been playing like a man possessed; a player in his last year of eligibility, seeing the season slip away before his eyes and fighting tooth and nail to stop it.
"He's just the best player in college by far," Max Thorne, a Callahan finalist in 2015, said about his teammate's play. "It just takes so much pressure off the offense and the defense and all the younger guys all the sudden feel comfortable… everyone elevates their game because of it."
By game's end Dillon had tallied four assists, three goals, and a pair of blocks.
Back to 13-11… A quick strike shot from Pat Earles to Thorne gave Pitt a hold, 13-12. The next point Dillon got up to block a Grey Duck shot. Pitt worked the disc in the end zone set until Sam Van Dusen found Mike Ing with an around flick for the break to tie at 13s.
Now the crowd was into it and overwhelmingly in Pittsburgh's favor. The momentum had officially shifted and all the pressure was on Minnesota. On the following pull, Poletto — who was doing yeomen's work for Duck — ran into some trouble when he turfed a break backhand. Pitt quickly converted the break.
Minnesota shoots and misses on a huck and Pitt salvages their season with a Van Dusen strike to Kyle Hartley. That Hartley game-winner is something Pitt has been working towards all year — staying the course and trusting young players to get it done. They think they have the depth and they put their money where their mouth is. That goal is the only statistic Hartley registered on the game… a good one to get.
This was a resurrection job for Dillon and Pittsburgh. A comeback win like this can do a lot for a team's mentality. At 1-1 they should be revitalized and in a good place mentally to take on Carleton with major bracket implications.
No worries for Minnesota. Grey Duck is 1-1 and can make people do a lot of tiebreaker math with a win over regional rival Carleton tomorrow.