Some fun topics this week.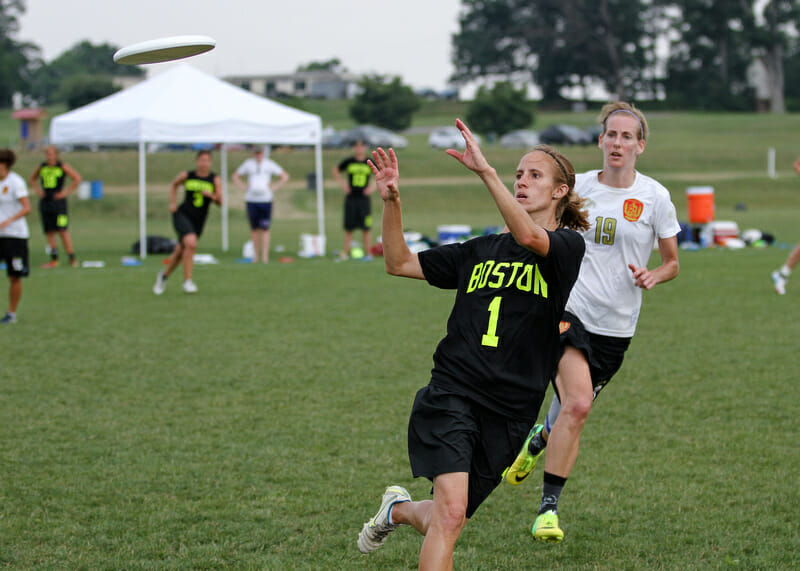 It's a scorcher today in New York, so I stayed inside and opened up some reader mail.
ASK ME QUESTIONS/SEND ME COMMENTS: Email ([email protected]) or Twitter.
***
Q: Ultimate is set to get its first shot on ESPN2 in a couple weeks at the US Open. What do you think about the decision to put the Mixed final on the air?
– Anonymous
A: It was the safe choice, but it was the wrong choice.
USA Ultimate has taken a great deal of heat over the last few years — some of it deserved, some not — for their decisions about livestreaming, particularly in relation to gender balance in the coverage. They have wisely fought for more equal coverage in their latest three-year deal with ESPN, which guarantees 17 live games from each of the three Club divisions over the life of the contract.
Yet ESPN almost certainly advocated for showing the Men's Final on ESPN2 in Sunday East Coast primetime. The reason is quite simple: Men's Division games vastly outdraw Mixed and Women's games in the ratings department. The difference is stark and has been for years.
USAU convinced ESPN to show the Mixed final instead.
A lot of people are really happy about that decision because of the opportunity to showcase men and women together on the field. And USAU would likely have been crushed by a lot of ultimate players online if they were to put the Men's game on ESPN2.
They should have made the hard decision.
This is an incredibly important opportunity for ultimate. This is without a doubt the biggest broadcasting opportunity the sport has ever had. Getting live coverage on ESPN2 — a staple cable channel available in over 85 million households — is a huge deal. And the fact is that any future opportunities to be on ESPN or other sports cable networks will be determined by ratings, pure and simple.
For this first broadcast, you have to put the game on that offers you the best chance to maximize your ratings. The deal includes ESPN2 broadcasts from the US Open for each of the next three years, so you can rotate in both the Mixed and Women's divisions in 2018 and 2019.
But who knows what could change from now until then? Maybe the ratings end up being better than expected and you're able to tear up the current contract and sign a better one. Maybe ESPN2 decides to pick up the finals from the College Championships.
Future television opportunities could be a massive driver of growth for the sport. Hundreds of thousands of people could be exposed to the game that may have never even heard of it before. That means growth for every level, every division, every gender. So the media strategy absolutely has to take into consideration the raw numbers — and by extension the raw dollars.
You can certainly argue that ultimate's relatively tiny viewership base means that the ratings difference between Men's, Mixed, and Women's is trivial when it comes to the kind of numbers ESPN2 typically draws. That is possible.
But I think that you have to find every edge to maximize the ratings for your first shot at a big time cable TV broadcast, and that means showing the Men's final.
Q: Thanks for the great coverage of the Pro-Elite Challenge. Did any individual players stand out in Denver?

– Andrew C.
A: I mentioned a few players on the podcast as playing particularly well, including Sarah "Surge" Griffith for Seattle Riot and Matthew "Rowan" McDonnell for Washington DC Truck Stop. But I'll expand on a few others here.
Shira Stern (Riot)
I think Shira Stern is Riot's best player right now behind Surge. She has just gotten better and better as an offensive playmaker. There are few players who have a nose for the endzone like Stern. You could make the case for someone like Jaclyn Verzuh as a more versatile, two-way player, but I think Stern's value is so high for their offense that she should be recognized.
Johnny Bansfield (High Five)
Everyone has long marveled at Johnny Bansfield's tremendous throwing ability, but it may be time to start talking about him as one of the game's very best defenders. He made our Top Defenders list in the 2015 club season, so it's not like this is some new revelation. But his defense has taken steps forward since then. Go watch the tape of High Five against Johnny Bravo (available for Full and Plus subscribers). He takes the Jimmy Mickle matchup a fair amount. Watch him as he guards Mickle with his back to him, watching the disc. This isn't "head on a swivel;" it's full-on guarding while being optimally prepared to poach or react to the thrower. It's some next level stuff.
Kami Groom (Brute Squad)
How Kami Groom didn't make the World Games final roster is just…I don't get it. Crazy speed. The anchor for the Brute D-line that remains the best in the Division. Nightmare cover when she's on offense. I guess Sandy Jorgensen "took her spot" ins much as there is a spot to take? Anyway, she remained a killer at Pro-Elite as Brute ran roughshod over everyone including Riot and Fury.
Harper Garvey (PoNY)
Harper Garvey's star keeps rising. The creative and dangerous thrower is likely to feature heavily in PoNY's improved offense this season. A number of opposing players standing with me on the sideline of PoNY games said something to the effect of "Has PoNY figured out that Harper is their best player yet?"
Q: Now that Ring's roster is out, what do you think of their chances this season?
– Bryan C.
A: So, let's just take a look here. They add in two world class players in Brett Matzuka and Goose Helton. Most of the roster has been playing together during the AUDL season with the Raleigh Flyers and are currently ranked #1 in the league. They lose only role players.
This is a team that made semis last year at Nationals, almost shocked Revolver but lost on double game point, and has only gotten better. Yet they are also notorious for erratic play. Remember that they lost to PoNY in pool play, got smashed by Ironside, and snuck into prequarters with a 13-10 win over Prairie Fire. Then they stomped Machine in prequarters and stomped Truck in quarters before falling to Revolver.
So there is a real chance that they never really figure it out and flame out at Nationals. However, this is their best roster in quite a while. They have already proven to be a difficult matchup for some top teams like Revolver and Truck. I think no team presents as much of a threat to San Francisco's coronation as Ring does (and that includes the 2016 champion Ironside).
Ring's defense is scary. Justin Allen, Hunter Taylor, Terrence Mitchell, Tim McAllister, JD Hastings, Jacob Fairfax. They have a crazy amount of playmakers and athleticism. Sure, they won't be as technically sound as a team like Revolver on defense, but they are not a D-line that you want to run into in a back alley.
They will get breaks on every team in the nation. The question will be how their O-line holds up. But with Jon Nethercutt, Helton, Jack Williams, and Brett Matzuka holding it down, it's not exactly a thin lineup.
I love the roster and I love their chances. Revolver remains the clear favorite, but Ring represents a real threat.
Q: Any thoughts on the World Games?
– Sarah L.
A: I hope it's exciting. It's a rare opportunity to see the greatest players in the world take the field together with a small rotation. Obviously the United States will be the heavy favorite, especially with Japan missing their best male players. But it feels more competitive than it's been in the past, and I think Canada, Colombia, and Australia will all be dangerous opponents. There's not a lot of margin for error, either: the US opens the tournament against Colombia, a team that shocked them in the final of TEP, a warm-up tournament!
I do think the US will take home gold. The depth of talent, particularly of the women, will simply be overwhelming to other teams. While I think most countries will have players that can match up well from 1-3 against both the US men and women, it will be 4-7 where the USA is able to have a serious competitive edge.
Which team represents the biggest threat to the United States? It'd be easy to pick Canada, but I think Australia — where players are more familiar with playing Mixed — is my lean. The Aussies have one of the finest players in the world in Cat Phillips (sadly, her sister Michelle will not be competing) and a well-balanced roster that can physically match up with the US. The problem is that they don't have their truly top 14 as a number of players either didn't try out or withdrew from consideration. Still, I like their odds on getting into the gold medal game.
Lots more to come in our preview tomorrow.