Elite men's season is underway, and we've got some big D-III Men's wins to chew on, and the season's first major around the corner!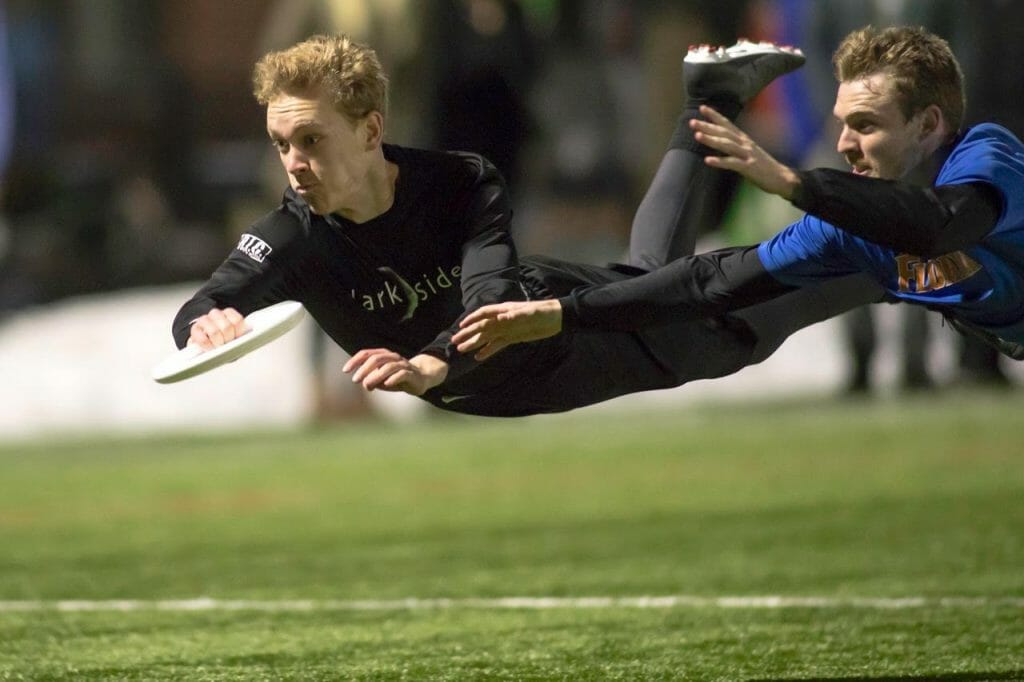 During the spring season, we will publish a bite-sized weekly recap of the action across the College Division. This will serve as a supplement to our standard tournament reporting and will offer a high-level look at the latest happenings and the biggest stories of the week.
Want your tournament listed here? Submit a recap of what happened right here.
Men's
Carolina Kickoff
The tournament became a 7-team round robin late Friday, and much of the last round went unplayed. #2 North Carolina and #8 UNC Wilmington each went undefeated. #18 NC State and Florida each won three games, and Florida looked particularly impressive. The biggest win of the weekend, however, went to D-III #8 Carleton GoP, who topped #24 Central Florida.
For full coverage of Carolina Kickoff, check out our tournament recap!
Quick Hits
Another significant D-III over D-I victory concluded Flat Tail Open on Sunday, when D-III #1 Air Force defeated Oregon State 10-9 in the final.
At the Bellingham Invite, in an unsanctioned play, #4 Oregon Ego went undefeated against college teams, only losing to a mix of Seattle club players. They narrowly took down both #19 British Columbia and Western Washington, a team with potential to be a top 25 squad.
It wasn't exactly to seed at T-Town Throwdown, where No. 6 seed Kennesaw State defeated No. 4 seed Alabama-Huntsville 15-8. Our own D-III Men's Editor Michael Ball must be thrilled!
D-III Update: #4 Air Force and #8 Carleton GoP Notch Major Wins
Last year might have just been the beginning for D-III men's teams getting victories over accomplished and notable D-I foes. Last year's victims – Harvard and Texas – were a Nationals-qualifer and power program, respectively. That's the same story for Oregon State and #24 Central Florida, who were felled by Air Force Afterburn and Carleton GoP. Last year at this tournament, Afterburn's only loss came against Oregon State.  Their undefeated tournament victory and revenge win over OSU shows the progress Air Force has continued to make as a program and why they sit at the top of our power rankings. Despite suffering a number of blowout losses on the weekend, GoP's win over UCF proved that they have the raw talent to compete at a high level once they clean up their systems.  It looks like these two D-III powerhouses are going to remain key players in the season to come.
Elsewhere, #24 Lewis & Clark Bacchus had a much tougher go of things at Flat Tail Open, notching no notable wins and losing handily to Air Force and regional foe Puget Sound.  The Postmen from Puget Sound announced themselves as a contender in the Northwest this year with their win over L&C, and they also picked up a solid win over Nevada-Reno.  We'll be keeping an eye on UPS as the season progresses.
Women's
Bellingham Invite Previews Northwest
The only women's division action was unsanctioned this weekend, but few scrimmages rival the talent on display in the heart of the Pacific Northwest. #2 British Columbia emerged as the only undefeated, while #8 Oregon was the other top performer. Teams were without some star players, mostly those who competed in the WFDF U24 Championships, which offered a view into who would be stepping up this season. It looks like another year steeped in competition for the powerful region.
Looking Ahead