The season is hitting stride as another weekend of upsets and big games on the west coast sets the table for a big tournament on the opposite side of the country.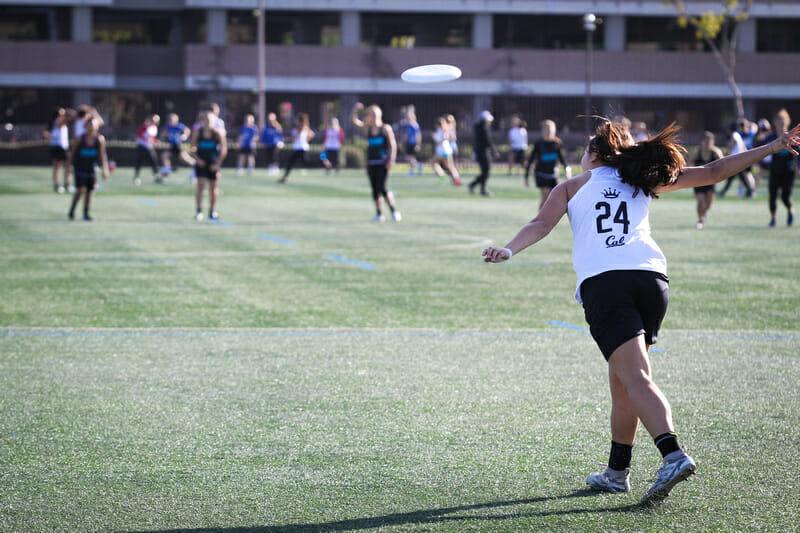 College Update is presented by VC & Spin Ultimate; all opinions are those of the author. Please support the brands that make Ultiworld possible and shop at VC Ultimate and Spin Ultimate!
During the spring season, we will publish a bite-sized weekly recap of the action across the College Division. This will serve as a supplement to our standard tournament reporting and will offer a high-level look at the latest happenings and the biggest stories of the week.
Want your tournament listed here? Submit a recap of what happened right here.
Women's
Stanford Victorious Again While Vermont Surprises at Santa Barbara Invite
While Santa Barbara Invite was won once again by no. 1 seed #3 Stanford Superfly, they might not be the tournament's top story. It'd be foolish to ignore that they went undefeated and mostly unchallenged throughout the tournament, but it's the opponent they beat 13-7 in the final, Vermont, that has people buzzing. A veteran Vermont squad carved their way through west coast competition, most notably notching an 11-8 win over #7 California in semifinals, and put themselves in powerful bid-earning position.
While #11 UC San Diego looked strong on the way to a third place finish, fellow Southwest teams Cal and #19 UCLA disappointed. Cal didn't score any notable victories and wasn't at the top of their game in their wins, either. Meanwhile, UCLA looked more like a project than a program, going 2-4 in a poor opening weekend. Some Southwest rankings points are going back to New England with Vermont and elsewhere with the success of out of region competition versus the Southwest's second- and third-tier teams.
For full coverage of the women's division at Santa Barbara Invite, check out our Tournament Recap, as well as our Saturday Roundup.
Wilmington Wins Winta Binta Vinta Fest While UVA Falters
#18 Virginia Hydra stumbled out of the gates at their home event, confirming concerns about how the team might shape up this season after losing key contributors. They were crushed by UNC Wilmington 14-6 in the semifinal, and Wilmington went on to top Duke (who also beat UVA in pool play 9-6) in the final. UNCW's emphatic wins pushed them to 10-2 on the young season and to a more prominent spot in the national conversation.
Quick Hits
D-III Update: Northwest Shaken Up by Portland's Early Struggles
The D-III competition was concentrated in the Northwest at Flat Tail Women's, where #5 Puget Sound, #10 Portland, and Lewis & Clark were all in action, along with five other teams at the event.
Puget Sound Clearcut delivered on expectations for a big year, following up on last year's run to the national semifinals. While it wasn't a neat and tidy set of results, UPS looks like they will again be one of the nation's top teams. They narrowly bested Humboldt State and Lewis & Clark, handily defeated Portland, and took L's against the D-I teams in attendance. Clearcut's 4th place finish is a fine start to the season.
The fortunes of the other two Northwest squads were in stark contrast to one another. Portland UPRoar, who made waves at this tournament last year by knocking off UPS, portending their strong 2017, notched just a solitary win. And even that victory over Portland State is counteracted by a later loss to the same opponent. The absence of Demri Horton looms large for UPRoar. Meanwhile, Lewis & Clark Artemis put together a nice 3-3 effort, including that narrow loss to UPS. If they can continue to play this well, they can challenge some of the division's stronger outfits and keep the Northwest in two-bid territory.
Men's
Sundodgers Decisive in Santa Barbara Invite Win
There were a lot of doubts about how the #9 Washington Sundodgers would start their year at Santa Barbara Invite, with a lot of change in the organization: new roles, new systems, new coaching. The team didn't share those doubts and finished the weekend by crushing them, going undefeated and winning the first major west coast tournament of the season. UW knocked off #11 Colorado State 13-7 in the final.
The rest of the tournament was chock full of intense finishes, upsets, and surprises. The Northwest region put three unranked teams into the quarterfinals with Washington: Utah, Victoria, and Western Washington1 all flashed potential and demonstrated how deep and competitive their region will be this season. High-powered teams like Colorado State, #13 Stanford, and an injured #15 Cal Poly SLO were inconsistent in spite of their talent, although only SLO finished below seed.2
With so much going on, you'll definitely want to get the full details by checking out our men's coverage of SBI, with our full tournament recap and Saturday Roundup.
D-III Update: Davidson's Weekend Cut Short
The men's side of D-III was relatively quiet this past weekend. The only top 25 team in action was #5 Davidson DUFF, and their weekend at Joint Summit XXXIII was cut short when Sunday was canceled due to heavy rain. Their performance in pool play was strong, with their only loss coming on double game point against Tennessee. After playing the entire fall season as a split squad, this was a solid first showing for DUFF. We'll see them again in a few weeks at Easterns Qualifier.
This weekend will be much more important for the division. #4 Richmond, #10 Dartmouth, Williams, and Haverford are all in action at Mid-Atlantic Warmup, while #14 UNC Asheville will be looking to prove themselves against quality D-I competition at Queen City Tune Up.
Looking Ahead
Queen City Tune Up (M/W) is a who's who of Nationals-hopefuls from the central and eastern states.

While #1 Dartmouth is in attendance for their season debut in the women's division, much of the tournament's drama may be concentrated in bid battles throughout the standings. With #7 Carleton, #8 North Carolina, #9 Pittsburgh, #10 Tufts, and a host of others from the top 25, there's going to be some great games.
The men's division, as is tradition, lacks the depth and reach of the women's division, but five top 10 teams sets us up some thrilling matchups. #2 North Carolina, #5 Michigan, #6 Massachusetts, #8 UNC Wilmington, and #10 Auburn can't all make semifinals, and that doesn't even account for potential upsets from the likes of #12 Pittsburgh, #20 UConn, #23 NC State, or #25 Virginia Tech.

Mid-Atlantic Warmup (M) brings together a 20-team field filled with top D-III competitors and strong regional D-I squads. Will the D-III teams like #4 Richmond and #10 Dartmouth be able to take down big state schools like Virginia and Illinois?
Presidents' Day Qualifier (W/M) puts a bid to an elite tournament on the line, but there's plenty to watch in the field of this precursor event.

In the women's division, #21 UC Santa Barbara has become the favorite, but no. 2 Cal Poly SLO has been impressive to start the season. Or perhaps an upset could be in the making after back to back weekends of highly competitive play for the top teams?
The top two seeds are once again Chico State and Santa Clara. There's no UCLA to overcome them in the bracket like last year, and it wouldn't be surprising to see the two meet in the final. But you know how the Southwest is…

Other Events: Hucking and Shucking (W), Big D in Little D (M)
---
Fellow Northwest team BYU actually landed the bye into quarterfinals, but WWU inherited it rather than playing in prequarters. ↩

They also didn't align with the ordering in Ultiworld's Power Rankings, so it's up to you how you want to weigh these various rankings ↩