One of the West Coast's biggest events is upon us, promising three days of California sun and meaningful competition.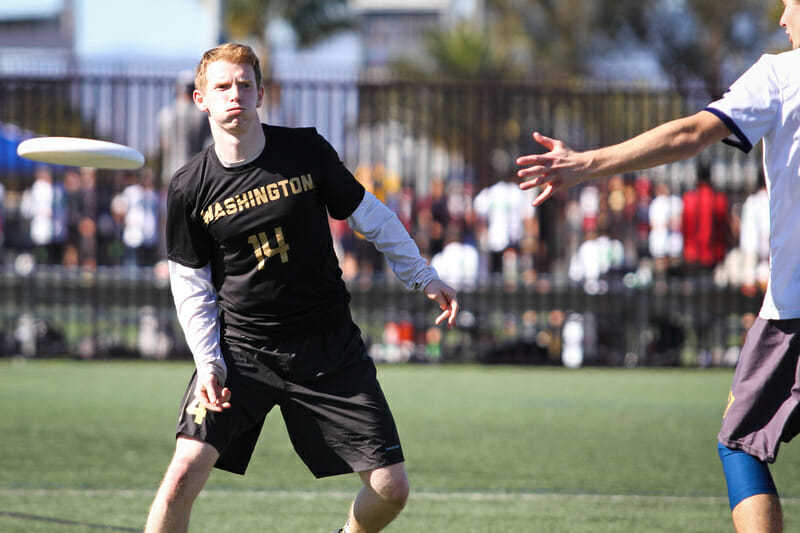 This article is presented by Spin Ultimate; all opinions are those of the author. Please support the brands that make Ultiworld possible and shop at Spin Ultimate!
Shake your ceremonial shakers and do whatever voodoo you do to keep El Niño away; the radar is clear and the 2018 Presidents' Day Invitational is set to welcome teams back to sunny Southern California. As is yearly tradition in February on the campus of UC San Diego, Oregon Ego and Colorado Mamabird will get their first sanctioned games of the season in, while a host of other contenders do their best to build on earlier debuts. All teams will have a shot to test themselves out in a three-day format that provides more rest on Saturday and Sunday, but saves the toughest games for the holiday itself on Monday.
Tournament Profile
Date: February 17-19
Location: La Jolla, CA
Weather: Low 50's to upper 60's with 6-10 mph winds
Top 25 Teams: 6
Sun Salutations: In Brief Praise Of The Three-Day Format
Though the temperature isn't predicted to crack 70°, let us not approach this weekend without paying deference to the unseasonably awful weather that knocked this entire tournament out of whack in 2017.
Sun, mild temperatures, and moderate wind are all on the menu in La Jolla. Teams should be particularly happy about that forecast. Assuming these predictions hold1, the schedule is set up for three games per day. That's downright cushy in comparison to the brutal scheduled laid out for the men's division of Queen City Tune Up and Easterns Qualifier this year. It means more time for recovery on Saturday and Sunday. It means fresher legs for semis and the final. And it makes the tournament a little bit less about pure endurance and a teensy bit more about quality of play.
After last year's completely uncharacteristic weather, small fields, and coin-flip bracket, this is a welcome return to normalcy.
Teams Outside The Top Four Seeds Who Might Make The Semis, Rated On An Arbitrary Emoji Scale
Cal-Poly SLO ?????
A healthy #16 Cal Poly SLO CORE spells danger for contenders. As their top talent slowly worked back onto the field at Santa Barbara, the defense started to lock into place and the team started to connect on hucks.
No. 3 seed Colorado will have their hands full in the game for the top of spot in Pool C. Really, that'll be true for every CORE matchup. Opponents will need sticky coverage in the backfield to limit the growing rapport between co-captains Caleb Meriam and Jeremy Dolezal-Ng. It'll take some very athletic defense (or perhaps effective doubling) to keep Nate Pettyjohn out of the end zone. And the lanky trio of Ian Sweeney, Dillon Whited, and Sean Liston—all very capable of leading the defense out of the backfield and wreaking havoc in the deep space—will be a handful.
At their best so far this season, Cal Poly played patient, stiff defense that can hang all the way through long points. If the team can keep their players on the field, consider them a likely semis contender.
USC ???
#23 Southern California Lockdown has a set of juniors who can do it all. Sam Cook, David Sealand, and Wyatt Paul led this group to a 5-3 weekend at the 2018 Santa Barbara Invite and looked good doing it. Cook and Paul have nice two-person flow for big moments, while Sealand showed off an ability to cross from O-line to D-line, get blocks downfield, and convert breaks off continuation throws.
Without crossing over top talent, the D-line will live and die by their zone. Lockdown's cup look can trap both sidelines and make swings in the backfield look particularly unattractive. Then again, for experienced handlers like Western Washington Dirt's Dennis Casio, the zone might look like child's play. Casio's one example of a veteran handler with the type of throw-and-go talent that can rip through a zone—his fast feet (and those of any others) could put USC's defense on their heels. Would a box and one look be an effective variation?
Lockdown needs a second place finish in one of Sunday's power pools to make the bracket, and the schedule might be forgiving enough to led them ride their top players early on in the tournament to set themselves up with a couple of nice wins.
Utah ?? + $%@?!
No. 8 seed Utah Zion Curtain has already had one miniature roller coaster ride this season. They knocked off Cal Poly-SLO and #11 Colorado State to start their weekend at Santa Barbara and then promptly lost out the rest of the way.
Even without some of the towering downfield cutters they've had in previous years, ZCU is still big, athletic, and full of the kind of throws that can devastate a defense unwilling to make adjustments. Handlers Brenden Fischer-Femal and Trey Taylor can make the force fall apart.
At least one opposing coach described Utah's offense as swirling. As ZCU has improved their backfield movement, they've kept some of the chaotic stuff that helped them make Nationals in 2016. Throws to cutters might not be as easy to anticipate, and once a team commits to trying to limit success for Utah in the middle of the field, the bench full of athletes will be ready to go chase down the deep shots.
Then again, early success in Santa Barbara didn't spin well for Utah later in the weekend. Coaches admitted that team expectations might've floated a little too high ahead of Sunday competition—the kind of stuff that breeds losses.
The flashes of talent are there, along with a dash of offensive mayhem. If Utah can channel that into a steady attack on both sides of the disc, it could easily snag them another pair of wins to keep the tide of bids turned toward the Northwest. Consistency and control could even put them deep in the bracket on Monday.
California ?? + ?
Fresh off a buzzy tournament title at the Stanford Open, no. 12 seed California UGMO is still angling to be the team on the rise that was expected this spring. They have the defensive schemes and athleticism to overpower teams in lower tiers. In La Jolla this weekend, they get another shot at testing their mettle against Top 25 competition.
Some of the stuff that UGMO can do this early in the season deserves the buzz. They can gum up passing lanes with junk and zone defenses. They contest unders and get blocks. They have the kind of speed necessary to pressure the first two throws off the pull.
This will be Cal's third tournament in four weeks. That's a lot of ultimate. Though the holiday weekend offers the extra rest after Saturday play, they'll have extra mileage on their legs and stiffer competition to finish top two in power pools on Sunday. If seedings hold true after pool play, they'd need at least one win over Utah or Colorado to make the bracket on Monday.
One Of The Great Lakes Teams ? + ?
No. 9 seed Illinois and no. 11 Chicago Junk will again be on hand to keep the middle of the pack competitive. The pair each went 3-1 in their four pool play games prior to being eliminated by quarterfinals at this event last year. They played for 5th and 6th, with Illinois coming out on top, securing seed-breaking status for each. While neither wound up in the bid conversation, their wins of Southwest and Northwest teams passed on to teams like Auburn, Colorado State, and Purdue. So don't discount these teams or their impact.
The latter will display a formidable veteran top end, with talent coming from the AUDL's Chicago Wildfire along with clubs Machine, Haymaker, and Beachfront Property. Ultimate's definitely still a seven-person game, though. So while Junk's top four or five players could take down some pool or power pool teams, it doesn't seem likely that they'll have enough wins to land them in semis come Monday afternoon. Still, the experience leading Junk's roster could help them win the right games to make a run at the bracket, or perhaps help snag a flashy victory or two that float them in the rankings down the stretch this season.
What to make of Illinois? Well, they beat Chicago in both 2017 meetings, including the final game at this tournament a year ago. That happened in spite of Chicago's apparent talent advantage and better overall performance. If it weren't for that advantage,2 the team from Champaign would be the furthest off the national radar since their 2015 appearance at Nationals. They seem to have lost much of the driving talent from last year's team.
The Favorites
Oregon And Colorado Make Their Season Debuts
#4 Oregon Ego and #19 Colorado Mamabird will both return to La Jolla for their first sanctioned games of their 2018 campaigns. Oregon has a handful of frigid and windy games from Bellingham Invite under their belt, while Mamabird made the trip to Arizona earlier this year for New Year's Fest for their first games this year.
Oregon will arrive with their stable-full of speed and talent. They should also arrive mentally prepared to play hard from the first pull after the lesson in humility they received from a hungry and fiery UC Santa Barbara team on Saturday at this tournament last year. Count on turbo-powered set plays from the offense and stout person defense. A successful weekend from this team should be full of selfless play—they have more than enough contributors at every position to not need repeat heroics from their veteran leadership.
For Colorado, there's a Presidents' Day Invitational title to defend. This time in 2017, Mamabird was the strongest team across offensive and defensive lines in the tournament field. Being that team again won't be as easy without some graduated veteran talent. Many West Coast teams looked ready for vert stack at Santa Barbara—everyone had some sort of zone and many had a force middle look. Both strategies played well could make it difficult for Mamabird to find their throwers on the sidelines and tempt handlers into tight inside-out windows. Still, the team has a long legacy of a high talent floor and some of last year's top talent, led by Erik Hotaling, will be on hand to keep them in the conversation for a semis appearance this weekend.
Washington And Western Washington Poised For Strong Showings
The #7 Washington Sundodgers were the class of this year's Santa Barbara Invite, and it wasn't close. Their varied offensive looks were too much for opposing defenses, and tournament standout Derek Mourad got blocks on what felt like every point he played for the Sundodgers D-line. Much like Oregon, a successful weekend for Washington will be one in which they continue to let their entire roster contribute. Washington will have spent the practices since SBI honing their defense, and they'll want to get more out of their entire roster this weekend. If the team that won the tournament a few weekends ago shows up, consider them a strong favorite to win another regular season title.
#15 Western Washington Dirt will also present a stiff challenge to all opponents. They have playbook variety to handle all sorts of situations, and they're well-staffed with veteran players to notch wins against just about any team in the field. They have the discipline to work through the junk and zones they'll see from USC and Cal, and the experience to work diligently through power pools to maintain a nice look at the bracket on Monday. The challenge for Dirt will be overcoming the premier talent at the top of the roster on the other favorites—what happens when Casio has speed defenders limiting his reset play, or when Morgan Higgins gets stuck on a high stall?
---
And also assuming I haven't jinxed the whole weekend by writing about it. ↩

Really, "advantage." ↩