Our Friday Five takes a look around what's caught our eye in college ultimate, including betting lines for special games across the weekend, resisting the urge to buy more jerseys, a sweet grab, D-III's next big chance, and more.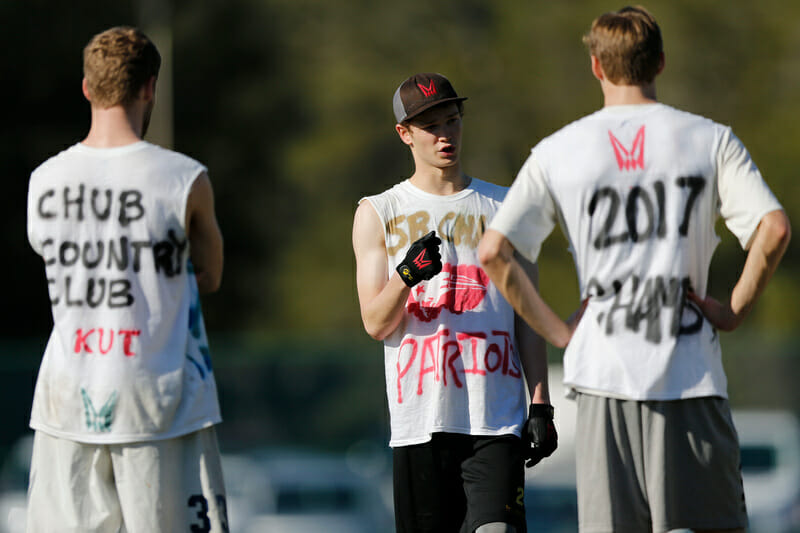 This season, we're trying something a bit different. Every Friday, our team will look at the exciting stories, teams, players, events, quirks, and all the inbetweens, and highlight five that have them hyped for the weekend of ultimate to come. Check out what's caught our eye and let us know what you're looking forward to in the comments.
This Week's Roster
Simon Pollock, Managing Editor
Keith Raynor, College Content Manager
Sam Echevarria, D-III Women's Editor
Katie Raynolds, D-I Women's Editor
Mike Ball, D-III Men's Editor
The Five
Simon: USC's Sam Cook Is Good At Ultimate
Though the Presidents Day Invitational weather isn't looking quite idyllic,1 it's promising a (roughly) 1000% improvement on last year's washed-out mess. I'm holding out hope that it'll be a return to form for the SoCal tournament, where some big teams like Oregon Ego and Colorado Mamabird make their 2018 sanctioned debut.
I'm really looking forward to the simmering selection of contenders that could give the favorites a scare. One of those contenders is USC Lockdown, featuring the stylings of junior Sam Cook. And instead of telling you why he's good, I'm going to show you. Here's Sam with a sensational snag right over the head of Victoria's Sean Bennett for a break and the lead in this double game point thriller from the Santa Barbara Invite a few weeks ago.
Keith: Five Lines For This Weekend
While many of my faithful Ultiworld teammates are taking to the road to head to Tampa, La Jolla, or North Myrtle Beach for tournament coverage, I'll be headed to New Orleans for a little "me time." I'll be dodging the glares of my girlfriend while too-frequently checking Twitter for score updates, sucking down spicy shrimp, gumbo, Po' boys, and fresh beignets. With so many good games though and a potential stop in Biloxi, MS en route, I figured it's a good time to help fund my vacay. Break out your betting slips:
Oregon vs. UC San Diego (Women's, Presidents' Day): Oregon -2.5
Virginia Tech vs. Michigan (Men's, Florida Warm Up): Michigan -1.5
Carleton Combined Losses, Saturday and Sunday (Men's, Florida Warm Up): Over/Under 2.5
Texas vs. Western Washington (Women's, Presidents' Day): Texas -2
Colorado vs. Cal Poly SLO (Men's, Presidents' Day): Pick 'em
I'd happily take Western Washington to cover; I'm enamored with Maddie Gilbert's lock-down defense and think there's enough talent here to keep this tight—or even beat a Texas team that I expect to still be working out the kinks. Ditto for SLO; I think Colorado is getting a little disrespected in their season prospects, but it'll take some time to get everything lined up. Carleton…well, they are going to show up looking like, as our own Tad Wissel would say, "a bunch of slaps." And then they will simply fail to execute at some point. They might still win the tournament, but they are taking an L along the way, even with a triple-ply soft schedule. I'm nervous about Michigan after QCTU, but I didn't love what I saw of Virginia Tech either, so I'll take Michigan to cover.
Finally, Oregon vs. UC San Diego. This game keeps me up at night. What a tough pick. I like what the Pyschos have to offer a lot. I'll take them to beat the spread, and maybe, snare the upset.
Anybody wanna bet against me? I could use the spending money.
Sam: "But You Didn't Even Go There," Or, My Jersey Problem Strikes For 2018
I have a deep, abiding love for ultimate jerseys. The largest drawer in my closet and my credit card statements can confirm this. A jersey becomes great when it works on multiple levels—it'll start conversations with fans and strangers alike; make a team feel united when you put seven on the line; and in general keep you covered up or showing off as desired.
I was not a huge fan of the jersey buying process in college, even when my program went the cheap cost-effective route of screenprinting instead of sweet, sweet sublimation. Now that I have a proper day job it is a heck of a lot less painful. I like to pick up new kits when the budget allows and I'm always on the lookout for something unique, funny, or just plain awesome (although I won't say no to a decent grab bag sale either—I know my weaknesses).
Leave it to Carleton GoP to set a high bar with their 2018 looks. While their dark jersey is a classic reference, I am partial to the white jersey and its sly simplicity, front and back. Is it creepy or bad form to fork over money for a jersey from a school I didn't know existed until I played against Eclipse in college? I'm only asking because I'm trying to find a reason not to also grab a pair of shorts every time I open a browser tab. If someone can distract me until the order deadline passes, I'd be much obliged. In the meantime, D-III teams, let's make jersey swapping at Nationals a thing in 2018; I've got a few extra Claremont jerseys left from an old order somewhere, I'm sure.2
Katie: Women's Teams As Winter Olympians
This weekend should be about ultimate, but I'm fully immersed in the Winter Olympics, from Chloe Kim's insane halfpipe performance to Adam Rippon's fire Twitter game. So indulge me in this pander-heavy thought exercise: if the women's teams attending Presidents' Day Invite competed in the Winter Olympics, what would they medal in?
Stanford Superfly: Biathlon
Biathlon is the craziest combination of endurance and precision in the Winter Olympics. Competitors have to race on cross-country skis, then stop and shoot five targets. For every miss, they have to do a penalty lap before trying again. If they miss again, more penalty laps. Superfly has the shooting accuracy and the overall endurance to excel in this wild sport, along with the grit needed to take lap after lap in the freezing cold.
Texas Melee: Alpine Skiing
Alpine skiing includes events such as downhill and the giant slalom, where the name of the game is speed. Melee's speedy roster could fly down the course and change direction with all the strength and fearlessness of Mikaela Shiffrin or Lindsay Vonn.
Colorado Kali: Freestyle Skiing
Giving Colorado a medal is a tough call: the Olympics features several athletes from their neck of the woods in skiing events, and the women of Kali could just as easily fly around an ice track as they could race together in a bobsled. But, inspired by Nhi Nguyen's acrobatics and the team's spunky attitude, I suspect they'd do just fine somersaulting off ski jumps.
California Pie Queens: Bobsleigh
California is bringing a small army of young players this weekend, and they'll need a lot of chemistry in order to succeed. It helps that the Pie Queens aren't afraid of a little speed.3
Western Washington Chaos: Luge
It takes a special, wonderful brand of insanity to ride a sled down an ice chute. WWU Chaos' "shooter-gonna-shoot" mentality and their close-knit team culture gives them what it would take to excel in this sport.
Oregon Fugue: Skeleton
Fugue has everything it takes to excel in luge, but they could do it headfirst.
Colorado College Strata: Snowboard
While Colorado College isn't located as close to the mountains as University of Colorado, Strata's laidback style and their penchant for getting creative on the field would fit perfectly in the snowboarding world.
Minnesota Ninjas: Ice Hockey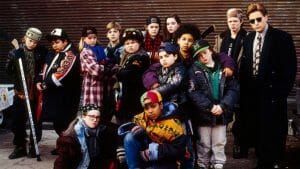 I couldn't resist. Ducks fly together. Quack quack.
Iowa State Woman Scorned: Curling
Let's be honest—besides Minnesota, this is the only team that's likely already tried this sport.
Mike: Another Chance for D-III
Last weekend, Air Force came agonizingly close to winning Stanford Open and qualifying for the Stanford Invite. They came up short in the semifinals, unfortunately missing a chance to further prove that the top D-III teams can hang with the best D-I teams in the country.
This weekend, it'll be Richmond, Dartmouth, and Davidson taking a shot at qualifying for a big Invite tournament. The three D-III powerhouses will all be heading to Myrtle Beach, SC to compete in Easterns Qualifier. As much as I'd love to see these teams competing at D3 EastUR on the last weekend of the regular season, it would be special to see them compete at a tournament like Easterns.
I'll be watching to see if any of them can survive the brutal schedule to make the final and qualify. My money is on Dartmouth; I was wrong about Air Force last week, so we'll see if Pain Train can make me look smart this week.
---
Please, let it be. ↩

And yes, I did buy this year's combined Greenshirts/Braineaters reversible tank. I never said I was perfect. ↩

Editor's note: Feel the rhythm, feel the rhyme, get on up it's PIE QUEENS TIME. ↩